My Formspring has turned into Dear Abby and at least 34% of questioners have feelings about straight girls and how they want to make them their girlfriends (see also: Advice for Homogays, From Homogays).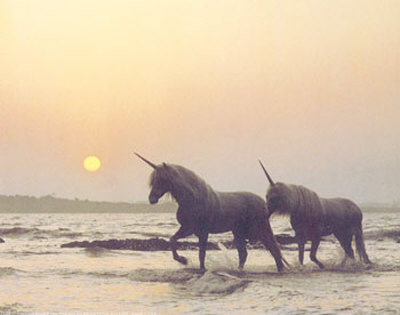 As discussed in You Probably Have a Crush Story to Share, Because You're Gay, a lot of you have 'been there' via crush,but this isn't just about crushes. I want to talk about your thoughts on CONVERSION. Ah yes, THAT ELUSIVE UNICORN: turning a straight girl into a gay girl.
But is it so elusive? Or is it a thing that might be easier than you / we / they think? We talked recently about how apparently, straight ladies are suddenly very receptive to lesbians these days because of how nice it would be to share shoes and watch our favorite shows together. I AM ROLLING MY EYES.
All this got me thinking: is there a preferred method when attempting to convert your straight object of affection? Also, I think it's funny to talk about conversion as if it's a thing that we are CONSTANTLY PLOTTING. (No. 6 on the Gay Agenda, obvs)
I feel like maybe it takes a certain kind of gay to approach a straight chick, and I think I am probably not that kind of gay. There was the one time when I told my very best friend that I thought, since we were already so close in all other ways, it seemed like the next logical step was um, [really gay things]? And she sort of agreed. But guys, I'm not sure that counts because I was SO DENSE, I didn't even realize that I was gay / trying to convert this person.
For a more self-aware perspective, I asked a few team members to share their thoughts and feelings. Riese will roll in later with some ideas of her own and then we'll all feel our feelings together. We'll play some Joni Mitchell maybe.

Sarah Croce, Actress
I fall for straight girls regularly. It might be a fatal mix of masochism and competition, and ego. My go-to excuse has always been that I like girls who look like girls, because I like girls. And you know who looks the most like girls? Girly straight sorority chicks and cheerleaders, that's who.
Alex, Graphic Designer
I crush on a LOT of straight girls you guys. I feel like all of middle and high school years were spent having so many feelings about cute girls who only wanted to talk about boys while I couldn't talk about anything 'cause you know — there's that whole gay thing. Don't wanna make anyone uncomfortable or ruin any friendships with best friends you've fallen in love with AMIRIGHT?!
Crystal, Music Editor
I've fallen for straight girls. I've never considered them to be 'off limits', however l've always resisted telling them how I feel unless they've given some sort of sign that they might like me too. I assume that if a straight girl has never shown an interest in me – or in any other female – then she probably never will, and so confessing my attraction to her will probably just end in embarrassment or potentially a ruined friendship.
+
The Way That We Live / How I Met My Straight Ex-Girlfriend
+
Sarah Croce
I was a freshman at an all-girls catholic high school, just coming to terms with the overwhelming isolation of my sexual preferences while also being surrounded by plaid kilts and knee-high socks.
She was a hurdler and we met her after I joined the track team. I knew I had a crush on her. I knew that I anticipated the final bell so I could run to track practice and sit near her during stretches. I knew that when she first called me on the phone (!) my heart was racing, even though it was just to tell me about the next meet's schedule. The phone calls became more frequent and eventually started going into the wee hours of the morning.
One day she tentatively mentioned that she thought she liked me as more than just a friend. [Ed. note: Sarah, this girl sounds gay.] It was so high school, but I'm pretty sure my heart burst into a million rainbows and dancing baby animals with streamers and noisemakers.
Kissing her was like hitting enlightenment. Unfortunately, her mom found out about a month into it and vowed to ship her to Portugal to live with her aunts til they straightened her out. But at that point, it was already serious, or at least I was. Since then, I've had a special place in my heart for straight girls.
Crystal
A very long time ago I fell for a straight girl in a huge way. She wanted to be with me, but decided that she wasn't comfortable with other people knowing that she was in a same-sex relationship. As a result I had to decide whether to leave her or become her little secret. You know, like that Missy Higgins song. I chose the latter and, while I don't regret it, eventually all the secrets and lies messed us up anyway.
In my experience, a relationship with a straight girl typically happens on her terms. She's the one outside her comfort zone and, in fear of losing her due to pressure, it seems best to let her decide how fast your relationship progresses. You can't control if or when she will identify as queer, if or when she will come out, if or when she'll let you hold her hand in public, etc, and so you just have to sit back and hope that she makes decisions that work for you. I don't have any advice for when things don't go your way – unfortunately all you can really do is roll with her, or leave her. And that's really hard.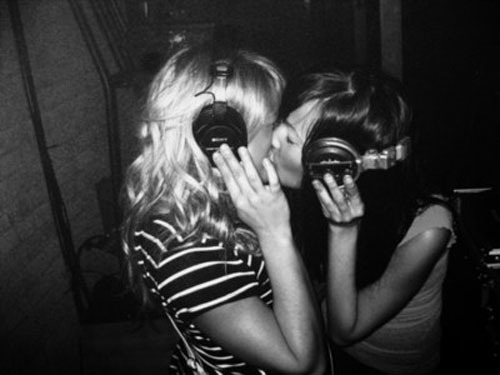 Alex
I actually somehow (by chance?) managed to "get the girl." Don't even ask me how, I'm not even sure if I can help you. These situations are always very convoluted, as you know.
I fell in love with my best friend in high school and it really tore me apart inside for a long time. But eventually I began 'throwing things out there,' subtly. I was scared. So I had a lot of patience with this game of 'is she/isn't she.' I kept getting signs and hints, so I just continued to pursue it. I think that's important: being able to sense an honest reciprocation of this persons attraction for you. You're not trying to figure out if they're gay because they might not have that realization yet, or they might just be interested in you! Which is cool.
But there's always that doubting you do, you know? The thing where you're SURE you're getting something back from this person, but at the same time you're also sure that maybe they don't realize what they're doing. In my experience, I had two or three instances where I doubted the feelings I was picking up from the other person and brushed it off as something else. But later I found out my intuition was right. You know it when you feel it.
Ugh its such a balancing act between putting yourself out there and also trying not to put yourself out there! I hate this game! But I mean, that's how it goes no matter what right? Straight girl or not.

It seems that some queers are almost exclusively attracted to straight women. What's that about? The thrill of the chase?
Some of us just happen to fall madly in love with our besties, who just happen to be straight. And there's really only one way to find out if she'd like to break on through to the other side, but is it worth risking the entire friendship?
Do you feel like nearly everyone is a little gay? Are straight girls off limits? Are you a master at converting the strais?
Alternately, are you a straight womynperson? What are your overall feelings w/r/t your propensity for conversion? What if I make you a sandwich?
SO MANY QUESTIONS, GAYFACES.