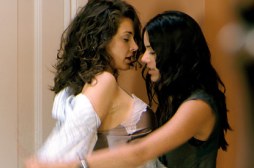 Hello, it's Sunday. Get your mouth out of that Eggs Benedict and onto the small of somebody's back, for Chrissake.
GOING GAY FOR MORE THAN JUST SHANE:
Eva Wiseman at Teh Guardian has noticed a thing that Alice Pisecki has known forever-ever – straight girls wanna do you:
Where once there were fishnet stockings and cloudy-lensed pillow fights, now there are wistful feminine dreams of sharing shoes. Has the heterosexual man's lesbian fantasy been overtaken by the heterosexual woman's?
No longer do lesbians just exist in the minds of the Nuts reader, but in the real-life world of pap shots, society pages and telly – BBC3 is even screening a gritty Scottish lesbian series starring the one with all the hair from Hollyoaks. As they fade from the masturbatory male dream, their exoticism paled by the proof of proper, grown-up ladies who rarely have the look of someone yearning for the touch of a boy with back acne, lesbians are appearing more and more in the fantasies (occasionally sexy, more often domestic) of straight women. Their glamour has shifted. Women have reclaimed the lesbian.
Instead of the one-note "And I'll just watch" fantasies of yesterday's men, or the icky, over-sexy imitations in pop videos, women are imagining the lingering, complex bliss of both them and their lover enjoying the same TV programmes. Of being able to extend best-friendships into marriages, advising each other on non-frizz hair products, eventually bringing up well-balanced children in a brilliant, bookish house and chuckling on leather sofas at late-night BBC4.
On the one hand, much of this article makes me want to stick a dildo in my eyeball because it presents girl-on-girl action in a trivial, sexual realm where we're asked to celebrate the fact that women aren't entirely bored by their boyfriend's girl-on-girl appetite anymore and I mean really, that doesn't count as any kind of revolution because uh, it's still about your boyfriend. It could also be argued that this kind of discourse trivializes the complications & hardships endured by actual full-time queers. Also! If a lesbian relationship was as easy as sharing shoes and watching Top Chef together!– Oh what the hell.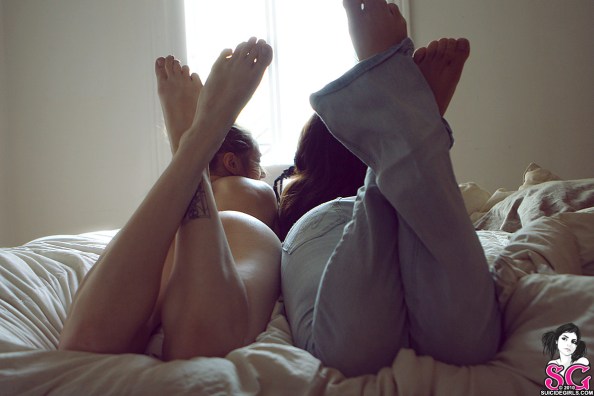 On the other hand — and we're not afraid to get handsy here — she's suggesting a more expansive and inclusive kind of sexual fluidity which is good for queers and sex-positive feminists alike. Reclaiming het-male fantasies for the straight-woman gaze isn't necessarily quite as progressive as reclaiming het-male fantasies for the lesbian-woman gaze, but it's something! EVERYBODY MUST GET QUEER! Also if she's right about this increase in straight-women-wanting-other-women-action, that means you're at least 75% more likely to find a girl who will fuck your brains out and then rip your heart out of your chest and run over it with a lawnmower of heterosexual privilege, which is good for your emotional growth.
If you're a het looking for some lesbo-tips, you should read A Straight Girl's Guide for Sleeping With Chicks!
SUICIDE GIRLS:
Suicide Girls made a horror movie, it has no script and no actors which already sounds really fantastic, I bet they're all naturals. Here's the trailer:
FASHION WEEK:
Live! Nude! Fashion Models! Rather than distracting the eye with clothes, Charlie Le Mindu and Noritaka Tatehana sent models down the runway in nothing but their respective hats and boots, a strategy guaranteed to draw the eye to accessories, rather than some superfluous garment.
SEX BLOGGER CALENDAR:
The 2011 Sex Blogger Calendar is here! Meet the models!
VADGE:
20 Things That Look Like Female Genitals!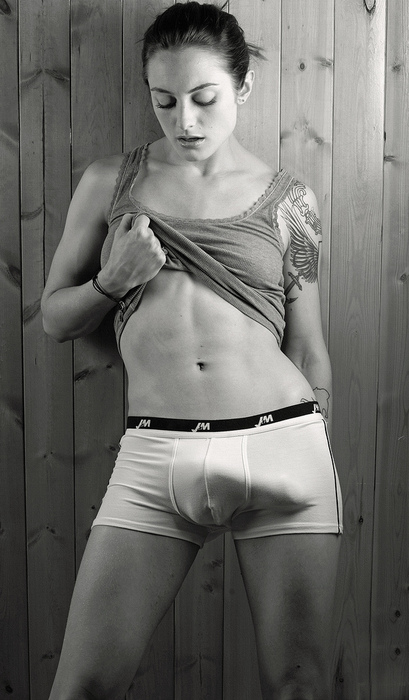 LESBIAN RETRO PORN
Lesbian Retro Night: "The other night I attended Lesbo Retro Night as a part of the Good Vibrations' Indie Erotic Film Fest (IXFF) and let me tell you, this porno girl was in porno heaven."
SEX ADVICE:
Sex Advice from American Apparel Employees (@nerve)
MACHETE:
So Lindsay Lohan is half-naked in a threesome scene, here see:
SEXY TUMBLR ALERT:
Every week we pick a lesbian sexy tumblr alert on Saturday or Sunday, so we're usually just as new to it as you are and therefore unable to express the kind of long-term affection one can develop with a really good tumblr but listen up you should really be reading Sex is Not the Enemy. It's a mix of imagery and text with a sex-positive, feminist, queer bent, neatly tagged with f/f, m/m, m/f and etc.
I don't know who's in charge of this, but I am with them in Rockland, whomever it is.