All I want for Christmas is canonically queer Cheryl Blossom. And the gods at CW are maybe possibly granting my wish? Between the #SignificantLook Cheryl gives Toni Topaz at the street race and the suggestion in the most recent episode that Cheryl has an intense, obsessive crush on Josie, Riverdale has been dropping hints that Cheryl might blossom into a canonically queer character. And given how much criticism the show has gotten for its blatantly queerbaity kiss in the premiere, it'd be exceptionally dumb for the writers to make the same mistake twice. Right? RIGHT? The show has already made vast improvements in developing Kevin Keller and there's at least one out bisexual character on the show now (Moose is probably bisexual, too). I'm putting this out in the universe so that it might manifest. Something queer this way comes.
For the uninitiated, Riverdale is a CW series now in its second season that takes all of the characters from the beloved Archie comics and drops them into a glam-gothic murder mystery. As Heather Hogan so eloquently puts it: "Riverdale is like if Twin Peaks and Gossip Girl had a baby who was raised by its lesbian aunt in Vancouver in a house filled with porcelain dolls."
Cheryl Blossom is the show's fire queen. Every line that comes out of her mouth is literary gold. She wears a literal HBIC shirt just to remind you that she is, indeed, the head bitch in charge of every space she enters. She has survived fire and ice, and no one seems to fully understand her because she simply burns too brightly for anyone to look at her directly. She's a hero and a villain all at once. Her insults are written and delivered in perfect dactylic hexameter. Okay, so that last one isn't true, but for some reason it brings me great joy to imagine it is, so please let me have this.
As we wait to see what the future holds for season two Cheryl, let us reflect on some of her best (and gayest) moments on the show so far.
When she was in the mood for chaos
I'm pretty sure Cheryl Blossom is the patron saint of chaos.
The time she gave Betty a makeover (and then accused her sister of murder)
You, willfully ignorant: Cheryl was only getting close to Betty in order to get info on Polly.
Me, an intellectual: She didn't have to get THAT PHYSICALLY CLOSE to her to execute that plan!
Her dramatic funeral entrance
Some might argue that funerals are not the time nor place for a dramatic entrance, but they would be incorrect. Cheryl Blossom understands the value of an extremely extra entrance. And shocking your family with an outfit choice is Queer Culture.
The time Veronica just casually played with her hair before her dramatic funeral entrance

Her sleepover with Veronica
In season one, after Veronica and Cheryl decide that fighting each other in a bad bitch death-match will only lead to their mutual destruction, they agree to give friendship a try. Cheryl tells Veronica that she can extend an olive branch by coming to a sleepover. Cheryl implies that there will be other people at this sleepover, but when Veronica arrives, she learns it's a sleepover for two. And then they sit together on her bed, which looks like that, in their lingerie.
Every time she starts a fire and/or accessorizes with a candelabra
The first thing Cheryl Blossom sets on fire is the trash can containing the football team's misogynistic "playbookwp_postsafter Veronica and Dark Betty bring down Chuck. The second thing Cheryl Blossom sets on fire is her own goddamn house. Both scenes are instantly iconic. Who just like carries a candelabra around as a statement piece? Cheryl Blossom, that's who.
The time Betty blackmailed her
So this is more of a Betty moment than a Cheryl moment, but why does Cheryl seem so INTO Betty blackmailing her? Also, she's shirtless the whole time because everyone on Riverdale is allergic to shirts. Is this a chill time to say that Cheryl and Dark Betty should hook up? Is this a chill time to say I wouldn't mind being strangled by Cheryl's hair?
The time she dressed like Sherlock Holmes to lead a search for Polly
This outfit! Also, Cheryl Blossom invented dramatic entrances.
When she calls out gay tropes

As a Professional Gay™, one of my unofficial ongoing jobs includes calling out problematic tropes, and apparently Cheryl likes to call out tropes, too. When Kevin asks in the pilot if cheerleading is still a thing, Cheryl snaps back "is being the gay best friend still a thing?wp_postsThen she rolls her eyes at Betty and Veronica's dumb kiss at cheerleading tryouts: "Faux lesbian kissing hasn't been taboo since 1994.wp_postsCheryl Blossom sounds like me yelling about bad queer tropes to someone I just met in a bar.
Her dance battle with Veronica
https://youtu.be/mrXEmPnn3nU
Everyone knows that dance offs, as with the ribbon dance at the end of Cadet Kelly, are an elaborate form of lesbian foreplay. By the way, Betty looks Cheryl up and down at 0:27. Please don't ask me how many times I have watched this scene.
The time she gave her homecoming date Polly a makeover

Why is Cheryl always doing the Cooper sisters' makeup for them? SOMEONE enjoys getting very close to Cooper faces. Also, need I remind you that earlier in the episode, Cheryl dramatically stops the Scooby gang in the middle of lunch to announce to them that she's bringing Polly to homecoming as her date and that they are running for homecoming court as co-queens? If Cheryl's mom hadn't intervened by drugging Polly (yikes!), I'm convinced we would have seen them slow dance together at homecoming.
Her Grease-inspired flirtation with Toni Topaz
Cheryl and Toni, the Southside Serpent who recently came out as bisexual, have only had one interaction so far, but sparks instantly fly. Cheryl makes meaningful eye contact with Toni, and we all know that meaningful eye contact is Queer Culture. You know what else is Queer Culture? Grease. Cheryl calls Toni "Cha Chawp_postsduring their quick exchange, and as someone who had a Grease-themed sixth birthday party and wrote an illustrated novelization of Grease in third grade, I became so overwhelmed that I had to lie down on the floor. Madelaine Petsch and Vanessa Morgan are best friends in real life and have said they are super down for their characters to date, to which I emphatically reply: SAME!
The time she drew fanart of herself and Josie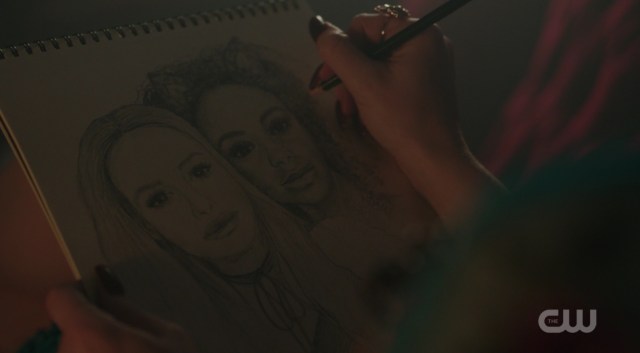 Okay, to be honest, Cheryl low-key tormenting Josie in the most recent episode of Riverdale is a little confusing! Especially since she's seemingly doing it to show Josie how much she cares about her? She sends her a pig's heart. I have a lot of questions! Cheryl Blossom works in mysterious ways! One thing I do know is that Cheryl drawing this picture of her and Josie while she listens to a song by Josie is very gay! I'm not sure if Cheryl wants to murder or make out with Josie, and that's pretty much Cheryl Blossom in a nutshell.