Hello, sweet, sweet corn muffins with a perfect sugar-crusted top! I'm back! Kind of. I'm still a mess life-wise, but I guess I feel like I'm managing it kind of, too. I don't know. Maybe. Either way, here I am and there you are.
First order of business is to thank Alaina for being an actual dream person and sussing out the good gay news for the last several months. They are a perfect person and honestly, I'm a little nervous to live up to their excellent Sunday Funday roundups!
I'm spending today mentally panicking about my work deadlines and trying to be cool and chill and hang out with my family. Probably, at some point, the baby will watch Moana for the 500th time. There's also a very good chance we'll order out when we decide we're too tired and lazy to cook. What does your day look like?
---
Violet Valley Books Brings Queer Feminist Community to the Heartland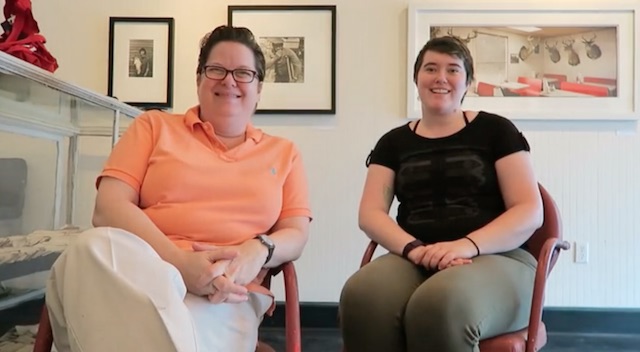 Violet Valley Books will be, as far as we know, the only queer and feminist bookstore in Mississippi. – Violet Valley Kickstarter
Jaime Harker, a women and gender studies and English professor at the University of Mississippi is following her dream of opening a queer feminist bookstore in her conservative town. Water Valley is a small town with a population of less than 3,400 in the hills of Mississippi.
Violet Valley Books is inspired by the feminist bookstore Harker frequented as a college student, when independent bookstores were still thriving and feminist bookstores were some of the few safe places for LGBTQ people flung out far from the big cities. According to Harker, there are only 10 feminist and gay bookstores left in the nation.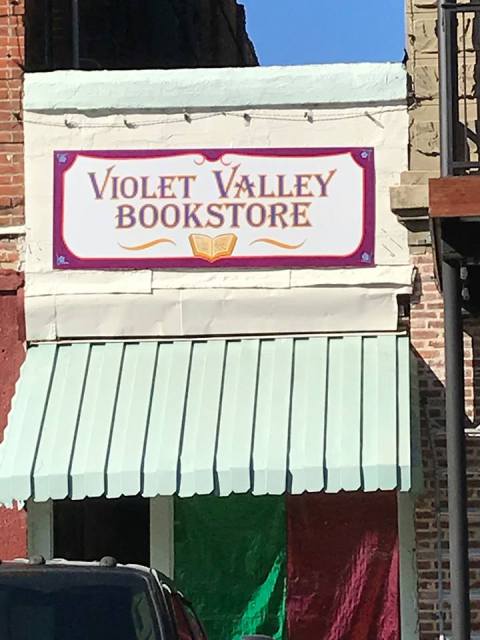 Harker told NBC: "I want to create that space so that LGBTQ kids in the state feel like someone wants them and feel like they can be who they are and be here."
---
Let's Take Care of Ourselves and Each Other
I'm a big subscriber to community care, the idea that self-care is valuable, but can be hard to do alone, especially when we need it most. And it's officially December a.k.a. the worst month for mental health. So here's a moment to just chill for a second and check in. Here's some cat toes.
+ Here's a post of solidarity and affirmation from Sam at Let's Queer Things Up for "mentally ill folks who didn't think they'd make it this year."
+ Lesbian to Launch Gay-Friendly Bible App Referring to God in 'Gender Neutral Terms' in Time for Christmas. Crystal Cheatham's Our Bible App, the "first LGBTQ Bible app," is coming December 25-30, 2017 and it looks awesome.
Whether one goes to church to find spiritual clarity or to the sanctuary of nature, Our Bible App supports the belief that we are each trying to understand our place in this grand universe. Our goal is to untangle the binds that Christian colonizers have spread across the globe over hundreds of years. Through devotionals highlighting pro LGBT, pro-women and encourage interfaith inclusivity we hope to provide a tool that is needed to create healthy prayer and meditation habits.
+ You may remember the seasonal project, Your Holiday Mom, started in 2010 by Robin Rice as a way to reach out to transgender folks she knew at the holidays. Since then it's grown to include many "holiday moms" who write letters to their "children," any LGBTQ person of any age who doesn't have a family to go home to for the holidays. This year, almost 24,000 people will receive a letter from their holiday mom.
+ (Consensual) Hugs.
---
Here, Queer, Etc.
+ Allison Ikley-Freeman talked to the Daily Beast about being the third openly gay person elected to the Oklahoma state legislature and "a regular Oklahoman."
+ Dapper: Fashioning a Queer Aesthetic of Black Womanhood
+ BREAKING! The 2018 gay agenda has been announced, and, wow. I endorse all of this.
1. We demand that the "queer capitals of America" have at least one lesbian bar that's not, like, a bookstore with no air conditioning.
+ My Sex Ed Ignored LGBTQ People — So I Took Matters Into My Own Hands.
+ New Generation Of Transgender Americans Wants To Change Laws, Not Just Minds.
---
SAGE Renames LGBT Senior Center for Lesbian Pioneer, Edie Windsor
You remember Edie Windsor, the woman who fought to win marriage equality for us all and who passed away earlier this year at the age of 88? SAGE (Services & Advocacy for GLBT Elders), the nation's largest and oldest organization dedicated to improving the lives of LGBT elders, is renaming their NYC Midtown SAGE Center to honor Edie Windsor. The center will become The Edie Windsor SAGE Center.
Michael Adams, the CEO of SAGE, commented on the occassion: "Edie Windsor brought so much light to our community, with her pink lipstick smile, her iconic hat tilted just so, and her willingness to be a beacon of hope for us all. That's why we are proud to dedicate The Edie Windsor SAGE Center in honor of a woman who loved us and fought for LGBT equality and LGBT elders with all her might."
Rest in Power, Edie. We love you!
---
I Mean, It Really Is Oddly Satisfying