I was definitely one of those kids that read the first book in the Gossip Girl series in complete secrecy, away from the guise of my parents because I couldn't help but blush from the mere fact that I was reading a dirty book. Well, what I considered a dirty book in those days. I was in sixth grade at this point (spoilers: I'm kinda young) and the most scandalous thing I'd done was stay up late on a school night to watch the Dawson's Creek series finale. But along came this book that had teenagers having sex, girl drama, underage drinking and partying. This world of privilege in the Upper West Side of NYC was the farthest thing from my life in rural North Carolina, so of course I became instantly hooked.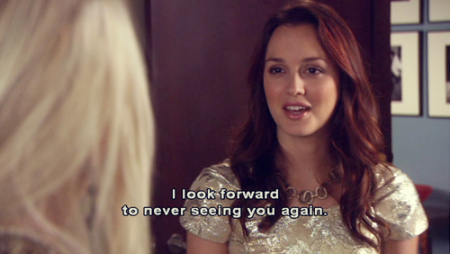 In 2007, my prayers were answered when Gossip Girl became a television series that I could publicly worship with my friends and watch one of the baddest bitches in YA fiction come to life right before my eyes every week. Of course I am talking about none other than Blair mother-truckin Waldorf. As the Queen Bee she rules the New York social scene with an iron headband. She is ruthless and mean and has stiletto-sharp wit that can ruin anyone's reputation in seconds flat. She is rich and beautiful and powerful and she knows it. This is a girl that served as second in command since junior high, when her best friend Serena Van Der Woodsen held the position as the most popular girl in school. And she sure as hell isn't going to relinquish her power when Serena suddenly returns. She has the perfect wardrobe, the perfect boyfriend, the perfect life; and no one was going to take that away from her.
While I loved Blair in the book series, she really came to life in the show, where she was played by Leighton Meester. She could be conniving and insecure all in the same scene. She created this perfect image of herself that was ripping apart at the seams and could be easily destroyed at any second. All she wants is everything and she will destroy anyone who gets in her way. This intense personality also lends itself to being a scary/awesome friend. Let's just say if you piss her or any of her friends off, she has a fashionable army of minions (with matching headbands and clutches) that will descend upon you and your social life.
A young Jenny Humphrey, a freshman social climber, is nipping at her heels. No one comes close to being a match to Ms. Blair, until we meet Georgina Sparks.
Oh Georgina. How can I describe such a majestic creature? With an affinity for black eyeliner and leather, Georgina makes it no secret which side she's playing — which is always for herself. She manipulates, lies and schemes out of pure boredom. She serves as this out of control party girl image that works as a foil to not only Serena's new good-girl image, but Blair's "put together" image as well. She thrives on chaos and is great at holding grudges. It always seems like she has some score to settle and her plans of revenge usually involve blackmailing. Just fun girly things, you know? Personally, I gotta love a character that turns everyone's world around just for the sake of a good time. Every season she blows in out of nowhere and always leaves a trail of despair behind her, whether it's stealing someone's identity or lying about the paternity of her own baby (yeah, it gets crazy). She's also played by Michelle Trachtenberg, who I will always have a special place in my heart as Dawn from Buffy the Vampire Slayer.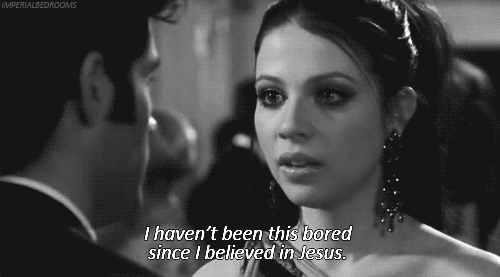 While both these powerful women butt heads during the entire run of the TV series, Georgina and Blair are actually quite similar. Both are insanely rich and have the most beautiful auburn locks in the history of television, but they also have this knack for finding people's darkest secrets, and unveiling their worst fears. Both love wielding their power over people and are total control freaks. But while Blair learns compromise, Georgina never settles for anything less than getting exactly what she wants.
But no matter how much I love Georgina and her unpredictable ways, Blair will always be my Queen Bee. Long Live the Queen!
"Haven't you heard? I'm the crazy bitch around here."