Tying people up is fun! Here's how to restrain someone by the ankles.
Rope is the single best multi-purpose bondage toy you can own. You can make handcuffs, ankle cuffs, different types of gags, harnesses, straps for holding body parts in place during sex, the ankle wrap below and more. It seems intricate, and some of it is, but there's also a ton of things you can do without knowing what something like a prosperity knot is.
In rope bondage, as in all kinky play, communicate with your activity partner(s) before you play together about what you like or would try; what you don't like and your boundaries; your safe words or non-verbal signalling system; health concerns; and aftercare.
Then just keep communicating during play. It's okay to slow down and keep checking in, especially if you're new, even if no one seems to be getting anywhere close to using a safe word. (Ideally, by staying in communication, no one will need to.)
Safety is covered in Bondage 101, but here are the basics again, just in case:
Maintain circulation by keeping the ropes just a little loose, and by having many points of tension. If you're putting someone in bondage, watch for areas of skin that might be turning purple, blue or white. If you're in bondage, notify your activity partner if you feel pins and needles or go numb anywhere.
Never use rope in a way that might restrict someone's breathing.
Never leave someone tied up alone.
Go slowly.
Today's ankle wrap is adapted from Two Knotty Boys' Back on the Ropes, a step-by-step guide to simple and more complex rope bondage. These directions are for tying someone's ankles together in a way that looks sexy, feels comfortable and is easy to do. It also makes your activity partner easier to push around, because they can't stand or even hop effectively (especially in boots).
You will need:
30 to 55 feet of rope (solid-braid nylon rope in 7/16″ or 3/8″ in diameter from any hardware store, or bondage rope. Use a longer piece if you want the wrap to go further up your partner's legs.)
A willing partner
Flat-edged medical safety scissors, in case you have to release someone quickly
Directions:
1. Have your partner cross their ankles with their feet a little flexed. Find the middle of the rope, and fold it in half (this is called making a bight).
2. Hold the working ends of the rope over the top of their ankles, and bring the bight over and under to the arch of their lower foot.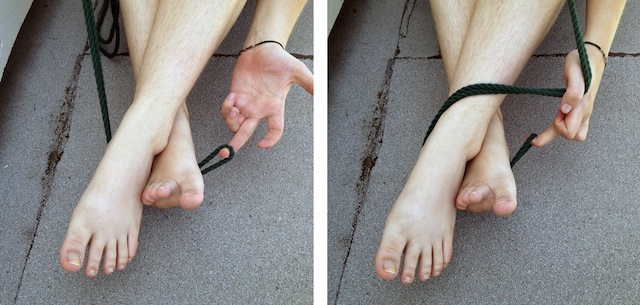 3. Hold the bight where it is and wrap the working ends of the rope around the back of both ankles and down over the front.
4. Weave the working end through the bight.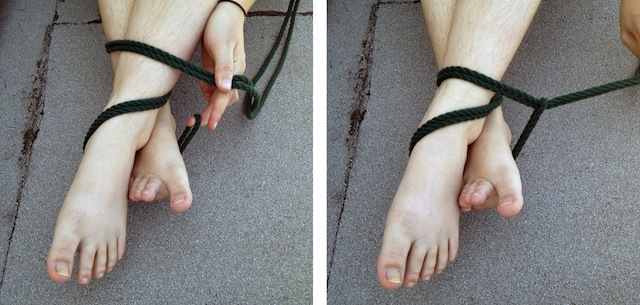 5. Bring the working end back the other way, up and across your partner's ankles, keeping the ropes parallel to the ones already there. Maintain consistent tension on the ropes while you work.
6. Wrap the working end around behind their ankles, so that they're flat and line up with the ropes already there. Then keep wrapping around your partner's ankles and up their legs.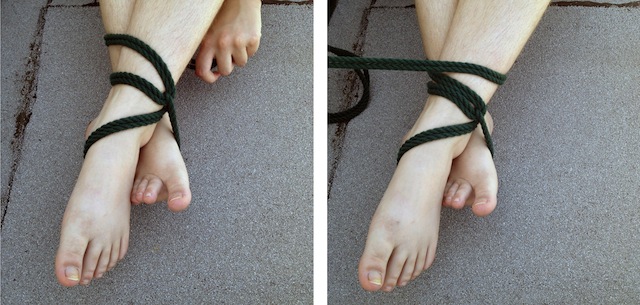 7. Keep wrapping!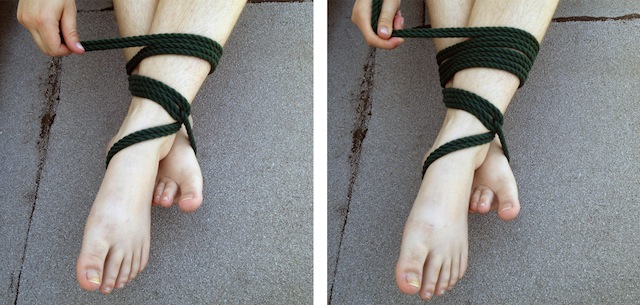 8. When you're ready to tie everything off, hold the rope in place with a finger and double back the other way.
9. Then thread the working ends through the loop and bring them up through the top layer of ropes. Leave a small loop open while maintaining tension.
10. Thread the working ends down through this loop, and tighten.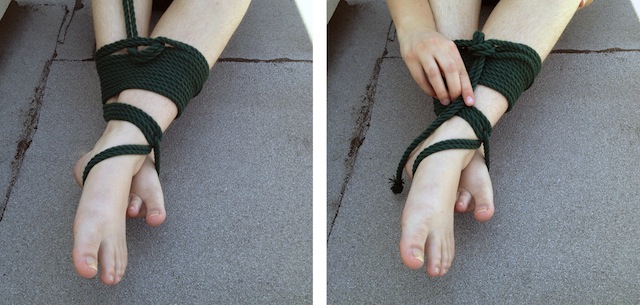 Congratulations, you have tied someone up!
For more information, check out our intro guide to BDSM or our kinky resources list.
I am not an expert and these are my opinions. Make sure you do your research and stay safe.