There's some new stuff that you're gonna love and some of the older stuff that you love is on sale! Happy day!
Misandry Shirt: $25
You like to adorn your hot hot bod with attractive, soft and comfy things. You also probably like misandry. And now there's a way to enjoy both at the same time.
Now you can wear a t-shirt that helpfully declares your interest and/or enthusiasm for misandry, so the next time you're discussing how you'd like to be able to walk to Walgreens without being commanded to smile by total strangers, you can skip the part where your roommate's terrible boyfriend accuses you of being a misandrist because DUH that's why I have this shirt, doofus.
This pinnacle of sartorial and sociopolitical achievement is also ripe for DIYing. Laneia suggests shredding the bottom, burning cigarette holes in it, cutting it up the sides and reconnecting them with safety pins, and/or using a bleach pen to write "I don't care about how nice your dad/brother/friend is" on the back. Also we think this is a good look.
You can bring this shirt into your life RIGHT NOW by visiting the Autostraddle store!
Tomboy Femme Shirt: $28
While you're there, you might want to also check out the Tomboy Femme shirts that we have for you. They will look extremely stylish on you, your girlfriend, and/or your best friend.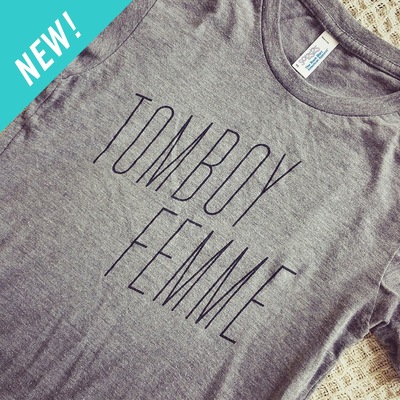 Hoodies Now On Sale!
Oh also — we just thought you might like this — we also put all hoodies in the Autostraddle store on sale. Yeah nbd. Our retro style A-Camp hoodies, seen in the bottom left corner, are only $20 right now, which is a truly incredible deal because they are very soft and warm and will hold you all through the night. The more recent A-Camp hoodie design, in a tasteful and evocative charcoal, was formerly $48 but is now only $40! And the beloved You Do You zip-up hoodies, which go with everything you own up to and including your prom dress/tuxedo, are now only $30! I'm still inconsolable about leaving mine on the mountain last A-Camp and I will be so happy for you if you get to own one.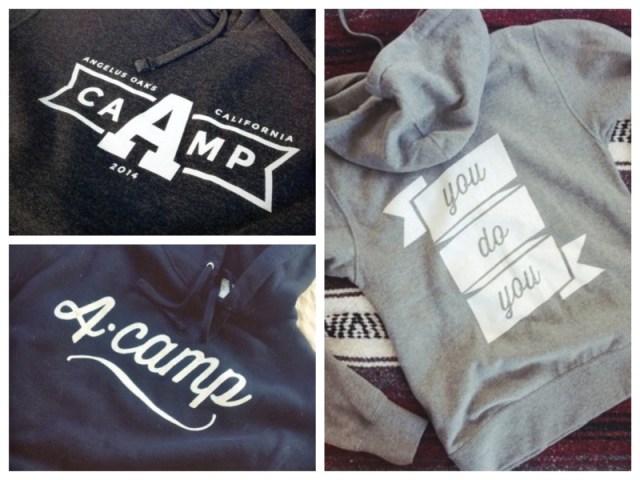 Calendar Sale: $1
Still need something to keep you toasty during the long dark winter nights? Great news: the latest Autostraddle calendar, full of smoking hot babes of all stripes, is now only one dollar. For that price you could buy twenty and wallpaper your bedroom with them. Or you could use them for collaging! Just an idea.
Autostraddle simply will not survive without the financial support of our readers, and we consider the store to be one of the funnest ways for you to show your support!