feature image by Norah Smith
---
Once upon a time (May 30th-June 4th, to be specific) in a land far far atop a mountain two hours outside of sunny Los Angeles, approximately 300 queer humans — 250 campers, 50+ staff and talent — gathered for four days and four nights of revelry, intellectual stimulation, dance parties and deep sea bonding. They called it A-Camp 6.0, and it was beautiful! This is the third of three fantastic recaps which serve to ease our collective separation anxiety, give you a behind-the-scenes look at how your A-Camp soysage is made, enable us to wax nostalgic over times gone by and provide prospective campers with a brilliant glimpse into the A-Camp Experience from the Staff Side Of Things. (If you wanna know how it feels to be a camper, you'll have to come to camp!)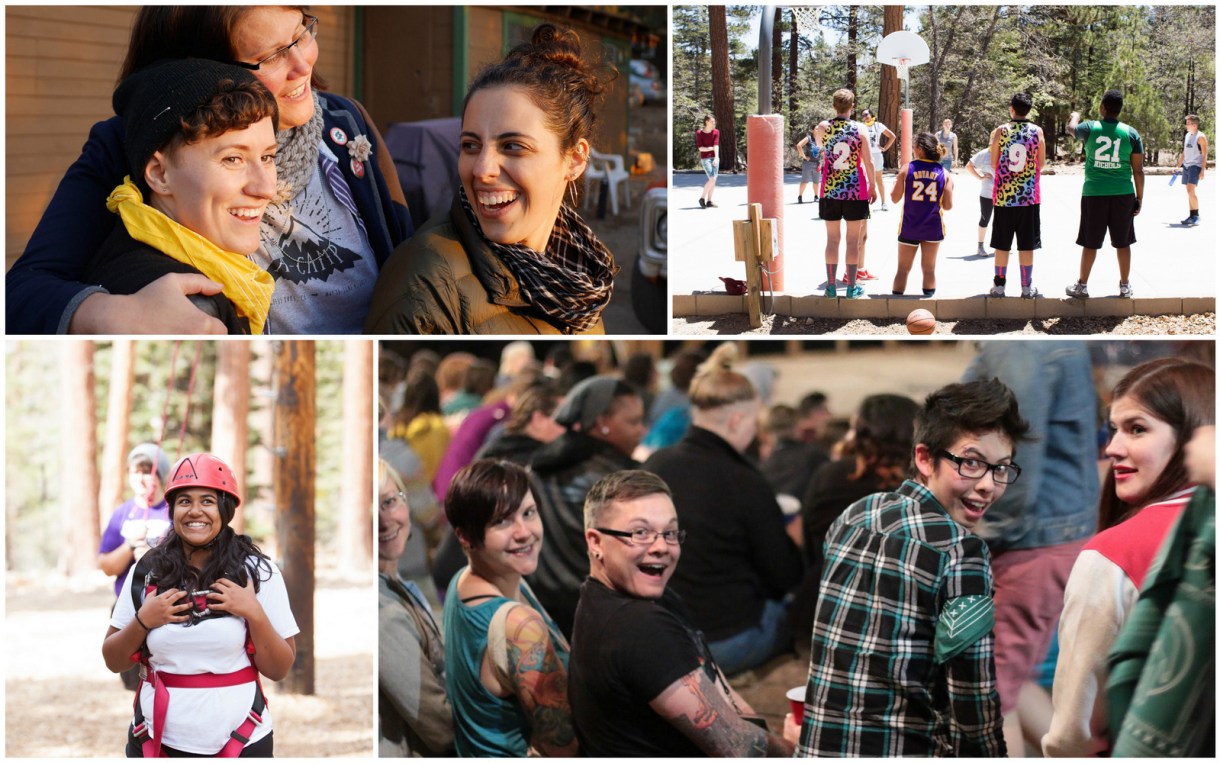 A-Camp was the genesis of an idea Riese had at 3AM in July 2010: the concept was to take the spirit of the website into three glorious dimensions by renting a summer camp in the off-season and jam-packing a long weekend with panels, workshops, discussions, crafts, sports, entertainment, parties and so much more! We gave the idea a spin with an abbreviated, smaller edition of A-Camp in April 2012, followed by full-size full-length camps in September 2012, May 2013, October 2013, May 2014 and May 2015.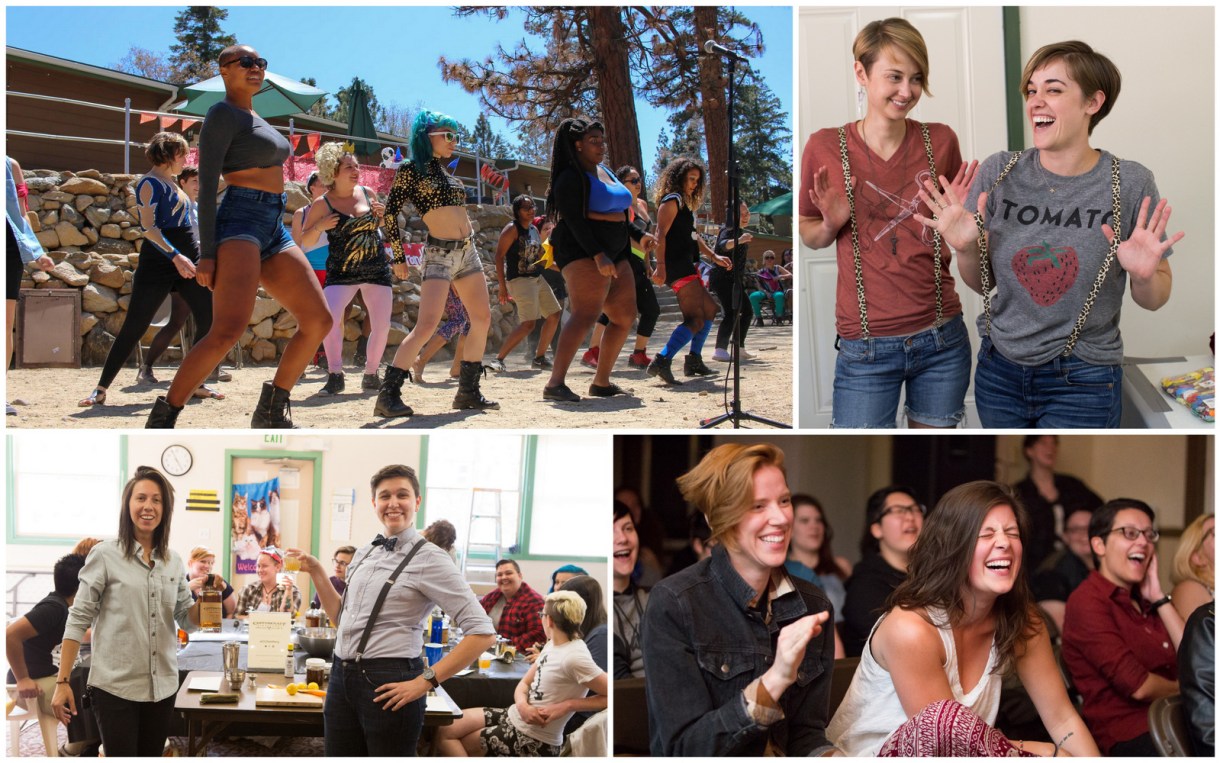 This camp was our best camp yet. Seriously, we were very on top of our game. This required raising prices, but we think the extra expense was well worth it — I mean, we had a bouncy castle! We had an all-star cast of special talent: actress and DIY Queen Jasika Nicole, Everyone is Gay super-idols Kristin Russo and Dannielle Owens-Reid, musicians Julia Nunes, Jenny Owen Youngs and Mal Bum and comedians Brittani Nichols, Deanne Smith and Elicia Sanchez. Plus, Orange is the New Black's Lauren Morelli showed up for an hilarious afternoon Q&A, Kimber Hall joined Brittani for improv and former Miss Kentucky Djuan Trent sang from her soul. A DELIGHTFUL TIME WAS HAD BY ALL.
---
A-Camp 6.0, Day Four: Tuesday, June 2nd
Morning Activities
Block A: Been Gay (Riese, Laneia, Bren, Carolyn W, Gabby, Heather, KaeLyn) // Write Your Face Off #3 (Rachel, Yvonne) // Solidarity from the Mountain: Making Cards For Incarcerated Queer and Trans People (Maddie) // Stylish-of-Center (Cee, Carly, Dannielle, Brittani) // Chair Dancing With Cupcake (Kaylah, Gigler)
Block B: Destigmatize Your Size: A Discussion of Fat Positivity and Body Acceptance (Elicia, Mey) // Dapper Collar Pins (Hansen) // Safer Sex: Follow Up Q&A (Lizz R & Carolyn Y) // Queer Camp Cheer Camp (Kai) // Senior Editors Hike (Riese, Laneia, Rachel, Yvonne & Heather) // Learn to Magish (Carly)
Riese Bernard, A-Camp Founder and Runaways Counselor: This is the day where you start panicking that camp is almost over and you simultaneously are craving / requiring way more sleep and food AND craving / requiring more time with your Runaways and all the campers forever and ever and ever! We just had such a great group this time and I wanted to hear all their stories.
Ali Osworth, Star Runners Counselor: Oh! I think this was the morning I dressed up in my unicorn onesie and took anti-nausea meds and gatorade to the Star Runners, who'd been passing around a stomach thing. I am your anti-nausea unicorn, my fine friends.
Sarah Hansen, Fun Home Counselor: The day before Dapper Collar Pins, someone pointed out to me that what I thought was a collar pin was not a collar pin. So, I panicked and made new collar pins in the morning before the craft.
Chelsey Petty, Blackhearts Counselor: Hansen was so stressed about Dapper Collar pins, so I was there to be her heart half during the workshop, which really meant I wandered around oogling everyone's pins.
Hansen: Everything turned out great. I like low-key crafting sessions where we can just listen to music and talk to people and not take ourselves too seriously, so having a craft where people could do their own thing and amaze me with their talents was exactly what I tried to facilitate.
Chelsey: When all was said and done that craft ROCKED and everyone made such cool versions of whatever a Dapper Collar Pin meant to them. Also Hansen got to tell everyone that we were running out of space because of scissor limits, so I think she peaked this camp.
Hansen: Chelsey helped me so much during this craft by listening to me worry about it and then help me set it up, and I am endlessly grateful for how perfect she is.
Mey Rude, Hogwarts Counselor: Since I signed up to lead or be a part of so many panels and workshops, I only had time to go to one other person's activity, and I chose Maddie's Making Cards for Incarcerated Queer and Trans People, which ended up being the perfect choice.
Maddie Taterka, Firebirds Counselor: Thank you ten million times to everyone who came to make cards for incarcerated queer and trans people. I was really excited to do it and to work with Black and Pink, and it was really amazing to see how many people showed up to make beautiful cards. Everyone was so thoughtful and caring in their letters, telling people about A-Camp, sending jokes and comics — Rory even made an origami guide!
Rory Midhani, Rodeo Disco Counselor: I went into it like yeah, cool, gonna do some cute drawings and write a lil thing and then walk away. But once I was in it, reading through the lists of prisoners and reading their names and reading their profiles — their interests their likes and their dislikes and stuff, their personalities… I found that in itself very powerful and moving. I choose to write to a woman who liked origami and included folding instructions for making an origami puppy dog!
Maddie: It's worth noting that when you make cards for people in prison, you can really only use plain paper and markers because of ridiculous regulations and restrictions, but no one was deterred from being super creative.
Mey: It was really, really moving and incredible and I'm really thankful for Maddie that she lead this workshop and thankful for all the campers who made amazing cards for these people.
Maddie: I think it's so important that we share the huge mass of energy and love from A-Camp with incarcerated people who can't be there, especially since we know how queer and trans people, especially queer and trans people of color and in particular black queer and trans people, are targeted and profiled by police and the prison system. I hope that if writing letters felt moving to you, you'll find ways to bring that solidarity off the mountain and into your own lives. Jason Lydon, the director of Black and Pink, talked with us about ways to do that.
Gabby Rivera, Beehive Counselor: I was happy to be on the Been Gay panel and talk about my cracking knees, elderly parents, and struggle to stay hip. I kid! No, it was great.
Bren Christolear, Fried Green Tomatoes Counselor: There was crying. And it was mostly by me. And that is all I can really say without crying again, except thank goodness for Autostraddle and Riese and A-Camp and the campers and the mountain.
KaeLyn Rich, Shark Week Counselor: There were lots of boxes of tissues there when we arrived and we were like, We don't need these tissues. But then we did. We needed the tissues. For me, getting involved in Autostraddle community, like actually commenting on articles and engaging with the site, has helped me connect more with like-minded queer people in their 30's than I have ever found in my real everyday life. I hope more people who are looking for that older queer connection will find a home at Autostraddle.
Laneia, Executive Editor and Runaways Counselor: Love hanging out with the older crowd and hearing people's varied experiences with coming out later (or being out since forever but like, now they're 30 and things are different), building new communities, intentionally queer parenting, and other lovely things that made (some) people cry.
Heather, Senior Editor and Hogwarts Counselor: I especially loved hanging out with our 30+ campers because the conversation wasn't like, Oh, kids these days! or whatever. Because it was the mountain! And the mountain was magic! We talked about what's great about being an queer adult and what's challenging about being a queer adult, especially when it comes to making friends and creating queer-friendly spaces for our friends with kids. Also, I publicly apologized for bailing on one of Gabby and Laura's parties in NYC when I first moved there/started working for Autostraddle and confessed it was because I didn't feel cool enough, and Gabby confessed that she thought I thought I was too cool. It was healing!
Carolyn Wysinger, Firebirds Counselor: I don't know if we actually addressed the questions on our list. But we talked about so many great important things.
KaeLyn: We only got through a few of the topics because the conversation was great. I loved that folks who came were openly talking with each other and making suggestions to one another.
Riese: I liked that it was a small group, it felt more like a bunch of seniors sitting around shooting the breeze than like a formal panel. I wish we had lawn chairs though.
Carolyn W: I was glad to stand up as the example of what it means to be 36 and living your best 16-year-old second adolescence, but also how hard it is being engaged in community work and the respectability politics involved with things like family.
Gabby: I learned a lot about how everyone else is navigating adulthood. queer spaces need to be more explicitly kid-friendly, sometimes at least! and it seems like there's a lot of fun shit happening in Ohio, so let's all move!
Riese: Yeah the big takeaway was: move to Ohio.
Carolyn: I was happy to be around the old timers for once on the mountain. But really I'm gonna do like Kaelyn and start worrying more about remodeling my firepit.
KaeLyn: I think some people with kids were surprised to find that there were other people with kids at camp. We talked about dating as older queers, finding community when you are no longer part of the bar scene, second adolescence after coming out later in life, and lots more. It was so affirming.
Elicia Sanchez, Ghost Power Counselor: Last year some very sweet campers came up to me to thank me for my fat positive comments during my comedy set onstage, and I was like,  "We SHOULD have a fat positivity workshop here, shouldn't we?" I said and they responded,"'and YOU should run it!" Keeping that in mind, I was excited to submit the Destigmatize Your Size workshop this year, but was only vaguely sure what the structure would be and how to make sure it was both fun and informative. While I myself am all about body positivity and fat acceptance, I also have zero degrees or professional work experience leading sensitive discussions so I was concerned if I could pull it off with only my personal experience and opinions as a guide. Thankfully, Mey agreed to co-lead with me and with her much more focused and responsible guidance, the format of the discussion became much more clear.
Mey: Elicia is one of my top favorite people on the mountain. She's one of the funniest people I've ever met and she's super fun and real and terrific. Also, I don't have a lot of fat friends in my real life, so having her at camp to talk to was really great.
Elicia: Before camp and the day of the workshop I was a bit concerned no one would show. After all, just because I felt like I would want to attend such a workshop at camp didn't mean the campers all felt that way. As the room filled up with SO many campers of all sizes, I was amazed. Not only because I found out this was an activity people wanted, but it was great to have a sense of size solidarity with so many campers! I know for me, sometimes in big social situations, it can be really welcoming to meet other fat people. Being able to talk about our insecurities and fears and most importantly, just VENT about all the BULLSHIT we have to put up in our everyday lives, whether we are actually uncomfortable with our size or not IS JUST SO FUCKING FREEING.
KaeLyn: I am just in love with Elicia and Mey. And with body positivity and body-love spaces. So, uh, I had no choice but to go to Destigmatize Your Size. It was so cool seeing people of all shapes and sizes and genders together in a packed room, frankly discussing our complicated relationships with our bods.
Mey: We were super happy when the room was totally full, and then even more happy with how great this activity ended up being. We were able to laugh about things, talk about things we can't normally talk about, we were able to be vulnerable and we were able to just be ourselves.
Elicia: All attendees of every size were the greatest people who brought so much to the discussion either from personal stories, anecdotes, their own opinions or just sharing really great advice. This has BY FAR been my favorite discussion-related activity of both of the camps I've been to. The vibe was genuine and positive and there was such an important sense of belonging I felt in that room. For the rest of camp I received some really beautiful notes from campers thanking Mey and I for running this workshop. One mentioned that being in attendance made them feel like it was the first time they were really SEEN at camp which still makes me cry because I FELT THE EXACT SAME!
KaeLyn: It's a conversation we need to have in queer spaces more often, as our communities experience so much stigmatization and cultural pressure from all sides. One of biggest takeaways from camp is Cleo's recommendation of Monistat anti-chaff powder gel for underboob sweat. #gamechanger
Elicia: I'm so so glad Robin and Marni let me organize this workshop and I can't wait to do it again next year! Although, I promise next time, I will make sure we have snacks! Mey is rad and also thought to bring in comfortable chairs!
Mey: I was very grateful to Megan brought us some chairs from Eagle because the ones that they had in Wolf weren't very fat person friendly.
Rachel: Yvonne and I worked together for the third and final installment of my Write Your Face Off workshop, and I remained shocked and overwhelmed that so many people not only wanted to show up at all, but showed up multiple times in a row! We did a few different things for our last workshop together; we did a little list illustration exercise with Yvonne, and then I made everyone get down on the floor for a writing arts and crafts project that involved making a visual map of personal narratives on the ground that could be moved around and manipulated to make different versions of the piece, because for some reason I was really determined to make writing a 3D activity that involved sitting on the carpet. It was so beautiful, and made me feel so much joy to see everyone focused on their own words and stories and building them together! I couldn't be more happy with how this workshop went.
Yvonne, Senior Editor and Shark Week Counselor: I was so jealous of all the campers who went to all parts of Rachel's writing workshop because I would've loved to participate and complete all her homework assignments. I got to help out the last part of the workshop and it was great to be in such a chill space.
Kai Keller, The Beach Counselor:  A-Camp Cheer Camp is what I live for. I'm lucky enough to be involved with the gayest cheer team of all time, but as a whole, we're seriously lacking on the out-and-proud queer representation front. That's why I love this workshop, where we can build an entire team made of queermos. This year I was lucky to have some incredibly talented past cheerleaders, dancers, and enthusiasts. Many of them showed up a few minutes late which led to me sitting with Camper Caitlin reassuring myself that CHEERLEADING IS AWESOME AND IS TOTALLY A SPORT AND PEOPLE WILL LIKE THIS. Hana was our only flyer and was a total trooper while I continuously yelled things like "Squeeze your ass!" and "Stand up!" because cheerleading. Everyone was great.
Kai: I'll just drop this bit of our cheer right here, icymi.
Queers, Queers, We're Everywhere!
We all look so damn good, I swear!
We look to the left.
We look to the right.
I wanna see you at Klub Deer tonight!
Watch us close while we go up.
A-Camp Cheerleaders are wassup!
Carmen Rios, Rodeo Disco Counselor: I was super excited to go to Chair Dancing With Cupcake, the workshop which will probably singlehandedly alter the future of my relationship. I was a little late, though, because my pesky bug bite wasn't getting smaller and I had a private consulation with Dr. Lizz about it in her room before the workshop started. And by that I mean, I was late because someone from Alpine Meadows walked in on me with my jeans down to my ankles and Lizz on her knees looking super closely at my thigh. Lizz and I really bonded on this day, I think.
Lizz Rubin, Witchblades Counselor: First thing in the AM Carmen asked me to look at her bug bite on her upper thigh. An Alpine Meadows staffer walked in and definitely thought some funny business was going on!
Emily Gigler: Gotdamn. Kaylah whipped up a smokin routine for us in Chair Dancing With Cupcake, and everyone who showed up fucking Brought It. I mean yinz rose and shone your asses straight out of breakfast to do a damn Chair. Dance. at 10am. And you made it sexy as hell!
Cecelia White, Witchblades Counselor: I will never spend a single moment thinking about the potential inadequacy of my butt after chair dancing, it made me feel that good and sexy and empowered. My butt can do sexy things in proximity to chairs! Who's the gayby now?! I must thank Kaylah for her phenomenal choreography and Kai and Gigler who are wonderful and fine instructors.
Lizz: Thank you to Cupcake for teaching me to chair dance. It was so important. Chrissie also thanks you.
Emily: My favorite part was when the room split in half, each side turning to face the other, and campers "demonstrated" for each other like they were already in love. Also Carmen came up with her final move of kicking the chair over at the end. There was magic everywhere.
Lizz: We decided to do the Safer Sex Q&A follow up as a Q&A and Toys Bonanza outside! It was so beautiful out that I think a bunch of people came just for the weather and got a lot more than they expected! I'm endlessly fascinated by the incredible, detailed and thoughtful safer sex questions that you guys ask! You guys are amazing.
Stef Schwartz, Campires Counselor: I spent this entire day practicing music with Mal Blum, talking about life with Mal Blum, reveling in the benevolent presence of Mal Blum. Mal and I live like eight blocks away from each other in Brooklyn, but had to come to the mountains of California to actually hang out. During second block, we had a huge band rehearsal with all the vocalists we had on hand, and I quietly and privately fell deeply in love with each and every one of them.
Djuan Trent, Beehive Counselor: I did my usual…meditation and chillin' and learning lyrics after breakfast. Met up with the family band folks a little later in the morning…rehearsal was great. I was really loving these folks.
Trent: Stef is freaking awesome and her skills on the bass are boss level. Marni is so great and accommodating, like… she just really cares and I appreciate that. Marni has also got some soul… I totally dig it. I'm pretty sure the "Grandma's Hands"/"No Diggity" mashup is my favorite thing. Alex knows how to play the drums, the tambourine and a whiskey bottle all at once, like… who else is on this level??? NO ONE. Mal Blum is great and we introduce ourselves to each other every time we see one another- don't ask questions, just let us be great. Julia is fun and I'm sad for her leg but even moreso impressed that she manages to maintain her rockstar status by turning her limp into a gangsta lean- or perhaps this is what I have imagined for her in my mind, whatever. Jenny's energy is explosive every time…it's like she's being chill but the energy is building up inside of her and then all of a sudden, this super strong voice comes out and all of these arm movements happen and she's hopping around and you feel like you are also supposed to be hopping around, so you hop- Thanks, Jenny.
Liz Castle, Tower of Terror Counselor: I was super stoked about the Leather Wrist Cuffs we made in this year… however I was not expecting approximately every person at camp to show up! It made it super fun but super busy so everyone who came got an awesome upcycled leather cuff and a free lesson in patience.
Laneia: I walked by Falcon and people were spilling out the front door and into the trees. So many people wanted cuffs!
Lizz R.: Rachel and I tried so hard to make leather cuffs but Liz was the most popular person ever! We ended up tying ours together with string, like our undying friendship.
Rachel: I still haven't finished my cuff and yet it is somehow still my favorite piece of jewelry I own.
Dannielle Owens-Reid, The Talent: I'm still so mad I couldn't learn to magish with whats-her-face.
Carly Usdin, Special Programming Director: Learn to Magish was something Robin and I came up with a few months ago. I had been taking classes at the Magic Castle here in LA and we decided that not only should I perform at camp (more on that later), but I should also teach a class! This was endlessly exciting for me. I love teaching people how to do things, and I love magic! We had an awesome class full of campers who were super excited to learn a few tricks. I even learned a thing or two from them. I had a blast and I think everyone else did too — my students kept telling me throughout the rest of camp how they'd been trying out their magic skills on their cabinmates and wowing everyone all over the mountain. I was so proud!
Riese: Obviously, Laneia, Rachel, Yvonne and I were taking way too long to get ready for the Senior Editors Hike, so Senior Staff Butch Queen Heather Hogan brought the entire hiking group… to us. Like literally to the doorstep of our cabin as Laneia and I were still altering our outfits. It wasn't a genuine hike, but it served the purpose we desired which was to have time to walk and talk with campers. Walking and talking with campers: one of life's greatest pleasures.
Laneia: It's so hard to talk and walk at the same time on that mountain! How does anyone do it? I genuinely don't understand. I was wheezing and nodding and trying to get out a full sentence before I had to faint. I mean on the whole it was fantastic. I learned so much about rocks from camper Vivian and now all I want to do is be a geologist. Or like, a geologist/midwife crossover maybe.
Rachel: Despite going to every single camp we've ever had, somehow the Senior Editors Hike is the only hike I've ever gone on. It was wonderful! Thank you so much to all the campers who came and who were very kind and patient about our obviously amateurish hiking capabilities, and who showed us that one weird tree that smelled like vanilla chai for some reason if you got close enough to it. Ironically I usually find that camp doesn't leave me a lot of time to actually talk to many campers, so it was fantastic to have a block where I could just chat and get to know people!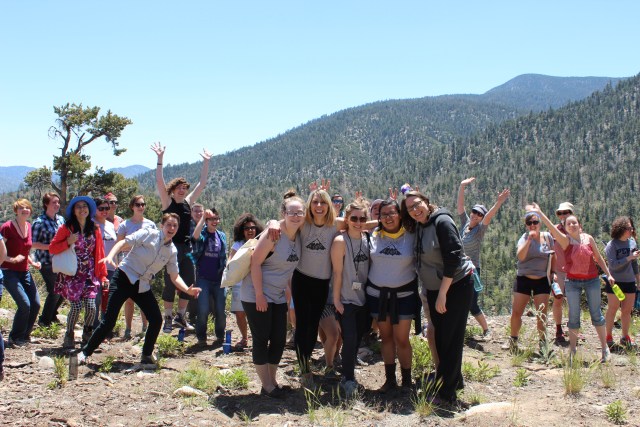 Yvonne: I was so surprised to see how many people came out for the Senior Editor Hike! I felt so loved and important and excited to chat with campers. It was also great to stretch my legs and venture beyond the main lodges.
Heather: Well, I am terrified of bears, so there's no way I was going hiking alone at camp. The Senior Editors Hike was the perfect way to spend time with these gorgeous Straddlers and see the nature and not get eaten alive by a giant, bloodthirsty beast. I think I learned what a waterwheel was on this hike, but now I can't remember. The air's so thin up there!
Afternoon Activities
Block A: Songwriting (Jenny & Mal) // Turning Your Passion Into A Business (Robin, Riese, Cee & Mary) // Mixed-Race Discussion (Cecelia, Carmen, Laura M, Mey, Cameron) // Three-Ingredient Gin Cocktails (Alex & Ali) // Castle Crafts: Leather Wristbands (Liz Castle)
Block B: Kinker Toys (Cee & Carolyn Y) // Witch/Craft (Cecelia & Mey) // OMG Shut Up Podcast Live (Dannielle, Grace, Kristin, Riese, Laneia and Rachel) // Stand Tall Stand-Up (Elicia, Brittani, DeAnne Smith) // Bad Allies: The Workshop (Laura W, Gabby, Maddie, Yvonne, Audrey)
Cee Webster, Fried Green Tomatoes Counselor: It was funny that Carolyn, Lizz, and I all had the same idea for a DIY kink craft workshop individually. We all joined forces and made three separate craft items, with a quick intro of itemizing the household items one could use for kink purposes such as wooden spoons, hair brushes, belts, and rulers.
Lizz: We did some BDSM/impact play basics and then crafted!
Carolyn Yates, Fun Home Counselor: Kinker Toys was my favorite workshop to run because I like talking about kink and also gesticulating wildly with impact play toys during casual conversation and it is one of the few places where I get to do both. Campers could choose to make a somewhat stingy rope flogger, a very stingy PVC flogger or velcro wrist restraints, and we all talked about kinky things along the way.
Lizz: I taught everyone how to make safer restraints with industrial Velcro that don't chafe, cut into wrists or tight the way scarfs do! Carolyn and Cee taught everyone to make much cooler stuff, namely floggers.
Cee: I think the Turning Your Passion Into A Business panel went really well. Robin was super organized and we all had a lot to talk about.
Robin: I was really excited about "Turning Your Passion into a Business" or "Head Bitches in Charge" panel.
Riese: The idea came about because BlogHer paid me to talk about this exact topic and I was like, hey I bet A-Campers could get something out of this too!
Morgan McCormick, Sea Otters Counselor: I took so many notes! I love business-y things, and it being a concept I'm sure to continue to struggle to understand, it was great to hear a lot of insights from people I know rather than at the remove of a TED Talk or a book by someone I'll never meet. Robin, Riese, Mary, Cee are knowledge angels.
Nikki, Intern: It was fantastic and listening to some of my favorite people talk about business had me on the outside, a calm, pleasant demeanor but on the inside I was frolicking through fields of wildflowers going MAYBE I CAN DO THIS. CEE, ROBIN, RIESE & MARY say I can, so take that brain that tells me I can't do something.
Robin Roemer, A-Camp Co-Director: YOU CAN NIKKI! I believe in you!
Cee: I have a secret hope that all the queers can open their own successful small businesses and can stop working for the establishment. I'd be super excited if even one person was inspired to strike out on their own after this panel.
Robin: It was really interesting hearing about all of your business ideas! I have this thing where I'm not sure I have enough information to share, but once Mary and Cee and I met beforehand to discuss (I think Riese was in another panel being awesome), we realized we had SO MUCH to share with you all. Our experiences and advice, but also just our encouragement because that is HUGE. If you guys were at that panel and have questions or just want to talk, email me!
Riese: I also feel like this panel was probably a good advertisement for Graphic Designer Alex Vega.
Mey: I got to spend the whole afternoon with Cecelia, which was really cool. First she lead the Mixed Race Discussion, which was really great and facilitated some really amazing conversations.
Cecelia White, Witchblades Counselor: I was super nervous to facilitate the discussion, especially considering how many of you showed up! Laura M told me last year that maybe twelve people showed up, and this year we were easily double that many people. But I quickly learned that mixed-race folks hardly ever have entirely mixed-race spaces to talk about our experiences, so there was a lot of venting and sharing and so little time. I am really excited that we decided to continue the conversation online!
KaeLyn: As an transracial adoptee, I was really appreciative of being accepted into the Mixed Race space. Transracial adoptees share a lot in common with mixed-race folks, like having our authenticity called into question, like calling our own authenticity into question mixed with guilt about assumed passing privilege, and not being sure how we fit into POC spaces. It was a gift to hear everyone's stories and to be able to be in the space.
Laura Mandanas, Outsiders Counselor: It was so great! I'm still processing some of the things we talked about, and I'm really thrilled to see how many more people we had this year.
KaeLyn: Cecelia was a bomb ass facilitator. She made the space really safe and steered us toward building positive support networks and points of connection.
Alex Vega, Design/Marketing Director: Ali is solely responsible for introducing me to the magic that is gin, so I was excited to learn even more about it in our Three-Ingredient Gin Cocktail Workshop, and I did!
Ali Osworth, Star Runners Counselor: I have little-to-no alcohol tolerance at sea level, so do y'all know how it is for me to do two cocktail workshops PLUS the whiskey tasting and one of our beer tastings ON THE MOUNTAIN? Do you even know, you guys?? Plus, we made a Negroni as our last cocktail in the Three Ingredient Gin Drinks workshop, which is liquor-on-liquor-on-liquor. So that was real interesting for me.
Alex: Now I have a new favorite cocktail AND favorite gin (Farmer's Gin) and had so much fun with the campers learning new things.
Kai: Ali and Alex got my campers wasted right before dinner. It was hilarious. HILARIOUS.
Mey: Witch/Craft was one of my favorite things this camp. Getting to know Cecelia (who I had never met in real life before) was one of my highlights of camp. I loved that we had this place where we could not only make really terrific crafts, but also talk about witch stuff.
Cecelia: I LOVE MEY! I think the positive witch vibes that wafted around during witch/craft will fuel me for this entire year. Even though this was technically just a craft workshop, it was actually a semi-vulnerable space for me to lead because my witch practices have always been really personal. I am so honored and grateful that I got to share some of this magic alongside Mey and with everyone.
Mey: Seriously, everyone's candles looked so great, I was really happy with how the illustrations by Cameron Glavin, Anna Bongiovanni and Rory Midhani turned out.
Cecelia: The illustrations for the votive candles were beautiful, and they made the experience truly one of a kind. I felt like we really transformed the energy of the mountain for what I am going to call the crystal pairing ceremony. I was surprised by how moving it was to look each one of you in the eyes and choose a crystal that matched your energy. Some people have reached out to me afterwards telling me that the crystal they received has provided guidance for them in sometimes surprising ways. That is amazing. You all make me believe magic is real.
Mey: Cecelia looked the campers in the eye and then picked which crystal they should have. So many people got their crystals and were like, "Oh my gosh! This one is perfect for me! How did you know?" It was magic. Our A-Camp coven was amazing!
Heather: I tried to get into the Witch/Craft workshop, but the line was all the way down the mountain and into the sea, so I didn't get to participate. I did look longingly in the windows with my nose pressed against the glass, like a true Harry Potter.
Stef: You guys, this really cute camper left a really cute note in my pigeonhole and I melted into a puddle on the ground. I'm so glad my friend Riese made a website and eventually a camp so that I could find one place on Earth where girls might actually talk to me.
Maddie I really appreciate everyone who came to share and/or listen at Bad Allies. I learned a ton from working on organizing and facilitating it with the amazing Gabby, Laura W, Yvonne and Audrey and then from everything y'all shared.
Gabby: We worked really hard to put together the Bad Allies panel. I think it went ok. We definitely had a super real moment with Marcdala from the Beehive. I know that we need to restructure the workshop and leave more room for an open forum type of thing. But for what it was and all the hard work Laura W., Yvonne, Maddie and Audrey put in to organizing it, I thought it was great. Autostraddle is committed to the radical political and social justice evolution of all the members of our community, not just the people of color. This workshop was created to provide a space for that type of intentional development on the mountain.
Yvonne: I was very nervous for the Bad Allies workshop because I had never done something like it before but knew I wanted to participate in something that could potentially help facilitate some really important discussions.
Carolyn W: Bad Allies was so amazing and real. Thanks to Gabby, Yvonne, Laura W, Maddie and Audrey for putting together a strong panel. It was difficult to get the participants comfortable but I'm glad we had some rank open discussions.
Riese: OMG Shut Up Podcast Live was fun! I like giving advice. We were an all-star advice team. We gave advice and recorded it and now you can listen to a lot of that advice right here.
Dannielle Owens-Reid, The Talent: Podcasting was fun as shit. I want to do it every day. We all had such cool perspectives and people weren't afraid to ask questions. I loved it.
Kristin Russo, The Talent: What Dannielle said.
Rachel: I still can't believe you weirdos trust us enough to listen to any advice we give — I lose my wallet SO OFTEN — but it was so fun to give it, and I was so grateful that so many people were willing to open up and get real with stuff that's going on with them so we could all share our thoughts.
Laneia: It's a lot of fun to tell y'all how to live your lives. I often think of that one camper who was moving to LA and wonder how things panned out.
KaeLyn: OMG Shut Up Podcast was the perfect pre-dinner place to chill and laugh and get solid life advice. The questions were fun and brave. Everyone's answers were great and full of love and humor. 10 out of 10, would recommend.
Carmen: On behalf of everyone in the podcast sesh who had to listen to Uptown Funk over and over and over because we were practicing in the big tent: sorry!
Chelsey: I was on Megan's Helpers duty for this block and Megan, Bren, Abby and I spent a good deal of time trolling Jenny and Mal's Songwriting workshop set up. This included making copious notes about where we were leaving the tape and why and labeling the rocks we had put around the easel (because of wind) as "Mal Rocks" and "Jenny Rocks". I hope they appreciated it as much as we appreciated setting the whole ridiculous thing up.
Bren: Don't forget the dinosaur, Chelsey!
Jenny: I had THE MOST FUN leading a songwriting workshop with Mal! After discussing the basic building blocks of a song, we laid out a song form with chords and a chorus ("whoa-oh, doin stuff at camp! whoa-oh, doin lots of stuff at camp!"). Then we broke our campers into groups and each group either wrote one of three verses or the bridge. They did such an amazing job! Lyrics included words like "babe-splosion" and the memorable couplet "So hung over from Klub Deer / Still thirsty for more queer." SO PROUD OF THESE SONGWRITING GENIUSES.
Stef: At one point, I was coming out of one of the staff cabins when I spotted DeAnne Smith outside Wolf. I sprinted full-speed across the rocks and dove headfirst into a serious hug. DeAnne had arrived directly from Australia, and I can't believe she was even awake, nevermind excited to see any of us. I'd missed her terribly. Within fifteen minutes of her arrival, I'd asked to borrow her nail clippers and the two of us were gossiping about girls and trimming our nails in the sink like a couple of gal pals. When she told me we were a gigantic cliche and that she was gonna use that moment in her act, I didn't really blame her.
Brittani: The stand-up workshop was cool because I got to hear DeAnne and Elicia talk about their experiences as comedians. There's sort of the token stand-up narrative but it really is sooo different when you're an openly queer lady comedian and just listening to the things they've been through is nuts. We also talked to a lot of the campers about the role comedy plays in their lives and their desire to perform.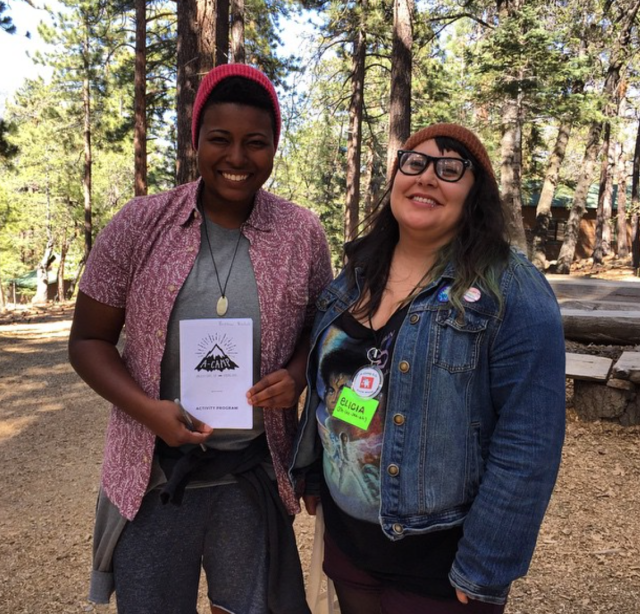 Elicia: It was great because duh, Brittani is great and duh, DeAnne is great and also meeting camper Olivia who went on to perform at the comedy show that night was great. DeAnne has so much experience and is just hilarious all the time and Brittani is so confident and talented and effortlessly funny. Some campers told some really funny stories and ideas for jokes. My take away was everyone is cooler than me and maybe I should quit.
Carly: Tuesday was the day I decided to spend making a video to show Tuesday night. Great idea, Carly! Way to not put yourself into unnecessarily stressful situations!
Trent: I had a great conversation with Jasika and Clay following dinner. We talked about life and goals and careers and stuff like that…it was one of the highlights of my camp experience, especially considering they'd been as eager to chat with me as I was to chat with them. Word up! Also, this was night that the Trent-chant was started by Dannielle and for this I am forever grateful. I vote that we carry this on for camps to come. Mal Blum introduced themself to me at dinner…again. That is all.
---
S'mores with Dannielle & Julia
Dannielle: It was the best, promise.
Kristin: I learned that you can make S'mores with REESE'S PEANUT BUTTER CUPS. Life changer.
Female Gayze Comedy Night
Riese: Carly and Brittani made a video! It was so funny! We had multi-media!
Carly: As I mentioned a few minutes ago, I put together our Awkward Moments at A-Camp Video earlier that day. Which is why there was a weird error at the end of the video and we couldn't watch the part with Jenny and I was super sad but that's what happens when you PROCRASTINATE also we can all enjoy the video in its entirety here.
Whitney: Carly and Brittani's "Awkward Moments at A-Camp" video was amazing. Any time anyone is like "What is A-Camp like, but super awkward?" I want to show them this video.
Jenny: Carly & Brittani's video!
Carly: I was so proud of everyone! Brittani put on a spectacular show — not that that is a surprise — and I got to see B & Kimber do improv, which was a treat.
KaeLyn: Brittani I honestly could not hear because I was in the cheap seats, but there was a lot of laughter, so I'm assuming that she was very funny.
Carmen: Everything Brittani Nichols touches turns to gold, so of course I snagged a front-floor seat to comedy night. It was everything I wanted and more, especially when it started off with the quiet shout of "fisting!" as a prompt for her and Kimber.
Riese: Brittani BROUGHT A GUEST to be in her improv comedy show! Like I brought a box of index cards to my activity and Brittani brought an entire human.
Liz: I always love comedy night but the lineup this year was extra awesome. And Brittani hosting was pretty much the best thing ever. I mean sketch, improv, AND stand-up?? Is there anything she can't do?! Other than whistle…Brittani can't whistle, so there's that.
Robin: The Comedy Night was one of my favorite events at camp. I have a lot of feelings. Brittani was hilarious, as advertised. B and Kimber's improv was really really impressive. B also juggled doing stand-up sets, writing and acting in a special video segment all while hosting! There isn't much B can't do.
Elicia: Brittani was great. Kimber was great.
Jenny: Also let us not forget that this is night upon which Brittani confirmed rumors that she is my & Kristin's erotic third.
Elicia: Omigod, I LOVE performing at A-Camp SO MUCH! It's basically my favorite venue of all time. The comedy show was great.
KaeLyn: Elicia was in her goddamn element and she shined bright like a diamond. A snarky, badass, hilarious diamond.
Mey: Oh my gosh, the comedians were so freaking funny. I can't stand how hilarious and weird and amazing Elicia's stories and jokes are. I could watch her tell stories about her childhood for hours and hours.
Stef: Every once in a while I still think about fourth grade Elicia transforming into a werewolf and burst out laughing in public.
Trent: Elicia makes me laugh so hard I could burst into a thousand pieces of burger and glitter. And if you're thinking, "I understand glitter, but why burger?" Just go on youtube and type in "piece of burger."
Dannielle: Fucking. Elicia is the funniest person who has ever been in the world. I can't even handle it.
Jenny: Y'ALL. ELICIA. Y'ALL. Y'ALL. I CAN'T.
Carolyn W: Elicia is everything. That is all.
Kai: Let's just be real. Elicia slayed all of us with her magic funny words.
Heather: I have never in my life laughed as hard as I did when Elicia talked about letting her sister's boyfriend use her bedroom window to sneak into see her sister, if he brought McDonalad's for her. I'm still laughing about it, months later, as I type this.
Robin: I want to meet little Elicia as a child and just hug her for hours and listen to her weird stories because she sounds like an AMAZING kid and obviously has become an insanely awesome and funny adult. A-Camper Olivia killed her stand-up set and won our hearts. I'm so happy we can see her perform now in Los Angeles. DeAnne came back!!!! And we were so blessed to have her crack us up all over again.
Kristin: We are still quoting Elicia. Remember how she got the picture of the popular girl and then the popular girl found her burying it outside in the dirt?? Remember how she stole so much rice from her mom so she could ward off all of the demons at high school?? SHE WOULD THROW THE RICE AT THEM. ELICIA PLS MARRY ME.
Morgan: Elicia killed as well because she is a murderer. A murderer of unhappiness. She shines rays of joyous light onto our mortal lives with comedic stylings.
Gigler: Elicia is definitely my favorite person to bump into at the smokers circle. Especially when her and Viv and Gabby and I are swapping family stories. But being able to just sit there and witness her in all her fourth grade werewolf glory was an unparalleled blessing. My strongest memory of comedy night was laughing my ass off and bouncing off Carmen like a weeble-wobble and hearing sweet bubbly giggly Becca guffawing behind me louder than I think I've ever heard her be in life.
Elicia: My cabin-mates Mary and Alex pretending to be my security team getting me through the crowd to my seat behind Carly was one of the funniest things that happened that wasn't in the show.
Alex: I would just like to take this time to say that I was the luckiest because Elicia was my cabin-mate and literally everything she says is the best thing.
Laura M: So it turns out that DeAnne Smith and I share the same life philosophy. My cheeks hurt from smiling after she got off the stage.
Stef: I just love DeAnne Smith so much. I hope we never have camp without her. I will hold her hostage if I have to. I'm willing to make it weird.
Liz: Finding out I was DeAnne's girlfriend was also a highlight for me. We broke up on instagram the week after camp…but it was sweet while it lasted.
Carly: I was so excited for DeAnne and Liz and now I am sad.
Laneia: Ughhhh I laughed so hard I cried and made my throat sore. WORTH IT.
Jenny: Also Deanne! Ah!!!
Riese: I think I always want to sit near Monique at Comedy Night because she is not afraid to engage.
Elicia: DeAnne is just everything ever. My friend Ash sat behind me and provided me whiskey from her flask because she is super great.
KaeLyn: Everyone was ah-mazing, but I'm just going to say it. Camper and surprise guest, Olivia Haidar, stole the show. Still laughing. She went there. And she has great hair.
Morgan: I was just with Olivia the other night telling her what a great human she is and how that show was something that she stole and that I was giggling and squealing and peddling my legs excitedly near the stage while some people looked at each other wondering if they were allowed to laugh at the excellent, smart, dark place she took us to with her routine that night.
Carly: Olivia's standup was hilarious, and DeAnne and Elicia both made me laugh so hard I cried.
Elicia: Special guest performer Olivia, SO great.
Alex: THE CAMPERS LIP-SYNCING THO.
Riese: The lip-syncing was so amazing! I can't believe they arranged that whole thing so fast!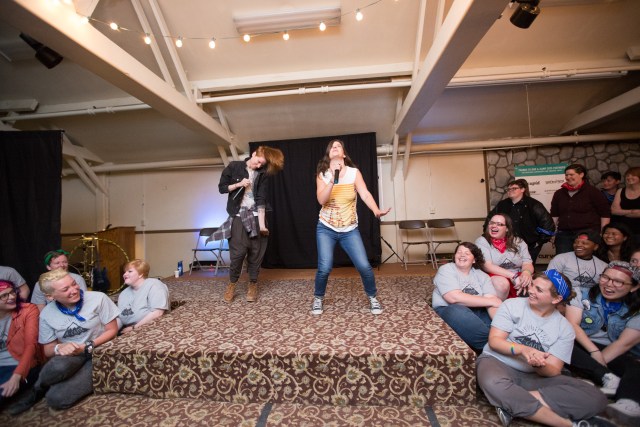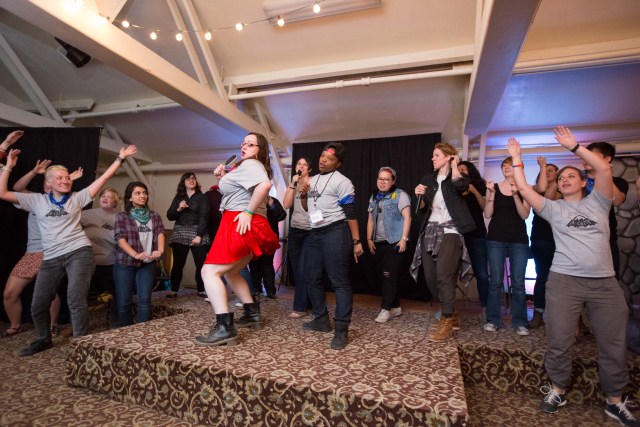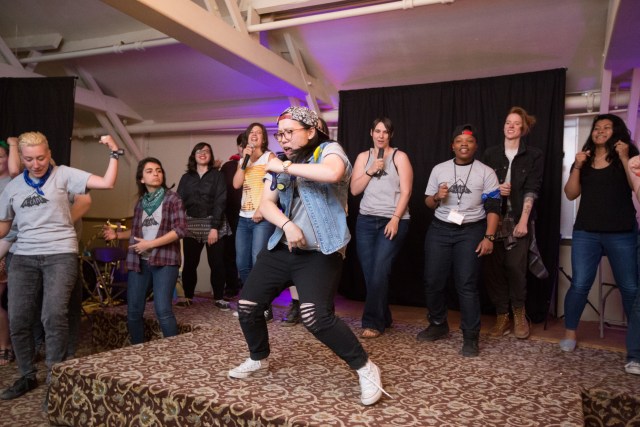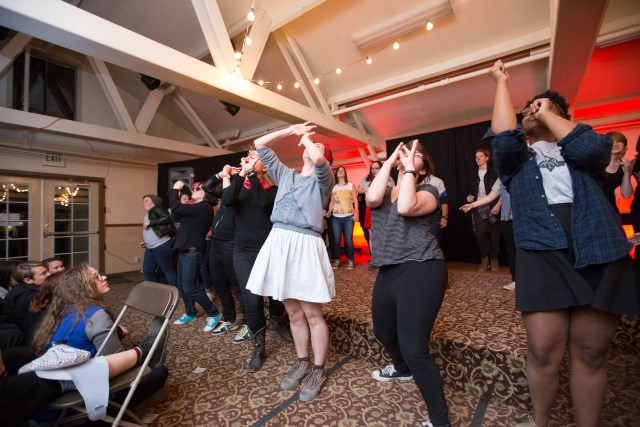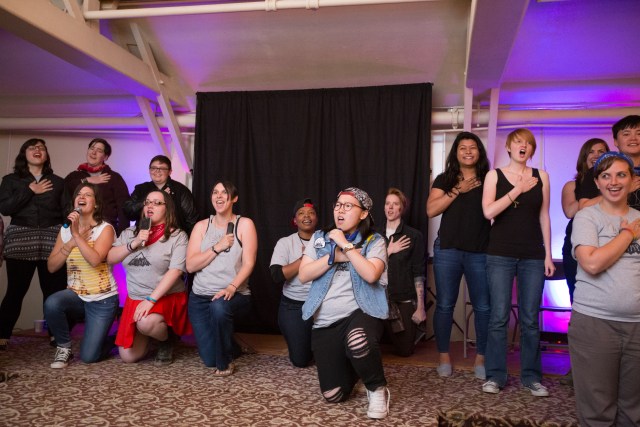 Carly: I set a few goals for myself at camp this year, and one of them was to produce a really fun, different comedy night. So I told Brittani to put together a comedy show, and then I told Kristin and Dannielle to put together a variety/talk show. Kristin and Dannielle probably thought all my emails were insane, because they didn't really know me yet, but they CAME THROUGH with a wildly entertaining show.
Kristin: When it was time for The Late Late Show With Kristin and Dannielle I lost all sense of reality from having only eaten quinoa for three days and danced for like ten minutes before we even began the show. Jenny said I looked like a windshield wiper.
KaeLyn: The Late Late Show With Dannielle and Kristin (and Jasika and Julia and Deanne and Jenny) was HILARIOUS. I liked the part where they couldn't figure out the rules to the game they were trying to orchestrate.
Elicia: Danielle and Kristin's show was just SO SO SO hilarious. I almost peed my pants. For real. And I wasn't even wearing pants, I think I was in shorts and tights so that would have been an unfortunate turn of events, but it seriously almost happened. Plus Jenny, Jasika and DeAnne as the guests for the gaming questions added to the possibility of peeing myself. Danielle is the most hilarious human being, by the way. And Jenny being forced to do the beetle impression again (WHICH IS COMEDY GOLD) was perfection.
KaeLyn: Jasika's impression of a startled bug crossing the threshold of a cabin!
Rachel: I'm still thinking about Jasika impersonating a beetle as part of the late late show. Sometimes it comes back to me in quiet moments — waiting for the coffee to brew, or for someone to answer a text — and I'm reminded of how lucky we all are that on this dumb spinning rock in space we once got to watch Jasika impersonate that beetle. It's heady stuff.
Jenny: It was so special to be a party of Kristin & Dannielle's late show… especially the part where I got to do my impression of a beetle who just wants to be a part of things. Wow.
Carly: Jenny's beetle impression is the best thing in the world that is all.
Kristin: Oh, and I hula-hooped while Dannielle made it rain (fake dollar bills that we had earlier made in the craft room shout out to paper cutters). Everything was completely out of control and it was my favorite thing of all time. Oh, and this was the night that we officially became a #throuple with Brittani and I had to explain to Jenny what being an "erotic third" meant. CAMPCAMPCAMP.
Carly: Shout-outs to Jasika, Jenny, Julia and DeAnne for getting on stage knowing virtually nothing of what would be asked of them.
Robin: It was so fun. I would like very much for this to be an actual television show. How do we make this happen?
---
Club Wolf Pop-up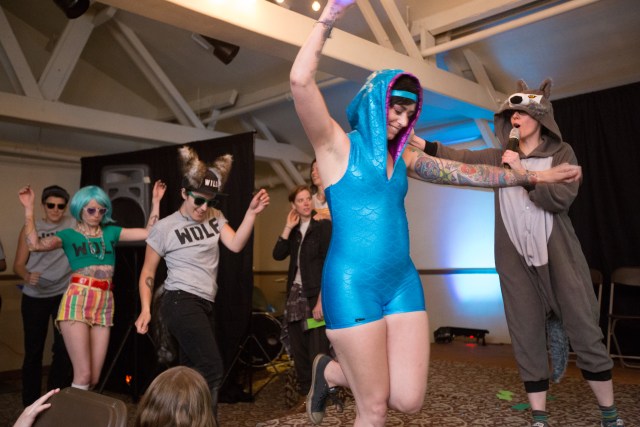 Riese: So, Klub Deer began as an underground dance club founded by Cee, Carrie and Meredydd at the second A-Camp. Stef was supposed to host karaoke in Deer but they convinced her to let them turn Deer into a dance club instead. It was not planned. It was not sanctioned by camp leadership. It just happened. Fliers were made — again, independently of camp leadership — the word was spread, the party began, and it never stopped raving. However… ever since the launch of Klub Deer, Taylor Hatmaker has wanted desperately to convince campers that there is ANOTHER underground Klub, even more underground and much better than Klub Deer. I believe her first initiative was Club Bluebird, and then there was Club Falcon, and then there was Club Wolf. At times, Taylor has made fliers herself for this imaginary club and done under-underground promotional campaigns.
Cee: When I saw the schedule had Deer closed the second-to-last night for State Fair prep, meaning we couldn't host Klub Deer that night, I emailed Marni asking if she would be willing to let us move the prep to Falcon or Eagle or anywhere else and I got no reply.
Riese: When we realized we'd have to shut down Klub Deer for State Fair prep, we knew it was time to let Taylor's dream become a reality.
Marni: Three weeks before camp I sent Taylor an email that was just a subjectliner that said "need to talk to you re top secret club wolf business #underground" and Taylor pretty much took it from there.
Cee: Taylor and I hang out a lot, and for the few weeks leading up to camp she was kinda MIA and kept doing camp prep stuff without me. I thought she was somehow mad at me or something, and I got a little paranoid. I had NO idea she was secretly planning the actual Wolf takeover the whole time, and had Marni, Kip and Robin in on it.
Riese: I mean, she was getting hats printed.
Cee: I finally was initiated into the Wolf Pack. I tried to get into my cabin but it was locked. However I knew people were inside because of the pounding bass of Daft Punk. The door was unlocked and inside was a wolf themed rave. I was crowned with a wolf hat, handed a shot of tequila, and finally everything made sense
Kip: Tuesday night was the night. A few of us had been planning Club Wolf to happen in a big way for a month or two. We wanted it to be a surprise, but my concern was that it was going to be TOO much of a surprise. Like that no one would show up. Basically up until the room was packed with people I did not have faith. No faith. We had been leaving little hints around that it would happen. Several staff members sported a "Wolf" snapback the day of. Also, random howling. But then it happened! And Deanne wore the wolf onesie, glowsticks were everywhere, people danced their sexy butts off, and Cecelia KILLED IT as Wolf's first official DJ.
Ali: It's just hilarious to see Taylor's three-camps-running joke become a reality—and it was a complete surprise, which is awesome. Club Wolf!
Stef: I know Taylor's been saying it for years, but it turns out Club Wolf really is the best club on the whole mountain. I'm impressed she was able to keep it underground for as long as she did. I hope it doesn't become overrun with the bridge and tunnel crowd now that the word's out.
Mey: I was lucky enough to be at Club Wolf when Arrow, the husky, made a surprise wolf celeb guest appearance!
Carmen: I think my favorite part of Club Wolf, aside from how much ass it kicked, was that Deanne was wearing an animal onesie THE WHOLE TIME and went on a mission with me to rescue campers who were too drunk and walk them home. Deanne Smith, you're my entire heart.
Kai: I used this night to try and get Mal Blum's attention. I'd legit go up to them and say, "Mal, are you busy?" And they'd be like, "Ha, actually yes." Because I'm ridiculous I did it again. I think I asked Mal if they were busy ~7 times. They were just really busy. Like really busy. Then the next day Mal came up to me and said, "Kai, are you busy?" with the cutest smirk and I could've died right there. Now I have an insider with Mal Blum, you guys. Is it still inside if everyone knows it? Doesn't matter. Mal, if you're reading this we're besties now.
Gigler: So Club Wolf had a vibe all its own. I should have been dead ass draggin by this point, but for some combination of good fortune, I was Wide Awake. I don't know if it was the light scheme, Cecilia's music, or just some third or fourth wind but everyone was geekin. Vega did her Robyn bit, Brittani was showing genuine enthusiasm, Taylor was popping up all over the place being adorable. A solid pop up. The wolf hat. It was a whole other world in there; suddenly I was 15 and in a warehouse again, and I'm pretty sure I glow-sticked with the bracelets and everything else that lit up. I won't be shamed.
Alex: Club Wolf was really fucking impressive you guys seriously. Deanne was running around in a wolf onsie, Jasika was throwing it down on the dance floor (and is seriously the best dancer btw), people wearing glowy things, Arrow The Dog running around lookin' like a wolf and shit, Backstreet Boys, Whitney Houston, Robyn. Thank you, Club Wolf. Thank you for everything.
Cecelia: Kip and Taylor and Cee actually did a phenomenal job of keeping Club Wolf on the down-low, I in fact volunteered to be the DJ for Club Wolf a solid hour and a half before the club opened. So my playlist was hastily constructed partially on good faith for AT&T data to pull through on the mountain and partially on finding razzle dazzle songs to make everyone feel good. Kip and Cee had the great vision to start us off with Daft Punk, which did a great job of welcoming everyone to the glow light spectacle. The crowd made me feel like the Gay DJ version of Lizzie McGuire yelling "This is What Dreams Are Made Of." Shoutout to my cabin, The Witchblades, for being in full attendance and dancing super hard with me next to the DJ booth. Also I had seen every piece of television where a lady DJ puts headphones on another lady and magically becomes The Hottest, but I wasn't expected to be personally handed so many half-filled solo cups of straight tequila. So many of you said afterwards that the music inspired you to make out on the dance floor, and that might be the proudest accomplishment of my life so, no, Thank YOU.
Kristin: Everyone suddenly had hats that said Wolf and DeAnne was walking around with a giant metal arrow with lights, pointing at people and shouting, DO SOMETHING FUN.
Rachel: I can't talk about Club Wolf, it makes me too emotional to be reminded that I'm not there right now.
Elicia: I spent the majority of Klub Wolf in the smoker's circle except for the one time I heard Robyn and got up and then it was gone so I went back to smoking. At some point Rory and I decided to go check out what Yvonne told me was a cabin party at the BeeHive, but we weren't sure which cabin was in fact the BeeHive so instead used our really good investigative skills to listen for loud noises as we walked around a cluster of cabins. Once we saw some lights on and heard Gabby's voice, we figured we'd found it, but then as I was hesitating to knock, Rory pulled the door open and hid behind it with just me there awkwardly staring at everyone inside. The party had died down, but everyone was in the midst of some good conversations and Rory and I were invited in to listen and share. At first I was afraid this was going to be awkward, but it was one of my favorite experiences at camp. Thank you BeeHive for letting me be a part of your scene, if only for a night!
---
Next Time: The State Fair and saying goodbye!
Pages: 1 2 3See entire article on one page