Once upon a time we had a dream. It involved a couple hundred of you, 40 of us, a group retreat site in the San Bernardino Mountains and a weekend packed with workshops, panels, classes, meet-ups, activities and performances designed to inspire, educate, entertain and/or make you laugh — basically, it was the spirit of this website manifested in three entire dimensions mixed with a dash of old-fashioned Summer Camp goodness and an infusion of conference style. We wanted to create a special (and affordable!) space where you could be yourself, enhance your relationships within the international queer community, support Autostraddle, be a kid again and make new friends forever.
It was a dream called A-Camp, and it came true the last weekend of April 2012 and it was a total shitshow but also amazing. We've since held increasingly spectacular A-Camps in September 2012, May 2013, October 2013 and May 2014. In 2015, we're only gonna be holding only one A-Camp, and it's definitely going to be the best A-Camp in the history of modern camping. Possibly pretty high up there with the invention of The Tent.
When
5:30 PM May 30th – 10 AM June 4th
Where
Alpine Meadows Retreat Center in Angelus Oaks, California. It's less than three hours from Los Angeles and San Diego, four hours from Las Vegas, five hours from Phoenix and seven hours from San Francisco. We'll be running shuttles from LAX to the campsite from 11:30 AM to 2PM on May 30th and shuttles back to LAX at 10:00 AM on June 4th.
Who?
You weirdos! Our campers range in age from 18 to 50 and come from all over the world, including lots of Canadians and quite a few Australians and Europeans. Generally half our campers are under 25 and half are over 25, and 60% are first-timers.
Also: Us! We are headed up by A-Camp Co-Directors Robin Roemer & Marni Kellison, and in order to give you the broadest range of programming possible, we've got a staff-to-camper ratio of about 1:7.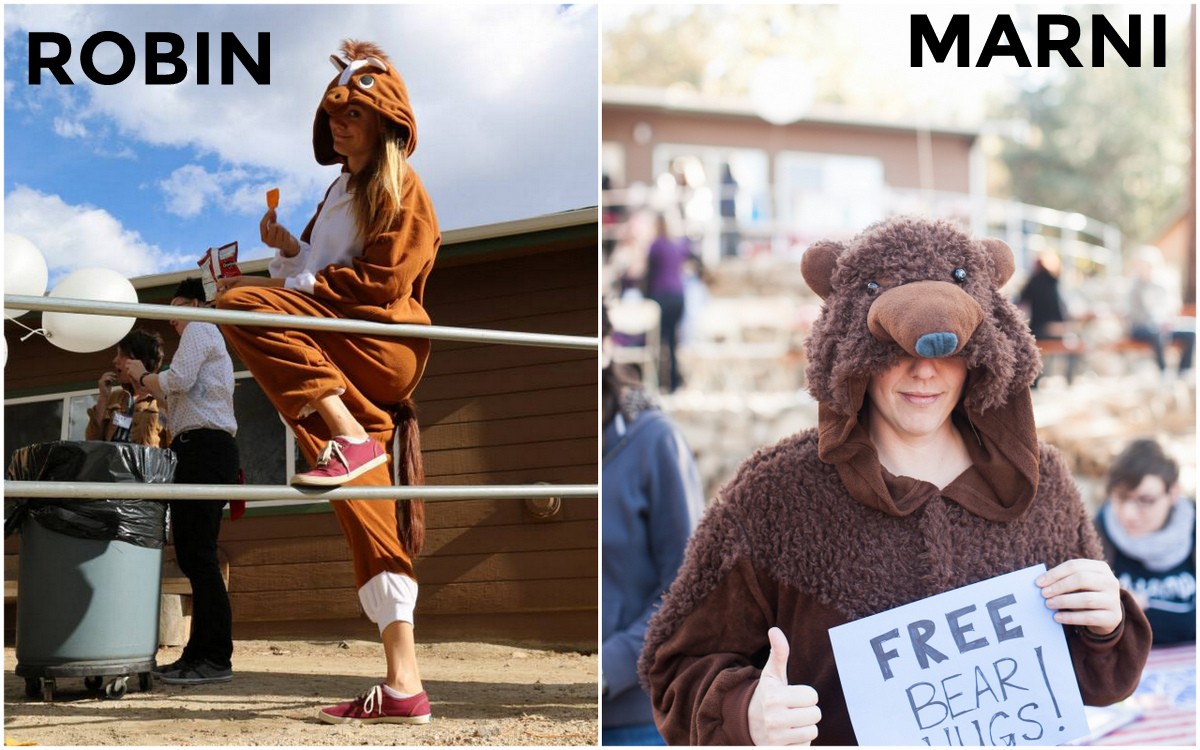 How
Tuition is $595 and is all-inclusive — that's five days and nights of food, lodging, programming and entertainment for less than $119 a day! It's the most affordable event of its kind, and  just $75 down reserves your spot. Questions about the cost? Check out our FAQ.
Want more details? Let's go!
---
Anything…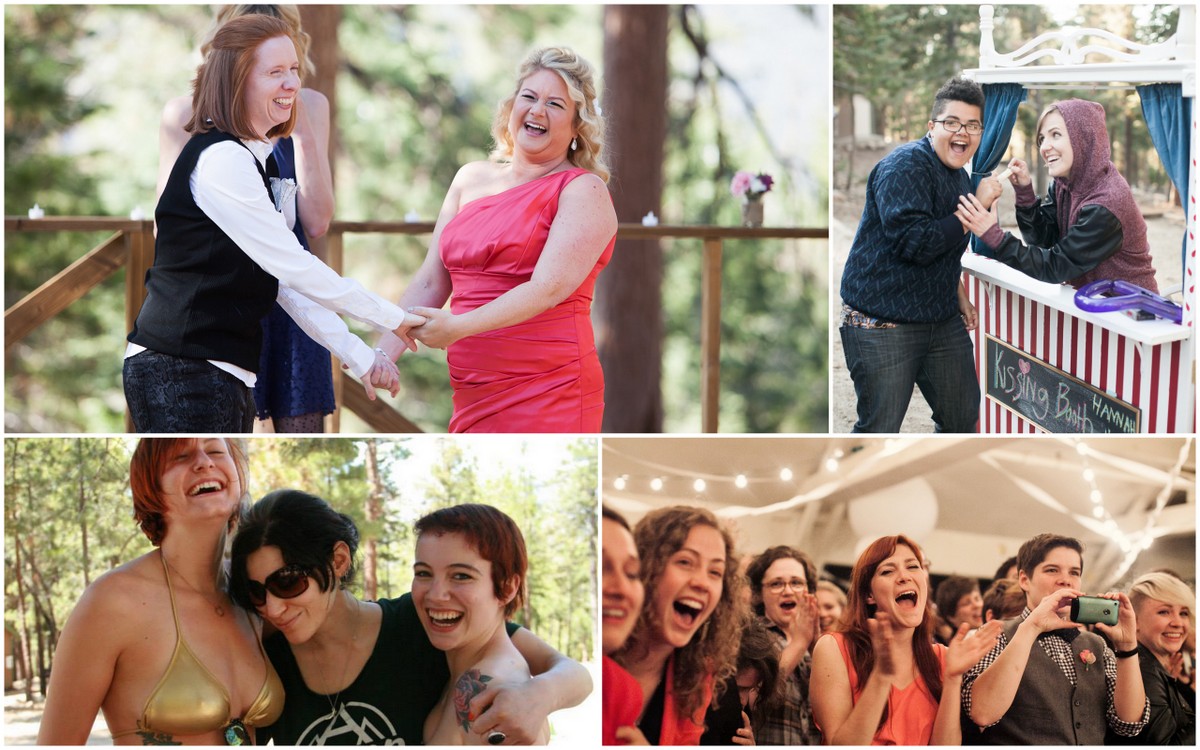 Is…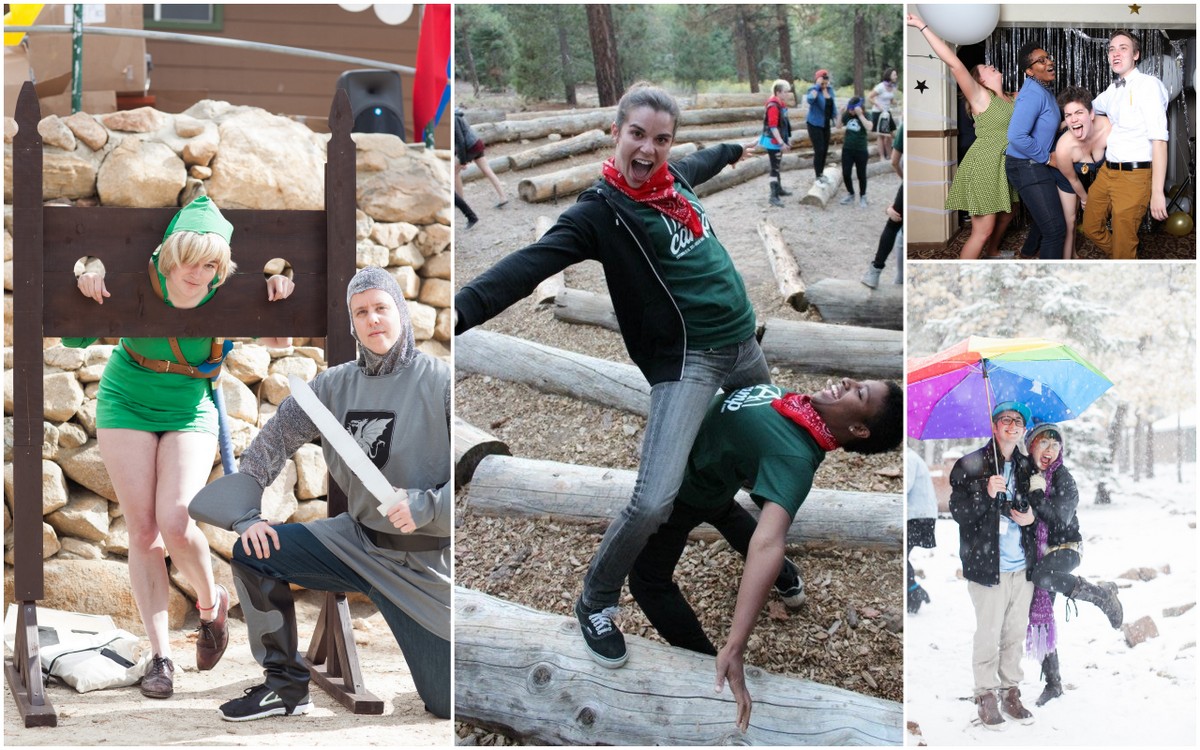 Possible…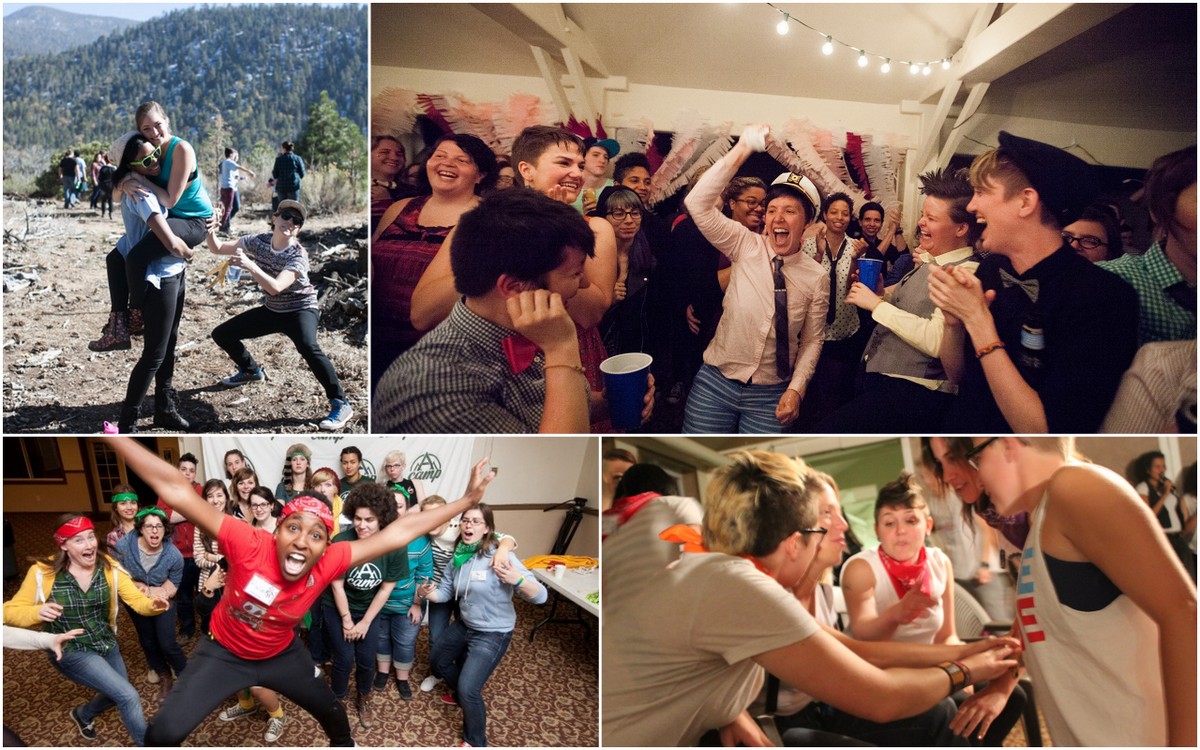 We're shaking it up again this year with a revamped schedule and roster of truly spectacular programming that'll go deep into our hearts and souls to bring out the best in you, teach you new things and enable you to have TONS OF FUN. We'll be hosting our first-ever A-Camp State Fair (for real this time), which'll be spectacular because LIVESTOCK. (Just kidding, no livestock.) Plus, we'll be well into June and thus it'll be warm enough for swimming, canoeing, hiking and star-gazing.
---
Lodging
You'll be having the bestest biggest grown-up slumber party of your life in fully insulated, carpeted & heated cabins with private bathroom/showers/baths and bunk beds. You'll be sharing these cabins with somewhere between 12 and 18 others, which can be intense, but is mostly A BLAST.  Cabin groups are designed with your best interests in mind, and you'll also be teaming up with other cabins to compete in the camp-wide Rainbow Wars.
Note: All campers under the age of 21 will be in the same cabin.
---
Food

You'll get three meals a day with snacks — we now work with the chef to design a menu and options catered specifically for our group, with vegetarian, vegan and gluten-free options as well as meals for people with food allergies.
---
Daytime Programming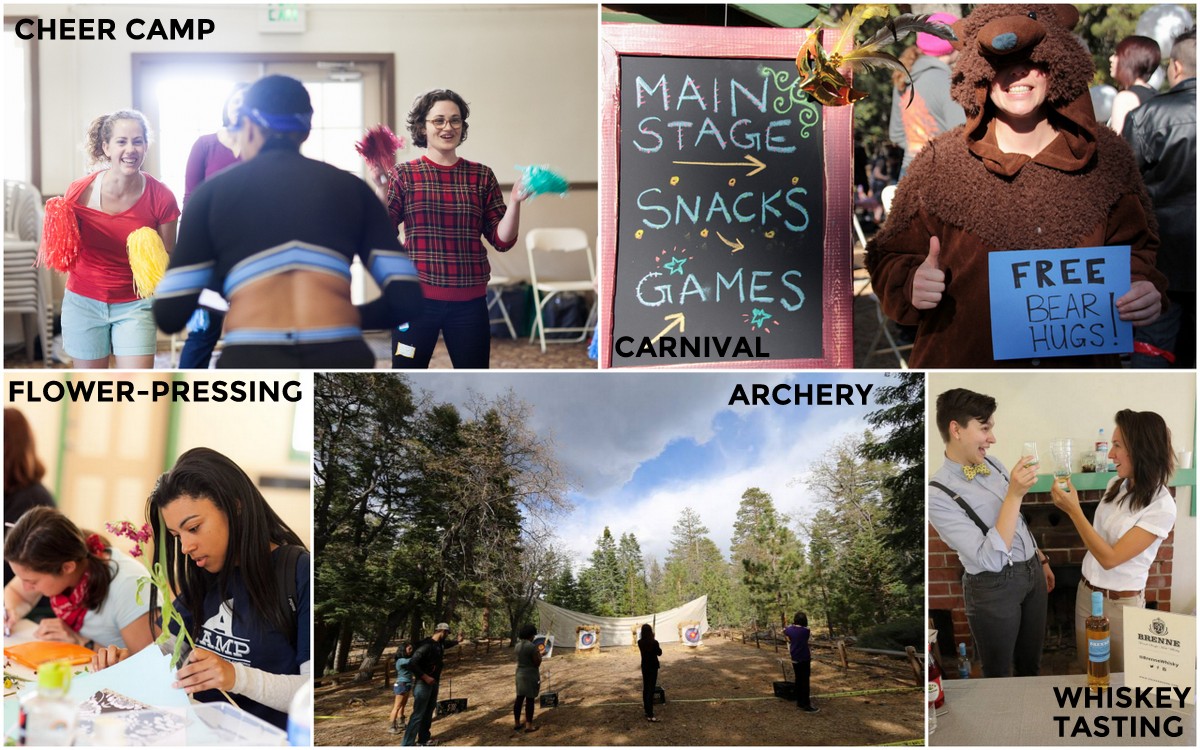 You'll have full access to a variety of activities, workshops, panels, sports, discussion groups, classes and arts & crafts.
Activities offered at previous A-Camps include…
Arts & Crafts:
Bow-Tie Making
Chingona Chats and Crafts: Sacred Queer Heart Shrines
DIY Daisy Dukes
Look After Yourself: Self-Portraits
DIYke Hardware Jewelry
Nerdcraft
Make A Thing: Merit Badges
Knit Your Way To A Better Life
Workshops:
Songwriting 101
"Ropes Course" and Kink Workshop
YO! A-Camp Raps!
Pure Poetry Challenge
Comics With The Lumberjanes Team
Lez Talk About Sex(ual Health)
Swagger 101
Peer Counseling For Everybody!
Casual Sext
Improv Comedy
Sports, Games, Etc:
Self Defense 101
Cheer Camp
Ballet for Basic Bitches
Rock Yoga
Beyonce's Dance Grooves
Hip-Hop Dance
Canoeing
Geek Trivia
Mindfulness & Meditation
Haus of Vogue
Discussion Groups, Panels & Presentations
Queer People of Color Politicking & Zine-Making
Mixed-Race/Biracial/Multi-racial Discussion Group
Profesh Pantsuit Power Hour
Speed Dating
Gender Spectrum
Mommy Queerest: Queer Parenting Panel
Party of One: An Introvert Feelings Atrium
Tardy for the Party: A Coming Out Later In Life Discussion Group
Mountaintop Bisexual* Discussion Group and Hummus Appreciation Society
Real Talk: Your Relationship Doesn't Have To Suck
Bloody Hell: A Menstruation Feelings Atrium
Mystery Homo Theater 4000
---
Nighttime Entertainment

Autostraddle After Dark includes crazy-fun evening entertainment that changes every time. There's always a last night dance and there's always a Staff Reading, and this time, you can definitely count on a night of Comedy and a night of Music. Past After Dark activities have included game shows like The Strip Spelling Bee, musical extravaganzas like Lilith Flair, X-Files screenings and The All-Camp Variety Show.
---
Talent
WE'RE SO EXCITED ABOUT OUR TALENT Y'ALL!!!
Dannielle Owens-Reid, "Everyone is Gay"
website // twitter // instagram // tumblr // autostraddle

Dannielle resides in Los Angeles, and has been working with LGBTQ young people for over four years as the co-founder of Everyone Is Gay. She holds a BA in Theater Performance, and studied comedy in Chicago for 4 years, performing at iO Chicago, Second City, and The Playground. She has also worked extensively in the world of social media, heading up social interactions for Virgin Mobile on the Lady Gaga Monster Ball Tour in 2012 and was first runner-up to be MTVs first ever TJ (twitter jockey — it's not a thing anymore). She created Lesbians Who Look Like Justin Bieber aaaand recently co-authored the book This is a Book for Parents of Gay Kids, with business partner, Kristin Russo. Her cat's name is Janet.
DeAnne Smith, Comedian
website // twitter // instagram // autostraddle

DeAnne blogs for Autostraddle, but mostly she's known for her hilarious stand-up and prolific career as a comic. This three-time Canadian Comedy Award nominee (2011, 2012, 2013) has performed all over the world, including the Edinburgh Fringe Festival, the Melbourne International Comedy Festival, the Iceland Comedy Festival and Just for Laughs Montreal and Chicago to name a few. She's also been on TV in four countries, including on Last Comic Standing NBC, The Late Late Show on CBS, Canada's The Comedy Network and CBC, Australia's Channel 10 and ABC, and UK's Sky TV. She co-created the timeless webseries Tiny Pineapple and produces the wonderfully hilarious podcast, Questionable At Best. The Montreal Gazette says DeAnne is "fresh, cutting…one of the finest wits in the country." The UK's Telegraph calls her "Smart. Very funny. Effortless charm lets her get away with murder." She's never actually murdered anyone.
Jasika Nicole, Actor
website // twitter // instagram // tumblr // autostraddle
Jasika is an actor who is probably best known as Brenda from that Alltel commercial she did 8 years ago that ran for a few months, but she also spent five years playing Astrid on Fringe and is currently on Scandal. She has a lot of hobbies such as hating cheese, obsessing over your Mom, and reading power tool reviews on Amazon. She also spends a lot of her time knitting, sewing clothes, building things, and drawing her comic "Closetalkers," which is a story about two best friends who fall in love with each other. Her favorite color is mint green, her favorite film genre is depressing documentary, she doesn't like dangly earrings, and her current dream role is Dorothy in The Wiz.
Jenny Owen-Youngs, Musician
website // twitter // instagram // tumblr // autostraddle

Jenny Owen Youngs is a singer, songwriter, and natural history enthusiast who grew up in the forests of northern New Jersey and currently lives in Brooklyn, NY. She self-released her first album Batten the Hatches in 2005, then went on to release two albums and three EPs through the Canadian indie label Nettwerk Records. More recent years have seen a return to her DIY roots with the self-release of her most recent album (An Unwavering Band of Light) and EP (Slack Tide). She has toured extensively through the US and Europe, both as headliner and support to artists such as Regina Spektor, Motion City Soundtrack, Against Me!, and Amanda Palmer. Her songs have been heard on Weeds, Nurse Jackie, Catfish, and in Victoria's Secret stores the world over. There's a pretty decent chance she has watched more cumulative hours of Buffy the Vampire Slayer than you or anyone you know.
Julia Nunes, Musician
website // twitter // instagram // tumblr // autostraddle

Julia Nunes (pronounced NOONZ) hails from upstate New York. She is a talented singer-songwriter, guitarist, and ukulele player. She started writing songs at the age of 13 for her middle school ska band. She gained a rabid following on youtube by posting videos playing her heartfelt originals and creative covers. Most videos are edited together with multiple layers showing each instrument and vocal part as she records it. In 2009, Ben Folds took notice of her cover of his song "Gone" and took her out on an East Coast tour. She's also toured with and played on stage with Ben Kweller, Amanda Palmer, A Great Big World and Weezer. She made her television debut on Conan in 2012 playing her original "Stay Awake."  In 2013 Nunes started playing living room shows, putting on completely acoustic concerts inside people homes. Always creating her own path, Julia is funding her latest album with a wildly successful kickstarter campaign. When the album drops mid 2015 she's sure to come to a club/bar/living room near you.
Kristin Russo, "Everyone is Gay"
website // twitter // instagram // tumblr // autostraddle

Kristin Russo is the co-founder of the LGBTQ youth organization Everyone Is Gay, and holds a Master's degree in Gender Studies from the CUNY Graduate Center in Manhattan. She recently co-authored the book, This is a Book for Parents of Gay Kids, and launched The Parents Project (a first-of-its-kind digital presence for parents of LGBTQ kids) with her business partner (and famous celebrity), Dannielle Owens-Reid. Kristin resides in Brooklyn, NY, is married to a musician named Jenny Owen Youngs, and has a cat named Trey who does not yet hold any degrees and frequently sleeps to close to the heater.
Brittani Nichols, Comedian
website // twitter // instagram // autostraddle

Brittani Nichols has been a professional freelance African-American for over 25 years and a Los Angeles based comedy person for quite some time. In addition to serving as the Comedy and Sports Editor for Autostraddle, she's written for HuffPo, Elixher and Jezebel and appeared on television (Billy on the Stree, the Collective). Brittani's pilot, Words With Girls, premiered at HBO/BET's Urbanworld Film Festival and is now available online at Color Creative TV. She's currently a writer on the upcoming BET show, The Vince Swann Experiment. Brittani currently does stand-up from time to time and imrpov a lot of the time with her teams Charm School and Dunkmore. She's performed in shows at Upright Citizens Brigade Theatre (LA and New York), on iO West's Mainstage, and at the Downtown Independent Theater along with other fun places like a hostel. She even spoke at a college once.
---
Swag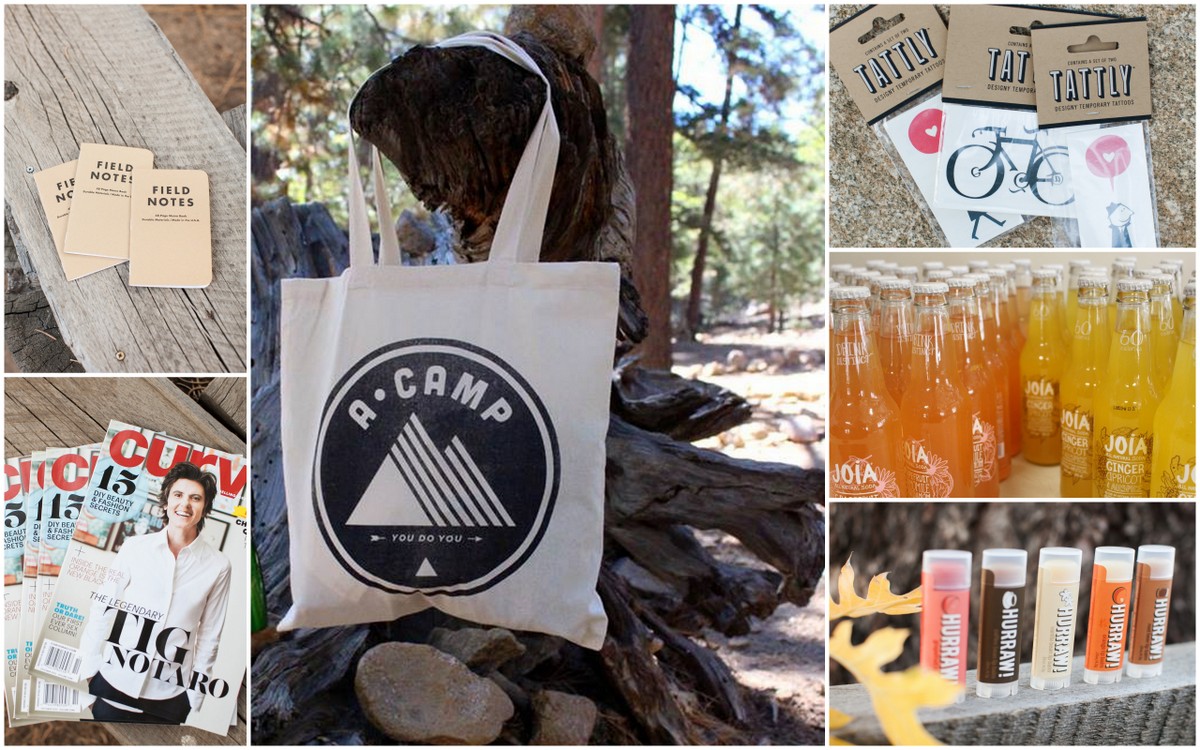 You'll get your very own A-Camp Tote bag, chock full of fun shit from our sponsors and your very own A-Camp T-Shirt. (If you're an independently owned business who'd like to see your swag in our bags, hit us up!)
---
Camperships & Tuition Discounts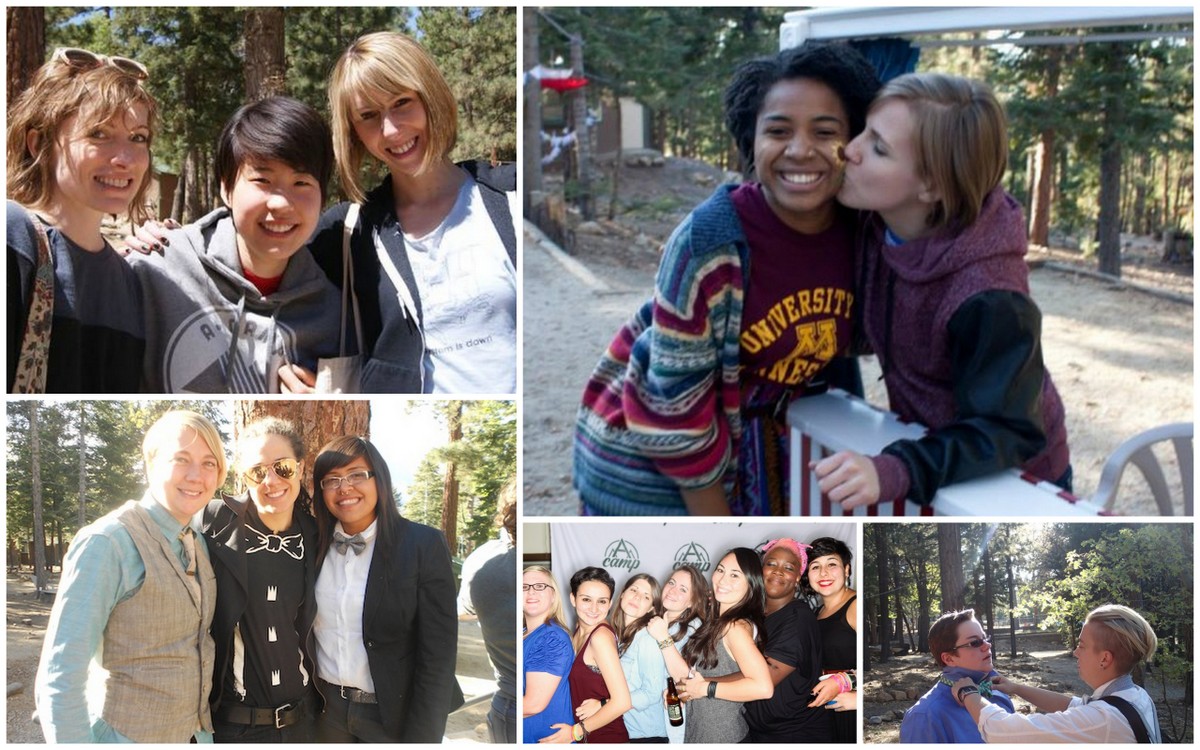 Your generosity has sent over 30 deserving humans to A-Camp over the past three years, and you'll have the chance to make dreams come true again this year by donating to our campership fund. Our goal is to offer 5-8 full camperships and 5-8 partial camperships of 30%-60% off, and five spots at half price. We'll start accepting essay applications and soliciting donations next month in a post which will feature essays from our May 2014 Campership recipients. But if you wanna donate to the campership fund right now, you totally can! If you donate a full campership we'll be in touch regarding whether or not you'd like your identity revealed to the camper. If you have an independent business who'd like to sponsor a campership, get in touch with alex [at] autostraddle.com. Previous sponsors have included Kipper Clothiers, Scout's Honor, Kreuzbach10 and Hannah Hart.
We also recognize that as A-Camp becomes more expensive it becomes harder to maintain the diversity we require for a truly successful A-Camp. We encourage campership applicants who are of color, trans women, mothers, or over 35 and newly out and will have some specific opportunities for QTPOC.
If you cannot attend camp without a full Campership, do not register for camp! We reserve spaces for Campershippers so you don't need to snag one in case you become a Campershipper — that's been taken care of.
---
Okay, I'm in. What now?
If you wanna get on the saddle and trot on over to A-Camp with us this spring, here's what you've gotta do:
1. For the low low price of a $75 non-refundable non-transferable deposit, you can snag your spot for the spring festivities. Please read the instructions at the top of each registration interface page if anything seems remotely complicated. Your full tuition is due April 7th. You can make partial payments between now and then by logging back in to the regonline system and making partial payments.
2. If registration fills up, you can put yourself on the waitlist. Be sure to put an e-mail address you check regularly and often, so you don't miss our note if you're up!
3. If you're driving in on May 30th, please plan to arrive between 3 PM and 5:30 PM. On Sunday, please plan to leave by 11 AM.
4. If you're looking for flights and will need transportation from the airport, be sure you can be at Terminal 6 by 2 PM on May 30th. If you're getting in to LAX later than 2PM, you may miss opening night and you'll have to make your own travel arrangements.
If you'll need transportation to the airport on June 4th, there will be shuttles leaving at 10am. It takes two to three hours to get to the airport, so we advise against booking flights that leave before 3PM. If the 10AM shuttle won't get you to the airport in time to make your flight, you'll have to make your own travel arrangements. Options exists such as "getting a ride with another camper," "bribing the kitchen staff" (no really this might be your best option) and "renting a car for a very low in-airport price." Also, many campers stick around LA for the night or a few days or a few weeks, too, which is lots of fun!
5. If you need to cancel, you can just log back in to the registration interface and cancel!
6. QUESTIONS ABOUT REGISTRATION OR TRAVEL GO TO cool@autostraddle.com. ("COOL" stands for "Coordinator of Logistics")
For More Information
On our A-Camp website, you'll find our FAQ, the talent/staff we've got on board so far and a link to register the hell out of your unit. For more information about what goes on at A-Camp, you can check out our recaps from past camps and testimonies from campers about the joy of the experience. But A-Camp is whatever you make of it: every camper writes their own story. Come with your heart wide open and do whatever you want.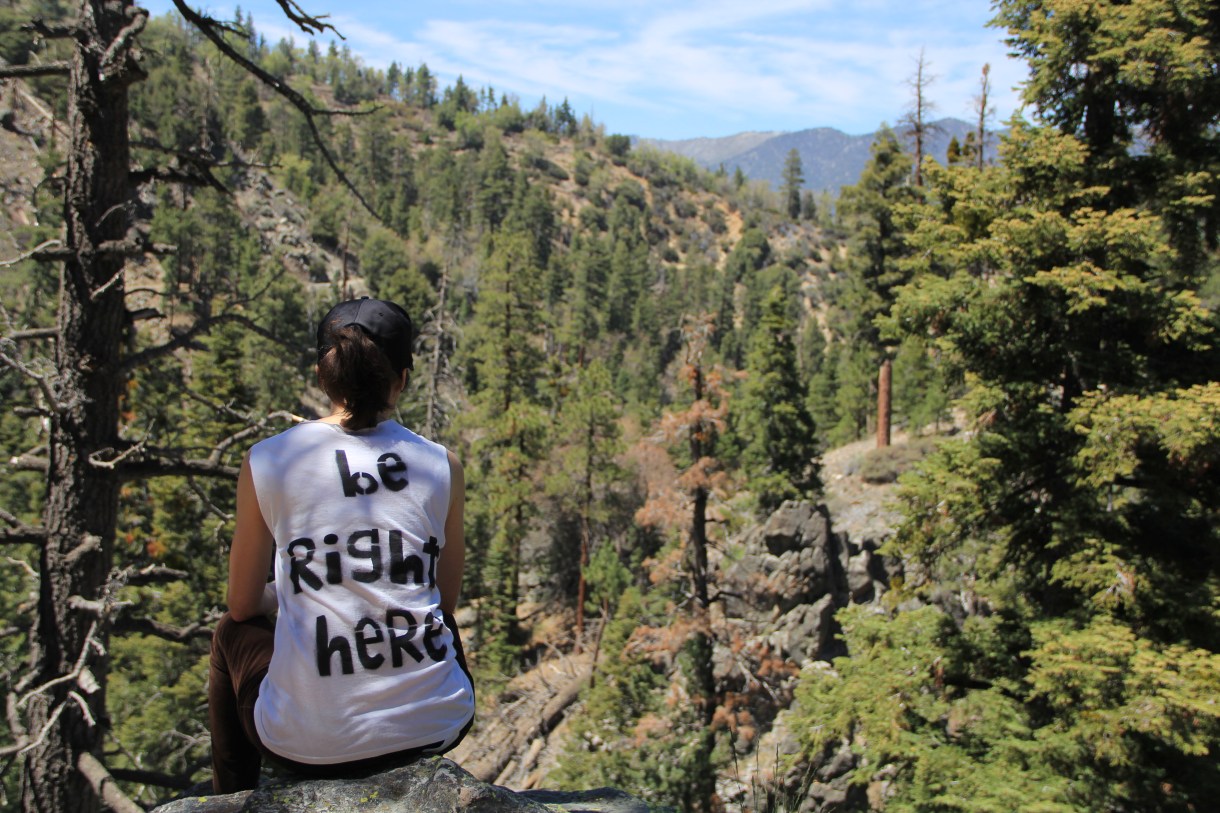 What are you waiting for?