Ah, the martini — one of the classics that everyone who drinks should know how to order and how to make. As with a Manhattan, there are three varieties. Sweet, made with sweet vermouth (sometimes called Italian vermouth); dry, made with dry vermouth (sometimes called French vermouth); and medium, made with both. Unlike the Manhattan, though, my personal favorite martini isn't a medium. It's a dry. And all the better! All one needs to make a dry martini is the gin, the vermouth and some orange bitters — things you might already have in your bar. Well, and a garnish, but we'll get to that in a sec. Let's chat a bit more about the drink itself first.
Liquor Choice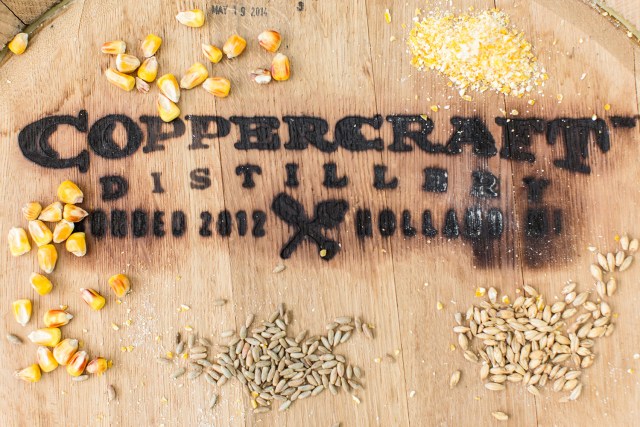 I usually say when you're mixing, you don't have to use "the good stuff." That rule is not true for a martini. This is one of those drinks where you do want to use the good stuff, understanding of course that everyone has their own version of the good stuff. Personally, I'm using Noilly Prat dry/French vermouth and Coppercraft Distillery's Gin. Full disclosure, Coppercraft did send me a tester of their gin and went through it with me in a Skype tasting — but as y'all know, I never feature any liquor in this column that I wouldn't serve to my guests, regardless of how I was originally introduced to it. Anyhow, I think the notes that come forward for me in this gin (the orange and the nutmeg, in particular) are what makes it completely perfect for our wintery martinis.
Stirred, Not Shaken
I also want to address the travesty that is the James Bond martini. So many well-meaning people don't argue with 007 on this one, and they order their martinis shaken, not stirred. This fucks up a perfectly good drink—know that when you do this, you are asking for a watered down cloudy weird martini. I suppose that it does make sense that a super spy would want a watery martini. He needs to keep his wits about him, after all. But that's no reason for us to mess with an otherwise pretty perfect cocktail.
So What Makes It A Penguin Martini?
Everything I've mentioned up until this point goes for a regular dry martini — so what makes a martini into a Perfect Penguin Martini? The garnish, of course! The standard garnish for any kind of martini is a lemon twist, not an olive or anything savory like that. By all means, you can make these martinis and just garnish with a lemon twist. Or even the boring sort of olives that you just pop on a toothpick. But to make a Penguin Martini, the Penguin is necessary. Now the first time I saw these little guys, my fiancée's aunt was the one that showed them to me and they had little cream cheese bellies. I can't think of something I'd want less in my dry martini — cream cheese, blerg. Belongs on bagels. So I scoured the internet and found a version using cocktail onions that we're going to riff on today. For those of you wondering why the hell we're going to all this trouble for the garnish, just remember: the point of garnish is that final presentation. It's what turns a good drink into a great one. It's about the experience of drinking—the way the garnish makes the drink smell when a person holds it to their lips, the way it makes the drink look (in this case, damn adorable). And because the garnish takes a bit of time to make, I'm going to recommend starting with the garnish and ending with the actual mixing of the martini. So without further ado—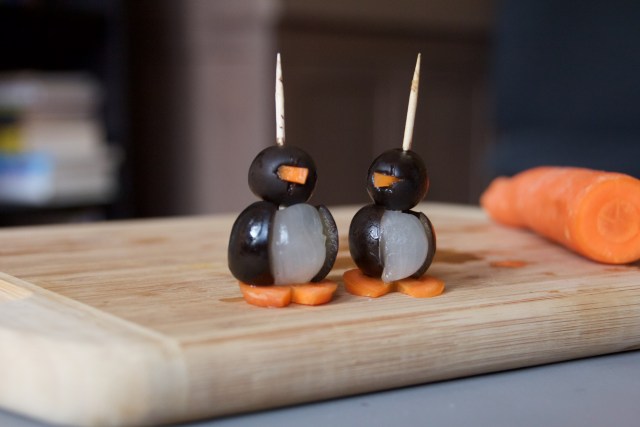 The Penguin Garnish
These are so, so easy, just go with me on this.
You will need:
1 can small olives
1 can large olives
1 jar cocktail onions
a carrot
toothpicks
a good, sharp knife
Begin by slicing the base of a carrot—cut the nibbly end off and then slice a coin.
Take that coin and cut a tiny lil' pie wedge out of it.
Now grab one of your large olives—slice it from the hole right on down (lol) so that you can open it up along one side.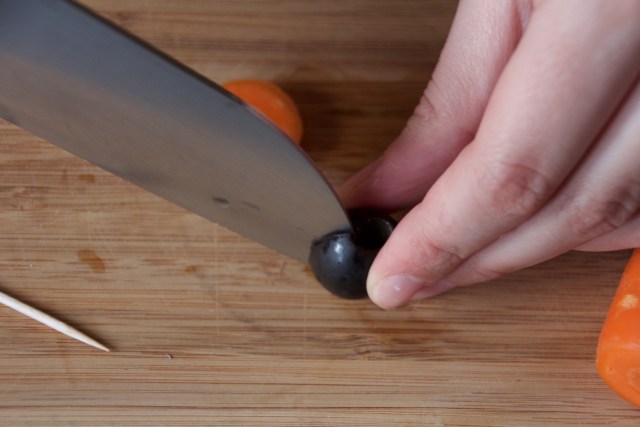 Stuff an onion in there. It should look like this: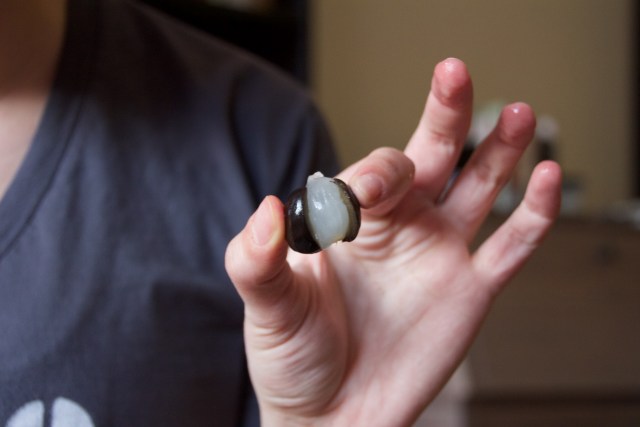 Using a toothpick, stick the olive/onion combo onto the carrot coin that you took a slice out of. Make sure the white of the onion is facing toward the slice in the carrot coin.
Now grab one of the small olives. Take that tiny pie-slice of carrot and locate the end of the olive that looks like someone stamped an asterisk into it. Shove the pie-slice of carrot into the asterisk.
Now find your almost-penguin and stick this, the head, onto the sticky-outy bit of the toothpick. Arrange the head to look like a head.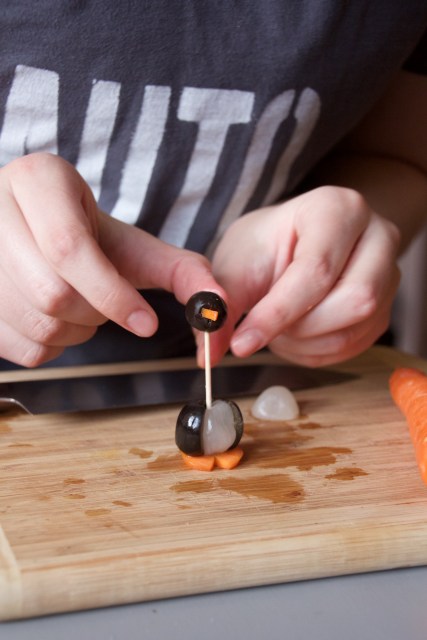 Optional: grab a chive and tie it around its tiny penguin neck like a wee scarf.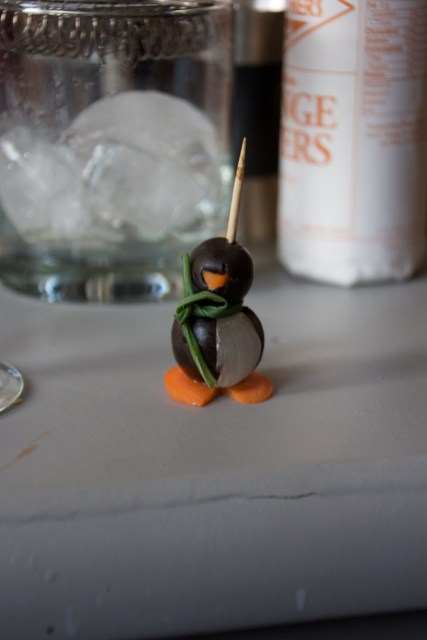 The Dry Martini
You will need:
gin (again, I'm using Coppercraft)
French/dry vermouth (Noilly Prat)
orange bitters (Fee Brothers)
a jigger
a hawthorne strainer
a mixing glass, spoon and ice
a martini glass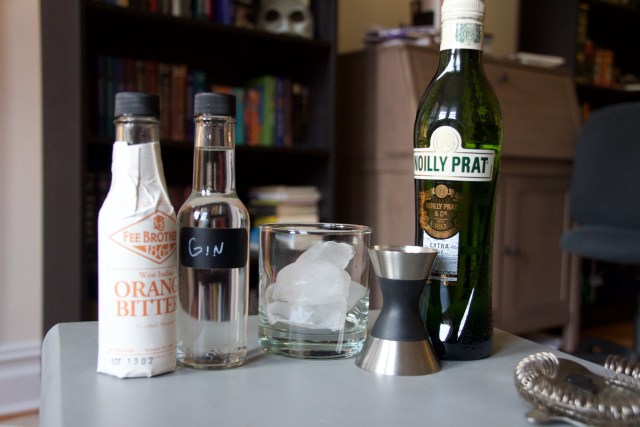 Chill your martini glass by filling it with ice. Set it aside.
Fill your mixing glass with ice. Add 3.5 oz of gin.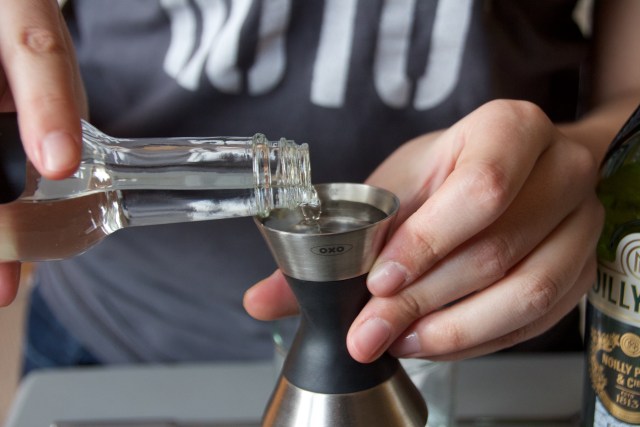 And 0.5 oz of dry vermouth.
Finish with a dash of orange bitters and stir. When it comes to stirring, by the way, try not to clank the ice too much. It breaks the ice down in the drink, which isn't what you want. Plus you don't want to assault the ears with that terrible ice-banging sound.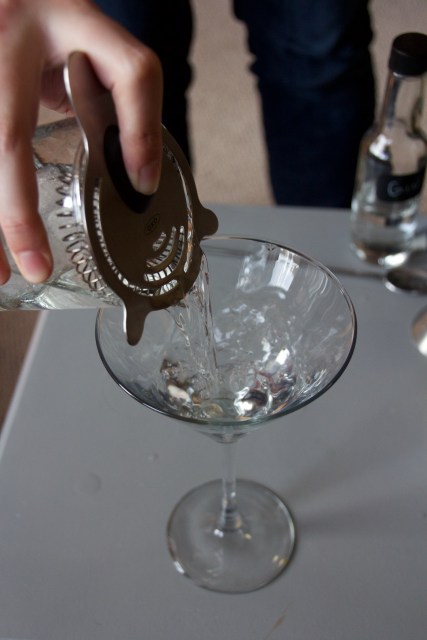 Empty your martini glass of ice and strain your martini into the chilled glass. Pop a penguin in! Serve to the blizzard guests playing boardgames on your dining room table. Join in their board game fun. I love board games.
So how about you? How do y'all like your martinis? How are y'all fairing with all this snow out there?
All photos courtesy of Abby.