Afternoon Activities
Block A: Songwriting (Jenny & Mal) // Turning Your Passion Into A Business (Robin, Riese, Cee & Mary) // Mixed-Race Discussion (Cecelia, Carmen, Laura M, Mey, Cameron) // Three-Ingredient Gin Cocktails (Alex & Ali) // Castle Crafts: Leather Wristbands (Liz Castle)
Block B: Kinker Toys (Cee & Carolyn Y) // Witch/Craft (Cecelia & Mey) // OMG Shut Up Podcast Live (Dannielle, Grace, Kristin, Riese, Laneia and Rachel) // Stand Tall Stand-Up (Elicia, Brittani, DeAnne Smith) // Bad Allies: The Workshop (Laura W, Gabby, Maddie, Yvonne, Audrey)
Cee Webster, Fried Green Tomatoes Counselor: It was funny that Carolyn, Lizz, and I all had the same idea for a DIY kink craft workshop individually. We all joined forces and made three separate craft items, with a quick intro of itemizing the household items one could use for kink purposes such as wooden spoons, hair brushes, belts, and rulers.
Lizz: We did some BDSM/impact play basics and then crafted!
Carolyn Yates, Fun Home Counselor: Kinker Toys was my favorite workshop to run because I like talking about kink and also gesticulating wildly with impact play toys during casual conversation and it is one of the few places where I get to do both. Campers could choose to make a somewhat stingy rope flogger, a very stingy PVC flogger or velcro wrist restraints, and we all talked about kinky things along the way.
Lizz: I taught everyone how to make safer restraints with industrial Velcro that don't chafe, cut into wrists or tight the way scarfs do! Carolyn and Cee taught everyone to make much cooler stuff, namely floggers.
Cee: I think the Turning Your Passion Into A Business panel went really well. Robin was super organized and we all had a lot to talk about.
Robin: I was really excited about "Turning Your Passion into a Business" or "Head Bitches in Charge" panel.
Riese: The idea came about because BlogHer paid me to talk about this exact topic and I was like, hey I bet A-Campers could get something out of this too!
Morgan McCormick, Sea Otters Counselor: I took so many notes! I love business-y things, and it being a concept I'm sure to continue to struggle to understand, it was great to hear a lot of insights from people I know rather than at the remove of a TED Talk or a book by someone I'll never meet. Robin, Riese, Mary, Cee are knowledge angels.
Nikki, Intern: It was fantastic and listening to some of my favorite people talk about business had me on the outside, a calm, pleasant demeanor but on the inside I was frolicking through fields of wildflowers going MAYBE I CAN DO THIS. CEE, ROBIN, RIESE & MARY say I can, so take that brain that tells me I can't do something.
Robin Roemer, A-Camp Co-Director: YOU CAN NIKKI! I believe in you!
Cee: I have a secret hope that all the queers can open their own successful small businesses and can stop working for the establishment. I'd be super excited if even one person was inspired to strike out on their own after this panel.
Robin: It was really interesting hearing about all of your business ideas! I have this thing where I'm not sure I have enough information to share, but once Mary and Cee and I met beforehand to discuss (I think Riese was in another panel being awesome), we realized we had SO MUCH to share with you all. Our experiences and advice, but also just our encouragement because that is HUGE. If you guys were at that panel and have questions or just want to talk, email me!
Riese: I also feel like this panel was probably a good advertisement for Graphic Designer Alex Vega.
Mey: I got to spend the whole afternoon with Cecelia, which was really cool. First she lead the Mixed Race Discussion, which was really great and facilitated some really amazing conversations.
Cecelia White, Witchblades Counselor: I was super nervous to facilitate the discussion, especially considering how many of you showed up! Laura M told me last year that maybe twelve people showed up, and this year we were easily double that many people. But I quickly learned that mixed-race folks hardly ever have entirely mixed-race spaces to talk about our experiences, so there was a lot of venting and sharing and so little time. I am really excited that we decided to continue the conversation online!
KaeLyn: As an transracial adoptee, I was really appreciative of being accepted into the Mixed Race space. Transracial adoptees share a lot in common with mixed-race folks, like having our authenticity called into question, like calling our own authenticity into question mixed with guilt about assumed passing privilege, and not being sure how we fit into POC spaces. It was a gift to hear everyone's stories and to be able to be in the space.
Laura Mandanas, Outsiders Counselor: It was so great! I'm still processing some of the things we talked about, and I'm really thrilled to see how many more people we had this year.
KaeLyn: Cecelia was a bomb ass facilitator. She made the space really safe and steered us toward building positive support networks and points of connection.
Alex Vega, Design/Marketing Director: Ali is solely responsible for introducing me to the magic that is gin, so I was excited to learn even more about it in our Three-Ingredient Gin Cocktail Workshop, and I did!
Ali Osworth, Star Runners Counselor: I have little-to-no alcohol tolerance at sea level, so do y'all know how it is for me to do two cocktail workshops PLUS the whiskey tasting and one of our beer tastings ON THE MOUNTAIN? Do you even know, you guys?? Plus, we made a Negroni as our last cocktail in the Three Ingredient Gin Drinks workshop, which is liquor-on-liquor-on-liquor. So that was real interesting for me.
Alex: Now I have a new favorite cocktail AND favorite gin (Farmer's Gin) and had so much fun with the campers learning new things.
Kai: Ali and Alex got my campers wasted right before dinner. It was hilarious. HILARIOUS.
Mey: Witch/Craft was one of my favorite things this camp. Getting to know Cecelia (who I had never met in real life before) was one of my highlights of camp. I loved that we had this place where we could not only make really terrific crafts, but also talk about witch stuff.
Cecelia: I LOVE MEY! I think the positive witch vibes that wafted around during witch/craft will fuel me for this entire year. Even though this was technically just a craft workshop, it was actually a semi-vulnerable space for me to lead because my witch practices have always been really personal. I am so honored and grateful that I got to share some of this magic alongside Mey and with everyone.
Mey: Seriously, everyone's candles looked so great, I was really happy with how the illustrations by Cameron Glavin, Anna Bongiovanni and Rory Midhani turned out.
Cecelia: The illustrations for the votive candles were beautiful, and they made the experience truly one of a kind. I felt like we really transformed the energy of the mountain for what I am going to call the crystal pairing ceremony. I was surprised by how moving it was to look each one of you in the eyes and choose a crystal that matched your energy. Some people have reached out to me afterwards telling me that the crystal they received has provided guidance for them in sometimes surprising ways. That is amazing. You all make me believe magic is real.
Mey: Cecelia looked the campers in the eye and then picked which crystal they should have. So many people got their crystals and were like, "Oh my gosh! This one is perfect for me! How did you know?" It was magic. Our A-Camp coven was amazing!
Heather: I tried to get into the Witch/Craft workshop, but the line was all the way down the mountain and into the sea, so I didn't get to participate. I did look longingly in the windows with my nose pressed against the glass, like a true Harry Potter.
Stef: You guys, this really cute camper left a really cute note in my pigeonhole and I melted into a puddle on the ground. I'm so glad my friend Riese made a website and eventually a camp so that I could find one place on Earth where girls might actually talk to me.
Maddie I really appreciate everyone who came to share and/or listen at Bad Allies. I learned a ton from working on organizing and facilitating it with the amazing Gabby, Laura W, Yvonne and Audrey and then from everything y'all shared.
Gabby: We worked really hard to put together the Bad Allies panel. I think it went ok. We definitely had a super real moment with Marcdala from the Beehive. I know that we need to restructure the workshop and leave more room for an open forum type of thing. But for what it was and all the hard work Laura W., Yvonne, Maddie and Audrey put in to organizing it, I thought it was great. Autostraddle is committed to the radical political and social justice evolution of all the members of our community, not just the people of color. This workshop was created to provide a space for that type of intentional development on the mountain.
Yvonne: I was very nervous for the Bad Allies workshop because I had never done something like it before but knew I wanted to participate in something that could potentially help facilitate some really important discussions.
Carolyn W: Bad Allies was so amazing and real. Thanks to Gabby, Yvonne, Laura W, Maddie and Audrey for putting together a strong panel. It was difficult to get the participants comfortable but I'm glad we had some rank open discussions.
Riese: OMG Shut Up Podcast Live was fun! I like giving advice. We were an all-star advice team. We gave advice and recorded it and now you can listen to a lot of that advice right here.
Dannielle Owens-Reid, The Talent: Podcasting was fun as shit. I want to do it every day. We all had such cool perspectives and people weren't afraid to ask questions. I loved it.
Kristin Russo, The Talent: What Dannielle said.
Rachel: I still can't believe you weirdos trust us enough to listen to any advice we give — I lose my wallet SO OFTEN — but it was so fun to give it, and I was so grateful that so many people were willing to open up and get real with stuff that's going on with them so we could all share our thoughts.
Laneia: It's a lot of fun to tell y'all how to live your lives. I often think of that one camper who was moving to LA and wonder how things panned out.
KaeLyn: OMG Shut Up Podcast was the perfect pre-dinner place to chill and laugh and get solid life advice. The questions were fun and brave. Everyone's answers were great and full of love and humor. 10 out of 10, would recommend.
Carmen: On behalf of everyone in the podcast sesh who had to listen to Uptown Funk over and over and over because we were practicing in the big tent: sorry!
Chelsey: I was on Megan's Helpers duty for this block and Megan, Bren, Abby and I spent a good deal of time trolling Jenny and Mal's Songwriting workshop set up. This included making copious notes about where we were leaving the tape and why and labeling the rocks we had put around the easel (because of wind) as "Mal Rocks" and "Jenny Rocks". I hope they appreciated it as much as we appreciated setting the whole ridiculous thing up.
Bren: Don't forget the dinosaur, Chelsey!
Jenny: I had THE MOST FUN leading a songwriting workshop with Mal! After discussing the basic building blocks of a song, we laid out a song form with chords and a chorus ("whoa-oh, doin stuff at camp! whoa-oh, doin lots of stuff at camp!"). Then we broke our campers into groups and each group either wrote one of three verses or the bridge. They did such an amazing job! Lyrics included words like "babe-splosion" and the memorable couplet "So hung over from Klub Deer / Still thirsty for more queer." SO PROUD OF THESE SONGWRITING GENIUSES.
Stef: At one point, I was coming out of one of the staff cabins when I spotted DeAnne Smith outside Wolf. I sprinted full-speed across the rocks and dove headfirst into a serious hug. DeAnne had arrived directly from Australia, and I can't believe she was even awake, nevermind excited to see any of us. I'd missed her terribly. Within fifteen minutes of her arrival, I'd asked to borrow her nail clippers and the two of us were gossiping about girls and trimming our nails in the sink like a couple of gal pals. When she told me we were a gigantic cliche and that she was gonna use that moment in her act, I didn't really blame her.
Brittani: The stand-up workshop was cool because I got to hear DeAnne and Elicia talk about their experiences as comedians. There's sort of the token stand-up narrative but it really is sooo different when you're an openly queer lady comedian and just listening to the things they've been through is nuts. We also talked to a lot of the campers about the role comedy plays in their lives and their desire to perform.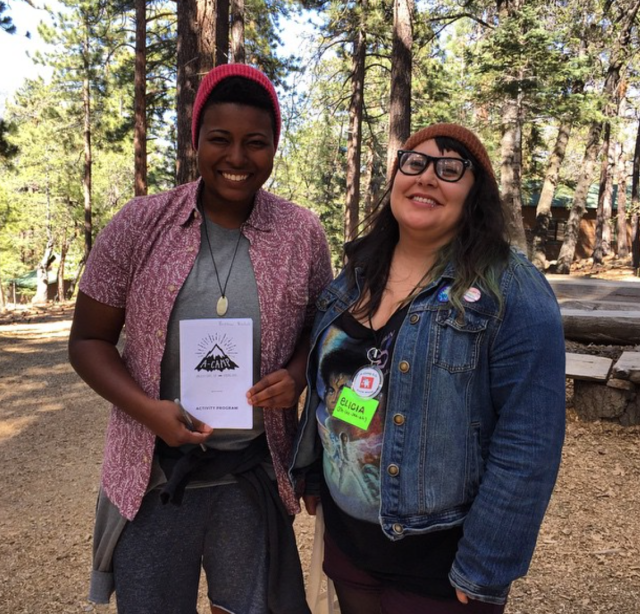 Elicia: It was great because duh, Brittani is great and duh, DeAnne is great and also meeting camper Olivia who went on to perform at the comedy show that night was great. DeAnne has so much experience and is just hilarious all the time and Brittani is so confident and talented and effortlessly funny. Some campers told some really funny stories and ideas for jokes. My take away was everyone is cooler than me and maybe I should quit.
Carly: Tuesday was the day I decided to spend making a video to show Tuesday night. Great idea, Carly! Way to not put yourself into unnecessarily stressful situations!
Trent: I had a great conversation with Jasika and Clay following dinner. We talked about life and goals and careers and stuff like that…it was one of the highlights of my camp experience, especially considering they'd been as eager to chat with me as I was to chat with them. Word up! Also, this was night that the Trent-chant was started by Dannielle and for this I am forever grateful. I vote that we carry this on for camps to come. Mal Blum introduced themself to me at dinner…again. That is all.
---
S'mores with Dannielle & Julia
Dannielle: It was the best, promise.
Kristin: I learned that you can make S'mores with REESE'S PEANUT BUTTER CUPS. Life changer.
Pages: 1 2 3See entire article on one page