Science isn't always right. As queers, I think we can agree that backwards scientific and medical concepts about homosexuality, heterosexuality, transgender identities, and everything else under our umbrella have complicated our lives, and if you make it through a women's history class without walking away with a little bit of skepticism about the "hard sciences" and what they've engrained into our culture, you were probably sleeping through a lot of lectures. Here's five examples of bad science on sex and gender that have ruined our lives, even now that we know they aren't true.
---
1. Victorian Theories on Sex Difference Gave Us a Norm of Domesticity
Victorian theorists didn't know about sex chromosomes, so they wandered around confounded by gender difference. What resulted from their desire to explain the two sexes was a theory of dyadic energy, one in which men were active agents expending energy and women were sedentary and storing it, presumably for the winter of our discontent. Women's anabolic nature nurtured, and men's katabolic nature drove them to create. These ideas set up the structures for a lot of binarist and misogynist environments, where we would remain for much of time:
Such beliefs laid the groundwork for, or rather arose from, the separation of spheres for men and women. According to the model, since men only concerned themselves with fertilization, they could also spend energies in other arenas, allowing as Spencer says "the male capacity for abstract reason… along with an attachment to the idea of abstract justice…[which] was a sign of highly-evolved life." On the other hand, woman's heavy role in pregnancy, menstruation (considered a time of illness, debilitation, and temporary insanity), and child-rearing left very little energy left for other pursuits. As a result, women's position in society came from biological evolution — she had to stay at home in order to conserve her energy, while the man could and needed to go out and hunt or forage.
---
2. "Hottentot Venus" Showed Us the Worst of Ourselves – and It's Still Around
Saarjte Baartman was a woman of the Khoikhoi tribe in South Africa renamed the "Hottentot Venus" when she was sold to London by a doctor named Alexander Dunlop. She spent four years in Britain being exhibited like as a sideshow attraction for having different reproductive organs, body size and shape, and skin color than the women in the UK. Folks were made to gawk at Baartman, whose remains were even displayed after her death, while she wore almost nothing. Baartman's body was characterized by her large behind and elongated labia, which were seen as "abnormal" in the view of medical doctors who perceived white European women's bodies as the norm. She never allowed her showmen to display her genitals while she was alive, but after her death they were put in a museum. Her exhibition caused controversy, but demand for it never ceased.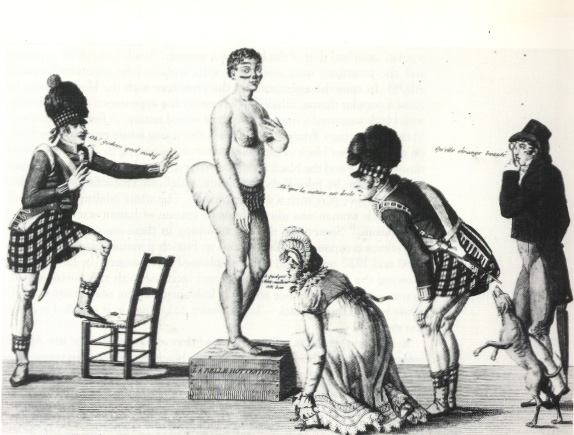 The Hottentot Venus remains a root of racism and sexism and their intersection, especially in the Western world. Studies done on Baartman and other Khoi women posited their existences as "other" to a normal, ideal standard of white womanhood. The caricatures of her body live on, even today, in imagery related to women of color and black women in particular.
---
3. Sex Chromosomes Are Bullshit
In women's studies, nothing is black and white and absolutely nothing is a binary. But for some scientists and theorists, the idea of sex as biologically determined persists, based mostly in the inescapable "truth" of the sex chromosomes.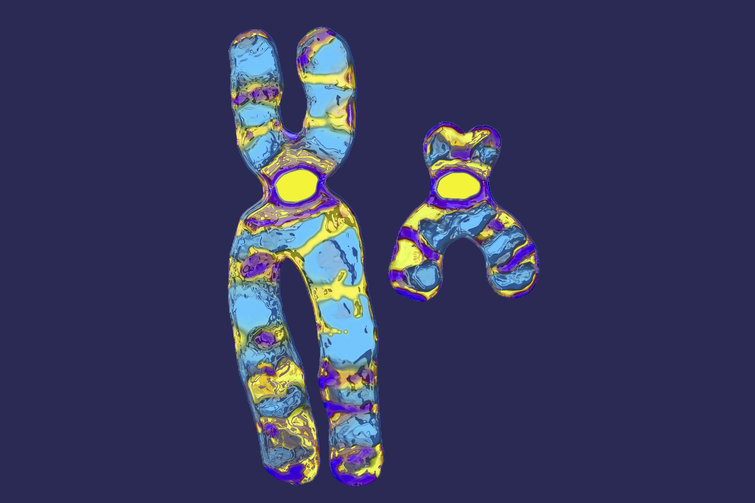 For around a century, we've implicitly accepted that X and Y chromosomes determine, to some extent, whether we are female or male; even though feminists have published widely about the variances among folks with this genetic makeup, it's still used as a guideline on how we categorize ourselves and our experiences. We've written before about why this is damaging, but another underlying impact is that it leaves no room for us to figure out what else makes us who we are. According to a Vox interview with science historian Sarah Richardson:
One might [incorrectly] presume that all of the typical traits of masculinity, including brain and behavior, would be coded for on the Y chromosome. I do think that this notion of the Y as the essence of masculinity has begun to pervade the culture — especially as we've moved into the more genomic age. I see it all over the place, percolating into the culture as a kind of metaphor.

…I suggest that we might want to abandon the term "sex chromosomes." The reason is that [the term] has led us to focus our search for the biology of sex on these two chromosomes. But actually there are processes all across the genome that are critical to all the things we understand as sex — most importantly, the development of distinctive reproductive systems in males and females.

Secondly, [the term] has led us into the wormhole of thinking of the X as the "female" chromosome and the Y as the "male" chromosome. The X and Y have become little representatives of male and female at the genomic level, and that's perpetuated a really strongly binary way of thinking about maleness and femaleness. That is both empirically wrong and has misled scientists in a number of episodes in the 20th century.
---
4. And So Is Pretty Much Any Study on "How Women's Brains Are Wired"
A 2010 book by Cordelia Fine examined how neurological research was stacked against women and reported in misleading ways in order to perpetuate (surprise!) sexism. Contributing to the ongoing debate in the sciences about nature versus nurture when it comes to gender difference, she posited that blaming our brains might just be an out for when we're too scared to blame ourselves:
We look around in our society, and we want to explain whatever state of sex inequality we have. It's more comfortable to attribute it to some internal difference between men and women than the idea that there must be something very unjust about our society. As long as there has been brain science there have been misguided explanations and justification for sex and inequality — that women's skulls are the wrong shape, that their brain is too small, that their head is too unspecialized. It was once very cutting-edge to put a brain on a scale, and now we have cutting-edge research that is genuinely sophisticated and exciting, but we're still very much at the beginning of our journey of understanding of how our brain creates the mind.
When scientists claim women's brains are bad at math or good at emotion, they're embedding social stereotypes into their work. The problem is that it's deeply entrenched in the field, and our lives and socialization are shaped by these theories.
---
5. Hysteria Made All Women "Crazy"
What sucks about hysteria is that it gave us Freud. But what rules about it is that it gave us vibrators. A lot of vibrators.
Hysteria, like so many other medical misdiagnoses for women throughout the years, was centered around their lady parts. Men were worried that exertion by (white) women — physical or mental — would dislodge their uteri, leaving them with "wandering wombs." This is not a joke. The theories of uterine displacement that fueled the hysteria epidemic began way back when, in Ancient Greece, and were first described by Hippocrates. At its peak, hysteria was the second-most common medical problem of its time, second only to fevers. The epidemic said one thing about women and one thing only: no matter what you do, you're probably a fucking lunatic.
The diagnosis "hysteria" could mean anything, and the treatment was to perpetuate sexist norms. Some women were too into sex; some women didn't want it enough; some women fainted from the clothing they had to wear; some women couldn't fall asleep; some women were nervous; some were irritable; some were delirious. In response, doctors forced women into bed rest, cutting them off from intellectual or otherwise non-feminine pursuits, and they encouraged their husbands to slap or beat them. No matter the reason for diagnosis, pelvic massage was also commonly the go-to solution for women suffering from the terrible beast of hysteria, and thus the vibrator was brought into the mainstream since 19th century doctors were fearful of, you know, doing the task themselves.
The American Psychiatric Association didn't drop the term hysteria until the 1950s, and hysterical neurosis remained there into 1980. The impacts of the mass misdiagnosis are far-reaching: women today are still labeled "crazy," and it's a seemingly natural part of our gender roles. Our sexuality, too, is still pathologized.
---
Rebel Girls is a column about women's studies, the feminist movement, and the historical intersections of both of them. It's kind of like taking a class, but better – because you don't have to wear pants. To contact your professor privately, email carmen at autostraddle dot com. Ask questions about the lesson in the comments!