There's at least one person in your life who has a tea mug for every day of the week, and who has to stifle their weeping every time they open your kitchen cabinet and finds Folger's Instant in there. Probably the best thing to do for that person is to make them their own personalized tea, but not all of us have the time, initiative, or bright shining hearts to accomplish that. If this sounds like you, here's a list of ideas for the loved one who needs to be highly caffeinated, but only in the finest possible way.
---
The Best-Ever Travel Mug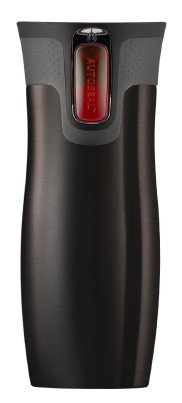 Rachel: Everyone's talking about the Contigo Mug, which Amazon reviewers swear you can throw into your purse, leave on the floor of your car, or even toss into a pram with your infant and not worry about leaking hot liquid anywhere. Are these claims true? Only one way to find out!
Kristen: I'm going to confess that I am clumsy as fuck because I'm sure you have someone similar in your life. Even though I can walk and talk at the same time, something goes wrong if I add anything else to that equation. When I drink on the run I'll invariably forget to properly seal my travel mug, guaranteeing that half of the beverage ends up in my purse or on my person. That is, until I discovered Contigo mugs. Press a button to get to the liquidy goodness trapped inside and depress to seal it back up again. It's virtually spillproof and idiotproof. You can buy it in a two pack and sneakily get yourself a present too! You and your giftee's shirts will thank you.
Best-Ever Travel Mugs for Tea Drinkers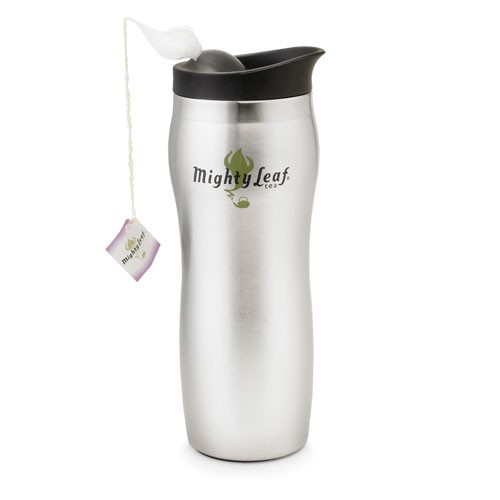 Sometimes tea drinkers have special needs when it comes to travel mugs. Are you just gonna let the teabag sit in there indefinitely? What if you're about that fancy loose tea life? Maybe this person would be interested in tea mugs made especially for teabags and for loose tea. One can pour hot water in there with the teabag, but then separate out the tea from the water, so that it doesn't oversteep and become bitter.
Tea Infuser Wand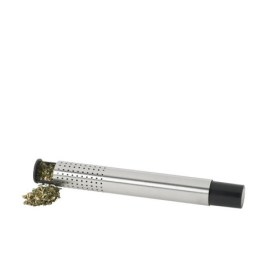 I don't really understand what this is but I really want one. It's a WAND for TEA.
Fancy At-Home Pourover Coffee Setup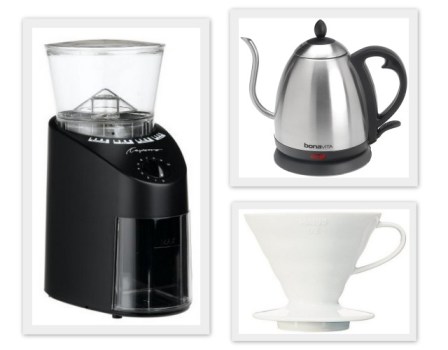 This is a bold statement to make, but I'm going to make it. If someone in your life is a real, genuine, honest-to-God coffee snob – like, the person who has to crane over the counter and give the barista step-by-step instructions about how they want their drink made – then you can seal your fate as their actual literal favorite person for all of time if you help them assemble the things they need to make a super high-end pourover setup at home. If you can coordinate things with other friends and/or family members so that you can pool your resources and buy them all of these things, you will make your coffee aficionado the happiest little chipmunk this side of the Mississippi. First and most affordably, you'll want to get a Hario V60, which they can position over their mug to make an individual serving of delicious coffee. Next they'll need a pourover kettle to get just the right amount of water at the right temperature to pour over (see, that's where the name comes from) the coffee grounds in their V60 – this electric model is both affordable and convenient. But wait! They can't use just any coffee grounds – get them a burr grinder so that their coffee can be at the perfect consistency and freshness. I know it seems stupid to you, but trust me, it does not seem stupid to them. In repayment, the next time you get blackout drunk and wake up on their couch at 2 PM the next day, you'll have the best cup of coffee of your entire life waiting for you.
Aeropress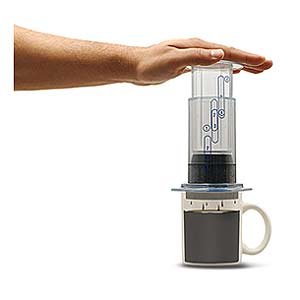 Kristen: Every morning I want espresso but my love of warm beds trumps that craving. Hence: the Aeropress! I'm too lazy to walk to a cafe, I don't have the hand-eye coordination to clean a cà phê phin in the morning, nor could I justify buying a DeLonghi. I feel like a lot of us are in the same bloodshot-eyed boat. So, behold the magical coffee syringe!. Put in a filter, measure out your grounds, pour water on top and press your way to caffeination. Clean up is a cinch and only requires you to plunge once more. You can also grab your friend a reusable filter so they waste less. And hey, if they happen to get really good at pushing their morning brew, they could always enter the World Aeropress Championship.