Going Down (South) is a regular column about y'all being a gender neutral pronoun, how red states are actually more of a purplish color, boiled peanuts, and the trials and tribulations of being a rural homo — with an emphasis on the tribbing.

Header by Rosa Middleton
---
As with most things, I learned that Here Comes Honey Boo Boo would be filming in my college town by word of mouth. It was early March then and Statesboro, Georgia was in the awkward throes of springtime. Every Bradford pear on campus reeked of stagnant bodily fluids, triggering my allergies.
I was trying to figure out whether I should hold my breath or blow my nose when several students walked past me on the pedestrium.
"That Honey Boo Boo thing is going to be filming here. Ugh."
That following weekend, Alana Thompson showed up at Rum Runners, one of several redneck dive bars conveniently circling the perimeter of Georgia Southern University:
And later that spring, Alana and company returned to make use of Statesboro's humble waterpark: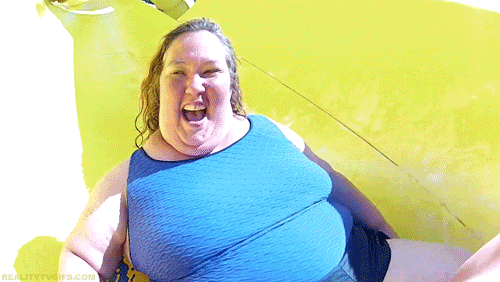 While I'd never watched TLC's Here Comes Honey Boo Boo before, I'd seen the show's protagonist, seven year-old Alana Thompson, .gif'ed all to hell on Tumblr. I'd also heard several reality television-loving friends reference the program in passing. I got the gist of it: Alana was on some child beauty pageant show. The network found her so nifty that she, her three sisters, her mama and her mama's boothang ended up with their very own program.
Oh, and Alana is also Certified Grade-A Podunk Redneck "Roadkill Is Palatable If Harvested Within Three Hours" Georgia Trash.
This — not the fact that Alana's guardians may or may not be participating in some loony form of modern day child exploitation — is a subject of much contention in the American South. When news of Alana's visit to Statesboro made it to a local newspaper, an op-ed columnist seethed:
I am all for being country and being yourself. I know families with the same level of education, same lifestyle, and same lack of desire to change. That's one thing – but to blatantly celebrate everything negative about your life on television is beyond my understanding. I know it is a "reality" show, but really? The nation already makes fun of Georgia and the South, but shows like this perpetuate the stereotype. Why in the world would someone produce a show about a family who embraces ignorance and wears it as a badge?
Here Comes Honey Boo Boo is fucking with a lot of Southerners' immaculate images of themselves, for liberals and conservatives alike. We love to be known as the belles and beaus who dress in Lilly Pulitzer and Vineyard Vines for Saturday football games. When someone says "Deep South," we want you to think of comfort food, yes ma'ams, no ma'ams, lilting voices, sticky sweet weather and Rhett Butler straddling Scarlett O'Hara a stallion.
We do not want you to think of a sassy, mud-caked family from McIntyre, Georgia.
But while so many Southerners break their necks in the attempt to distance themselves from the "hick" aesthetic that the Shannon-Thompson family exemplifies, I'm inclined to embrace it for a number of reasons.
First off, Here Comes Honey Boo Boo is dismantling the romantic image of the South which prevents Southern progressives like myself from addressing present day racism, sexism and homophobia within the region. While antebellum plantation homes and cotton fields look lovely on a television screen, these images mask the region's past and ongoing struggles with racism and poverty. As a gay woman, the prevalent patriarchal narratives (demure belle meets man, demure belle loses man, demure belle damned near kills herself trying to get said man back) surrounding love and marriage in films set in the region erases the experiences of queer Southerners (and Lord know there are a lot of us).
Secondly, my own background is irrevocably Certified Grade-A Podunk Redneck "Roadkill Is Palatable If Harvested Within Three Hours" Georgia Trash. My first animal was a stuffed dog named Hoofy who came out from "The Green Store" (AKA a public dumpster) circa 1989; I still have him. I hail from a long line of Southerners with bad teeth due to malnutrition. My upbringing was more Jack Daniels than mint juleps, more prison tattoos than monograms, more trailer parks than plantation homes. I spent most of my adolescence trying to hide two things: The fact that I liked women and that my family was uneducated and impoverished. Somewhere along the way, I realized that owning up to being gay shattered a lot of peoples' preconceived notions about queer folks – we can be moral, tenderhearted and even a little bit cute. In its own way, the same proved true for owning up to being rural trash – we can be moral, tenderhearted, and even a little bit…whipsmart.
Which brings me back to the this fall when I finally sat down to actually watch Here Comes Honey Boo Boo, and my head and heart simultaneously exploded. In one episode, Alana hangs out with her "Uncle Poodle." In the narration which follows, she turns to the cameraman and utters the following: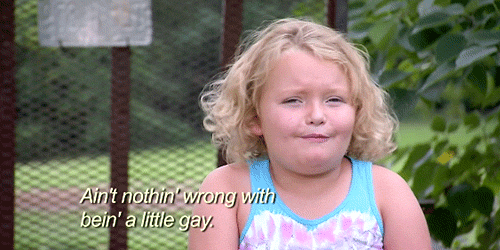 Out of the mouths of babes. I never would've imagined that we Southern progressives would find a mouthpiece in a tiny girl from Bumblefuck, but it totally happened, repeatedly – from June Thompson's endorsement of Obama to the fact that Here Comes Honey Boo Boo beat out the Republican National Convention in the ratings race.
The only thing that I love more than the least likely of people saying, "gay is okay!" on national television is when that endorsement comes from someone with a drawl who fancies grammatically incorrect English. At the end of the day, this is all I really want.