I don't know about you, but between last Sunday and this Sunday, I haven't been able to think about anything besides Whitney Mixter. How many times fast can I say her name? Like a hundred times! There are so many questions left unanswered — Does Whitney drink Coke or Diet Coke? What does Whitney eat for breakfast? What's Whitney's favorite color? Not gonna lie, who does Whitney have feelings for? There are at least 13 Ways of Looking at Whitney Mixter, if not 14 or 15.
Thank Jesus Lord Christ of All Saints in the Glorious Lesbian Heavens above, Sunday finally came. (Much like Sajdah and Chanel. They both came too.) I was more than ready for another episode of That's So Whitney.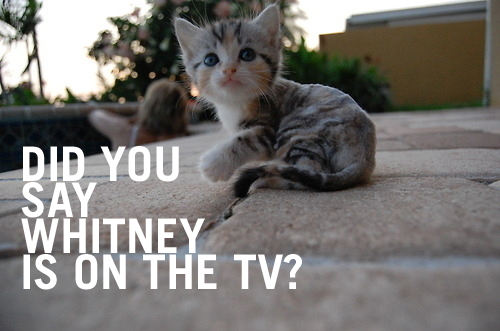 Just kidding, for most of this episode I was trying to think of what it would sound like to microwave my television or if it'd be wiser to forget about blowing up the microwave and just run my face over with a tractor.
Claire, take it away: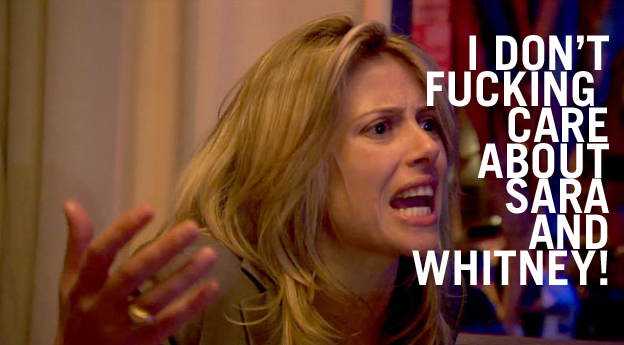 Oddly, this week was light on Whitney and heavy on everyone else. I wonder if I could ever find this show entertaining if I had no investment in it (recapping = investment).
Maybe if I didn't care so much, I'd just be like HAHAAHA THAT BITCH BACKED HER CAR INTO THAT OTHER CAR LOL! You know, how people are about whatever, other reality shows. The Desperately Real Housewives of WheretheFuck McEversville.
Many thanks this week to Intern Grace, my lovely intern who can see The Raptor from her house. She made 95% of these images, per my commands.

We open at an exotic lesbian outdoor party, where hot young sexy lesbians in short shorts/bikinis are having sexy feelings in and around a swimming pool. They're eating cheeseburgers and aimlessly projecting sexual energy onto absolutely everyone else.
This is what hot sexy lesbians do on The Real L Word, a show about sex and the lesbians who have it. Oh! Whitney has another complicated literary device for us:
Whitney: "I am done with the back and forth with Sara. I need like a new relationship, new love. I am so done with that flip-flop action… there's a switch that flips and like, it's been flipped to the off position."
What a provocative image!
Instead she's got her eye on Mel, another girl at the party. They didn't mention this on the show, but Mel is the European Lovechild of Samantha Ronson and Lindsay Lohan, as illustrated below:
There's just one problem — Mel's young!
Whitney: "Not underage young, like over the age — but I don't know how much girl experience she has and it's kinda intriguing, I'm not gonna lie."
Thank you for your honesty, Whitney.
In the next episode of In Your Box Office, Julie & Brandy will refer to men as "penis people" and, since I've already seen the episode, I'm gonna start using that right now to refer to these folks.
Jesus Christ stab me in the hip with a shrimp kabob and firecrack my head open, penis people.

Cori's gonna be ovulating in two weeks. Meanwhile, Kacy doesn't have a penis because she's not an Important Man (like so many of you watching at home).
In lieu of Kacy directly delivering the hot beef injection to Cori's sweet sweet babymaking vadgehole, Kacy would like to maybe press a button and be "integrated into the process in some way." The doctor says that's okay, whatever you need, my Gay Sister. After all, she didn't open up a practice in West Hollywood hoping for a bunch of Mennonites with their legs clamped together.
The doctor says if Cori wants to be extra-fertile, she's gotta quit smoking. Number-one thing.
Cori: "I'm really scared because I love smoking."
The doctor makes a facial expression that means, I think, "y'all are fucked."
What say you, Claire?

Next up is Drew, Romi's Favorite Penis Person EVER!
Romi: "I met Drew through a lot of friends at a party."
The attention to detail here is stunning!
"I don't have a lot of men in my life," says Romi. Romi's father died four years ago. Then [some time ago], Romi was single and needy and apparently lost her Mom's phone number and There Was Drew! This is sad, maybe to me, because that was me right after my father died, or maybe forever-after: you miss that protective energy Dads usually give. But women can give that energy, too, and without the weird smell in the morning. There's actually nothing inherently masculine about protecting someone.
So maybe Romi wanting Kelsey to get a job isn't as much about a beach house in Malibu as it is about wanting to feel "cared for." She wants to be the flower and she wants Kelsey to be the gardener. I got that phraseology from Rosie O'Donnell, who considered herself the flower and Kelli was the gardener. Now they're divorced.
Anyhow Drew looks so much like Mario from Mario Kart that I can't really focus on anything but that.
BUT the important part to remember, all you manly men watching at home, is that women cannot conduct themselves / feel safe sans men. We just trip over our petticoats and burn eggs and drink ourselves to death. It's terrible. We leave the butter out and slip on it!
Just kidding WATCH OUT PATRIARCHY.
Romi's fave part of Drew, howevs, is his moustache 'cause it's just like Romi's Dad's moustache, which is semi-weird, but whatever. Drew's gonna be her shelter from the storm. More specifically, he will be sheltering her with his moustache:
Drew's concerned that Kelsey's drinkity-drink-drinking will drive Romi to drink and suggests Romi  provide Kelsey with an "ultimatum." That sounds fun, but Romi has to go home to her wife.
Romi: "Drew is very protective of me. I think if Drew had it his way, I'd be with nobody but him."
Well I think the "message" of this conversation is that lesbians in hot sexy bikinis love hot wild men.

Back to the WET 'N WILD POOL PARTY. First, the Cliff's Notes version: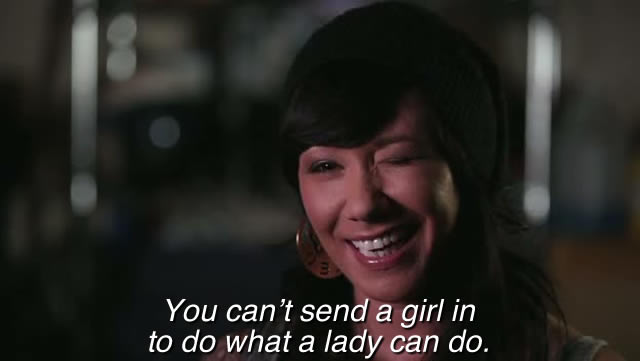 But if you want a more detailed explanation, here we go:
When Rachel arrives with Alyssa and Scarlett, Whitney notices Ray-Ray looking especially sexy:
Whitney: "She like walks in with her little sassy flair and her high heels. I find Rachel attractive when she's NOT fucked up."
Rachel's gotta save face after last week's emotional meltdown, so she's gonna save face by getting head.
Rachel: "I think Whitney and Mel are flirting at the party. But Mel's really young. And you can't send a girl in to do what a lady can do."
Whitney and Rachel are a great match sexually 'cause they're both willing to have sex on the teevee (and 'cause they dated for three years) so it's no surprise that Whitney pulls her into a bathroom to get all Mature Audience on our asses.
To be honest I haven't watched any of the sex scenes in TRLW, instead I cover my face and scream. I don't know, I'm either 12 or 65.
At some point during this scene I left the room and when I came back and I thought Rachel was throwing up in the sink, but in turns out Whitney was just fucking her from behind.

Back to sajdahjustgotborn dot tumblr dot blogspot dot com, a subsidiary of justgotborn dot blogspot dot tumblr dot com, in which we witness Sajdah's birth, early years, pre-adolescence, adolescence, etc. It's like Benjamin Button backwards and gay.
This week we'll be planning our Barbie Dream House and learning about the birds and the bees.
Sajdah thinks she and Chanel should live together, because Sajdah just got hit on the head with a rock.
Sajdah: "We have to pick out a new apartment."
Chanel: "Yeah we do… for you."
Oh, massive sidenote: I force Marni, my very very special friend, to watch this show with me, and sometimes I write down the things she says. Like this:
Marni: "Oh my god, I can't."
Sajdah: "Chanel and I have been together for three weeks now. I'm ready for Chanel to move in."
Oh jeez. I wonder if she's told Marissa.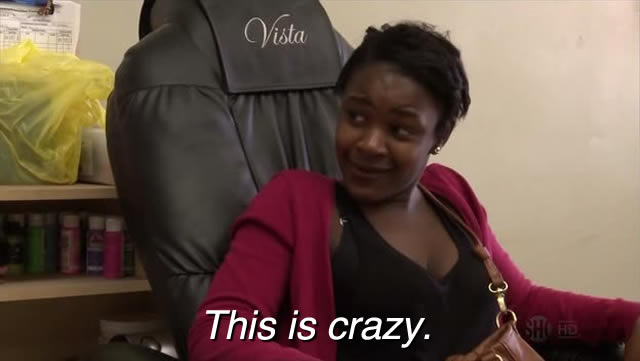 Okay, here's the deal with Sajdah — and sidenote, her storyline gets less and less plausible as the show goes on — these things she's picking out to explain why Chanel is her soulmate aren't soulmate-things. You can't stop thinking about her? You wanna have sex with her? When you fought, the thought of losing her tore you up? Good! You should be girlfriends! That's how dating and relationships begin. All of those things. So they're on a good track, and Sajdah needs to slow her roll. She feels me:
Sajdah: "You can't really handle big gulps of Sadj. You gotta sip it slow and I'm serving her in really big gulps right now."
G-damn she's got a talent of blaming everything on something totally unrelated. One day Sajdah's gonna break her leg and be like, "it's 'cause you wouldn't leave that party last week."
Chanel: "I feel like opening up physically when I feel that we've really connected emotionally and mentally."
Sajdah: "We had sex the other day. That was yesterday."
Chanel: [nods no, laughs]
Sajdah: "Yes we did."
Chanel: "When we messed around? That's not really — that's not — it doesn't count as sex."
Sajdah: "I came. You came. We both came. I'm confused."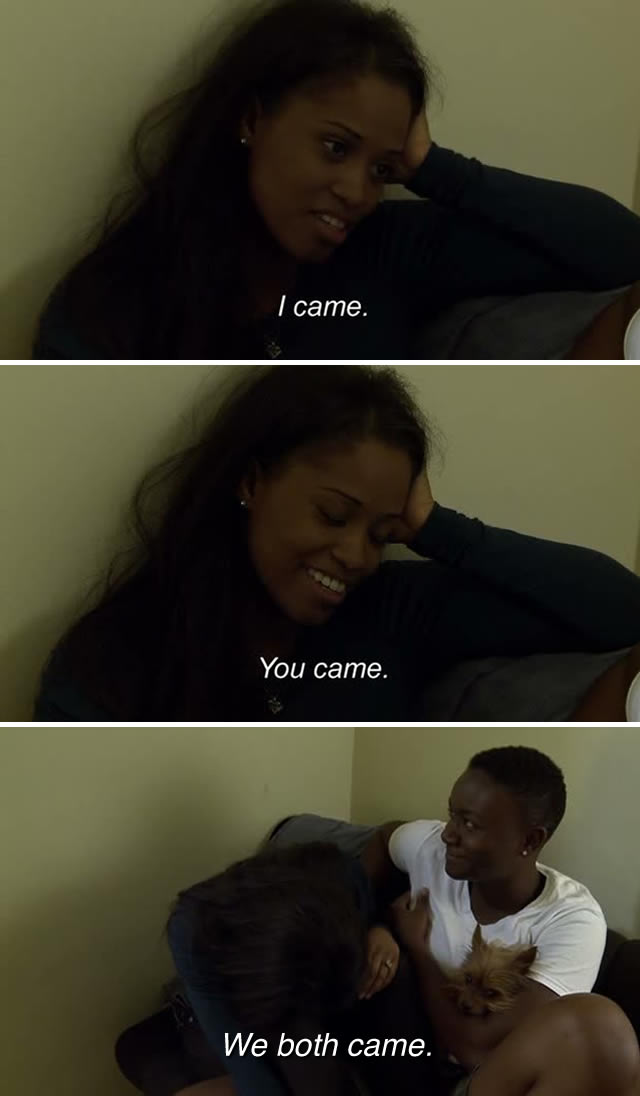 Chanel: [shaking her head, cracking up] "That's not sex!"
Sajdah: "What's the difference?"
Chanel: [hysterically laughing] "That's all — [can't talk, laughing too hard] —
Sajdah: "I have a question. What was that? Can we have sex then if that wasn't sex?"
Chanel: "Yeah, that's what I was gonna tell you."
Sajdah: "What the fuck? What am I missing?"
Chanel: "A lot."
"I've only been a lesbian for a year and I've never been in a relationship," Sajdah reminds her/us. She can repeat that all night long, that'll never make it true.
Marni: [eating her salad] "I would feel really bad watching this right now if this wasn't one of the best salads I've ever made. I'm really into this salad."
Chanel's really pretty.

Whitney's doing a photo shoot because she's a Hot Dancytown Supreme Cheermaster Sexylesbianpants Celesbidykeathon who does lots of super-cool things like start a super juicy hot red wet lesbian sexmachine party night because she's super-famous and lesbians love Whitney. LOVE HER.
Her co-conspirators for the Juicy Party include Leslie, a DJ you may remember from Season One — she's Nat (Rose's girlfriend)'s sister, and another girl who's pretty and hasn't fucked Whitney, so, whatever.
Obviously Sara shows up, because let's face it, girlfriend lives and dies for The Whit, and Whitney's like, wtf, I told you the switch was OFF, bitch!
Sara tries to get all up on Whitney — aka do her job — but Whitney's too up in her brain-head of feelingspace to remember the photo shoot's about getting good photos, not entangling as many people as possible into your personal drama.
Whitney: "I asked Sara to go-go dance when we were on good terms and now we're not together so…"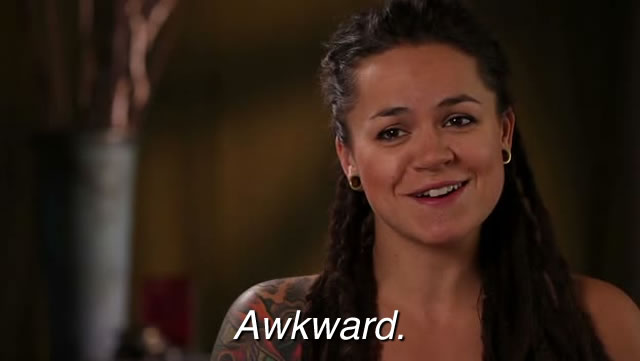 Whitney marvels at how Sara didn't "get it" — that being broken up meant no more go-go dancing at photoshoots — "she didn't get it" "she didn't get it." "What's wrong with her?" I feel like she's trying to tell us that Sara's mute or mentally challenged or something.

In preparation for Doing Sex, Sajdah & Chanel are getting STD tests, because that's both responsible and WILDLY ENTERTAINING.
Sajdah: "Since I just found out that we're not actually having sex, Chanel thought it would be a good idea to go get tested before we have sex for the first time."
Marni: "They could be doing worse things than getting HIV tested on TV–"
Me: "Yeah, they could be actually having sex."
Sajdah's never heard of STDs before, probably thought Finn really did get Quinn pregnant in the hot-tub.
Sajdah: "I know my grandmother ain't get no STD test. She didn't even know what a tampon was."
Anyhow good news they don't have HIV but have to wait for the rest of the results.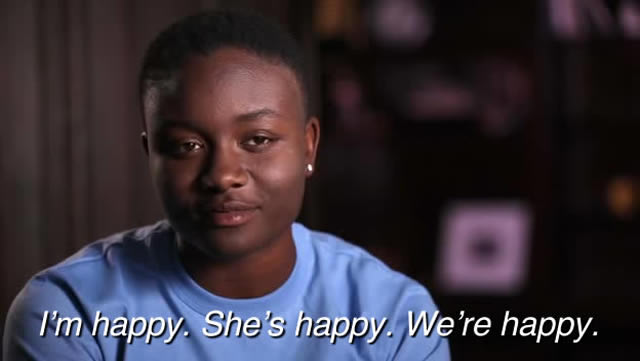 This week's episode brought to you by the United Gynecologists of America.

Pages: 1 2 3See entire article on one page