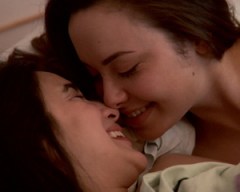 Big news people: There will definitely be a Season 3 of Anyone But Me! To celebrate and raise additional funds to produce the upcoming season, the ABM folks have produced a $.99 music video featuring cutie-pie singer Rachael Cantu and show stars Rachael Hip-Flores and Nicole Pacent as their characters, Vivian and Aster.  ABM held a Web-a-thon back in July which raised $33,000, falling short of the $120,000 goal set by producers Susan Miller and Tina Cesa-Ward.
Stay tuned for Season 3 in 2011.
.
In the meantime, re-watch the Season 2 finale and download that music video to help this little web-series that could.