Why hello there and welcome to a wholesome hour of lying and revenge. Let's get to it, shall we?
---
We start off in some kind of book fair at Rosewood High, where dead students donate all of their books to creep out the alive students still around.
Just kidding. Maybe? Aria and Hanna are discussing Hanna's new hair, which looks amazing, btw.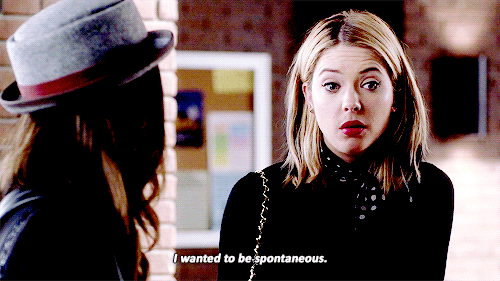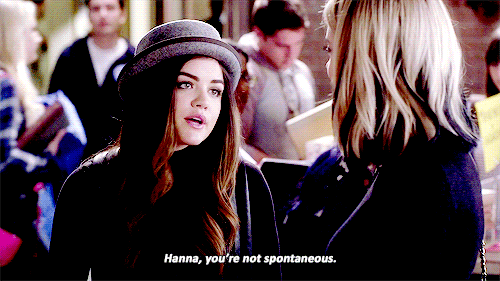 They're also looking through some books and they find The Scarlet Letter. I was waiting for a more obviously Scarlet Letter reference this entire show and this is how we get it? For real real? Hanna opens the book and finds that it once belonged to Shana.
She tries to hide it from Aria, but Aria's got the wide-eyed crazed look she's been practicing for the last few episodes, and she searches through the book for clues.
Basically that entire book is one big morality tale about judging others, so. Mona approaches them and jokes that Shana won't need the book anymore — because she transfered schools to Georgia, right? — so one of them should take it. Once again Mona has an evil smile and I can't trust her and I'm annoyed about this. Why are they making her an evil person again?
---
At the DiLaurentis residence, Ali's trying to do good deeds and donate her old clothes to Goodwill, but her dad is kind of weirded out about the sudden change in demeanor. Since when has Ali ever done anything charitable/good/right? She says she'll need some notebooks to go back to school. Her dad tries to convince her that maaaaybe she shouldn't go back to school and that they should move. That's a solid idea, Mr. DiLaurentis, but it is never going to happen. Ali panics about moving and begs him not to take her away from her friends.
---
Next door, in Murderville, Spencer and Mrs. Hastings are having a sweet little chat over tea. I kid, I kid. Mrs. Hastings is freaking out about the crime scene in their yard and Spencer is begging her mom to figure out what secret Melissa and Mr. Hastings are hiding.
Speak of the devil, Mr. Hastings walks on in and assures everyone the police will be out of their yard by that afternoon.
The show is being too obvious about Mr. Hastings being the murderer, so we know it's not him. But why is he so sketchy and weird?
---
In a dark room somewhere, because of course, Lucas and Mona are scheming. Lucas wants OUT because Ali was locked in a dungeon and tortured and all that, and he's feeling a little guilty about further torture plans. Mona begins to convince him that Alison made up the whole story, but we'll just have to see whether Lucas is Good Guy Lucas or Scum Bag Lucas this season.
---
Spencer, Aria, Emily and Hanna eat lunch outside to hide from prying eyes. Aria is still panicking about everything, but I'm just in love with her hat. Someone find me that hat stat. Aria's convinced Mona knows, and to add to the strangeness, Mona just stands ten feet away from them, smirking in their general direction.
Stay cool, Mona. Also on the panic train, Spencer keeps discussing the murder of Mrs. DiLaurentis, and right on cue, Ali sends them all a text about how the police still don't know her mom's cause of death.
---
Alison is really trying to get in touch with the Liars, who are definitely avoiding her. She tries to sign a text "-A" and realizes maybe that isn't in good taste at the moment.
Her dad comes in and says she has to go to the doctor to get checked out after being kidnapped for so long. This makes her panic, and almost act like a real human being for a moment!
---
Out of nowhere but seemingly out of somewhere, Andrew shows up. Remember him? Smart? Strip study? Bearer of pills? Turns out under them sweater vests, Andrew has been hiding some muscles.
I say a silent prayer that Spencer will ditch Toby for this dude as Spencer invites Andrew over to do some yardwork around Mrs. D's scene of death because naturally. Hmmm, so "yardwork" is what the kids are calling it these days. Gotta stay up on my lingo.
Pages: 1 2 3See entire article on one page