Pop culture idolizes slacker dudes, but where are the slacker dudettes? Hit films like The Big Lebowski and anything from Judd Apatow have cemented slackerdom as a guys paradise and I'm sure one could argue that this lead to the stereotype of career driven women that are "leaning in". But what about the women who are leaning back? Before there was this "golden age of female comedy" where I could watch Mindy Kaling wear pajamas while eating fast food all day or Ilana Glazer taking naps during her job in Broad City, I had Bryan Fuller. Well, not technically him, but his shows, which at the time included Wonderfalls and Dead Like Me (I would become obsessed with his magnum opus, Pushing Daisies, years later). And most importantly the shows' main slacker characters, Jaye Tyler and George Lass.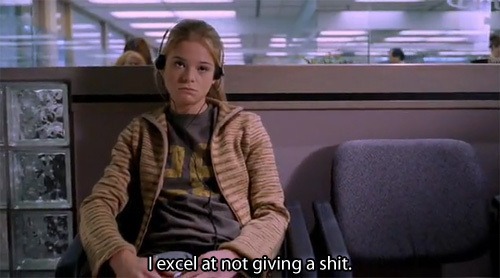 I came across Wonderfalls from the strange black hole that was early Netflix. No matter how much they spike their prices, I will forever be grateful to this site for exposing me to possibly my favorite show of all time. It premiered on Fox in 2004 and was cancelled after only four episodes. But lucky us, the remaining nine episodes were added (along with tons of other goodies) to the series DVD set. The show focuses on disaffected underachiever Jaye Tyler, a twenty something philosophy grad who spends her days in slacker bliss working in a Niagara Falls gift shop, until a wax lion starts talking to her. In fact all inanimate objects with animal faces start talking to her. The amount of confusion you are feeling right now is nothing compared to Jaye's who takes on this new "gift" with the gracefulness of a monster truck. It's kinda hard to give no fucks when there are plastic pink flamingos telling you to do stuff.
I fell in love with Fuller's quirky storytelling style and hilarious female protagonist that I instantly looked up anything else he created, which led me to Dead Like Me. It lasted two seasons on Showtime (2003-04) that I highly recommend and had a straight to DVD movie that I am begging you not to watch. DLM introduces us to Georgina "George" Lass (played by Ellen Muth from "The Truth About Jane" infamy). She's a college dropout who dies in the first episode from a flying toilet that fell from the Soviet Space Station and becomes a grim reaper, who removes the souls of people right before they die, and guides then into their afterlife. I know that's a lot to take in but it's the Fullerverse so obviously there's more. Since reapers are not technically dead (their appearance is changed so as not to confuse anyone who might have known them) they still need live by "human" rules which, to George's dismay, means getting a job. Oh and not just any job, but a position as a temp for Happy Time Temporary Services, under the assumed name "Millie Hagen." George's character is summed up perfectly in her intro monologue, when she says "I excel at not giving a shit." Death is a bitch, and so is she.
Now on to why these badass ladies deserve that title. First, something about androgynous names (which Fuller is famous for) raises your "cool" barometer at least ten decimals higher. I think it's a cheeky way to poke fun at how these two characters are embodying the "everyman" character so often (and lazily) relegated to males as far back as folk stories and fairytales (think Ivan the Fool in Russian fairytales). We also meet Jaye and George at a specific point in their lives when achievement becomes this extremely regulated idea of what success is suppose to be, which in our capitalistic society means college and a respected (meaning high paying) job. But both Jaye and George outright resist these ideals and actually do everything in their power to avoid it. Both follow the philosophy of "to avoid disappointment is to avoid interest." Surrounded by a family members with plenty of high achievements, both girls circumvent the pressure to live up to their families' expectations with their non-aspirational attitude. They're not entitled like Lena Dunham's characters or Kristen Wiig's character in Bridesmaids; instead of stewing in their own sense of underachievement they bask in it.
It's these tense and strained relationships with family that these two plots thrive on. Since George is dead she has to learn to create a new bond with the group of reapers she's assigned to work with that become her new family, while still trying to maintain some kind of connection to her parents and little sister whose lives are still heavily affected by her death. With Jaye, her new circumstances are leading her to spend more and more time reconnecting with her family who clearly love each other but are stuck in this awkward stage of mutual disdain.
I view Jaye and Geoge's schlub status as giving themselves the space to just be. We spend all our lives working towards something, and I think it takes courage to sit still and be idle. In A Room of One's Own Virginia Woolf writes "It is in our idleness, in our dreams, that the submerged through sometimes comes to the top." If it's good enough for Woolf, then it's good enough for me.