It is with the fullest heart and greatest joy that I welcome you to the season premiere of my absolute favorite show on television: Pretty Little Liars. In case you're just joining us, Pretty Little Liars is a romantic comedy drama that follows five girls as they try to find love and fight evil all while maintaining the shiniest hair of all time.
As you may not remember, we left our Liars in last season's finale as they FINALLY FOUND ALISON.  We expected Alison to explain everything and then we would know all about what the hell has been going on for the past million billion years. Instead we were more confused than ever. And then Ezra totally got shot by A and instead of screaming in pain or collapsing he looks off at the New York skyline. As usual A gets away and, just for good measure, someone buries Jessica Dilaurentis. So a lot.
But that's okay because for every cliff hanger there's a cliff shelf, right? Wrong. I am just as confused if not more confused than ever. While my tragically adorable girlfriend always turns to me and asks (while she simultaneously plays on her iPhone) "What the hell is going on?," this is the first time that instead of pausing the DVR, sighing dramatically and explaining the return of subtle plot elements from previous seasons, I had to just throw my arms up in the air and say "Fuck if I know!"
So it was confusing. Let's do our best.
---
We open on Ezra being taken away by the paramedics while Noel answers questions and the Liars hang back. You would think at this point the cops probably would have thought four teen girls without their parents are suspicious hauled them in, but oh well.
The Liars have their first smart idea all season and call the fucking police. Children, if you're reading this I hope you've finally learned that you should call the police if you're in trouble.
Oh. They just call to tell the police Ezra is in the hospital and there was foul play in his death. Womp. Regardless Hanna hands Aria the gun (totally bad idea) and the group splits up (another bad idea).
---
Back in Rosewood, the remaining Hastings are in turmoil. It's unclear if the tension within the family is from whatever Melissa said to her dad or if it's from the obvious constipation plaguing the family.
They should really see a GI specialist.
Melissa says she wants to tell her mother something, but before she can she get the words out, they are stormed by good old Detective Wilden Reynolds Holbrook. H0lbrook announces that Cece has escaped custody. Does that make sense? No. She was in a room with only one door inside a police station filled with people. Rosewood PD: Work harder. Do more.
Melissa tries to tell Holbrook whatever her secret is but her father cuts her off. Hastings are not known for their truth.
Later, Papa Hastings tells Melissa she can never ever ever ever tell anyone what she told him. Ugh I hope that doesn't include us.
---
Elsewhere, we discover a news break reporting that the girls are missing. These aren't the best school photographs of all time. I guess the biggest thing Alison missed while she was "dead" was when the girls did a group passport photo friend date.
But wait! Who is that raven-haired beauty reflecting in the TV?! It's Mona! And what does she have planned for tonight? I don't know but like all other good plans she needs a leather jacket to do it.
---
Over at Saint Nowhere Hospital, Ezra is being taken into surgery and we get to have a little mini Grey's Anatomy moment. Maybe someone will have sex with A in the on call room!
A tries to sneak into Ezra's OR but for once there are police officers in the way! Although, as a side note, you can't just walk around a hospital without an ID badge without people questioning you. Like you can be in the patient waiting area but you can't be over by patients room and stuff. Seriously. I wear a white coat with my name embroidered on it and I get asked for ID all the time. And security would definitely notice anyone wearing all black including a black face mask.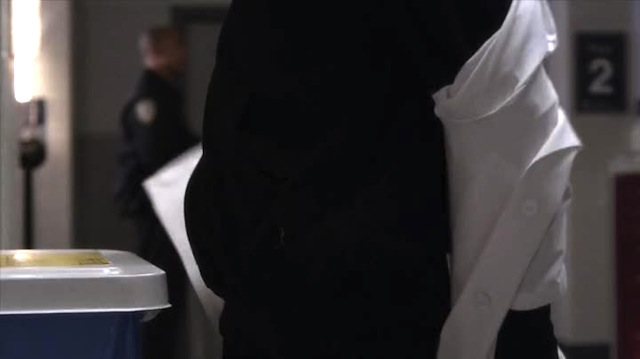 Emily, Spencer and Hanna make their way towards the OR but notice A on the way and just decide to hang out in a stairwell instead. Stairwells are, as you well know, the best place to take a pause and have a convo.
Meanwhile, Ali and Aria run to the nurses station to find out any news about Ezra. She can't tell them anything because of HIPAA, but tells them he's in surgery and stuff. Just then, Ali gets paged which is so funny because I didn't even know she was in medical school!
Okay so A spots the girls and sends a text to someone — probably either her minions or her mom. I mean she's out really late she's supposed to check in by 11pm! Anyways the text says "It's happening. Follow the leader." My question is how the hell did A get her texts to show up in black?!
So A leaves.
And then Ali leaves.
And then Aria stands near some chairs.
I know this sounds boring when I say it like that but there was creepy dramatic music and stuff so actually it was all really exciting.
Anyways so A chases Alison through the streets of New York City.
One thing I know for certain is that if you're being chased by a hooded killer you should run to a well lit area where there are tons of people. You can't just kill people in front of people. That's not a thing you can just do.
But oh well Alison runs into a dark abandoned playground. A grabs her and asks her "Wanna play?" which is so fucking creepy.
But SURPRISE! Spencer, Emily and Hanna are there to save the day.
Just when you thought the Liars finally, yes finally, had A busted, a whole bunch more As show up! It's an A flash mob! And instead of just being adorable and hopefully ending up on Youtube, it's terrifying and the worst.
Eventually the police show up and disperse the crowd but as usual A wins and you lose. Duh. This is the way it works.
---
Back at the hospital Aria is still sleuthing for details about Ezra's condition. Even though you might think things like "confidentiality" exist in this world, Aria overhears a member of Ezra's care team reporting on his condition to his mother. He survived surgery but is doing medium bad.
---
Across the universe Mona's first guest arrives. It's Lucas and he looks pissed. I look surprised because it's been so long since I've seen Lucas. Like so long that I can't even remember why he left.
Meanwhile, Holbrook gets a call from the NYPD station and starts looking into Ezra. He is shocked to discover he is a human person. And here he thought Ezra Fitz was just an extremely well dressed chimp! Imagine that. Rosewood's finest folks.
---
Pages: 1 2 3See entire article on one page