I came across the OKCupid profile of a handsome boi named Eli from Seattle. Even though they are a six-hour plane ride from me, I five-starred their profile anyway. Eli's pictures were full of character, they danced Queer Tango and built community around it. When they liked me back (!), I messaged, "You make me want to try Queer Tango."
Thanks to the magnanimity of two dancers, Thierry and Tobias, Queer Tango has taken root in Ottawa. I saw them perform a tango charged with mojo and theatricality at a variety show last winter. I was blown away, yet it didn't occur to me that it was something I should try. Now I was willing to give it a go; after all, it was spring.
Two days later, I took my first class in Ottawa from Thierry, who invited me to attend the upcoming Queer Tango Festival in Montreal. When I told my new OKC friend, Eli, I discovered that they all knew each other. Eli said Queer Tango feels like this little secret in plain sight, a private joke between lovers who express themselves through the dance and who connect in a way that is physical and beautiful, but not sexual. A week later, I got in on that secret when I attended the Queer Tango Festival and walked into a sweet tableau in Montreal.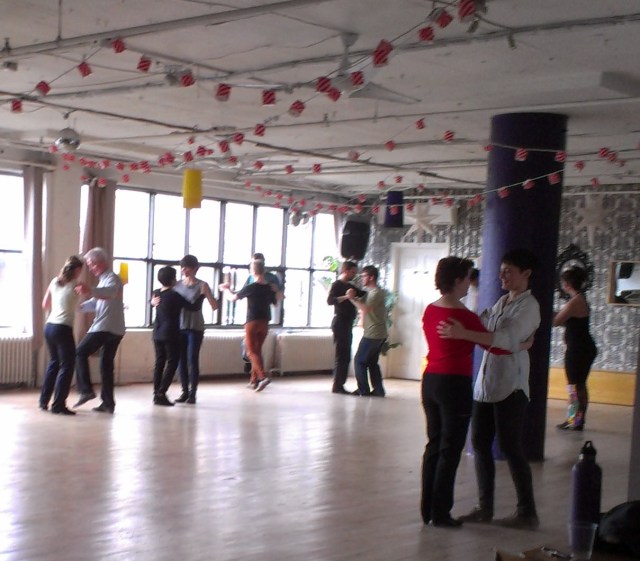 It was a class of intermediate dancers, most of whom had met at the opening dance the night before. They shifted to one side of the room at the command of Alejandro, an elegant, no-nonsense professional, who gathered the beginners on the other. Trying to be cool about it, I stood next to a woman with gravitas who immediately turned to me and asked me to be her partner. She told me she'd been dancing tango as a follow for three years and was now learning to lead. And so yours truly, a middle-aged butch dyke, happily took the position of follow to a 20-something lead in an A-line dress.
We were both very focused on our roles — she had to signal to me with that magical thing called intention. First she had to determine which foot I had my weight on so she'd know which foot to direct. We spent a lot of time shifting back and forth, holding each other's arms lightly but with enough resistance to communicate, sussing out when we were ready to start moving together.
When she compelled me into a challenging step (the cross), she squealed with delight, then apologized and put her business face back on. It must have been difficult for her to dance with a total novice. Yet, she was kind throughout and presented me with a generous smile and praise at the end of class.
Later, I went out for supper and changed into my evening attire: crisp white short-sleeved button-down, vintage wool vest, pink and turquoise tartan bowtie, and navy chinos, and scrunched in some lavender-scented pomade. To my disappointment, by the time I got to the venue for the evening event, the lesson taught by Lucas De Buenos Aires was wrapping up. Nonetheless, the organizers, Miriam and her partner, Viva, warmly welcomed me and asked if I'd dance with each of them later.
Viva, true to her word, approached me soon after I'd laced up my dancing shoes. She asked me what my preferred gender pronoun is and I hers, we chatted a little until the music started and she took my right hand in her left. On the dance floor, she placed her other hand on my upper back and I rested mine on her shoulder with my thumb in one of my favourite spots on the human body: the indent of the deltoid muscle. Viva is an expert guide, but I was so nervous; I kept stepping on her feet.
"You are really brave to come dancing. I would be terrified if I were you," she told me. My shoulders relaxed slightly. "Really?" "Yes," she said, "I took classes for months before I came to a milonga." This honest exchange took away those instant crush feelings that can overwhelm me on the rare occasions that I encounter another masculine-of-center dyke. We'd only just met but we already made a genuine connection.
Many kind people relayed similar sentiments to me, people who saw that I didn't know how to dance tango but asked me to dance anyway. I was surprised at the rapport on the dance floor; some of us had good conversations and then didn't know how to communicate with our bodies. I glided with others, whom I hadn't even noticed until they came up and asked me to dance. One of my partners fluidly switched lead and follow positions with me. It was sweet and sexy, and we held hands as we left the dance floor, then without requiring eye contact, wandered off in different directions, open to the next exchange.
In tango, we sense each other's energy, rather than look in each other's eyes. As we move together, ideally our breath synchronizes. I realized this dancing with one of the many cuties from Boston. We paused on the dance floor, they took a deep breath, and leaning into their blue brocade vest, I breathed with them. That breath felt as intimate as a kiss, and as soothing as the touch of sky blue satin. They intended my right leg outwards in a slow slide, toe-to-toe with their left leg. Another breath brought our feet back to center. Then again, a long slow slide to my right. Breath. Center. Rufus Wainwright sang "Hallelujah" and I didn't step on their feet once.
After our dance, I returned to the bar to collect myself, picked up my wine for another sip, and before I even put the glass down, someone asked me to dance — and so on, until 3 a.m. They weren't kidding when they put "Bienvenue à tous: Welcome all levels, all sexual orientations, and all genders" on the flyer.
That evening, we danced to a DJ and two amazing live bands: the Polka Dykes from Boston, and the Ottawa Tango Ensemble. Alejandro and a dancer named Gabriel performed demonstration dances that were so smooth, they both inspired me and made me wonder if I could ever truly dance Argentine tango. My introductory experience only touches the very edges of what is a sophisticated art.
At the end of the milonga, DJ Thierry called everyone onto the dance floor. At 30-second intervals he called out for us to switch partners. The long-lashed eyes of a petite, exquisitely fierce woman met mine. She took me in her arms, tried a few quick steps to line my energy up with hers and then spun with me until my hang ups flew out of my head.
I hadn't planned on staying for Sunday's events, but how could I resist after that? I slept for four hours and got up to tango again. It was much easier for me to understand Alejandro's instructions after my experience the night before. I started to grasp how to align my chest with my partner's and what step went with what alignment. I was paired with an older man. After several stumbles, we squared our shoulders, took a breath, and accomplished the tricky cross step, then advanced to sharp pivots under Alejandro's careful eye. We beginners then joined the intermediate dancers at the end of their workshop on musicality, taught by the innovative Nancy Lavoie from Quebec City.
Thierry DJed the final event: the tango tea dance. Between each set of three songs, he played a Queen sample, "Is this the real life, is this just fantasy?" cueing us to switch. I enjoyed encore dances with partners from the night before and also danced new ones. One of the Boston crew asked me to dance with the caveat that she was new to tango and that she didn't usually lead. Her gentle energy gained in confidence with each song and I felt both comfortable and a little shy in her arms. I asked if I was doing ok and she cocked her head and smiled brightly, "You're very responsive." It was the ultimate compliment.
I'd come to Montreal on the Greyhound alone but was offered a ride back to Ottawa by a lesbian couple from Gatineau. They are trailblazers who came out in the 80s in a small town of 10,000 where one of them was the high school gym teacher. Almost 35 years later, they're still in love. We discussed the wonderful people we'd danced with, bopped in our seats to their high-energy mixes, and ooh and ahhed over the sunset.
I'd gone to OKC looking for romance, thinking it was something I might find with one elusive person. I got a romantic adventure with a diverse, inspiring community. It's real, it's fantastic, and you should totally check it out. Montreal is worth travelling any distance to visit, Oakland's community looks like queer heaven, the Berlin International Queer Tango Festival in July will be epic, and Eli tells me Seattle's festival will take place later in the year. I'm saving up.
---
feature image by Lisa Graves