In response to Pretty Little Liars throwing us a bone last week, this week's episode features absolutely no lesbosexy content. Yup, no lezzie canoodling, hot girls in ties, secret lesbian lover notes, dykes drinking, scissor bumping, actual scissoring, feelings, adopting cats, light bondage (restraints, hand-cuffs), heavy bondage (Japanese style, suspension), cameos by aging lesbians or impromptu Tegan and Sara sing-a-longs. None of it.
In fact, Emily shows up for a grand total of 195 seconds. That's three minutes and 15 seconds. Six percent of the 45 minute episode. Three minutes and 23 seconds if you include the "last time on Pretty Little Liars" and the opening sequence. That's still about six percent though.
I'm going to try really hard not to be irritated by the Lack of Screen Time. It's really hard seeing as the writers dedicated ninety percent of the episode to making Girls Are Dumb jokes about Hanna BOTP. Also there's a super annoying mosquito flying around my childhood bedroom (where I'm obviously writing this from) and it keeps biting me. I just can't kill it no matter what I do. And there's no AC in here.
We open on Hanna and Spencer in the hospital having just found Garret's note under his mother's hospital bracelet. Hanna, dressed like a farm-to-table style wedding floral arrangement of local sunflowers surrounded by campanulas, perfectly imitates Garret's handwriting to swap in a new note.
Instead of revealing that April Rose has the proof of something or other, the note directs it's reader to the organ at the church that Hanna uses as her secret hideout. While Hanna is hiding the note, Mrs. Reynolds heart suddenly stops which makes about as much sense as when Leonardo DiCaprio joined the cast of Growing Pains.
It's Morning Time at the Ezaria household where either Aria came over really early for breakfast or her parents have completely moved on from trying to stop this spring-autumn relationship. Spencer updates Aria as to the morning's events in what can only be referred to as the least sensitive texts ever.
Aria and Ezra chase each other around with a cool vintage camera. To be honest, I don't know if the camera is actually cool or not. I thought about calling up my photographer roommate and asking her but I knew she'd be like "I don't know and please stop calling me about asinine things at 2:00am."
This whole scene actually made me really like Ezra. But like, if he were actually just a mid-twenties butch dyke English teacher and not an overgrown man child English teacher.
Onward ho to the Hasting household where Spencer is repeatedly and fervently searching the web for April Rose.
Once again, Spencer and Toby are making out for no good reason. I still think Spencer is going to have her shit knocked up baby style. I'm hoping for a dramatic abortion or secret adoption plotline, but I feel like we're more likely to see a dramatic last minute miscarriage that I will be forced to feel sad about. As you may recall, I'm no longer displaying Toby's face.
Only one actor is ever on contract to play a Hasting parent per episode, and this episode it's Papa Hastings. Papa informs us that Mrs. Hastings, being the best lawyer ever, wants to prove some of the evidence against Garret is inadmissible. Spencer is, of course, devastated because even though A is constantly framing folks for things, Garret definitely killed Ali. Definitely. It has to be. For sure. He killed her. She know he did it. For sure.
Meanwhile over at the Life Cafe, Emily enters her first of four scenes.
For 38 whole seconds Hanna explains to Emily about the latest plan to catch A by the organ.
Emily gives Hanna the address from where her jacket was donated. Riverside and State Street. RIVERSIDE AND STATE STREET GUYS. I have nothing on this.
Hanna flees the Life Cafe for greener pastures and church located spying/donation sorting. Unfortunately, Hanna shortly discovers that the church is holding a party that night. How will we ever know who A is if everyone is town is at the church function. Speaking of which, since when is church a thing in Rosewood?
Starsweep to Jason and Spencer having some brother sister chitchat time on a park bench. Spencer wants to know if Jason, who is my fourth least favorite character after Toby, Wilden and Celeb (in that order), knows anything about the mysterious Miss April Rose.
Spencer thinks, perhaps, that Rose was a Rosewood Girls Gone Wild Caught on Tape victim turned rogue. Jason is pretty sure she wasn't, seeing as he was the mastermind behind that whole "film girls" plan, but admits she could have been involved. Apparently Garret and Ian were paying girls to set up their friends to get spied on.
Speaking of spying, Papa Hasting watched the whole conversation! So that's creepy.
Also I'm growing increasingly concerned by Jason's complete lack of control over the English language and his insistence on redundancy.
Jason: "At that time I had kind of walked away from it all at that point."
Back over at the Ezaria household, Aria continues to get ready while Ezra showers. I guess it's still only like 9am. These girls seriously do it all by breakfast. Pulling on her cute floral Doc Martins (which I totally spotted in Topshop in London and almost bought), Aria realizes she lost a sock!
Even though Ezra probably has size 1000 feet, Aria goes snooping around in his sock drawer to get a loaner pair. What does she find? A hundred gazaillion dollars in cash money!
Now this is the point at which I, as a confrontational gold digger, would pull out the cash and make it rain all over the room. Aria instead freaks and leaves without even giving Ezra a proper goodbye BJ.
The girls, sans Emily for some reason, meet up at The Cheesecake Factory where they discuss cheese fries and A. Here's the thing. If for one goddamn minute the girls calmed the fuck down, opened up about all their lies and experiences with Ali, they would probably be able to figure out what the hell is going on. I will admit the cheesy fries conversation is the best moment of this episode.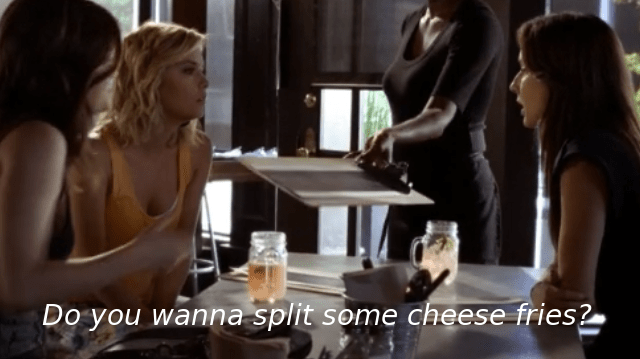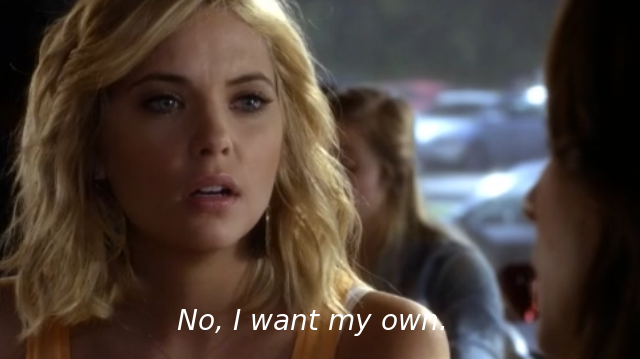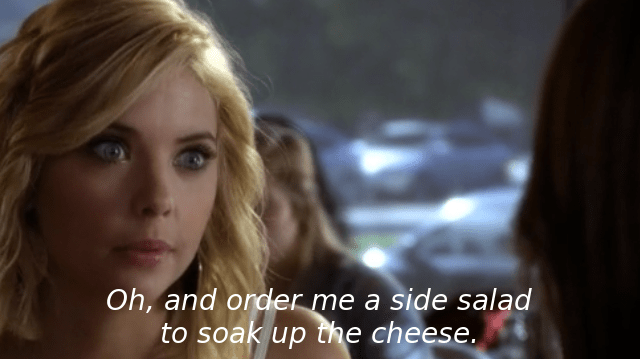 Instead, Hanna plans to hide inside that cool chair all organs seem to have where the sheet music is stored and pop out and yell "Boo!" when someone shows up. Aria silently ruminates about Ezra's sudden piles and piles of cash, worried that, perhaps, he took the money from Jason. Since this seems very likely, it almost definitely didn't happen.
Meanwhile, outside some miscellaneous building, Papa Hastings confronts Jason. Papa is all, "Listen, bro, back the fuck off my daughter. She's had enough trouble these past few years without you digging up dead bodies — I mean dead issues — and dragging her along." To which Jason replies, "Dude she's my sister. 'Cause you're my father. I have feelings."
Back over at the church, where Hanna has been magically transported, Ashley announces that she'll be going to the church dance too with Ted which is apparently the name of that old guy from the previous episode. You guys know how little I care about the characters over 40 on this show, let alone the male characters. For some reason this revelation throws Hanna through a serious loop. Maybe Hanna freaks because she's really not okay with her mom dating. Maybe it's because the last guy she dated turned out to be Detective Wilden and he turned out to be a major character and a major pain in my ass. Either way Hanna refuses to ride to the dance with her mother claiming that Toby is taking her. She claims she needs him to scare off some imaginary guy hitting on her.
This lie is a problem for two reasons:
1. This doesn't make any sense whatsoever
2. Now we have to see more of Toby this episode
Hanna must now convince Spencer to convince Toby to come with her to the dance so she can… what? Avoid Toby while she also avoids her mom and tries to see who A is? Here's a better plan. Hanna should just tell her mom that she's actually upset about Caleb and stay home and forget this goddamn bust A plan since it's going to be impossible with all those people there. Maybe, best case scenario, they could set up a video camera (since everyone seems to be so good at recording things these days). More likely, they should just call this one a wash and just be glad they prevented Garret's recipient from getting the real message. Then they could all ditch the church party and find a cool drag bar to go to and do karaoke. I dunno just a thought.
While Hanna and Spencer give the Hanncer (Spanna?) shippers something to animate into gifs, Emily goes to Riverside and State Street.
Little did Emily realize she accidentally walked in to Edward Hopper's Nighthawks.
The 1940's diner triggers a flashback for Emily. Is it of the end of WWII, decolonization and the creation of the UN? No! It's, of course, a flashback from "that night." In the flashback, Emily sees a half solved placemat maze with the phrase "sorry I left you" written on it.
She also remember someone with a dark mark tattoo. Holy crap, A is Malfoy.
More importantly she remembers the waitress saying "Get this drunk chick the fuck out of my restaurant before I call the cops." This would be a great time for Emily to ask the waitress who she was with that night. Or run away. That works too I suppose.
Starsweep to Jason who announces to Spencer that he found April Rose and she is actually a vintage shop. Hm. Didn't Mona say she and Ali met in a vintage shop out of town?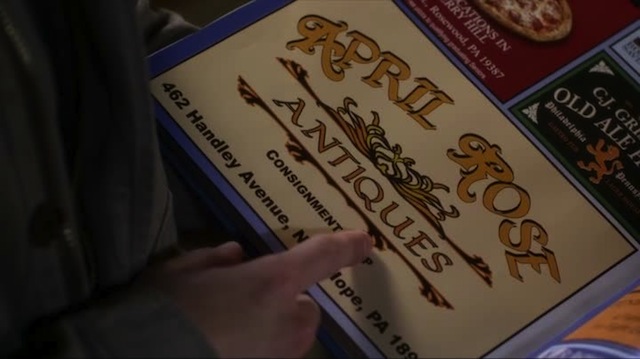 Okay so let's get our bearings. It's party time and Emily is coming back from the diner to meet Hanna at the church where she'll be arriving shortly with Toby. Spencer and Jason are off finding the vintage store and Aria is…. um… at work or something. Why do these girls insist on doing different things at once necessitating confusing cut sequences?
Hanna and Toby enter the Church Party which looks, without variation, exactly like a wake.
Ashley makes a couple of well timed jokes about needing to booze up. Well timed with when I got up to get a dozen Caronas. Unfortunately Ted informs us all that booze is a No Can Doozeville Baby Doll. This is a sober party.
While Hanna and Toby wander off to stand around awkwardly, Ashley and Ted flirt it up. Ashley tries to make plans with Ted for Sunday but he's busy. He's also busy the next Sunday. And the Sunday after that. See where this is going? Just to remind everyone that being a middle aged single woman is the most terrible thing imaginable, Ted tells Ashley he is a pastor. This, of course, causes her to crash in to a wake of terror and disgust with her awful slutty sinful self.
More importantly does this mean he's Father Ted? Because I was pretty sure we already had a Father Ted.
The party proceeds as completely lame and, though he is a completely useless, Toby figures out pretty quickly that Hanna's excuse makes zero sense. So he's like mad and stuff. God I can't stand him.
Guess who else I can't stand at the party?! Wilden. Ashley sees Wilden and, based on her slutty slutty dirty past with him, bolts from the party. There's a lot of that going on today.
Starsweep to April Rose Vintage Gear and Things where Jason and Spencer are puttering about. Spencer finds Ali's charm bracelet anklet we've never heard of that she, apparently, wore every day with every outfit. I'm pretty sure the only way to make a charm bracelet even lamer is by wearing it as an anklet.
This is, of course, revealed to us through a pastel faded flashback.
The store owner initially doesn't want to sell the anklet, but apparently $400 can buy a lot of pleated old man pants and he finally folds. Super sleuth Spencer even holds the anklet with a hanker-chief so that she doesn't get any teeny tiny finger prints on it. The infallibly related duo skip off in to the night to turn the anklet in to the Po-9.
Back at the church dance Emily finally shows up! This is great because she looks absolutely breathtaking and also because she, conveniently, does not burst in to flames.
She does, however, run in to Holden who I completely forgot about. Remember when we thought he was a queermo but then he actually was doing secret martial arts on the side and then he roundhouse kicked Noel Kahn? Those were the good old days.
Holden offers Emily a cupcake, because Rosewood runs of lies and cupcakes, and Emily notices he also has a Dark Mark tattoo. She inquires and Hodlen reveals it's actually just a stamp from some sort of party.
Holden: I used to see your friend there
Emily: What friend?
Holden: [shrugs] Girlfriend?
With that in mind, maybe Holden is a gay and the stamp is from a secret gay bar. The gay bar I go to stamps your wrist RAMROD or sometimes PASTDUE. Also we're lead to believe by Holden's evasiveness that he is talking about Maya, but he could totally be talking about Paige. Maybe she's going to the same bar. Or maybe it's from the mix martial art events. Paige has an awful lot of rage.
Hanna and Emily race in to each others arms, trying to free themselves from the church's oppression, and exchange stories.
Hanna announces she will hide in the organ room and wait for A or whomever. Emily announces she will cry alone in the dark for an undisclosed amount of time. Maybe until Paige shows up and personally fingerbangs everyone in the room.
Hanna hides and is stuned when Wilden appears with fire in his eyes. He informs Hanna that a nurse found the note and wisely turned it in to the police. If only they had just left the original note! Wilden assumes Hanna and co. wrote the fake note and encourges her to come clean. Why does Wilden insist on coming off like a rapist 100% of the time? But the Hanna Badger don't give a shit and keeps on keeping on with the lies.
Elsewhere, Aria and Fitz snuggle like two fifth grade classroom chinchillas. The oogle and ahh-gle and Aria admits she's been freaked out by the money.
Ezra explains that the money is from selling his grandfather's car. He didn't tell Aria because he was embarrassed that he used to be a teacher sleeping with high school students and how he's just a regular funemployed guy sleeping with high school students. We believe him zero percent.
Speaking of dramatic reveals, Spencer's dad confronts her in the kitchen and announces that Garret has been freed. The anklet that Spencer and Jason turned in had traces of Ali's blood and someone else' — not Garret's.
Spencer calmly and patiently leaves the room, walks up the stairs to her bedroom where she freaks the fuck out.
Just in case it wasn't obvious, A texts Spencer letting her know "Garret isn't their killer." Plot twists aside, I appreciate A's use of gender neutral pronouns since I am wholeheartedly guessing either Ali or Maya is still alive.
Scary final scene pictured A circling Rooms for Rent ads and then dialing one of the numbers. Biggest plot hole in this episode? Everyone knows that you can't dial an iPhone with leather gloves on.
So this is what an episode with under three and a half minutes of Emily content looks like. Lame.