Happy Sunday Funday! Did you know that this week it's my mother's birthday and my birthday? It's like all of the best people in the world fit into 7 days, minus all of you since you're also the best. It's also probably a sign I'm gonna "celebrate" all week.
This week the Muppets/Jim Henson got gayer, an 8-year-old melted our hearts, and someone on the Internet compiled a list of the cutest things to happen online in all of time. This clearly means things are looking up.
Desmond Tutu: LGBT People Are Human
Archbishop Desmond Tutu of South Africa this week called on the entire planet / universe to stop criminalizing homosexuality and instead come to terms with, and embrace, that it lives on in every community.
Tutu wrote an article in The Lancet about HIV and gay stigmatization in Africa saying:
"They also tell us what we each already know, if we are prepared to be honest with ourselves—that lesbian, gay, bisexual, and transgender (LGBT) people are a part of every human community."
He continued to say that the laws across Africa that criminalize the LGBT community are wrong and that in the future, when the world looks back on this period, will understand this reality.
"I have no doubt that in the future, the laws that criminalize so many forms of human love and commitment will look the way the apartheid laws do to us now—so obviously wrong. Such a terrible waste of human potential… And never let anyone make you feel inferior for being who you are. When you live the life you were meant to live, in freedom and dignity, you put a smile on God's face," he wrote.
I Don't Speak German But I Can If You Like
Jeanna Mammen reminds us that pre-war German women were fabulous, sensual, and pretty fucking good looking. And she's got an Artist Spotlight this week at The Advocate!
Jim Henson Supports GLAAD
On Friday the Jim Henson company posted a short but sweet note to Facebook announcing that they will no longer work with the homophobes at Chick-Fil-A, and will support GLAAD instead. The note read:
The Jim Henson Company has celebrated and embraced diversity and inclusiveness for over fifty years and we have notified Chick-Fil-A that we do not wish to partner with them on any future endeavors.  Lisa Henson, our CEO is personally a strong supporter of gay marriage and has directed us to donate the payment we received from Chick-Fil-A to GLAAD.
In other news:
EA Games Wants To Drop DOMA
Video game company Electronic Arts thinks DOMA makes work harder and is altogether unconstitutional, and signed on to the building amicus brief urging the Ninth Circuit Court of Appeals to rule it as such. This makes EA Games the trillionth large-scale company and/or corporation to come out against the policy in recent months. They are joined by over 70 companies in signing on to the brief:
"DOMA presents a number of problems for businesses like EA," the company wrote in a statement. "It creates regulatory, tax, and discrimination complications for employers, and that's why we're standing against it. The underlying lawsuit impacts all employers no matter how big or small, and no matter the industry, and we encourage other business to join these efforts."
Hip-Hop Continues To Get Gayer
+ The Frank Ocean feelings don't have to end yet: in an interview published yesterday for London's Guardian, the recently out R&B artist described being closeted as "a boulder on [his] chest" and discussed other gay things like wanting to be / have gay role models ever. "I wished at 13 there was somebody I looked up to who would have said something like that, who would have been transparent in that way," he says.
+ Meanwhile, 50 Cent said "anyone that has an issue with Frank Ocean is an idiot." Glad to see he's no longer using airtime to say he "ain't into faggots."
+ Hip-hop artist Macklemore (which sounds a lot like mack-some-more) has released a pro-gay single supporting marriage equality called "Same Love." For the record. Macklemore is straight and simply one of the most down allies on the planet. Earlier this year, he participated in the Music For Marriage Equality movement to support same-sex marriage.
The 8-Year-Old Who Totally Gets Us
This week on Reddit, a proud dad posted his 8-year-old girl's eloquent words in response to a writing prompt about being female.
Good News for Gay Marriage in Minnesota
Opponents of the Minnesota amendment banning same-sex marriage have out-raised those who support it by 600 percent:
Minnesotans United for All Families, which is working against the amendment, raised about $3.8 million from January 1 to July 10, according to financial documents filed with the state this week, the Associated Press reports. The measure's backing group, Minnesota for Marriage, brought in just $620,000 in that period. The two groups' total fund-raising amounts to $5.4 million and $1.5 million respectively.
Both groups expressed optimism that their side will win at the polls in November. […]
Said Kate Brickman, a spokeswoman for Minnesotans United for All Families: "Since the beginning, we've had a really vigorous grassroots campaign — knocking on doors, calling people on the phone, having lots of events — so the money helps us continue and sustain that." The group has 75 paid staffers, while Minnesota for Marriage has just a handful, according to the AP.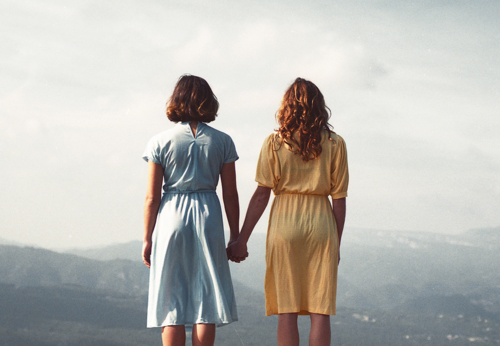 Amazing Women Recognized for Amazing Things
+ Cat Cora is a lesbian chef, and if you like lesbian chefs you probably watch her co-host the Bravo show Around the World in 80 Plates, which sounds cute. This week Cora became the first woman to be inducted into the male-dominated American Academy of Chefs Hall of Fame, and thus also the first lesbian. And it's always special, your first.
+ Congresswoman Tammy Baldwin of Wisconsin and Karen Atala, a Chilean judge, got exactly what they deserved this week when they were recognized for their amazing contributions to LGBT activism and history by The International Gay and Lesbian Human Rights Commission. They were recognized at its Celebration of Courage awards.
An Internet History of Cute
Within this gallery of the 50 cutest things ever to happen on the Internet is a dog who loves a Cheetah. The cutest bros on the planet.