Obviously, they are planning to make an Oceans Eleven-style pinch to cut the power because both Mona and Spencer have those schematics memorized inside their brains.
The next morning, the supplies are all there, so Emily and Spencer stage a fight like from their time doing community service.
Emily: I'ma sit down and have a think.
Spencer: Like the time you sat down and had a think while Maya was murdered and Paige was kidnapped.
Emily: [Whispering] That was harsher than we discussed!
Spencer: [Whispering] Just hit me!
Emily: Not a problem.
She tackles Spencer to the floor and they roll around. The camera whips over to watch them wrasslin', and as soon as it does, Mona pockets some of their new supplies to build the pinch. It only takes her about five minutes, with no instructions, and she does the whole thing behind her back without even looking. Siiiiigh. My Lord and Savior.
The Liars go back to their bedrooms to get ready for prom, and you know A has thought of everything, including makeup and styling products and dresses that fit the Liars' own personal styles. Hanna is classy Jessica Rabbit. Emily is sexy mermaid. Spencer is wearing one of those ribbon chokers from the ghost story about how when you untie it her head falls off. Aria's dress is too plain and normal-looking to be anything Aria would ever wear, but A has a lot to do; you can't expect him to sit around for six hours with a hot glue gun and a bedazzler making an evening gown out of Coke cans and entrails.
The Liars arrive at Hellscape 2004, and walk down the stairs to find a dance floor full of people. Mannequin people. Mannequin people dressed in prom clothes. It's the creepiest damn thing I have ever seen in my life. Natasha Bedingfield's "Unwritten" plays and the Liars are like, "Oh, and also, here is this year's prom queen: Alison DiLaurentis!" (I wish they'd gone with the 2004 smash hit "Milkshake," but you can't have everything.) Right, and Mona glides in wearing a dress made for a My Little Pony and her Ali mask, and Spencer is like, "Charles! Oh, Charles, we know you're here! Come on up and accept your prom king crown and escort Alison to the dance floor!"
Charles is lurking around behind the mannequins, and he thinks he will, in fact, accept his crown. As soon as he steps out of the shadows, Aria clicks the pinch and the lights explode and the Liars bolt, right for the noodle dollar vault.
Where have the police and the Hastingses and everyone ended up? At the old Campbell farm. The paddy wagon is there, and also so is A's new lair. It looks a lot less like Mona's den of costume shop horrors, and a lot more like Ezra Fitz's Ravenswood set up. Tanner's eyes look like they've stumbled onto a dinosaur farm. That's how much she cannot believe that A has been real and under her nose this whole time. She and Toby find some surveillance footage of Hanna eating those brownies.
So, in the doll house, the Liars break into the noodle vault, but there's no dollars in there at all. It's a house. And one of the things in the house is this film projector that Spencer takes the time to power up, and suddenly there's this home video on the wall of Jessica DiLaurentis holding a baby at the old Campbell farm, talking to some brothers about, "Come kiss your sister. Tell your sister goodbye." Jason is the one with the twin! Yes? Charles? Yes!
Okay, and then Charles walks on into the room and stands behind Spencer, quiet as a cat burglar.
Spencer: Charles, is that you?
Charles: …
Spencer: I'm going to turn around and see if it's you.
Charles: …
Spencer: I've turned around and it's you.
Charles: …
Spencer: I probably should take your mask off and look at your face and see if you look like any half-brothers I know.
Charles: …
Spencer: I'm just going to stand here, though.
Charles: …
Mona: Spencer, girl! Where are — oh, hey. This place is nice, right? I was thinking it was going to be more like — who's this? A friend of yours?
Charles: [Runs for it]
I have never seen so many people complaining about an episode of Pretty Little Liars in my life, and it was honestly like the most confused I have ever been on the internet, because, first of all: Mona Vanderwaal is alive!
And you know what else? This is not only the second best episode ever, it also takes the show as a whole to a completely new level. If your main thing when you are watching Pretty Little Liars is whatever circus promos ABC Family has on blast, go watch Scooby-Doo. You know who A is! It has been confirmed! A is the male gaze powered by surveillance culture and enabled by a victim-blaming society saturated in sexism and obsessed with denying women their agency. Who has been systematically torturing the Liars all this time? The patriarchy, just as we suspected! Who thinks women are interchangeable play things created to act out male fantasies? The patriarchy.
"The second they slam that door shut, you feel ashamed."
"They treat you like a criminal, and it's hard to remember that you're not one."
"It's the loneliest feeling you could ever imagine."
Hanna knows what Hanna means.
This episode a goddamn study in scathing social critique: Stanley Kubrick and Alfred Hitchcock want to kiss Marlene King on the mouth for this one.  You wanted it to be someone who has been here from the beginning, right? Well, we got someone who's been here for six thousand years! I'd be happy as a peach if this is all we ever knew about A. I don't care who. I care about exploring and exposing the grossness of how.
I wonder what it's like to be a lesbian showrunner in a male-dominated industry, ushering in a golden age of queer and feminist representation on TV, completely revamping ABC Family's scripted programming model, and the whole time everyone's yelling at you to make Keegan Allen take off his shirt. Stomping their feet and demanding chicken nuggets when coq au vin is on the menu. (No offense to Keegan Allen's abs, obviously; those things are a work of art and have never even seen a chicken nugget.)
The Liars finally bust free of the building, but once they're out in the yard, it is not good news. The whole place is surrounded by a 50-foot fence. And, well, fuck it. Emily is going to climb her ass right over that thing and go home and take a shower and buy a plane ticket to Palo Alto and never come back. She starts running full-throttle toward the chain-link and is a single breath from going all parkour when Spencer shouts, "WAIT, STOP!" Because the fence is glowing blue because it is pulsing with 1.21 jiggawatts of electricity. It'll fry them like a sack of taters if they touch it.
The Liars stand around in the yard and turn in circles, and Billy Williams' "Don't Fence Me In" starts playing on the loud speakers and the camera pans out and out and out and out.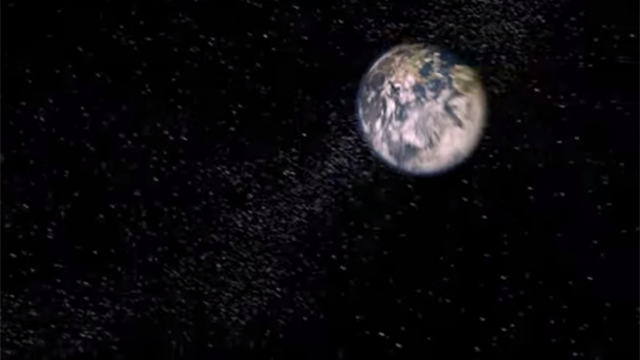 Mona played with dolls. I play with body parts. Kisses, bitches. – A
---
My most enormous thanks to Nicole (@PLLBigA) for another amazing season of fantastic screencaps. Follow her in the off-season for all the Pretty Little Liars news your heart needs!
Next page: The top 100 #BooRadleyVanCullen tweets of season 5B!
Pages: 1 2 3 4 5See entire article on one page