Oh, my precious grey parrots, I humbly bend my knee before you and ask you to forgive me for the monstrous lateness of this final Pretty Little Liars recap of season five. I buckled under the pressure and time wouldn't stop for me. When season six rolls our way (and oh, so soon!), I promise to be on my best, most Spencer-approved recapping behavior, even if I have to take off my bra to get a bucket full of Adderall. After the recap are the 100 best #BooRadleyVanCullen tweets of the whole season!
---
Previously on Pretty Little Liars, the Liars were all convicted of murdering Mona Vanderwaal: Alison first, in a trial where her lawyer's main defense strategy was having her throw grapefruits across the courtroom; and then the rest of them because of, I think, habeas corpus. And while the Liars were getting handcuffed and carted away, Veronica Hastings was just shaking her head over there in the corner of the courtroom because if they'd stayed home like she told them, they would never have been arrested for homicide. Toby was like, "Rawr, I just want to be the police!" And Caleb was like, "My essence is on sale at JCPenny!" And Paige was at Stanford, forcing Emily to learn to make empanadas on her own.
The Liars are on their way to jail in an RPD paddy wagon, wearing orange jump suits like one of the other times they were arrested (for digging their therapist's boots out of the mud with a shovel, remember) and forced to do community service. Emily asks Hanna what it's like in prison, which is ridiculous, like I am so sure Emily has not watched every episode of Orange Is the New Black six times. They talk about how hopefully they'll all end up at the same facility and be bunkmates so they can share commissary money and start a coven.
Spencer: This is some hardcore bullshit, but I will tell you what, it has really always only ever been the four of us, and that's all we need.
Aria: Should we all cuddle up like a crate of puppies at the end of a rainbow, for comfort?
They do not have the chance. The paddy wagon wrecks and the back doors open and A+ steps out of the darkness and shoots a grenade at them. Luckily it's one of those grenades filled with sleeping gas and not gun powder, and so they all get knocked out instead of getting dead.
When the Liars wake up, they are in their own bedrooms. But except no they are not. They are in real-life simulations of their own bedrooms with just enough stuff missing that it feels like getting seasick. One-by-one they realize the world beyond their windows is just cement walls, and that all their photos are the ones that came with the frames, and that the books on the shelves are the kind in IKEA. It is Spencer who hurls her chair through her window, which A+ always knew would happen. Remember when he had all those literal rats in literal cages and Spencer-rat was the first to crack? (I think they got arrested for that too? When they took that trophy to the police and it had Spencer-rat's blood on it and not real human blood?)
The Liars are greeted by the sound of a disembodied airport voice saying good morning in like six languages and inviting them to follow the lighted path to their destination. The doors unlock and they amble out into the hallway and are so relieved to see each other that Emily practically faints dead away. They do follow the lights. The lights lead to Alison's room in the doll house.
She's sitting there too, wearing a mask of her face over her face, as per the usual. Playing the piano. She takes off the mask. And the face under Ali's face isn't Ali's face at all. The face under Ali's face is the same face that was under Ali's face under Caleb's Halloween costume's face on the Nightmare Express.
THE FACE OF MONA VANDERWAAL.
https://www.youtube.com/watch?v=YXsGplQ6DZA&feature=youtu.be&t=2m32s
Did your soul grow a little? Did you scream? Did you run around the room and fall over your cat's toys and break your neck and not even care? I grabbed my girlfriend's leg so hard I almost bruised it. I started shaking. I did. I shaked for the next half hour like a little polar bear without a coat. My girlfriend was like, "But you knew she was alive. You kept saying it. I specifically remember you calling yourself one of the few faithful Vanderchildren." Still, though. Believing and seeing are two different things.
Mona Vanderwaal is alive and wearing a blonde wig and the yellow tank top everyone wore the Labor Day they were bashed in the head and buried in the yard. She even says she's Alison, and invites the Liars to join her in "her" "sitting room" for a nice, normal cup of tea.
Hanna: Mona! Oh, man. Mona. Mona.
Mona: Stop calling me that! I am Alison!
Hanna: Prove it.
Mona: [slides her hand up Emily's thigh]
Hanna: Okay, then.
Mona: Anyway, you know I hate that bitch Mona Vanderwaal. But who I love is the Grunwald because of how she pulled me, Alison DiLaurentis, out of the ground after my jackass mother covered me in dirt and left me for dead.
Emily's eyes to Spencer's eyes: This is her real hair.
Spencer's eyes: I'm never taking study drugs again, ever.
Aria's eyes: [are bigger then eleven Jupiters]
The loudspeaker in the doll house chimes four times and Mona hops up and walks out the door to a game room because four chimes is game time. The game they'll be playing today is called Mystery Dream Date. What event will they be attending with these Dream Dates? Well, the doll house chimes two times, which means Tyra Mail time, and today's Tyra Mail is invitations to prom. So that's what the dates are for. While Spencer is looking around the room for any kind of clues, fixating for a nanosecond on some building blocks with letters on them, Hanna loses her goddamn mind. She turns to one of the cameras on the wall and starts screaming about how kidnapping one of the two loves of her life is enough, and if A tries any funny prom date business with Caleb, she is going to burn down the entire planet earth.
And then she turns her yelling toward Mona.
Hanna: You're not Alison, you're Mona!
Mona: Dude, stop. I'm Alison.
Hanna: YOU'RE NOT ALISON, YOU'RE MONA!
Mona: Seriously, Han, shut it down.
Hanna: YOU'RE NOT ALISON YOU'RE MONA YOU'RE NOT ALISON YOU'RE MONA YOU'RE NOT ALISON YOU'RE MONA YOU'RE NOT ALISON YOU'RE MONA!!!!!!
A deafening alarm goes off and Mona yells over the sirens that the only way to make it stop is for the Liars to go to their rooms. They run that way with their hands over their ears, step inside their rooms, turn to face each other, and their doors slam shut. The alarm is silenced.
Hanna falls asleep somehow, and is awakened to the light of a battery-powered lantern and a Mona Vanderwaal who knows she's Mona Vanderwaal. She tells Hanna they've got three minutes to debrief with the other Liars, so she needs to move her buns. Okay, and get this: Mona explains to the other Liars that every single night, the power goes off for three minutes while the generator recharges, and so every night for three minutes, for all the months she has been here, she has been methodically exploring this hell hole bunker, running full-speed in one direction for 90 seconds, and then full speed back to her bedroom for the other 90 seconds.
Down this one hallway is a door to a vault filled with noodle dollars, probably. Down this other hallway is a portal to that doll hospital in Brookhaven. That hallway leads to a replica of the inside of Kahn Kabin. This one goes to a Beauty and the Beast-style library where every book is Lolita. There's a room full of those burlap baby-face zombie masks. A room with nothing but photos of the inside of Aria's ear. A pit full of snakes. A simulator where you get run under, over and over, by a car. One room looks exactly like the English classroom at Rosewood High, with an animatronic Ezra Fitz inside teaching The Great Gatsby all day every day until the end of time, and sometimes between talking about the themes of class and the dissolution of the American dream, the animatron snaps, "Some people have real problems, Emily!"
What Mona has figured out, besides all that, is if you don't make it back to your room in three minutes, A+ leaves you out there in the hallway in the dark with the sirens going off and no food and water for days, and sometimes it's like those Jabberjays from The Hunger Games squawking your loved ones' voices at you, screaming and crying and begging to die.
But have those torture tactics cracked Mona Vandejesus Vanderwaal? No, ma'am, they have not.
Mona: Is my mom okay, though?
Hanna: I mean, I saw her all the time at first. She slapped Ali at your funeral for sure. Things got weird when Leslie Stone came to town trying to rifle through your shit and claiming to be your lover. I was guarding your bedroom 24/7. I think your mom was creeped out. Anyway, who the fuck is Leslie Stone?
Mona: Shoot, that was the warning click. 17 seconds until the generator is working again; we'd better scoot.
Sadly, this episode is not just all Liars all the time. Mercifully, though, the boys have holed up in Calebzra's apartment and are hanging out there and impotently interacting with one another, and also with the Hastingses, who have been clued in by Toby that Spencer and the others have been hijacked and are being held hostage. Ezra is the best in these scenes. Just the absolute best. He stomps around and pulls at his hair and falls to his knees and shouts at the sky and rips his clothes and talks about how all he cares about in the world is keeping Aria safe, and then he presents dozens of boxes of stalking notes to Veronica and Peter, from the several years he spent watching Aria get chopped into tiny pieces and fed to wolves every day without ever intervening to help her.
The Hastingses decide to tag-team and question Ali about the roofied paddy wagon drivers who careened their van into a ditch, thereby enabling the kidnapping of their daughter.
Ali: I mean, it was A.
Peter: Fuck wank bugger shitting arse head and hole!
Veronica: Pardon me?
Peter: That's some slang I learned from Colin, Melissa's British roommate, when I was Out of Town.
Veronica: Alison, we know Mona was A. Dr. Annabeth Gish explained how she was living in a perpetual state of hyperreality after Spencer drove her off a cliff, remember? And now she's dead for a second time? That's kind of why you're in here?
Alison: It's true Mona was A, but after she checked into Radley, a whole other even more sinister A stepped up to the plate, and it stopped being kid's stuff like nasty little text messages and occasionally getting stuffed into a woodchipper, and started being real terror stuff like — okay, one time I had to land my plane in the forest and pull Hanna from a burning building.
Peter: Blimey, mate! Bugger all chunder kerfuffle!
In the doll house, Spencer finally takes Emily's advice to think like Mona and decodes the lettered blocks she peeped in the game room earlier. She wakes up and legit goes, "IT HAS A NAME!" And its name is Charles.
Mona wakes up and smiles so sweetly into the camera peering down at her. The camera waggles its finger toward Mona's dresser. There's a gas mask there and a note saying it's a gift because she's A's favorite. Mona smiles as bright as an Oklahoma morning, says, "Want me to put it on?" And she does. And then she stands in front of a mirror in the fake room of a girl she's being forced to pretend to be, while the actual girl who lives in the real version of this room is in jail for her murder, wearing a gas mask and brushing her fake hair. This episode is one of the most monumentally fucked up things I have ever seen on television. I love it so much.
The Liars make their way down to the basement of the doll house. It kind of (kind of) looks like the Batcave from the 1960s Batman TV show. All of the Liars have been assigned to work stations to help prepare for prom, the theme of which is: Hellscape 2004. Incidentally, that was the theme of Ian and Melissa's prom. Emily is like, "Nuh uh, no! I did not start a lesbian revolution on television to be sent back in time to a year when gay women only had sex on premium cable! Absolutely not!" Frankly, Mona agrees. Hanna is in charge of the snacks station, so she flips off the camera and tells A+ to bite her, before chomping (awesomely) into a brownie.
Mona invites the Liars to her station to help her fill out Prom Queen & King ballots, which only makes Emily madder. 2004 was so heteronormative! But Mona doesn't care about the ballots; she wants them to use the ballots to pass notes between each other.
Meanwhile, at Calebzra's, Ezra gets a text from someone letting him know that Tanner & Co. are on their way to arrest Caleb. He willingly goes in for questioning because he's never gotten to sit across from Tanner and give her a piece of his mind and now seems like a good time.
Tanner: Well, the girls were cyberjacked, and are you not a cyberjacker?
Caleb: Maybe, and good luck killing me, because I'm also a ghost.
Tanner: Where is Hanna?
Caleb: Do you not think if I were the cyberjacker who jacked her paddy wagon that I would be with her right now, instead of hanging around in my apartment with these Hastingses and Ezra Fitz?
Tanner: Can you think of anyone else who would want to jack Hanna's paddy wagon?
Caleb: Yes, but she's dead. Anyway, I already found the paddy wagon, from my iPhone.
Tanner: We'll talk about your arrest after you help us crack the case of these missing Liars.
Toby: Yessssss. Solving a mystery! Making arrests! Officer Cavanaugh is on the—
Tanner: Toby, go get us some coffee.
Caleb takes over RPD's intranet, shows Tanner where the paddy wagon has landed, and so off everyone goes to save the day. On the way, Melissa calls Veronica to check in on things, and Andrew "Cousin Nate" Campbell is somehow tapped into that phone conversation, just listening in on it while he plays Tetris in another window on his laptop down at Fitzgerald Candy & Book Shoppe.
In the doll house basement, Spencer suddenly starts flipping tables and yelling about how subpar all these materials are, and what she could really use is some copper wire and three packs of nine-volt batteries and and a handful of D-sub connectors and a modular connectivity port and half a dozen capacitors and resistors. Mona's eyes get bright and she chimes in, talking about, "Shit, yeah! And a toggle switch and a liner taper potentiometer and about six hundred light bulbs!" Aria starts yelling too: "Yeah! And, um, a bag of bird feathers and a leather-bound journal with unruled free range organic paper and some coconut water!" Spencer and Mona dialogue about how if they had those things, they could rig up this fancy stairway entrance and when Ali walks down it to get her crown, all the light bulbs will flash at her like the paparazzi!
Obviously, they are planning to make an Oceans Eleven-style pinch to cut the power because both Mona and Spencer have those schematics memorized inside their brains.
The next morning, the supplies are all there, so Emily and Spencer stage a fight like from their time doing community service.
Emily: I'ma sit down and have a think.
Spencer: Like the time you sat down and had a think while Maya was murdered and Paige was kidnapped.
Emily: [Whispering] That was harsher than we discussed!
Spencer: [Whispering] Just hit me!
Emily: Not a problem.
She tackles Spencer to the floor and they roll around. The camera whips over to watch them wrasslin', and as soon as it does, Mona pockets some of their new supplies to build the pinch. It only takes her about five minutes, with no instructions, and she does the whole thing behind her back without even looking. Siiiiigh. My Lord and Savior.
The Liars go back to their bedrooms to get ready for prom, and you know A has thought of everything, including makeup and styling products and dresses that fit the Liars' own personal styles. Hanna is classy Jessica Rabbit. Emily is sexy mermaid. Spencer is wearing one of those ribbon chokers from the ghost story about how when you untie it her head falls off. Aria's dress is too plain and normal-looking to be anything Aria would ever wear, but A has a lot to do; you can't expect him to sit around for six hours with a hot glue gun and a bedazzler making an evening gown out of Coke cans and entrails.
The Liars arrive at Hellscape 2004, and walk down the stairs to find a dance floor full of people. Mannequin people. Mannequin people dressed in prom clothes. It's the creepiest damn thing I have ever seen in my life. Natasha Bedingfield's "Unwritten" plays and the Liars are like, "Oh, and also, here is this year's prom queen: Alison DiLaurentis!" (I wish they'd gone with the 2004 smash hit "Milkshake," but you can't have everything.) Right, and Mona glides in wearing a dress made for a My Little Pony and her Ali mask, and Spencer is like, "Charles! Oh, Charles, we know you're here! Come on up and accept your prom king crown and escort Alison to the dance floor!"
Charles is lurking around behind the mannequins, and he thinks he will, in fact, accept his crown. As soon as he steps out of the shadows, Aria clicks the pinch and the lights explode and the Liars bolt, right for the noodle dollar vault.
Where have the police and the Hastingses and everyone ended up? At the old Campbell farm. The paddy wagon is there, and also so is A's new lair. It looks a lot less like Mona's den of costume shop horrors, and a lot more like Ezra Fitz's Ravenswood set up. Tanner's eyes look like they've stumbled onto a dinosaur farm. That's how much she cannot believe that A has been real and under her nose this whole time. She and Toby find some surveillance footage of Hanna eating those brownies.
So, in the doll house, the Liars break into the noodle vault, but there's no dollars in there at all. It's a house. And one of the things in the house is this film projector that Spencer takes the time to power up, and suddenly there's this home video on the wall of Jessica DiLaurentis holding a baby at the old Campbell farm, talking to some brothers about, "Come kiss your sister. Tell your sister goodbye." Jason is the one with the twin! Yes? Charles? Yes!
Okay, and then Charles walks on into the room and stands behind Spencer, quiet as a cat burglar.
Spencer: Charles, is that you?
Charles: …
Spencer: I'm going to turn around and see if it's you.
Charles: …
Spencer: I've turned around and it's you.
Charles: …
Spencer: I probably should take your mask off and look at your face and see if you look like any half-brothers I know.
Charles: …
Spencer: I'm just going to stand here, though.
Charles: …
Mona: Spencer, girl! Where are — oh, hey. This place is nice, right? I was thinking it was going to be more like — who's this? A friend of yours?
Charles: [Runs for it]
I have never seen so many people complaining about an episode of Pretty Little Liars in my life, and it was honestly like the most confused I have ever been on the internet, because, first of all: Mona Vanderwaal is alive!
And you know what else? This is not only the second best episode ever, it also takes the show as a whole to a completely new level. If your main thing when you are watching Pretty Little Liars is whatever circus promos ABC Family has on blast, go watch Scooby-Doo. You know who A is! It has been confirmed! A is the male gaze powered by surveillance culture and enabled by a victim-blaming society saturated in sexism and obsessed with denying women their agency. Who has been systematically torturing the Liars all this time? The patriarchy, just as we suspected! Who thinks women are interchangeable play things created to act out male fantasies? The patriarchy.
"The second they slam that door shut, you feel ashamed."
"They treat you like a criminal, and it's hard to remember that you're not one."
"It's the loneliest feeling you could ever imagine."
Hanna knows what Hanna means.
This episode a goddamn study in scathing social critique: Stanley Kubrick and Alfred Hitchcock want to kiss Marlene King on the mouth for this one.  You wanted it to be someone who has been here from the beginning, right? Well, we got someone who's been here for six thousand years! I'd be happy as a peach if this is all we ever knew about A. I don't care who. I care about exploring and exposing the grossness of how.
I wonder what it's like to be a lesbian showrunner in a male-dominated industry, ushering in a golden age of queer and feminist representation on TV, completely revamping ABC Family's scripted programming model, and the whole time everyone's yelling at you to make Keegan Allen take off his shirt. Stomping their feet and demanding chicken nuggets when coq au vin is on the menu. (No offense to Keegan Allen's abs, obviously; those things are a work of art and have never even seen a chicken nugget.)
The Liars finally bust free of the building, but once they're out in the yard, it is not good news. The whole place is surrounded by a 50-foot fence. And, well, fuck it. Emily is going to climb her ass right over that thing and go home and take a shower and buy a plane ticket to Palo Alto and never come back. She starts running full-throttle toward the chain-link and is a single breath from going all parkour when Spencer shouts, "WAIT, STOP!" Because the fence is glowing blue because it is pulsing with 1.21 jiggawatts of electricity. It'll fry them like a sack of taters if they touch it.
The Liars stand around in the yard and turn in circles, and Billy Williams' "Don't Fence Me In" starts playing on the loud speakers and the camera pans out and out and out and out.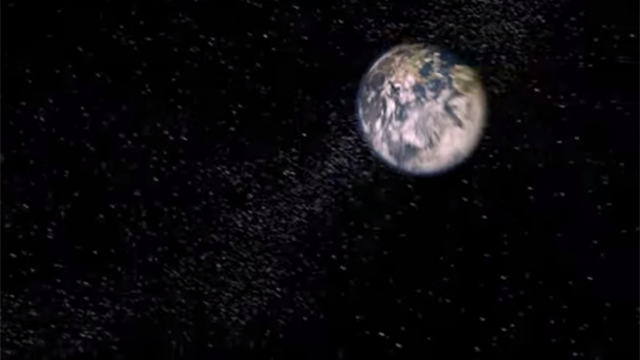 Mona played with dolls. I play with body parts. Kisses, bitches. – A
---
My most enormous thanks to Nicole (@PLLBigA) for another amazing season of fantastic screencaps. Follow her in the off-season for all the Pretty Little Liars news your heart needs!
Next page: The top 100 #BooRadleyVanCullen tweets of season 5B!
When I started #BooRadleyVanCullen back in season one when I was writing for AfterEllen, I was just looking for a good way to watch this full-tilt bonkers show with some like-minded queer women. I had no idea that it would evolve into this revolutionary cultural thing where we talk to the show and the show talks back to us, where we form our own inside jokes with the people who make what we love to watch on TV, where we say "Tippi the Bird" enough times and she appears.
This season was a tricky one for me, and I wasn't able to do these round-ups like I have done in the past for every episode. But tweeting with you was always one of the best parts of my week, and so to thank you for sticking with me through 12 more bananpants episodes, I've rounded up 100 of the best tweets of season 5B. (I couldn't use your tweet if it had emojis in it. WordPress hates emojis.) I love you guys. I really do. Thank you for being the best.
---
Ali makes a prison shower look as relaxing as a day at the spa. #PrettyLittleLiars #BooRadleyVanCullen

— Pretty Little Liars (@LittleLiars) March 11, 2015
If you thought like Mona always, you wouldn't be in this mess. #PLL #BooRadleyVanCullen

— Pretty Little Liars (@AllThingsPLL) March 11, 2015
Running through the woods with psychos is just a normal day as Emily Fields #BooRadleyVanCullen

— Kristin | 🌈🦄™️ (@negative_purple) January 28, 2015
Okay Newsie, slow your role with the Potter references. You just got here. #BooRadleyVanCullen #PLL

— Nic (@njnic23) February 18, 2015
Aria's whistle was the highlight of my night #PLLSocialHour #BooRadleyVanCullen @ABCFpll

— tas . (@_tasalexa) January 7, 2015
I'll trade you six Ezras and 100 Tobys for one Paige. #BooRadleyVanCullen

— Lucy Hallowell (on hiatus) (@lucyhallowell) January 7, 2015
Charles is A! I've been saying that for years! Oh man. Classic Charles. #BooRadleyVanCullen

— ahotpieceofA (@ahotpieceofA) March 25, 2015
I need to put on a yellow tank top and crawl into a grave for a second to process this. #BooRadleyVanCullen

— king valkyrie (@HeatherBlakely) March 25, 2015
Does Emily need someone to butter her muffin? #PLL #BooRadleyVanCullen

— Valerie Anne (@PunkyStarshine) January 7, 2015
I'm sure no one is as happy as @hhoagie tonight! #BooRadleyVanCullen #PLL pic.twitter.com/Y7XXUI9sl5

— Big A (@PLLbigA) March 11, 2015
https://twitter.com/karafreewind/status/580564876621451264
Lady: You are not of good moral character. Em: Is it cause I'm gay?! Lady: It's because of the time you killed a guy… #booradleyvancullen

— Theodora (@TheodoraG13) February 25, 2015
Is A trying to make them all multi lingual? #PLL #BooRadleyVanCullen

— Worst Year, Gayer Nic (@CloneNic) March 25, 2015
Paige will be back. Her bag is too big for a carry-on! #BooRadleyVanCullen

— Casey (@caseylcummings) January 7, 2015
Sorry I couldn't get her earlier I was busy pepper spraying and kidnapping your brother #PrettyLittleLiars #BooRadleyVanCullen

— Cait (@ms_Caitlinnn) March 18, 2015
Lol if Talia just funded Emily's tuition to Stanford #BooRadleyVanCullen

— Paily Anchors (@PailyAnchors) February 25, 2015
I wonder if Melissa made out with this brother too. #BooRadleyVanCullen

— AnthroChick (@KissMe_Hardy) March 25, 2015
https://twitter.com/WritingRighter/status/555180450021269504
*cece's* pizza! You tell them, commercial break! #BooRadleyVanCullen

— Chen Drachman (@shokoshik) January 14, 2015
I'm surprised that Ezra didn't suggest Aria speak with Malcolm about her writing, that kid was a genius right? #PLL #BooRadleyVanCullen

— Allison (@peachesT3CH) January 14, 2015
"I'm not gonna have someone looking out for me… except my rich mom who pays for my apartment." #BooRadleyVanCullen

— Keeley LaForme (@KeeleyLaForme) January 14, 2015
"I spent a whole day running on a hamster wheel because of you! It was so much fun, thanks!" – Aria #PrettyLittleLiars #BooRadleyVanCullen

— Diane Michelle (@DianeMichelle2L) January 21, 2015
https://twitter.com/Vandermarin/status/560252641666940928
I've seen Ezra do a lot of gross shit, but falling on his own sword like a martyr is somehow one of the grossest. #BooRadleyVanCullen

— Jenn (@Jennirrific) January 28, 2015
"Hey I'm a convenient new character with insight into the dark inner workings of one of your dead friends!" #BooRadleyVanCullen

— saint baby (@the_saintbaby) February 4, 2015
"I wasn't sick, I just needed a day to bake through my feelings." – Talia #BooRadleyVanCullen #PLL

— Whitney (@wqueen1) February 4, 2015
Did he though? Did he take an oath? Or did he take an online survey? #PLL #BooRadleyVanCullen

— Valerie Anne (@PunkyStarshine) January 28, 2015
His exit has more drama than a game of thrones episode. #booradleyvancullen

— How do I top lesbians?- Brie Larson (2019) (@LeighandLarson) February 4, 2015
"All I need to know about life I learned from A." -Spencer Hastings on college #BooRadleyVanCullen #PLL

— Josh (@YankeeJosh) February 4, 2015
@hhoagie amphetamines. #BooRadleyVanCullen

— WCW Monday Nitro (@huntercamp) February 18, 2015
I want to see Helena and Hanna in a dance battle. #BooRadleyVanCullen #clonesbians @hhoagie

— J_Mc ♋️ (@JLMc87) February 18, 2015
@hhoagie AS SOON AS I SAW TIPPI I THOUGHT OF HOW HAPPY YOU MUST BE #BooRadleyVanCullen

— Molly (@mollyfids) March 11, 2015
Don't worry, Hanna! Mona's fabulousness is too big to fit into that barrel, so don't be afraid. #BooRadleyVanCullen

— Nora kom Baikru (@panheda) January 28, 2015
Oh great FIRE IN HER HAIR #BOORADLEYVANCULLEN

— 🎆SPECIAL NEGRO🎆 (@AmayasTotem) January 28, 2015
My cat was meowing the entire time #Sparia was in the freezer and I'm just screaming "IT'S OK EMILY WILL SAVE THEM" #BooRadleyVanCullen

— #embarrassing (@guiltyplzre) January 28, 2015
Put some pants on. We need to talk about tonight. #BooRadleyVanCullen

— Liz 🐆🏡 (@gatecrewgirl) January 28, 2015
@hhoagie I want a story about Hanna as a knight and she has a sword and kills people when they cross her.

— king valkyrie (@HeatherBlakely) January 28, 2015
Hanna is on a hotness trajectory that is quite frankly frightening. I'm worried about losing one or more of my retinas. #BooRadleyVanCullen

— Jenn (@Jennirrific) January 28, 2015
Shouldn't you be at school? LOL Liz leads with hyperbole! #BooRadleyVanCullen

— Samantha J. Green (@SamanthaJGreen) January 28, 2015
"You've been a cop for all of six minutes… which means you're a senior member of our department." #BooRadleyVanCullen

— Marieill Hill (@marieillhill) January 28, 2015
Okay story pitch: The Grunwald joins the Rosewood PD. OR The Grunwald opens a pet store/doll hospital/costume shop. #booradleyvancullen

— sarah dufrau (@dufrau) January 28, 2015
Sometimes I complain about my gym bag being too heavy – but I guess it's even worse with heist tools & BLEACH. #PLLchat #booradleyvancullen

— Theodora (@TheodoraG13) January 28, 2015
https://twitter.com/kayteedeeisme/status/562780565813080064
https://twitter.com/Vandermarin/status/562780841999618050
Holbrook has his same regular old face, right? It's just new hair? White guy blindness strikes again! #BooRadleyVanCullen

— Jenna (@jennalykes) February 4, 2015
https://twitter.com/tylynn_sings/status/562782975759499265
Mike and Holbrook are on the same evil haircut team #BooRadleyVanCullen

— proud blancofemophobe 🇭🇹🌈 🗽 (@haitianfineappl) February 4, 2015
There better be a deleted scene where we find out what's going on underneath the sheets between Hannah and Mona. #BooRadleyVanCullen

— Diane Michelle (@DianeMichelle2L) February 4, 2015
Hanna should've hit his ass harder! #BooRadleyVanCullen

— Samantha J. Green (@SamanthaJGreen) February 4, 2015
EMILY FIELDS! Scissor that chick all you want but BIKING without Paige? TOO FAR, Emily! #BooRadleyVanCullen

— Lucy Hallowell (on hiatus) (@lucyhallowell) February 11, 2015
For once? I once slow danced with the ghost of my then-dead best friend in the basement of Radley, Johnny Boy #BooRadleyVanCullen

— your stereotypical gay barista (@Shipper648) February 11, 2015
It not a beauty pageant, it's a scholarship program #BooRadleyVanCullen

— Belinda McD (@betterleftbl_nk) February 18, 2015
What's so weird about ordering two small coffees for yourself? Spencer basically drinks a gallon's worth every day. #PLL #booradleyvancullen

— A l v i R o m a n ✘ (@Alviroman2) February 18, 2015
We can rebuild her. We have the technology. #Mona #BooRadleyVanCullen

— Josh (@YankeeJosh) February 18, 2015
@hhoagie @BryanHoldman that's the plot of Jurassic World. Chris Pratt is playing Mike in five years.

— Kyle Bown (@KyleBown) February 18, 2015
Does Rosewood High start classes at 2 pm or does the Rosewood jail have visiting hours from 5-7 am? #BooRadleyVanCullen

— #embarrassing (@guiltyplzre) February 25, 2015
TALIA. SHUT UP. EMILY DANCES BECAUSE ANGELS NOT COINS #BooRadleyVanCullen #PLLSocialHour

— Miss Kitsch (@DeadlyKitsch) February 25, 2015
"That means A hasn't contacted through email or text" Or he's in a full body cast and spelling's not his top priority #BooRadleyVanCullen

— Ashley Peterson (@ashrpeterson) February 25, 2015
@hhoagie It's time for Mona to start passing judgment over the living and the dead. And then some. #PLL #BooRadleyVanCullen

— Bros Watch PLL Too! (@BrosWatchPLLToo) February 25, 2015
IS THERE A CHANCE OF DRUNK SPENCER THIS EPISODE? ALL I WANT IS DRUNK SPENCER #BooRadleyVanCullen #PLL

— Ywonne🦁 (@ywonneacupoftea) March 4, 2015
Nothing says "I'm a Princess" like freshly pressed prison garb. #Ali #BooRadleyVanCullen

— Denise (@DDavis2) March 4, 2015
Root cause of Aria being useless is Ezra as Emily is now learning the hard way… again… #BooRadleyVanCullen

— Michelle (@micnic1291) March 4, 2015
https://twitter.com/McBrooker/status/573602061197012992
Another clear sign Andrew is A. He degrades the Vanderjesus openly. #PLL #BooRadleyVanCullen

— Devon (@KDevNic) March 11, 2015
Andrew is a blasphemer! #BooRadleyVanCullen

— Aimee LaFleur (@Aahhmee) March 11, 2015
Well, you're going to hell, Andrew. #BooRadleyVanCullen

— AnthroChick (@KissMe_Hardy) March 11, 2015
https://twitter.com/tylynn_sings/status/575448226121269248
Ali needs to ditch her lawyer and get Anilese Keating. She would've had like 5 "speculation!" objections by now #BooRadleyVanCullen

— Alison (@al386) March 11, 2015
How many murders, arrests, interrogations, "police officers," and attorneys did it take to FINALLY see a ROSEWOOD COURT? #BooRadleyVanCullen

— Marieill Hill (@marieillhill) March 11, 2015
Psst…pass it on. #BigAReveal #PLL #BooRadleyVanCullen pic.twitter.com/nUOE3p7O0h

— ahotpieceofA (@ahotpieceofA) March 11, 2015
"Hmmm… if I were Mona, what would I do? Eureka! I would look at my perfect face!" #booradleyvancullen

— sarah dufrau (@dufrau) March 11, 2015
"I'm back bitches and I know everything"-Tippi. #BooRadleyVanCullen

— Kari Gleich (@karilynnegleich) March 11, 2015
No! We just got fedexed bovine parts! #BooRadleyVanCullen

— Maya Goldsmith (@Maya_Goldsmith) March 18, 2015
@hhoagie Pretty Little Kittens stalked by the Risen Mitten #BooRadleyVanCullen

— Urka F (@elf0887) March 18, 2015
https://twitter.com/Vandermarin/status/577987116849823744
@hhoagie I think the fact that Spencer hasn't killed anyone or been in jail for 24+ hours is like the best joke on the show

— Maryssa B (@orangewine13) March 18, 2015
What a shithole playground. #PLL #BooRadleyVanCullen

— Geek-Girl (@Peacelovechai) March 18, 2015
So Toby took 3 minutes of classes for NOTHING!? #BooRadleyVanCullen #PLL

— Miss Kitsch (@DeadlyKitsch) March 18, 2015
https://twitter.com/AndyReaser/status/580393280724201472
@hhoagie Big A is a sea creature living in the lake by Noel Kahn's house. #BigAReveal #PrettyLittleLiars

— reisawal (@reisawal) March 24, 2015
@hhoagie a giant Russian nesting doll of Wren, CeCe Drake, not dead-Mona and Tippi as the final boss

— nerdy (@nerdgirlwalking) March 24, 2015
@hhoagie Jason's twin sister? Mona who hyperadrenalized herself out of the grave? Everybody's horcrux is Aria's fork earring.

— hannah orlansky (@hannahorlansky) March 24, 2015
Duh your prom dates are each other #BooRadleyVanCullen

— Jenny (@TVtrashJen) March 25, 2015
"I'm dying to know too spencer but I've never made it inside" says VanderJesus about Hanna's pants #BooRadleyVanCullen

— Pants Rasmuson (@JoetPants) March 25, 2015
My eyes hurt from not blinking watching #WelcomeToTheDollhouse this must be how Spence feels all the time #BooRadleyVanCullen

— mini meg sutherland (@leahsutherlady) March 25, 2015
https://twitter.com/tylynn_sings/status/580534954880307200
Every time I open a new tweet I go, "I don't know twitter! I have no idea what's happening!" #BooRadleyVanCullen pic.twitter.com/ikzZjqusTU

— World of Tilt (@worldoftilt) March 25, 2015
If the girls' fates are in the hands of Caleb, Ezra, and Toby, I fear the worst for them. #PLL #booradleyvancullen

— Holly (@hollydoesstuffs) March 25, 2015
Emily dancing is too much. But not enough at the same time. #BooRadleyVanCullen #PLL

— Ywonne🦁 (@ywonneacupoftea) February 25, 2015
Things I've learned while watching PLL:
1. Dead isn't dead.
2. Hanna is the smart one.
3. I'm super hella gay. #BooRadleyVanCullen #PLL

— Nic (@njnic23) February 18, 2015
https://twitter.com/Vandermarin/status/562783413045039104
Come to Vanderjesus if you want to live. #BooRadleyVanCullen #PLL pic.twitter.com/jqEk0ysJ7b

— Geek-Girl (@Peacelovechai) March 25, 2015
You guys, I just realized Van Der Jesus rose from the dead just in time for Easter, just like how it should be. #BooRadleyVanCullen #pll

— Morgan Glennon (@mojotastic) March 25, 2015
i love everything about the #BooRadleyVanCullen community. It's like watching #PLL with all of you in my living room, knowing to hush!

— Samantha J. Green (@SamanthaJGreen) March 25, 2015
---
See you next season, my loves!
Pages: 1 2 3 4 5See entire article on one page