When Veronica checks in on Spencer that night, Spencer wants to know if Veronica knew the prosecution was going to point out Emily and Aria as co-conspirators in Ali's fake kidnapping. Veronica was like, "Well, I warned them to stay away, but they wouldn't listen, and if anyone asks you, you didn't know about that fake kidnapping thing at all." You know, I'm really starting to understand why Spencer has been chafing about going to college on account of Spencer getting into to college makes Veronica a terrifying myopic robot person.
Caleb visits Hanna in jail and she tells him to run away and he says he's not going to run away because the last time he ran away he got attacked by that girl from The Ring on a bridge and found out he's a ghost. He returns to the Shoppe, where the Liars are hanging around waiting for an epiphany to strike them re: mystery phone numbers, when Varjak calls to play some music. It is Edith Piaf crooning the same way she used to croon in Mona's bedroom. Hanna confirms this over the phone and then goes back to her cell and thinks about all the French things she used to do in Mona's bedroom. (I mean, kissing and fries, by the way. French of both. Mona let Hanna have her own cheese fries.) Spencer tells Caleb she's going to bottle him up and sell him as "Essence of Best Boyfriend," which is a terrifying thing to say in light of the recent barrel of bodies situation, and also terrifying because that's the exact kind of shit the Liars used to say to Toby before he was A for a minute.
Aria and Emily drive on over to Mona's to see if they can glean any information about her connection to French music by staring at the exterior of her house. They cannot. Aria "jokes" that fuck it, they should just go shopping and buy she can buy some new "clothes."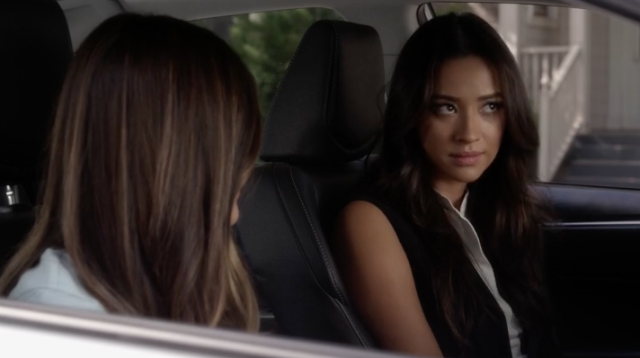 Spencer is hanging out on her back porch reading the Rosewood Gazette when Jason wanders up and shares the most insightful conversation with her.
Spencer: I think Ali is innocent of murdering Mona but guilty of other things and our society is so hardwired for binary thinking that grey areas really fuck me up.
Jason: It's weird, right? We're Lannisters, we should know grey areas better than anyone.
Spencer: I'm a Targaryen, dude.
Jason: I think we both know Mona was the Targaryen.
Spencer: The thing about A is she knows what you're going to do before you do it and so you can't help but wander into her traps because you can't not do what you were always going to do.
Jason: You can't not be who you are.
Spencer: Yeah, exactly. And you can try to change who you are.
Jason: You can even chop off your own head.
Spencer: But at the end of the day, most people do what they've always done.
Jason: I've got to testify tomorrow. I'm going to try a new thing where I don't hurt my own sister in every possible way.
Spencer: Good luck. If you succeed, maybe there's hope for me and Melissa.
Jason: lol no.
Spencer: Well, anyway, I'll be there tomorrow. Fuck my mom.
Jason: Really, because Hanna got super weird when … oh, wait. No, I see what you're saying now. Okay, see you tomorrow.
Jason's testimony is a debacle for the ages. As soon as he backtracks on how he's not absolutely after all sure that it's Alison who is murdering Mona in the video, the prosecutor goes for his jugular, like so: "Are there any other blonde haired girls in this town who look like your sister; and if so, did you bone any of those girls' moms; and if so, is she in this courtroom right now; and if so, will you point to her if she's Ashley Marin?" Well, the courtroom just explodes with the revelation, and so does Emily's head.
And that's when the Liars go to Mona's to break in to look for evidence, because clearly they're the only ones who are going to be able to keep Ali and Hanna from being in jail for all eternity. Mona's room has been plundered. Doll heads litter the floor. Drawers are open, masks are all over the place. And Edith Piaf is playing on vinyl, obviously. A has left the Liars a note about how the early bird catches the worm (and puts it on your Chinese food), and just as the Liars are about to give up because A was five steps ahead of them again, Aria goes, "Y'all what if A is a Liar, also? What if A really didn't find what she was looking for in here? What if some clues are still in this room?" Emily advises everyone to think like Mona, which is as silly as being like, "Okay, now jump off this bridge and fly!"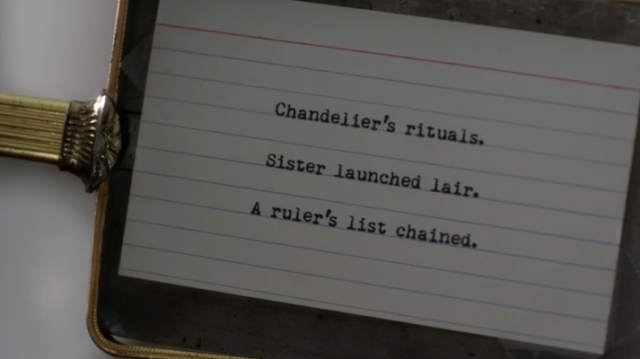 They root through her stuff some more and find a mirror and pluck out the reflective part of it, and inside are three weird phrases like when Miss Aria was a Killer and Not Ezra's Wife. But these ones are anagrams, and all of them say: Charles DiLaurentis. Who is that? I do not know, but my main three hopes are: 1) Andrew, who is secretly Jason's twin brother! 2) Alison's secret child! 3) Code for Cece Drake, because I just really want more Cece Drake in my life. The Liars don't have Twitter so they don't crack the anagram, though.
When they leave, there's an ice pick poking into the floor like a needle into Aria's eyeball, and a broken window, but they don't notice that. They also don't notice that Andrew is creeping out there like a regular old Cousin Nate. When he shows up at the Brew later and kisses Aria on the cheek, it kind of seems like he's sizing her up like maybe he's going to try to dress her up in a Mona skin suit later, doesn't it? Is he after Aria because she's the only other button-sized one?
In jail, Jason talks to Ali and Ashley talks to Hanna. Everyone feels sad about how somehow Ezra Fitz is the only person on this show who has never been arrested.
And finally, Emily goes to work because Emily always goes to work, and in between doing all the things she does to keep Ezra's business booming, she takes a break to listen to Fucking Johnny's secret machine. During the confessions, Edith Piaf plays and Emily just about has a heart attack.
The Risen Mitten shreds his Varjak passport and Varjak social security card and Varkjak Costco membership card. And then he takes the shredded paper over to a bird cage. And inside the bird cage is Tippi. Marvelous, magnificent, motherfucking Tippi! There is hope for all of us after all, dolls!
This is my thank you to Nicole (@PLLBigA) for screencapping for me and for not getting mad when I'm running late with my recaps! 
Pages: 1 2 3See entire article on one page