Snuffleupaguses! (I just learned that the plural of "Snuffleupagus" is "Snuffleupaguses," thanks to Laneia.) Thank you for your patience these last few weeks as I've been running behind with my Pretty Little Liars recaps. I am juggling one hundred things I love, and this thing I love the most is just taking longer than usual. But, here is good news: You're getting this recap today, and a whole other one tonight, so hang onto your Risen Mittens!
---
Previously on Pretty Little Liars, Hanna ended up in jail with Alison, which wasn't Ali's fault, but Hanna's jail face said that she did think it was Ali's fault and also that Ali was going to pay. Emily felt bad for herding Ali into the Rosewood Police Department paddy wagon like some sheep after she found out Ali didn't kill Mona, so Emily ran hither and yon to try to clear Ali's name. The main thing she found was that Varjak likes pizza. Spencer kissed a bunch of monsters on the mouth. And Aria went full Nancy Drew and even dumped Ezra.
Lawyer Julie meets with Ali and her Dad, who has finally arrived from Out of Town, to discuss Mona's murder trial. Specifically, to look at a map of a courtroom in case Ali has never seen a TV show. Alison will be sitting right here and the prosecution will be sitting right there and the judge is over in that booth and the jury is in that box right there and Ali only has to convince one of them that she didn't gut Mona and she'll be free. If I'm Alison DiLaurentis and someone tells me I only have to persuade eight percent of people that a thing is true — seriously anything, if I'm Alison DiLaurentis — I'm betting seven hundred billion dollars on myself. Ali could set you on fire and sell you a box of matches while she was convincing you it was your fault you were in flames and also that it was the best thing to ever happen to you.
But for some reason, Ali isn't happy with those odds.
In the next room over, Ashley and Ted (for some reason) are trying to get Hanna to narc on Alison for pretty much anything, even a not-true thing, if it keeps Hanna from staying in prison forever. Isn't it kind of cool how the Liars' parents keep trying to save them from jail by getting them to turn on each other, and the Liars are all like, "Only Liars decide when to turn on Liars!" It's a friendship code. A weird one, but a true one, and I like it.
The Liars who are not in jail have gathered in Spencer's kitchen to discuss the latest mysterious phone number that has made itself known to them. If you are like me, the first thing you thought was that they should call Tippi the Bird, Keeper of Digits and Dial Tones at Pennsylvania Database of Numerical Sorcery. And if you are like me, you will not be disappointed in 41 minutes. It turns out the phone number Varjak used for ordering pizza is the same number that was in the classified ads Ali was collecting and stashing in her room before Endless Labor Day. Veronica interrupts their investigative fun to tell Spencer she is absolutely banned from attending Alison's trial, and she tells Emily and Aria that they should follow her advice also, since both of their parents are dead and no one is around to boss them or send them to England to keep them out of prison.
Emily makes a conciliatory face like, "I get where you're coming from, but I'm going anyway."
And Aria makes an I'm-so-sure face like, "I murdered a girl and tempt the rabies gods every day with my jewelry; I do what I want."
The Liars take their investigation over to Fitzgerald Bookstore and Candy Shoppe so Veronica will leave them alone. Caleb is there and he has some news about the phone number: It is not traceable. So Spencer borrows one of his burner phones and sends a message from Holly Golightly talking about, "This is cat here, a no-name slob. Miss me? You know you wanna kiss me!" And then she runs outside to accost/apologize to Jason for convincing him that Alison murdered Mona and coaxing him to tell the police it was definitely Ali on that murder video from the air vents. Mr. DiLaurentis comes storming up out of nowhere and drags Jason to the car by his teen lifeguard heart throb hair and shoves him in the car.
Can you imagine how inadequate you would feel in life if Spencer Hastings was your one sister and Alison DiLaurentis was your other sister? You could be the kind of guy who could fall down an elevator shaft and survive and no one would even notice.
Aria goes to school to hang out with Andrew and she is wearing her best outfit ever. Better than the aluminum foil Wonder Woman skirt. Better than when she was dressed like Lord Licorice in that Halloween episode. Better than the skull blouse phase. Better than when she wore a messenger bag as a half-jacket over a leather bodice. Actually, the only outfit she's ever worn that can compete with the outfit she's wearing right now is the one where she was dressed as Lion Goes To The Slammer. This one:
And what's great is today's theme is also cats! Aria is always the best when it's cats, I guess!
Okay, and get this shit right here from this little punk ass jerk.
Andrew: I'm super psyched for Mona's murder trial today, babe. I love remembering that she's dead.
Aria: Whaaaaat?
Andrew: Everybody acted like she was such a dang mental ninja just because she had natural adrenalized hyperreality and was never forced to overdose on Adderall to get straight A's and exist in multiple dimensions at the same time.
Aria: That's barely scratching the surface of what she was capable of doing, but okay.
Andrew: Oh, perfect. You think she should be sainted too.
Aria: I mean, she was the closest thing to a god we've ever had on this earth.
Andrew: Well, I hated her flawless guts. Want to make out?
Aria: Nope.
Attagirl, Aria.
Emily still hasn't decided if she's going to Ali's trial or not when her phone rings and it is Ali calling from prison. Ali doesn't play the sympathy card or the shame card or any of the cards in her deck of emotional manipulation. She just asks Emily to please come to her trial because she needs someone there who believes she's not the worst person on the planet, and when Emily Fields is standing beside you radiating belief in your goodness, none of the horribleness of other people's judgment can even touch you. Her light is a shield for your weary, broken soul! I mean, that's the truth. I wonder if Ali will ever have the courage to actually say that to Emily. Right now she just asks for Emily to show up at the trial and Emily promises she will.
Ali takes a shower while the prison guards watch and looks at herself in the mirror while the prison guards watch and it's very sad. The only time in her life she wasn't being watched was when she was pretending to be dead.
The whole town shows up for Ali's trial, even Mindy and Cindy, who are keeping it 100 with their Princess Diaries makeovers. After everyone is seated including all the jury and the judge and Alison is wearing her best freaked out kitten face, Aria and Emily make their entrance. These girls! Emily's courtroom outfits are some of her very best outfits. Like even Bette Porter thinks Emily is wearing these suits.
Can you believe it's taken us this long to get inside a Rosewood court? How many people have been arrested for murder since this show started? Thirty, at least.
So the prosecutor weaves a yarn about how Alison DiLaurentis is a pathological liar who faked her own kidnapping and murdered Mona to keep her from diming Ali out, only half of which is true. He's like, "Look at her. Look at Alison DiLaurentis. She's pretty, oh yes. And little, too. But mostly she's a Liar. A Pretty Little Liar." The jury gasps. What a thing to say! Oh, and also the prosecutor points out Emily and Aria, which isn't hard because they're stumbling all over everyone trying to find a seat while he's making his opening arguments. He says they're her co-conspirators.
During halftime, Aria rushes outside and calls up bae to say that Cyrus spilled the kidnapping beans and now they're all practically on trial, but Spencer can't hear Aria over the sound of Mr. DiLaurentis having a fit in the background. He screams at Aria and Emily about how all this is their fault and he takes no responsibility whatsoever, right, and never mind that he was nowhere to be seen when: a) his son was perving on his sister with a video camera for years, or b) his son's best friend was making homemade porn with Ali out at the kissing rock, or c) his wife was burying her daughter alive in their own backgoddamnyard, or d) Ali was getting strangled repeatedly in the living room, or e) all the days when Alison has been in jail for a murder she did not commit. And if that ain't the most rich straight white guy thing you've ever seen, I don't even know. "Everything that is wrong has nothing to do with me, the only person with power in this situation, and everything to do with these teenage hellbeasts with their tits and fannies!"
Sometimes Pretty Little Liars feels like an elaborate tourism ad for Wonder Woman's Paradise Island (Where No Men Means No Problems).
Rosewood Penitentiary Laundry Room.
Hanna: What about all those ads you cut out of the newspaper?
Ali: Someone was tormenting me by posting Goodnight Moon quotes.
Hanna: What?
Ali: It's the book my mom used to read to me. Someone was trolling me about my dead mom.
Hanna: Ali, everyone's parents read them Goodnight Moon.
Ali: Oh.
Hanna: Oh my Vanderjesus, Ali, have you been Beautiful Mind-ing us for like five years? Are you even operating in reality? I am now remembering two times that you were so sure you were being stalked that you set up elaborate scenarios where people would see you fake being stalked so they would believe you were being stalked. Did you make Mona like the Joker made Batman so you'd have an arch-nemesis? Am I going crazy now?
Ali: You're just as sane as I am.
Hanna: God's balls.
When Veronica checks in on Spencer that night, Spencer wants to know if Veronica knew the prosecution was going to point out Emily and Aria as co-conspirators in Ali's fake kidnapping. Veronica was like, "Well, I warned them to stay away, but they wouldn't listen, and if anyone asks you, you didn't know about that fake kidnapping thing at all." You know, I'm really starting to understand why Spencer has been chafing about going to college on account of Spencer getting into to college makes Veronica a terrifying myopic robot person.
Caleb visits Hanna in jail and she tells him to run away and he says he's not going to run away because the last time he ran away he got attacked by that girl from The Ring on a bridge and found out he's a ghost. He returns to the Shoppe, where the Liars are hanging around waiting for an epiphany to strike them re: mystery phone numbers, when Varjak calls to play some music. It is Edith Piaf crooning the same way she used to croon in Mona's bedroom. Hanna confirms this over the phone and then goes back to her cell and thinks about all the French things she used to do in Mona's bedroom. (I mean, kissing and fries, by the way. French of both. Mona let Hanna have her own cheese fries.) Spencer tells Caleb she's going to bottle him up and sell him as "Essence of Best Boyfriend," which is a terrifying thing to say in light of the recent barrel of bodies situation, and also terrifying because that's the exact kind of shit the Liars used to say to Toby before he was A for a minute.
Aria and Emily drive on over to Mona's to see if they can glean any information about her connection to French music by staring at the exterior of her house. They cannot. Aria "jokes" that fuck it, they should just go shopping and buy she can buy some new "clothes."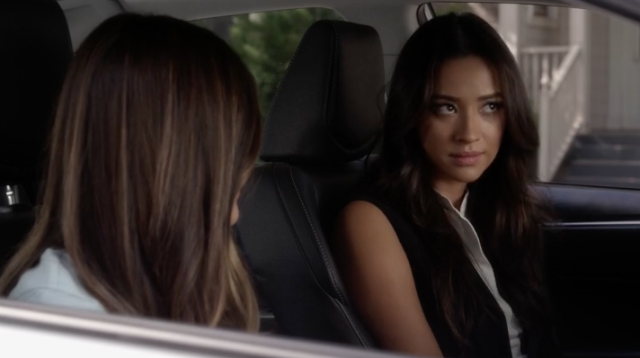 Spencer is hanging out on her back porch reading the Rosewood Gazette when Jason wanders up and shares the most insightful conversation with her.
Spencer: I think Ali is innocent of murdering Mona but guilty of other things and our society is so hardwired for binary thinking that grey areas really fuck me up.
Jason: It's weird, right? We're Lannisters, we should know grey areas better than anyone.
Spencer: I'm a Targaryen, dude.
Jason: I think we both know Mona was the Targaryen.
Spencer: The thing about A is she knows what you're going to do before you do it and so you can't help but wander into her traps because you can't not do what you were always going to do.
Jason: You can't not be who you are.
Spencer: Yeah, exactly. And you can try to change who you are.
Jason: You can even chop off your own head.
Spencer: But at the end of the day, most people do what they've always done.
Jason: I've got to testify tomorrow. I'm going to try a new thing where I don't hurt my own sister in every possible way.
Spencer: Good luck. If you succeed, maybe there's hope for me and Melissa.
Jason: lol no.
Spencer: Well, anyway, I'll be there tomorrow. Fuck my mom.
Jason: Really, because Hanna got super weird when … oh, wait. No, I see what you're saying now. Okay, see you tomorrow.
Jason's testimony is a debacle for the ages. As soon as he backtracks on how he's not absolutely after all sure that it's Alison who is murdering Mona in the video, the prosecutor goes for his jugular, like so: "Are there any other blonde haired girls in this town who look like your sister; and if so, did you bone any of those girls' moms; and if so, is she in this courtroom right now; and if so, will you point to her if she's Ashley Marin?" Well, the courtroom just explodes with the revelation, and so does Emily's head.
And that's when the Liars go to Mona's to break in to look for evidence, because clearly they're the only ones who are going to be able to keep Ali and Hanna from being in jail for all eternity. Mona's room has been plundered. Doll heads litter the floor. Drawers are open, masks are all over the place. And Edith Piaf is playing on vinyl, obviously. A has left the Liars a note about how the early bird catches the worm (and puts it on your Chinese food), and just as the Liars are about to give up because A was five steps ahead of them again, Aria goes, "Y'all what if A is a Liar, also? What if A really didn't find what she was looking for in here? What if some clues are still in this room?" Emily advises everyone to think like Mona, which is as silly as being like, "Okay, now jump off this bridge and fly!"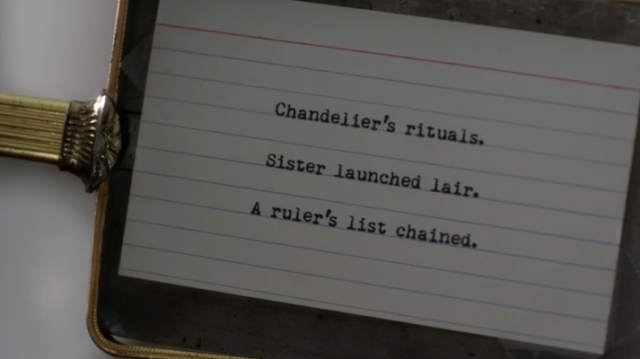 They root through her stuff some more and find a mirror and pluck out the reflective part of it, and inside are three weird phrases like when Miss Aria was a Killer and Not Ezra's Wife. But these ones are anagrams, and all of them say: Charles DiLaurentis. Who is that? I do not know, but my main three hopes are: 1) Andrew, who is secretly Jason's twin brother! 2) Alison's secret child! 3) Code for Cece Drake, because I just really want more Cece Drake in my life. The Liars don't have Twitter so they don't crack the anagram, though.
When they leave, there's an ice pick poking into the floor like a needle into Aria's eyeball, and a broken window, but they don't notice that. They also don't notice that Andrew is creeping out there like a regular old Cousin Nate. When he shows up at the Brew later and kisses Aria on the cheek, it kind of seems like he's sizing her up like maybe he's going to try to dress her up in a Mona skin suit later, doesn't it? Is he after Aria because she's the only other button-sized one?
In jail, Jason talks to Ali and Ashley talks to Hanna. Everyone feels sad about how somehow Ezra Fitz is the only person on this show who has never been arrested.
And finally, Emily goes to work because Emily always goes to work, and in between doing all the things she does to keep Ezra's business booming, she takes a break to listen to Fucking Johnny's secret machine. During the confessions, Edith Piaf plays and Emily just about has a heart attack.
The Risen Mitten shreds his Varjak passport and Varjak social security card and Varkjak Costco membership card. And then he takes the shredded paper over to a bird cage. And inside the bird cage is Tippi. Marvelous, magnificent, motherfucking Tippi! There is hope for all of us after all, dolls!
This is my thank you to Nicole (@PLLBigA) for screencapping for me and for not getting mad when I'm running late with my recaps! 
Pages: 1 2 3See entire article on one page