Welcome to your weekly Pop Culture Fix, a place where you can pretend, for five to six minutes, that the most important thing happening in the world is television. 
---
+ Greg Berlanti thinks Ruby Rose is great as Batwoman and everyone needs to calm the fork down. Also, the CW says this is the first photo of her in costume, but I'm pretty sure it's a drawing. Either way, it's for sure the bottom half of Ruby Rose's face. (I wonder if she's gonna die her short hair red for Kate Kane, or if that will be a wig too?)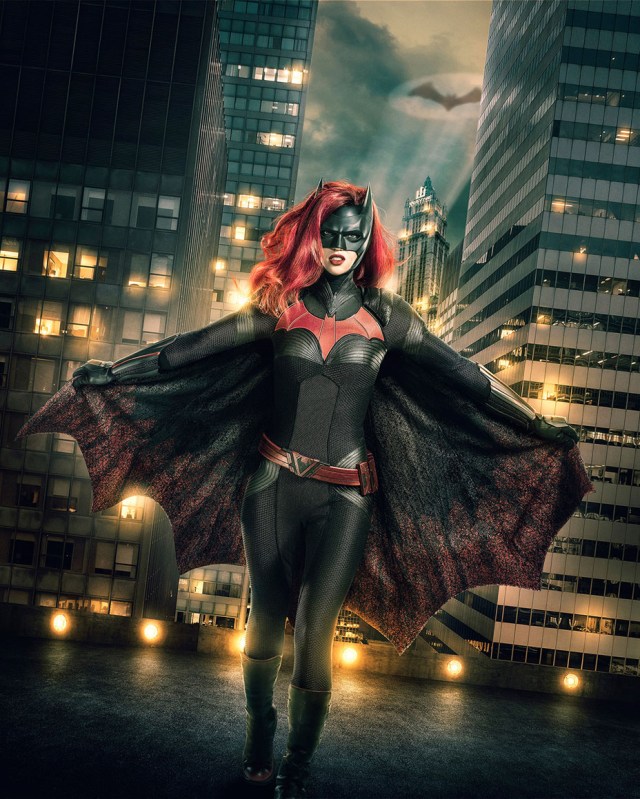 + New York Comic Con has come and gone and left behind plenty of trailers to titillate us. The new Harley Quinn solo series, for example. The Magicians season four! I already wrote about this, but: She-Ra! Gay mermaids in Siren season two! And the whole new season of Star Trek: Discovery. Even more Chilling Sabrina! Did I miss any? LMK!
+ This is not a trailer from NYCC but it is a trailer you want to see. It's for Miseducation of Cameron Post director Desiree Akhavan's new Hulu series, The Bisexual.
+ That forking Heathers reboot literally will not die.
+ Jodie Whittaker's Doctor Who premiere got the best ratings in ten years, and so.
+ Vulture published a roundtable response to Wesley Morris' essay, "The Morality Wars," which caused quite a stir with the New York Times published it last week. Vulture's team's response is very good. I think you'll enjoy it.
+ This made me cry happiness; maybe it will make you cry happiness too.
.@TheRitaMoreno grabbed me on the set of @OneDayAtATime because she wanted to record a very special message for @HereIsGina (if the camera is shaky it's because I couldn't stop crying…) pic.twitter.com/rT5xDrTxpR

— Netflix (@netflix) October 4, 2018
+ Last week Carmen sent me this news that Rosie Perez is going to play Renee Montoya in the new Birds of Prey and I for real almost had to sit down on the sidewalk.
+ Buffy's getting rebooted in comic book form, too.
+ This is gay only if you're old enough to have seen Bound: Gina Gershon is coming to Riverdale.
+ The trans drama Girl won the Zurich film festival.
+ CW has already ordered more scripts from the Charmed reboot!
+ If you click on this link to view Variety's Women of Power 2018 list, you will not be disappointed. Natalie captioned it in slack thusly: "Regina King. Emma Gonzalez. Lena Waithe. Tiffany Haddish. Natalie Portman."
+ Edie and Thea? Gotta be Edie and Thea!
+ Challenging Hollywood's narrow view of the Latinadad!
#HispanicHeritageMonth w/ my beautiful @netflix family ❤️ pic.twitter.com/AQiV4pimqg

— Isabella Gomez (@Isabella_Gomez) October 9, 2018
+ And finally, Tessa Thompson covers Essence this month and I added it last because I know once you see this picture you're done reading anything else!