Welcome to La Boda Jota, a wedding mini-series by a queer Latina getting married to another queer Latina! Check out the series here. This is the last installment La Boda Jota. 
---
I wanted to propose to Gloria in a special way, but it got complicated. In addition to working a service industry job with odd hours, she was getting an online graduate certificate for Spanish/English interpretation and translation. Our work schedules conflicted. It was hard enough trying to find time for each other throughout the week, and then she had to make time for homework. On top of that we were planning a wedding! Every time we saw each other and had a quiet moment, we said, "I miss you.wp_postsWe missed date nights and going out and having fun with each other and with friends but most of all we missed just being with each other.
Gloria had already proposed to me but her love language is gifts and affirmations so I wanted to propose to her too! I found the perfect ring on Etsy — a beautiful, simple hammered gold band. It was just how she had described her dream ring. I bought it in March and week after week passed and I still hadn't proposed.
I pestered her and asked if she could get back-to-back days off so we could take a camping trip and she agreed. She'd been wanting to go on a family camping trip for two years and we still hadn't done it. I thought this time we could make it happen and I could ask her to marry me in nature, cozied up in our tent or after a beautiful hike. But we had to cancel because she got sick. In April, bluebonnets, our state flower, bloom wildly across North Texas. There are fields and fields of breathtaking blue flowers, perfect for photos. I thought I could take her on a romantic walk and ask her then, but rain ruined my plans! I was beginning to get impatient and was planning to propose, at a moment's notice, when it felt right.
It was beginning of May and the end of the semester for Gloria and I saw my chance to propose right after she finished her finals. I told her I'd make her a fancy brunch to celebrate that she was done with the hardest class she'd taken for her certificate. I made a scrumptious vegetable and cheese frittata with veggie sausage and homemade pancakes with strawberries. I set out the table on our patio and bought her hot pink tulips. I was so nervous! I thought I would be confident and collected since we were already engaged and I'd been sitting on her ring for close to two months already — but I was shaking.
I put the ring on one of the leaves of the flowers and set it out on the table while she went to wash her hands. "You're so cute!wp_postsshe exclaimed and I whipped around and thought she saw I had put the ring on the flower. I don't remember exactly what I said, I just know I stammered and then she sat down and I told her, "Look at the flowers!wp_postsShe saw the ring and I stumbled across my words some more but I do know I told her I loved her and asked if she would marry me. She said yes! It was the most beautiful spring day.
---
Everything was aligning perfectly. After Gloria and I had many difficult conversations throughout the past months, it seemed like we could finally move on to actual normal wedding planning, like finding our vendors. It was a welcome relief from all the lesbian processing we'd been doing. Gloria and I agreed we wanted to be intentional on who we hired. We wanted to support as many women-run businesses as we possibly could. We were going to drop a lot of money on this party, so we might as well invest in our local Dallas community and especially hire women of color. The food was the easiest choice to make; we wanted tacos from our favorite taco spot, El Come Taco. It's owned by a family hailing from Ciudad de Mexico and even though a dude named Luis is gonna make the tacos on location at our wedding, his mother is the primary owner of the business and the reason why their tacos are so dang delicious.
I googled DJs and photographers in my area and was disappointed to find so many people out of our price range and whose work I didn't really like. I turned to my Facebook and Instagram friends for help and got several really great recommendations, all of whom were women of color. My biggest tip for anyone wedding planning is to reach out to your networks and ask for recommendations, or ask friends they know. It's almost a guarantee they know just the person you're looking for! Don't just rely on the internet — word of mouth business is honestly the best.
An old college acquaintance recommended her friend who does wedding photography on the side. After seeing her website, we instantly fell in love with her style. We interviewed her over the phone and made sure she was cool with photographing a gay wedding. She was very nice and reassured us she was totally fine with it. Also, wow, she gave us an excellent price that we probably couldn't have found anywhere else.
Our DJ is a badass masculine-of-center Latina lesbian who plays exactly the kind of music we wanted for our party. An Instagram friend recommended her to me because she'd deejayed one of her community events. Gloria and I and our friend checked out her set one night at a club she deejays at sometimes. First of all, we'd never been to this club and it was right next to a tire shop in the hood and we were like, oh shit! It was pretty empty when we went inside and as we grabbed a drink and headed to a back table, one of the bar girls told us the seats were reserved. It turned out every seat in that club was "reservedwp_postsfor bottle service but there was no one there! It was a really weird experience, except the music was FIRE. Gloria and I were dancing up a storm to reggaeton, hip hop, cumbia, and Tejano mixes in that empty club and I knew immediately we had to hire this woman.
Our bartender is also a gay Latina! She owns her own bartending business and I found her by Googling bilingual bartender services in Dallas. I saw her picture and I was like I'm 99.9% sure this woman is gay and once I was on the phone with her, she confirmed for me what I already knew. I told her about our wedding and she immediately told me that she'd been married to her partner for 15 years. She was so happy for us.
Our cake is from a Black woman-owned business down the street from our home and we also ordered chocolate truffles from a Latina-owned business we absolutely adore! We're super proud to have found all these amazing women in our community and it made us so excited for our day.
---
By the time August rolled around, we ironed out most of the details to make our party a reality. In the same month, my mom and sister threw Gloria and I a bridal shower. My sister is ten years older than me and is a Virgo — a bonafide perfectionist. And she's always had impeccable taste. When she asked me if she could throw Gloria and I a wedding shower back in February, I was excited and honored that she wanted to do that for us. I didn't expect her to throw one; we didn't necessarily even want one. She told me tidbits of her plans here and there throughout the months but it didn't prepare me for the actual party. I was expecting a casual family party but my sister went all out. I was incredibly overwhelmed — in a good way — by the whole experience.
Gloria and I traveled to my hometown where the shower took place. I was incredibly nervous for the party because I'd never formally come out to my extended family and family friends and they were all invited. This wedding shower was like a big ol' coming out party for me and I wasn't sure how everyone was going to react. Gloria and I walked into the community center and couldn't believe our eyes: papel picado, sarapes on the tables, beautiful sunflowers and roses in clay jars, heart shaped cookies with our names. My sister put so much care and thought into every detail. Gloria and I were admiring everything and taking it all in when we walked to the table with the cake. We took one look at the two corn husk dolls as the cake topper and we started bawling. We both lost it. I was so touched and felt incredibly loved and seen and accepted for all of me.
Usually bridal showers are meant for only women so my sister invited just my aunts and girl cousins and my mom's friends and comadres. I didn't mind this bullshit gendered party nonsense this time around. As the guests arrived, Gloria and I stood together to welcome them and I was so in awe by all my aunts, cousins and family friends. They were genuinely happy to be there and gave me and Gloria hugs and well wishes. There was one tia who even made her own "love is lovewp_postst-shirt! We ate tacos and played loteria (Mexican bingo) and had a Selena dance competition. By the end of it all, Gloria and I were so overcome with emotion, we just hugged each other and cried when everyone left.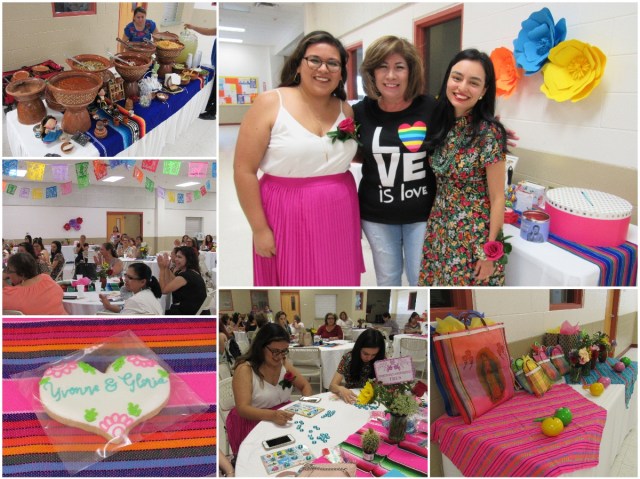 ---
In addition to attending my own bridal shower, I was in town to come out to my grandma. I never felt a sense of urgency to come out to my grandparents until the wedding. Gloria had come home with me many times before as "mi amigawp_postsso my grandparent's already knew her and liked her. In fact, I thought they knew we were together based on my grandma always asking me about her and sending her Christmas gifts. But with the wedding around the corner, I felt that familiar gnawing anxiousness in my stomach. I think I transmitted it through the universe because one day when I called my mom and cried about it, she told me my grandma already knew. My mom told me my grandma had a dream that I was marrying Gloria and had asked my mom if that was true. I was so shocked but not shocked because abuelas are magic. My mom confirmed that I was in fact getting married to Gloria. I think my grandma knew all along about me but I felt I had to tell her myself.
When I arrived in my hometown, I walked next door to my grandparent's home and greeted her with a smile and a hug. She basically scolded me for not keeping in touch and being away from home for so long. I sat beside her on the couch and she asked me how I was doing. I don't know what got into me but I couldn't hold it any longer and just started crying. I told her I was sorry that I hadn't told her sooner. She knew exactly what I was talking about and held me tight. My grandma was curious about my gayness more than anything and asked me lots of questions in between many pauses. Why do you want to get married if you already live with her? (Because it's legal now and we want to be afforded the same rights as you and grandpa.) How long have you been together? (8 years.) Who bosses who around? (Me, lol. JK grandma, no one bosses anyone around.) But she told me to make sure Gloria and I equally boss each other around like her and my grandpa do. I think my grandma, in her own way, accepted me.
---
Wedding planning has been one long and winding adventure and frankly, I'm ready for it to be over! My wedding is this Friday and I'm currently panicking because there's a 40% chance it will rain. The ceremony and dance party are supposed to be in the backyard so I looked into getting a tent but it would cost $4k and I laugh-cried at the thought of a plastic tarp costing more than the venue itself. Then I furiously Googled clear umbrellas and found some affordable ones but they wouldn't get here till next week. Now we'll most likely be inside the venue — it will be a little crowded but ultimately it will be fine! Because you know what, I'm getting married to the woman I love! 
I hate to bring this up because same-sex marriage isn't all that important in the grand scheme of human rights granted/not granted in this trash fire of a country, but god dammit I couldn't marry her just three years ago! Ten years ago I was a closeted teenager in my hometown and I never dreamed I would be able to stand in front of a crowd of people and proclaim I love another woman. As much as I'm sad about our plans not going accordingly and the setting not being as picturesque as we hoped, it doesn't really matter because I know our wedding day will be beautiful.
During a time when our country is being run by scumbag white men and our government oversees atrocious happenings against minorities, I find strength in my love to another queer Latina. The love between us, two queer mujeres, is a radical act because we choose each other despite what the world tells us, despite what is expected of us and despite how much our society hates who we are — women, Latinas, queers. I choose her, always, because she's my home and my light. And that is a beautiful sight to behold.