Welcome to Idol Worship, a biweekly devotional to whoever the fuck I'm into. This is a no-holds-barred lovefest for my favorite celebrities, rebels and biker chicks; women qualify for this column simply by changing my life and/or moving me deeply. This week I'm learning to fly with Amelia Earhart.
Header by Rory Midhani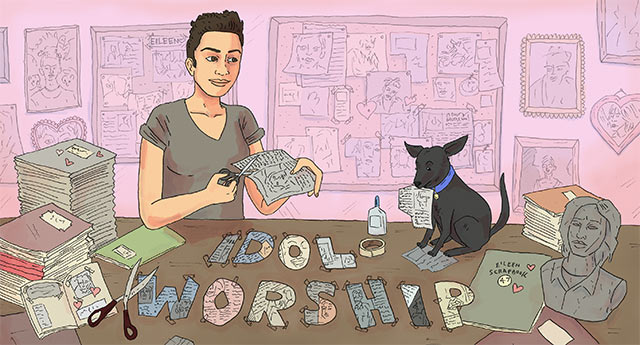 I always wished they would teach us more about Amelia Earhart when I was in elementary school.
Earhart, a record-breaking American pilot, always seemed like an adventurer, a heroine, and a total badass when we studied her, however briefly. For the most part, we were instructed always to focus on her mystery and not her story – her disappearance, and not her visibility. When I was little, I admired Earhart for her bomber jackets, her fearless promises, her constant seeking out of new heights and new achievements. I loved that she died for what was her art. I loved that she got looked for, that people had been waiting and watching. In a sea of boring old ladies and distant historical narratives of women I couldn't relate to, Earhart stood out as full of youth and vibrance and energy and guts. She seemed brave instead of ladylike, and when I was little I was the furthest thing from a lady. Also, she was pretty much the most attractive and exciting woman we'd ever studied.
I was, to put it lightly, in love. I even bought my own bomber jacket before I turned 14.
With the recent discovery of what might be Earhart's plane, however, coupled with the resurgence of her popularity as an American icon around 2009 with the release of Amelia, many of her mysteries are close to being solved. And my relationship with someone I've always consider an inspiration has changed.
Amelia Earhart took her first flying lesson on January 3, 1921. She bought a plane six months later. Her career came as a natural progression from her teenage years as a "tomboy," in which she sought aventure and fearlessly followed the lives of women who were breaking out of their own histories. Her first plane was a yellow hand-me-down named "Canary." It was seven years later, in 1928, that Earhart's life became the planes she'd lusted over since before she turned twenty; it was that year that book publisher and promoter George P. Putnam and others coordinated a trip around the Atlantic and asked her to take the honor of completing it.
Earhart jumped at the opportunity, having begun breaking records years earlier for women in flight. Three women had died crossing the Atlantic, but she landed safely in Wales on June 17, 1928.
London.

Film interview with American Aviator Amelia Earhart after becoming first woman to fly the Atlantic.

Q: "Were you very excited when you saw the land?"

A: "I wasn't exactly excited, because I had expected it momentarily for about an hour. I was very glad to see it however."

Q: "Who was the first person you saw?"

A: "The owner of the land came out. I think he was surprised to find an airplane in his front yard."

Q: "What are you immediate plans, Miss Earhart?"

A: "Well I hope to go to Rome to the Conference of Trans Atlantic fliers, in a few days."

Q: "And then shall you be thinking about going home?"

A: "Yes, its time for me to go home then."
Her status as an American icon was cemented then, as she continued to raise the stakes on her own journeys in an effort to raise her profile. After her initial record-making flight, she took up a relationship with Putnam, who became her partner in the years to come in what Earhart called a relationship of "dual control." His spirit as a promoter and her intuitive role as a risk-taker proved to spark a chemistry that made history over and over again, with the couple arranging for Earhart to become the first women to fly solo and second human to fly solo across the Atlantic less than four years later. Her journey didn't end an initial success, but it created even more buzz around Earhart as the Great Depression began to squash America's spirits. Earhart represented a freedom and lust for life that didn't get to radiate any longer to the average American family.
Strong north winds, icy conditions and mechanical problems plagued the flight and forced her to land in a pasture near Londonderry, Ireland. "After scaring most of the cows in the neighborhood," she said, "I pulled up in a farmer's back yard." As word of her flight spread, the media surrounded her, both overseas and in the United States. President Herbert Hoover presented Earhart with a gold medal from the National Geographic Society. Congress awarded her the Distinguished Flying Cross-the first ever given to a woman. At the ceremony, Vice President Charles Curtis praised her courage, saying she displayed "heroic courage and skill as a navigator at the risk of her life." Earhart felt the flight proved that men and women were equal in "jobs requiring intelligence, coordination, speed, coolness and willpower."
Earhart was a sensation worldwide by then, bridging masculine and feminine and making the entire world fall in love with her. She relied heavily on the lecture circuit to finance what PBS described as a "lavish" lifestyle, and spoke out for causes in order to turn her fame into a stronger soapbox. According to their documentary on the American legend, "she preached pacifism to the Daughters of the American Revolution. She spoke out on behalf of commercial aviation, even enlisting her good friend Eleanor Roosevelt in the effort. And everywhere she went, [she] crusaded for women."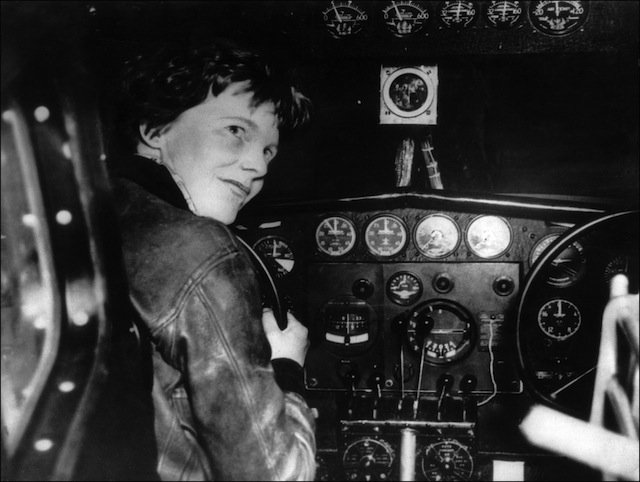 In 1936, Earhart announced plans for a flight that would prove, if successful, to be the most ambitious in history: a trip around the world where she followed the Equator. "I think there was a certain amount of insecurity in her and a determination to prove herself to herself and to the world," Putnam's granddaughter told PBS. "And I think she used flying to accomplish that, but I don't think she was ever really satisfied. I don't think there was ever a flight that made her feel like she had done everything she needed to be for herself." Earhart told others she felt she had one more flight "left in her," and that that one was it.
And so she left, against all recommendations and perhaps her own instincts. Craving to remain in the spotlight, to continue impressing the masses, and to sustain her own lifestyle and public life, Earhart took up the challenge despite clear risks inherent in her own plan. She had failed to find someone for her crew who knew how to operate a new-fangled radio. Her navigator was a drunk. She was exhausted, and perhaps even slightly out of her own mind. Her marriage, by this point, was centered around her own self-promotion.
She crashed on the runway the first time she attempted to begin the journey, in 1937. Putnam wrote her a letter:
"We both recognize the hazards, and I love you dearly. I don't want you to run risks and I don't want to run the risk of perhaps having to go on without you. That makes me terribly sorry for myself, entirely disregarding your end of it. But gosh, once this is out of your hair, what a very happy, interesting time we can have. We can have it, too, should you for any reason decide to quit."
June 1, 1937, she took off again, having re-mapped her route and raised funds to repair her plane, The Electra. She left behind her good-luck charm.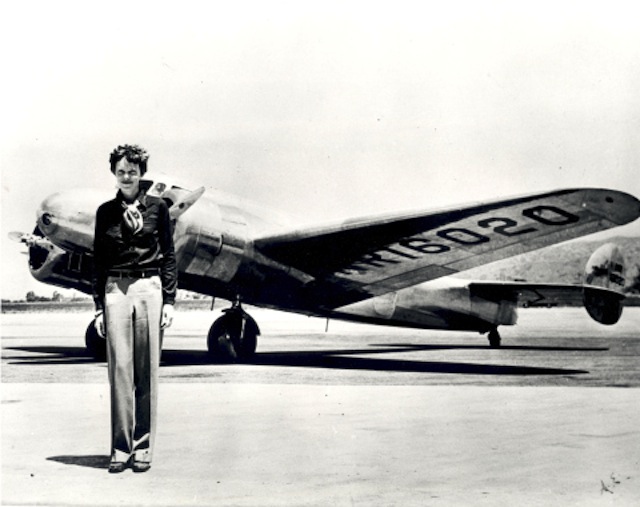 Earhart made it through three parts of the four-piece journey in chunks and successfully, landing in New Guinea on July 2, 1937. From there, she was meant to take off and complete her journey on Howland Island. She never made it there.
Standing off Howland Island was the Coast Guard cutter Itasca, waiting to provide radio assistance, but there had been a serious lack of communication between Earhart, G.P. and the Coast Guard about which frequency she should use to talk to the ship. In the end, they could hear her, but she could never hear them. The Itasca logs indicate that Amelia and Noonan came very close to Howland Island on the morning of July 2nd, but could not find it.

At 7:42, she radioed, "We must be on you, but cannot see you, but gas is running low. Been unable to reach you by radio.wp_postsMinutes later, another report: "Calling Itasca. We are circling, but cannot hear you.wp_postsAt 8:43, Amelia's voice, shrill and breathless — "We are on the line at 157,337. We will repeat message. We will repeat. We are running on line north and south.

The Coast Guard continued to listen and to transmit on every possible frequency, but her voice was not heard again. Amelia Earhart never arrived at Howland Island where a cabin and a bed had been prepared for her.
Growing up, Earhart had been posited  to me as a stubborn feminist who sought out often insane records and achievements for, seemingly, the hell of it. To see her as someone who set records and broke records is certainly easy: she was the first women to rise to 14,000 feet, the first to rise to 18,415 feet, the first to cross the Atlantic, the record-setter for women's speed records, the first to fly nonstop coast-to-coast, a pilot who broke her own speed records over and over again, the first person to solo from Honolulu to Oakland, California, the first to solo from LA to Mexico City, the first to fly solo from Mexico City to Newark, the first person to fly from the Red Sea to India. And on top of it all, she was other things – an author, a public speaker, an activist, a committed and devoted member of the aviation community and community leadership.
But Earhart was ultimately human. She watched her own marriage begin to dissolve. She thirsted for fame. She was frustrated by her own era, and by her experiences as one of the first woman in aviation. Her friends and family asked her not to take her final journey and she didn't listen. She was human and she made mistakes, and she felt rushed but excited, terrified but impossibly determined. If feminism was about choices, about individuality, about freedom – then Earhart stands to be living proof that it worked. Headstrong and unashamed, she found a calling and followed it into oblivion. She let it consume her. And that was, really, what she lived for.
As the pieces begin to come together in Earhart's story, almost eighty years after the fervent searches for her plane, her navigator, and herself commissioned by the government and her family, I don't want us to lose sight of what we learned from her mystery: that Amelia Earhart was sinkable only by fate. That nothing stopped her but circumstance. That she pushed until she couldn't push anymore to make it. That we can learn from that, man or woman. "Please know I am quite aware of the hazards," she wrote to Putnam before her last flight.
"I want to do it because I want to do it. Women must try to do things as men have tried. When they fail, their failure must be but a challenge to others."