Unless you're a major Marvel or DC movie, it's tough to snag a coveted Twitter top spot during a major comic con, so when #SheRa started trending this weekend during NYCC, I was shocked (and delighted!). As you know by now, Noelle Stevenson is showunning the Netflix reboot, and during NYCC they unveiled the first trailer for the series. It looks so fun and so badass and so… gay.
Are Catra and She-Ra really going realize they're in love? Probably not! But I'm inclined to believe the series is going to showcase some legit queerness. Stevenson is, of course, queer. Her work — even her pre-Lumberjanes fan art — has always been queer. And we've reached a time in all-ages queer representation where literally anything feels possible. So before She-Ra and Swiftwind and all her pals land on November 16, let's look at 12 of the most pivotal TV moments in all-ages queer rep! (Well, and one comic book moment.)
---
Sailor Moon's Sailor Uranus and Sailor Neptune (1998 in the U.S.)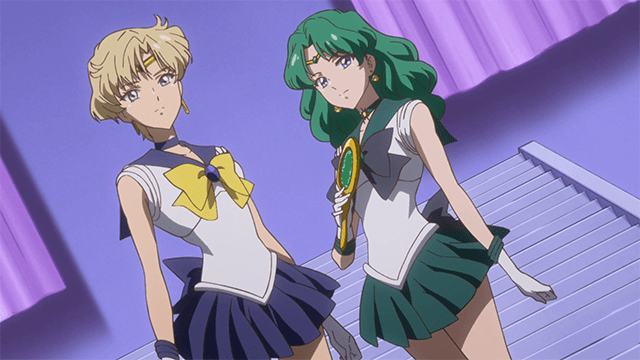 When Sailor Moon came to Cartoon Network in 1998, Sailor Uranus and Sailor Neptune were immediately straightwashed. They were in serious love in the original Japanese version of the cartoon, but the English-dubbed version tried to pass them off as cousins. It was… confusing. They were way too physically affectionate with each other to be related, and lover-level intense about saving each other and protecting each other and not losing each other. (On account of: they were lovers.) Luckily, Sailor Moon really took off around the time when internet fan sites were catching on, and it only took a little bit of searching to uncover the truth. Many young U.S.-based queer kids were able to watch their dynamic through the correct (gay!) lens. In the re-dubbed American DVDs, the studio finally dropped the whole "cousins" thing.
Dottie's Magic Pockets (September 2007)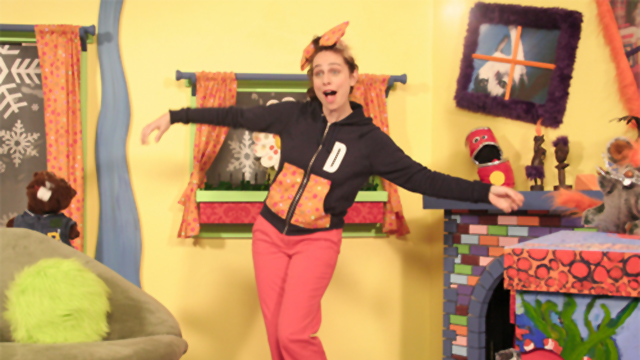 Dottie's Magic Pockets was one of the first things I wrote about for AfterEllen's Best.Lesbian.Week.Ever over a decade ago. Back then our team saved up all the actual lesbian and bisexual news from the week and posted it on Friday, because there were usually only five to ten stories, total. This was one of them: a direct-to-DVD Indiegogo-funded show made for kids with same-sex parents by a lesbian parent. It was The Wiggles or Blue's Clues for children with two moms, and at the time, it was revolutionary.
Adventure Time "Sky Witch" (July 2013)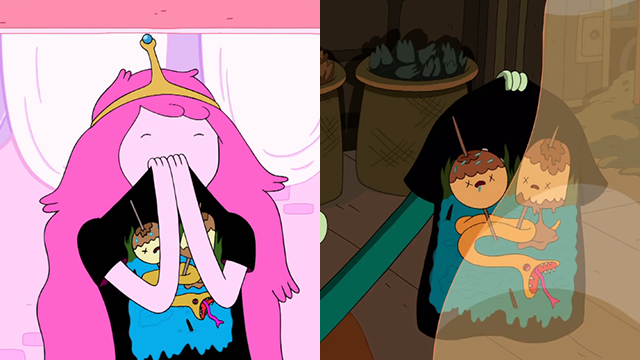 We know now that Marceline and Princess Bubblegum's endgame romance was not part of the original plan, but that Rebecca Sugar nurtured their relationship into existence during her time writing for Adventure Time. "Sky Witch" is the first time the show confirmed the speculation and the subtext that Marcy and PB were more than frenemies; they were ex-girlfriends. Marcy came to PB for help when the Sky Witch stole Hambo, her beloved teddy bear, and PB got it back by trading in something with more sentimental value: the t-shirt she slept in and wore under her clothes, the t-shirt Marcelone had given to her when they were together.
Good Luck, Charlie "Down a Tree" (January 2014)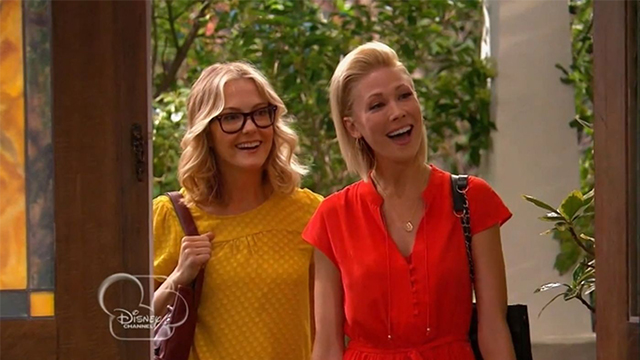 It wasn't much in the grand scheme of the story, but Disney refused to let any of its TV or film characters be gay for so, so long that when the Mouse finally capitulated in 2014 and showed two lesbian moms having a casual playdate with the main characters on the Disney Channel original series Good Luck, Charlie. it felt like a very big deal. (Big enough for the homophobic lobbying group One Million Moms to pitch one of their biggest fits ever, at least!)
Lumberjanes #1 (April 2014)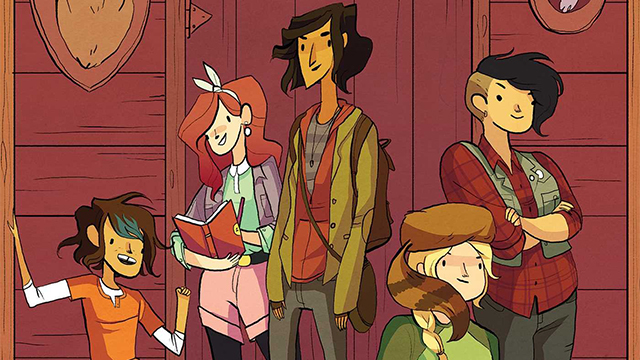 Lumberjanes is the only non-TV show on this list, but it absolutely deserves a place in this conversation. There's no way to overstate the impact that Shannon Watters, Grace Ellis, Brooke Allen, and Noelle Stevenson's comic book series has had on Boom! Studios, comic creators, and animated TV. Stevenson is showrunning SHE-RA for Lorde's sake! Lumberjanes was such a success that it morphed from mini-series to full-blown series to eventual TV series, and it did it with an cast of characters that vary in shapes and sizes and gender identities and sexual orientations and races. The diversity was a huge part of the draw, and the financial success of that diversity has been the catalyst for industry-wide changes.
The Legend of Korra series finale (December 2014)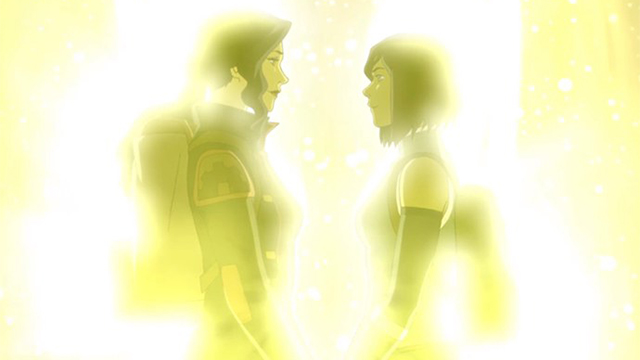 During Adventure Time's series finale, I saw someone tweet, "Korrasami walked so Bubbline could run" and it made me laugh so hard because it's true. Korra and Asami were shipped with as much vigor as Marceline and PB, during the same period of time, but most queer people didn't really think they'd end up together. The writers would never confirm that they were more than just friends. Then, lo! The series finale came to pass! And the two of them held hands and walked off into the sunset together, as a couple. The show's creators confirmed it afterward, in case there was any confusion, and now they're out loud gay and so very in love in their own comic book spin-off.
Steven Universe "Jail Break" (March 2015)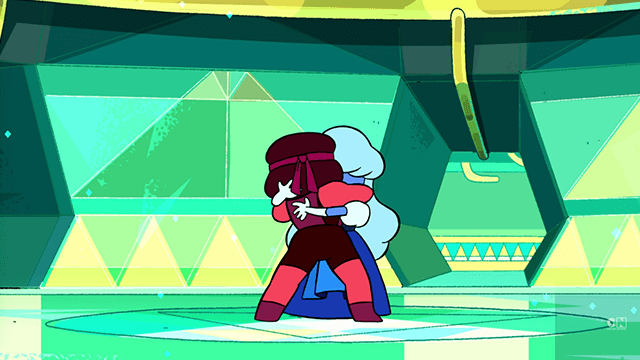 Me and you and Steven only knew Garnet as Garnet until Ruby and Sapphire were forced to reveal themselves as individual gems in "Jail Break." It was a truly shocking twist to the end of the first season, but not as shocking as the fact that the creative team didn't beat around the bush about what they meant to each other: Ruby and Sapphire were in love, Garnet was the physical manifestation of that love, and that was gay and that was that.
Batman: Bad Blood (January 2016)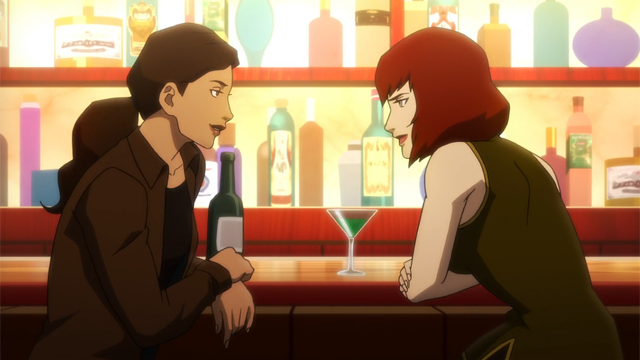 Kate Kane and Batwoman have almost always been featured in Batman stories intended for adults. The first time she showed up in Batman's all-ages world was in DC Animated Universe's Batman: Bad Blood. And she didn't just arrive with her costume and her motorcycle; she swaggered in with her gayness and was followed by Renee Montoya. Kate's dad hooked them up, without a bit of hand-wringing, and they went on a date and had a coy little happy ending. The movie also folded Batwoman into the larger DCAU Batman family and made four million dollars in the process.
Star vs. The Forces of Evil "Just Friends" (February 2017)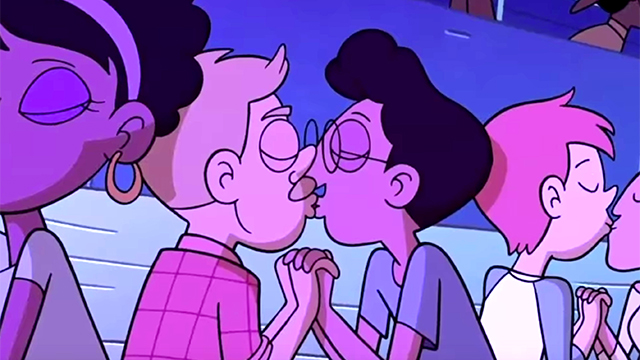 Disney's first same-sex kiss came as the camera panned across the crowd during a school dance. We always want more, and rightly so: make it last longer, make it part of the story, make it main characters. But it was a huge barrier to see broken down at Mickey & Co., and opened the door for a Disney coming out episode just a year later.
Loud House "L is for Love" (June 2017)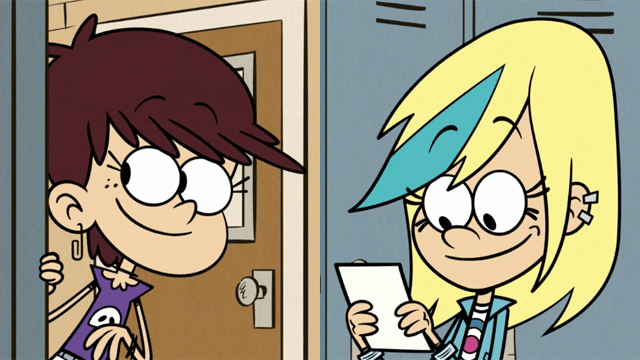 Nickelodeon's next gay step after Korrasami was letting Luna Loud reveal her crush on her friend Sam. In a very sweet episode, all ten of the Loud sisters talk about their crushes, and Luna mostly demurs. Sam, she says, is out of her league. Her sisters keep trying to guess who "he" is, this boy Luna likes, this "Sam," and in the end, Luna has the courage to put a note in Sam's locker, and Sam is another girl.
Andi Mack "Hey, Who Wants Pizza?" (October 2017)
Disney Channel's new Andi Mack series is super popular. It consistently tops the rankings for shows aimed at girls ages 6-14. And last year, for the first time ever, an all-ages character came out on the show. He's 13-year-old Cyrus Goodman and when he confided in his friends that he's into boys, they were nothing but supportive. Ten years after Glee and not a moment too soon.
Steven Universe "Reunited" (July 2018)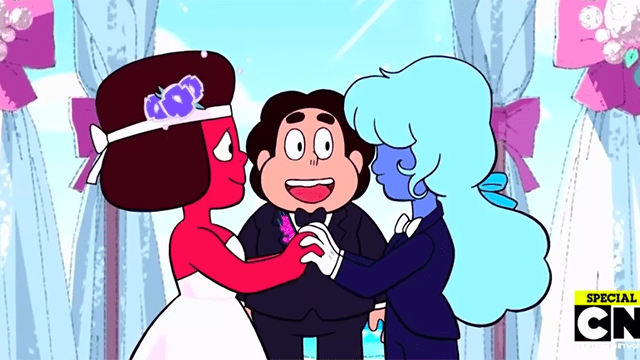 Ruby and Sapphire broke down all the barriers when they got married on Cartoon Network a few months ago. Masc Gems in dresses, femme Gems in tuxes, tear-jerking vows, a kiss right on the mouth — and then off to save the world from total annihilation. It was revolutionary because it was the first queer wedding on all-ages TV, and also because within the context of the show, it was just another day in Beach City.