Hello! Welcome to your weekly Pop Culture Fix! I am obsessed with The People vs. OJ Simpson Show, have you been watching it? My girlfriend is ten years younger than me and therefore IMHO is not appropriately interested in the program. Sarah Paulson as Marcia Clark, though.
---
This Week In Redactions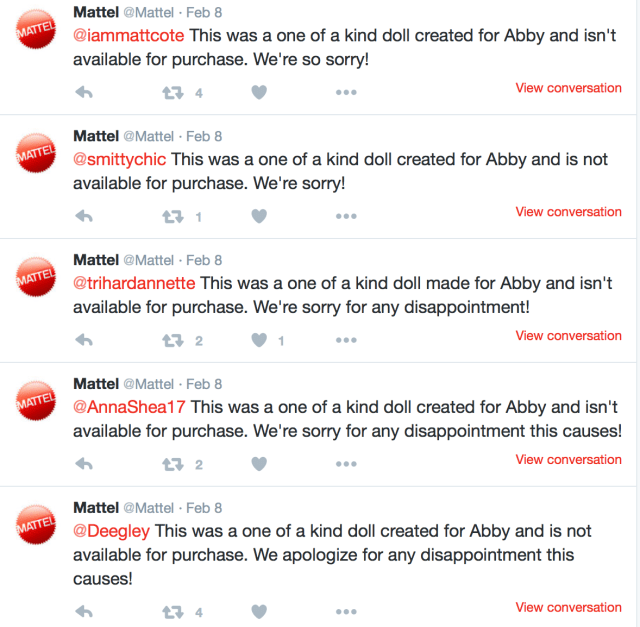 + At the MAKERS2016 Conference last week, the Vice President of Barbie Global Kim Culmone was thrilled to unveil a new "Shero" doll modeled after soccer player Abby Wambach. "We know that this doll will inspire young girls to be as incredible as the woman who has inspired us all," she told the crowd before bringing Abby to the stage. The announcement was well-received by a wide array of media outlets and feminist organizations, including us.
However, despite all this… apparently Mattel only intended to make one Abby Wambach Barbie? You know, the one they gave to Abby Wambach. Kim Culmone couldn't be reached for comment, but I'm pretty sure she'd want to say something like this: "I know this doll will inspire Abby Wambach to be as incredible as Abby Wambach."
+ This story is a little more complicated to decipher. As you may recall, Lily Rose-Depp recently posed for The Self-Evident Truths Project, a photography series intended to showcase members of the LGBTQ community who identify as "anything besides 100% heterosexual." The media covered the story as a "coming out" of sorts, using terms like "queer" or "sexually fluid" or "not straight" (We settled for "some kind of LGBTQ," in line with the photography project's stated mission) to describe what she had "come out" as, and her father Johnny Depp allegedly told the press that although her social media followers were surprised by the announcement, he already knew.
But in an interview with NYLON Magazine this month, Rose-Depp says her participation was misconstrued, but then goes on to say things that do not, in fact, contradict most reporting on her participation? I'm not judging or holding anything against her — she's a teenager and owes us all exactly nothing — but perhaps this situation just speaks to the murkiness of language around sexuality, particularly the word "queer." Because somehow, Rose-Depp walked away from the experience thinking that everybody thought she was gay:
Lily-Rose: I was just trying to say that it's unnecessary; you don't need to label yourself. I guess it came off the wrong way, because then everyone labeled me as gay. That's not what I was trying to say. Not that there's anything wrong with that, of course! But I did that literally just to say you don't have to label yourself, and then everyone was like, "Lily Rose Depp comes out as gay!"
Harley Quinn: The response just reaffirms that everyone's like, "You have to stick to something," which is so stupid.
Lily-Rose: Exactly! They just wanted to say that I was something. They just wanted to say that I was straight or gay. And I'm just saying…
Harley Quinn: You're saying the opposite. You don't have to…
Lily-Rose: No, I'm saying it doesn't matter! It's not anybody's business, because I am going to date whoever I'm going to date. I was just saying, kids don't need to label their sexualities. It's not that big of a deal.
---
Beyoncé
+ Red Lobster, who has really never struggled to attract humans to eat at its restaurants, is now ESPECIALLY busy because Beyoncé.
+ Jesmyn Ward on Formation: "She sings to those of us who grew up black in the American South, who swam through Hurricane Katrina, who watched the world sink, who starved for two weeks after the eye passed, who left our dead floating in our houses." 
+ You should also read Beyoncé's "Formation" is Two Middle Fingers to the Sky in Celebration of Black America.
+ Reverend Irene Monroe on how Beyoncé Does Justice to New Orleans's Rich Queer Culture.
---
Also These Stories
+ A lesbian YouTube couple have secured a deal with Streamup, and I'm not entirely sure what that means, but this is what the President Streamup says it means: "BriaAndChrissy are THE online voice of this LGBT generation, I'm more than proud to consider them colleagues and what we're planning with them at Streamup will further solidify their status as the most influential lesbian couple in the world."
+ YouTube Red is getting into the original content game with a handful of new series and films. One of them is a transgender documentary from Gigi Gorgeous which will  explore "the intimate journey of a transgender woman from her childhood to life as a successful media personality. Together, they will ask the question, "What does it mean to be transgender in the uncensored new media world?" There's also a show called "
+ Miriam Margolyes, who played Professor Sprout in Harry Potter and plays Aunt Prudence in Miss Fisher's Murder Mysteries, talked to Pink News about how her horribly homophobic parents made her swear on a Bible not to sleep with a woman. She's been with her partner Heather Sutherland for 50 years.
+ Hollywood has a hipster homophobia problem.
+ Gird your loins, Frozen is coming to Broadway in 2018.
+ In addition to being transphobic, Zoolander 2 also happens to suck. So it has that in common with Stonewall.
+ "Portraying gay men as witty and well-dressed makes them feel inadequate in real life, claims a new study. Really? There's more to modern gay characters than the sexless sidekick."
+ This is an infographic about relationships and Netflix.
+ The trailer for Fuller House is here. So.