Welcome back to another rousing edition of No Filter, where we dissect the week's celebrity Instagrams and dream of a better tomorrow. This week, Samira Wiley didn't post anything good and I feel like she's messing with me on purpose. I solemnly swear that I will not rest until she has given us another week of glorious, beaming selfies. Anyway, some other famous people did some stuff, let's check that out.
---

I don't know about you, but I've had my browser open on this photo for like 15 minutes.
---
https://www.instagram.com/p/BBXSqaFMZci/
This dog looks like it shares my stance on people dyeing animals, but Ruby Rose seems unfazed. :/
---
https://www.instagram.com/p/BBgETXILmhs/
Here's Angel Haze signing some boobs, if you're into that.
---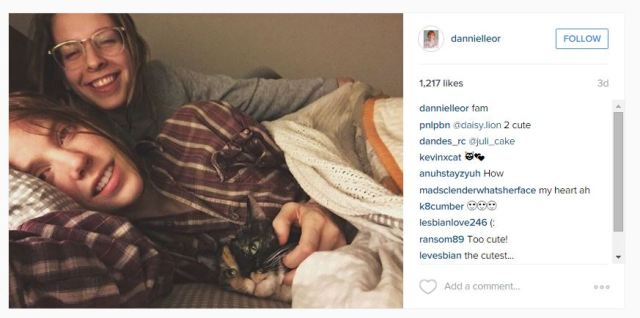 Julia Nunes, Dannielle Owens-Reid and Janet have perfected the coveted triple spoon.
---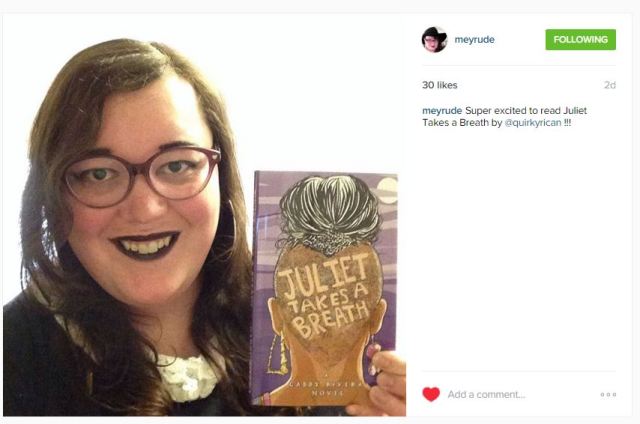 Here's Mey Rude with a physical copy of Juliet Takes A Breath by Gabby Rivera. Hey Mey, great idea!
---
https://www.instagram.com/p/BBVOT5ksO17/
And here is the glorious author herself. Hey cool story, have you read this book yet? I just finished my copy and it's beautiful.
---

I always wonder what the hell dogs talk about when they meet each other on the street.
---

It's clear that in this marriage, Rhea is the order muppet and Cameron is the chaos muppet.
---
You'll never believe what color Ruby Rose's tongue is gonna be next week!
---
Before you go!
It takes funding to keep this publication by and for queer women and trans people of all genders running every day. We will never put our site behind a paywall because we know how important it is to keep Autostraddle free. But that means we rely on the support of our A+ Members.
Still, 99.9% of our readers are not members.
A+ membership starts at just $4/month.
If you're able to, will you join A+ and keep Autostraddle here and working for everyone?
Join A+