Autostraddle's Pop Culture Fix is a weekly round-up of the queer arts and entertainment news you need in your life.
---
Big Screen Bombshells
+ Yesterday morning, the planets and stars aligned to create a gorgeous, significant moment in queer pop culture when both Laverne Cox and Lily Tomlin appeared on Good Morning America to talk to Robin Roberts about their new film, Grandma. It will be released in New York and Los Angeles on Friday and seems destined to grant Tomlin the Academy Award that has long eluded her.
Watch Lily:

ABC Latest News | Latest News Videos
Watch Laverne:

ABC Latest News | Latest News Videos
You want to know something that's always so weird/gross when other people do it but is frikkin adorable when Lily Tomlin and Jane Wagner do it? Share social media. Also, Dolly Parton says she wants to hang out with her 9-to-5 co-stars on Grace and Frankie, so get on that, gracious goddesses of pop culture. (Please.)
+ In the wise and eternal words of The Backstreet Boys, Cate Blanchett needs to quit playing games with my heart. First, she's had many relationships with women. But then wait, no, she has not had many relationships with women. And now she is having an on-screen relationship with Rooney Mara in the first trailer for Todd Haynes' Carol and my swooning has reached peak levels. As you know, Carol is based on Patricia Highsmith's 1952 lesbian pulp novel, The Price of Salt, in which Carol falls in love with a department store clerk even though she's married (to a really boring, really rich guy, played by Coach Eric Taylor in this movie). As you also know, Cate Blanchett + period drama + lesbianism = The Ultimate Oscars bait.
---
I Want My MTV
+ The Teen Choice Awards happened this week. That is a thing where teenagers use social media to vote for their favorite things and the winners receive surfboards. Cara Delevingne won a surfboard. So did Liars who are Pretty. Ellen won also, and it was her seventh anniversary with Portia on that night and she gave the sweetest speech about being chosen and also being different.
https://youtu.be/VNeggYRqLng
A brand new season of The Ellen Show lands on September 8th, and her guests the first week are: Hillary Clinton, Caitlyn Jenner, and Malala Yousafzai!
+ Maybe Xena is coming back, after all? I can't take this anymore! Just tell me something real, NBC!
+ The Real Housewives of Atlanta has added its first transgender cast member. Model Amiyah Scott will replace Nene Leakes on the upcoming season. I'm never going to watch some Real Housewives, but Nene Leakes was a marvel on Glee.
+ This is the hands down best thing I've read about Orange Is the New Black's third season: Uzo Aduba really wrote The Time Hump Chronicles!
"I don't know if they have gone and taken it and now fleshed out the entire 'Time Hump Chronicles,' but when we were shooting it… those pages that were walking around, that you are watching in the scene, is the story," Aduba said. "That is actually, legitimately, a story that I had to take home with me. They were like, 'Put it in Suzanne's words. How would Suzanne write this if she were to write this?' That's my handwriting, all of it. I put it out. I was crossing out things, just how I would imagine trying to pen this story. I was crossing things out and drawing because it's supposed to be illustrated and drawing pictures… I don't know where I was going with that stuff, but I was like, we are just going to let your imagination go."

So when you see a woman in Litchfield — prisoner or guard — enjoying herself thoroughly while reading "The Time Hump Chronicles," know that it's because Aduba herself wrote each page by hand, in character. Making this story about a woman trapped between loves — including one with two, um, "instruments" — all the more personal.
WHAT! That is so amazing.
---
Video Killed the Radio Star
Julia Nunes has released a video for "Something Bad" from her upcoming Some Feelings LP. It's one of the most adorable things I've ever seen.
---
Queer Folks Queering It Up Around Town
+ Cara Delevingne is speaking out about sex harassment and the dangers of body image in the fashion industry. In an interview with The Times, she said:
"I was, like, fight and flight for months. Just constantly on edge. It is a mental thing as well because if you hate yourself and your body and the way you look, it just gets worse and worse … I am a bit of a feminist and it makes me feel sick. It's horrible and it's disgusting. [We're talking about] young girls. You start when you are really young and you do, you get subjected to … not great stuff."
+ Rosie O'Donnell's daughter, Chelsea, was missing this week but now she has been found. I'm telling you this because it has been trending on Facebook for 48 hours and I was worried but now I am not worried. She disappeared with her dog and didn't have her medicines!
+ Kristen Stewart and Jane Lynch were not straight together on Live! With Kelly and Michael on Monday. This video is pretty amazing. Michael Strahan keeps trying to get in on the conversation and failing.
https://youtu.be/P2FOPeZf75Q
+ Remember how much everyone looooved Hannah Montana? Well, Miley Cyrus hated it.
"From the time I was 11, it was, 'You're a pop star! That means you have to be blonde, and you have to have long hair, and you have to put on some glittery tight thing.' Meanwhile, I'm this fragile little girl playing a 16-year-old in a wig and a ton of makeup. It was like Toddlers & Tiaras. I had fucking flippers."

"I was told for so long what a girl is supposed to be from being on that show. I was made to look like someone that I wasn't, which probably caused some body dysmorphia because I had been made pretty every day for so long, and then when I wasn't on that show, it was like, Who the fuck am I?"
+ Megan Rapinoe was voted to the USWNT all-star squad.
+ Caitlyn Jenner covers Vanity Fair's special Trans America issue.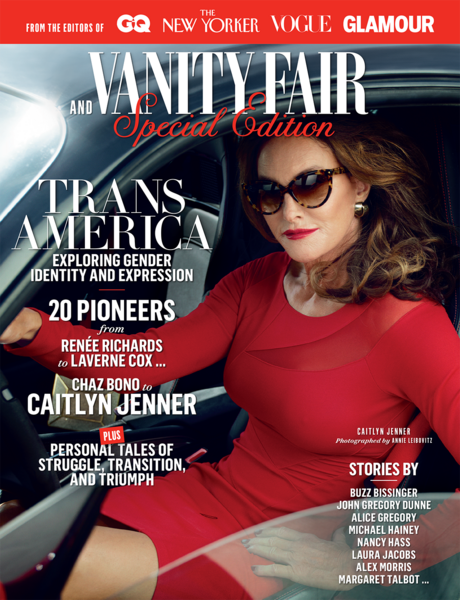 The issue also features Renée Richards, Chaz Bono, and Laverne Cox, and Andreja Pejic.
---
Also.Also.Also.