+ Lena Waithe is producing Kid Fury's new series, a "surreal dark comedy that follows Greg, a 20-something sarcastic gay black man navigating adulthood and responsibility in New York City while struggling to wrap his head around his undiagnosed clinical depression." I'm in. I'm all in.
+ Lena Waithe has also signed on to do a two-season horror anthology with Amazon. There's no way I can watch this due to I'm a scaredy cat but it reminds me to remind you to see Lena in Ready Player One if you haven't already because her scene inside The Shining is one of the funniest things I've witnessed in a very long time.
+ Ready for some season two Vida news? Me too! And we're in luck because Starz had a lot to say about it at the Television Critics Association summer press tour.
The second season of "Vidawp_postswill see an expanded episode count (with 10) and an expanded cast, Starz announced at its Television Critics Assn. session Saturday. Roberta Colindrez ("I Love Dick,wp_posts"The Deuce") has booked a series regular role in the sophomore year of Tanya Saracho's Latinx half-hour.

Colindrez will play "Nico,wp_postsa new bartender at the family bar in the show that centers around two Mexican-American sisters from the Eastside of Los Angeles who "couldn't be more different or distanced from each other."

Saracho is also set to make her directorial debut in this upcoming second season.
+ The New Republic thinks the thing The Bold Type won't really tackle is how hard it is to make a living working in new media in New York City, and that, my friends, is valid.
+ Speaking of things shows won't tackle, Gabby Sidibe has been watching Pretty Little Liars for the first time and Carmen has been keeping the TV team up-to-date with and it's honestly amazing.
When I was a teenager and my friends, who had grown as boyfriends, had their man hang out with us, I'd constantly ask "you don't feel gross right now? Isn't it weird for you that you're 25 and we're 16? You feel weird Mister?". If he didn't feel weird, I'd make sure he did!

— Gabby Sidibe (@GabbySidibe) July 31, 2018
YOU FEEL WEIRD MISTER?
+ Get on board with Laverne Cox, Rosario Dawson, LaVar Burton, and Jordan Peele's YouTube anthology series, Weird City.
+ Octavia Spencer is heading to Netflix to play Madame C.J. Walker! One of the EP's is LeBron!
+ The low completion rate is why Netflix canned Everything Sucks.
+ Yes Daddy I Do: Orange is the New Black's Vicci Martinez and Emily Tarver are lesbianing together!
+ I loved this comment Bex Taylor-Klaus left on our Instagram so very much.
+ Grace Choi is back on Black Lightning, baby!
+ I do not care for this Carrie Fisher being in the new Star Wars movie news, frankly.
+ At The Cut: Hollywood has made basically no progress in onscreen diversity.
+ Megan Rapinoe is back and better than ever.
+ Get to know the real life women of Mexican wrestling!
+ Anne Lister is coming to your teevee again.
+ Chelsea Handler is going to play a "power lesbian" on the next season of Will & Grace, I guess?
+ Transparent season five is a go, and details are forthcoming! 
---
Song of the Summer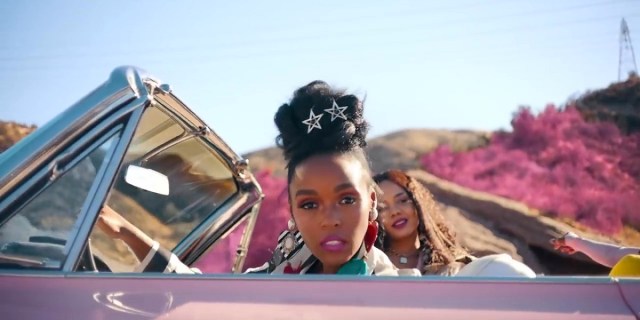 And finally! In last week's Friday Open Thread, Natalie asked: What's the gayest song of the summer? You voted and the results are in! The winner is… Janelle Monae's PYNK, with a whopping 49.8% of the vote! Hayley Kiyoko came in second at 34 percent.
Also, Natalie thinks you deserve this for making it to Wednesday!
#ASip with @janellemonae was perfect. Such an inspirational, prolifically talented, beautiful being. Thank you to Atlanta, home of Wondaland, for being so loving and energetic.

Thanks @ciroc for that open bar. Thanks @SamsungMobileUS for making this event possible #withGalaxy! pic.twitter.com/fsJjiJkxqj

— Issa Rae (@IssaRae) July 30, 2018