This month marks nine years since the launch of Autostraddle, and the most incredible thing about that is that we're still here at all. We've seen other queer and feminist websites come and go, we've thrived despite intense competition from publications with far deeper pockets than our own, and we've done so because of you. 
But! We still need your help. Starting now, we're gonna be lightly begging y'all regularly to join A+, our Premium Subscription program, which you can do for less than three dollars a month, until we reach 3,000 subscribers. We currently, as of 5pm on Monday March 19th, have 2,562 paid subscribers. So it's gonna be a long climb but we can get there.
The only catch for us, which'll make a lot of sense to you once you reach the end of this post — is that we literally do not have the time or resources to beg you to join A+! We just need you to do it. So if y'all could just join up quickly as possible, that would be great, maybe I'd have time to write about something else besides how we need money for a few days!!!!!!
We've Got New Stickers & Tees For You!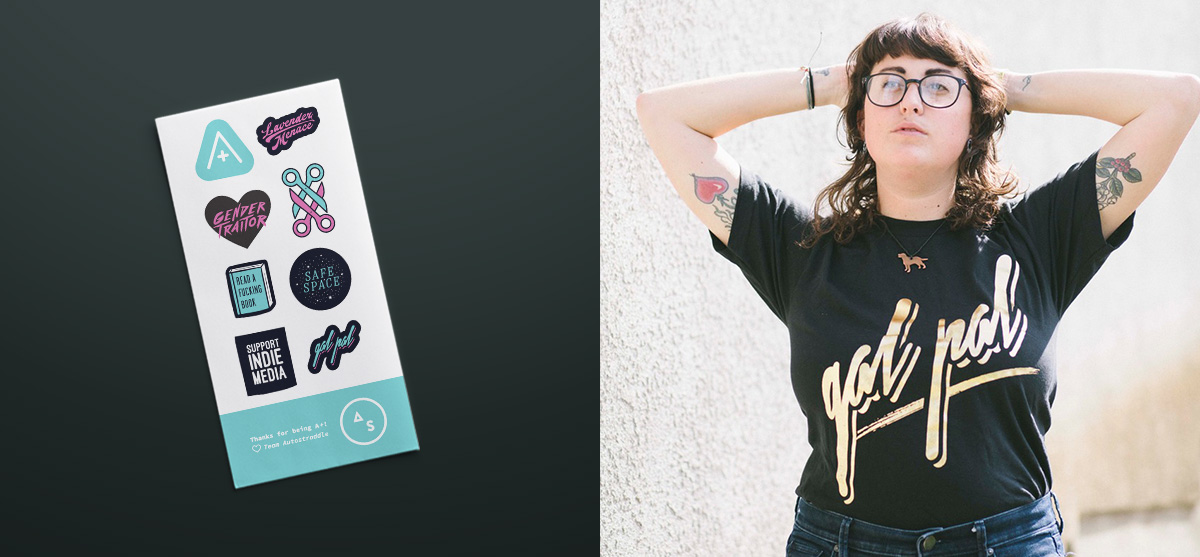 We've been gradually rolling out new perks for Gold A+ members and our latest is the Gold "Gal Pal" Tee! It's a gorgeous way to really broadcast your status as a golden supreme being.
And, we're doing a special promotion for this A+ membership push — if you join at the Bronze, Silver or Gold level; in addition to getting your A+ member sticker, you'll also get this fun sticker sheet!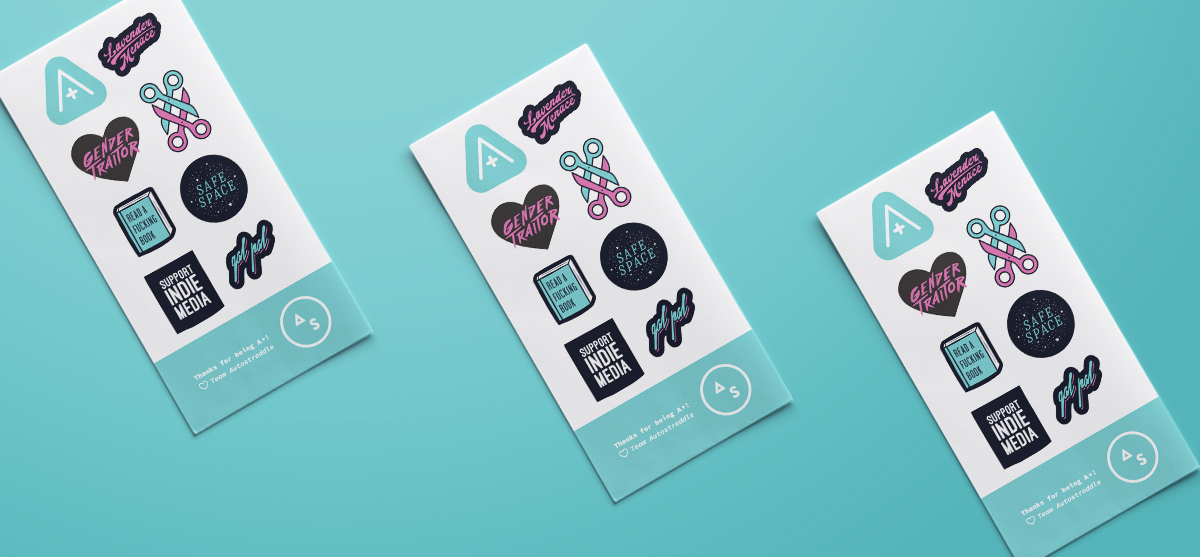 We don't want loyal A+ members to feel left out of this promotion, but also don't want to lose money in the process — so, if you're already an A+ member and want a sticker sheet of your very own, we'll send you one for $2.50, which covers the cost of the sticker sheet, envelope and postage (we just averaged international + domestic postage to keep it simple). You'll have to give us the email associated with your A+ account here:
If you joined A+ between January 28th and March 16th, good news: your sticker sheet is already in the mail.
But listen… maybe you don't understand why it is SO DESPERATELY IMPORTANT THAT YOU JOIN A PLUS.
---
We Do This On the Cheap, Which Still Isn't Very Cheap
In which we attempt to seduce you with intense transparency. 
We Don't Advertise, Do PR or Buy Traffic. Everything that happens here is grassroots. Back in 2015, leaked financial documents revealed that in the first six months of 2014, Buzzfeed spent $5.9 million of its $10.5 million editorial budget on "buying traffic on Facebook and other websites on behalf of its advertisers." We spend less than $100 a year on Facebook advertising. We rely on word of mouth to promote everything we do, including camp and merchandise.
We Don't Have an Office (We Don't Even Live in the Same City). Bustle and Romper operate out of a 51,150-square-foot office in New York, paying between $4 million and $5.4 million dollars a year in rent, with additional offices in Los Angeles and Chicago. Granted — BDG Media, which also owns Elite Daily and Please, reaches 80 million readers a month. Still, adjusting just the New York office proportionately to Bustle & Romper's readership only, a site our size would be renting office space for around $20k/month. Instead, our full-time staff works, year-round, on laptops in desks squeezed into tiny spaces in small apartments all over the country, and the senior editors spend one week a year sharing beds and sleeping on couches for our annual "Senior Staff Retreat." Instead of having a team of full-time staff writers, we manage a stable of 20 staff writers and dozens of freelancers. We use "virtual office" tools like Slack, Gusto and Airtable to connect the entire team, for around $1,000/month.
We Work At Half-Price. It costs up to $30k a month to pay all the humans who contribute to this site — our editors, writers, designer, accountant, tech director, illustrators, cartoonists, lawyers, consultants, all of it. Another $9k/month goes towards taxes, workers comp and health insurance. If we paid ourselves according to, for example, the absolute minimum the Gawker union settled on for its employees (and we work as many if not more hours than they do, so we deserve it!) and I was paid what editors-in-chief are paid (looking at what CEOs are paid is just a whole different (very depressing) ballgame), and our Marketing/Business Director and Tech Director what their jobs are worth, and our writers/freelancers on par with what similar sites pay — it'd cost over $80k a month to pay all the humans who contribute to this site, with taxes on top of that. And that's before we even consider that most of us are doing two jobs or that we're understaffed and need to hire way more people, which brings me to…
We Do So Many Jobs. We have an accountant who handles our invoices, paying our writers, and Gusto management, but I'm (Riese) still the CFO and I still do the bookkeeping. For the past two years I've been the one handling all the A+ perk mailings, too, as well as being CEO and editor-in-chief and having a heavy hand in A-Camp. Heather does two full-time jobs: she directs all our social media, along with Valerie (who also writes for the site and has a full-time job), and is a Senior Editor. Sarah also does 3+ full-time jobs — overseeing ad sales, event partnerships, sponsorships, merchandise design, and all the design and graphics for the entire site. Cee is the sys-admin for two servers — they build, maintain, update, and run our servers and fix them when they break, on top of keeping the website's code working, programming the site and setting up plug-ins. Normally Cee's job would be done by a small team — and "web developer" and "systems administrator" would never be done by the same, part-time person. Instead, they have one intern (Chloe!) who handles all our tech support and has done so, for free, for five years.
So, in total: The Base Costs of Running This Website As Cheaply as Possible Are Around $45k a Month. On top of the aforementioned $39k, we spend around $3k a month on virtual office tools, server expenses, subscriptions, travel, office supplies and reference materials. There's also payment processing fees and other random expenses. None of this accounts for money spent to produce merchandise or to put on camp — and while our Camp Co-Directors are paid and our Senior Staff consultants receive small stipends, the vast majority of camp staff are volunteers who do that work on top of their work for Autostraddle and their other jobs.
And advertising won't cut it. Our income from advertising in 2017 was less than $3k a month, with another $3k coming in from affiliate advertising (when we drive sales to merchants like Amazon, Crash Pad, or Babeland, we earn a percentage of what you purchase, usually between 1% and 6%). Sarah's working hard to get more advertising to the site, but it's hard on top of everything else!
There is a cap on our growth. We're writing for a niche within a niche. There are allegedly approximately 4.5 million LGBTQ women in the U.S., and if every single one of them read Autostraddle every single month (which is an absurd expectation, as we don't necessarily appeal to every single LGBTQ woman and a significant number don't have regular internet access regardless) we'd still only get half the traffic Jezebel does. (Jezebel gets 8 million U.S. uniques a month, the same number as 5% of the 157 million women who live in the U.S.)
But we do have you. We do have you, right? We wanna make it to Year Ten: ten years of independent, weird, heartfelt, community-oriented queer media. Whether we helped you feel okay about being queer, made you laugh a lot, or gave you a space to share your feelings about [tv show] — we probably did something for you that is worth more than zero dollars. You can do something for us that is only slightly more than zero dollars! THESE STICKERS ARE GREAT!!