A few weeks ago, I went to a storytelling event to see a friend perform. The storytelling series is a well-known and longstanding one in Portland, and many big names have performed there. I carpooled with two other people; we were really proud of our friend, and excited to see her perform. When we got to the venue, however, some of my excitement turned to anxiety: the auditorium was filled with tiny wooden seats, and I felt skeptical about being able to squeeze my butt into the narrow space, never mind be comfortable for several hours watching the performances. The friends I was with shared the same concerns for themselves, and just as we all managed to squish our bodies into the tiny uncomfortable chairs, we received a text from our friend who we were there to support: "Um, I don't fit in this seat."
Not only could some members of the audience not sit comfortably at this event, but at least one of the performers was also not accommodated by the chairs in the auditorium. We all made the best of the situation, but discussed together how we wished there had been other options. As a fat person, this happens to me with some regularity. I have larger fat friends who experience this more frequently. In Roxane Gay's Hunger: A Memoir of (My) Body, she describes humiliating experiences centering on chairs, furniture, airplanes, and society's steadfast refusal to treat fat people like humans worthy of dignity. Anxiety around chairs and taking up space is not an uncommon thing for fat people to feel.
The night of the reading, my friends and I discussed together all the ways in which the organizers could have avoided the issue: added some rows of folding chairs, chosen a different venue, offered standing room, at the very least been upfront that the old wooden seats at this venue would not accommodate all bodies. I don't think the organizer is bad – I think she is a thin woman who has likely never thought about how fat people move through the world and what we need to feel comfortable and welcome in a space. If only folks could give a bit of thought to that, my friends and I lamented together. If only we knew before leaving the house if the place we were going would have chairs big enough for our bodies, aisles big enough for our bodies, folks in charge who understood these issues and cared. What a dream that would be.
Rebecca Alexander is about to make that dream a reality.
This morning, Rebecca and her co-founder Michele Amar launched a Kickstarter for AllGo, a community company whose cornerstone is a review platform where people of size and the people who love them can give and receive information about the comfort and accessibility of public spaces. The founders are hoping to raise $50,000 to build a beta version of their site to launch in Portland, OR at the end of this summer and then in ten more cities.
Rebecca, the face of AllGo and the woman in the hilarious video posted to their Kickstarter campaign, is a fat queer woman born and raised in Oregon. "I grew up in Southern Oregon in a family full of big people," she told me over email. "My dad remodeled every house we lived in growing up and his work was my first exposure to what it means to design for big bodies. Every bathroom he updated was sure to get a high toilet with an elongated bowl and you could also count on him to put the toilet paper dispenser in an easy-to-reach space. These little details are emblematic of the kind of design I hope AllGo will inspire in the world."
When I first heard about this project I was zero percent surprised that the founder was based in Portland, OR. This city has an incredible fat and body positive community, and I personally credit that community with helping me grow a deep acceptance and love for my fat body. I asked Rebecca if Portland's community of fat activists had affected her confidence and mindset too, and she responded with a resounding yes.
"There's a large community of plus-size people who organize around their fat identity both online and IRL. Portland, Oregon, the city I now call home, is a major hub of this community. Fat activists and fat entrepreneurs have been creating body-positive and fat-accepting spaces here for decades," she wrote. "Talking about 'AllGo moments' – the moments where our physical worlds limit our ability to be ourselves and do what we want to do – with Portland's fat community has been nothing short of amazing. People have inspired me to dream big and affirmed the need for our company at every turn."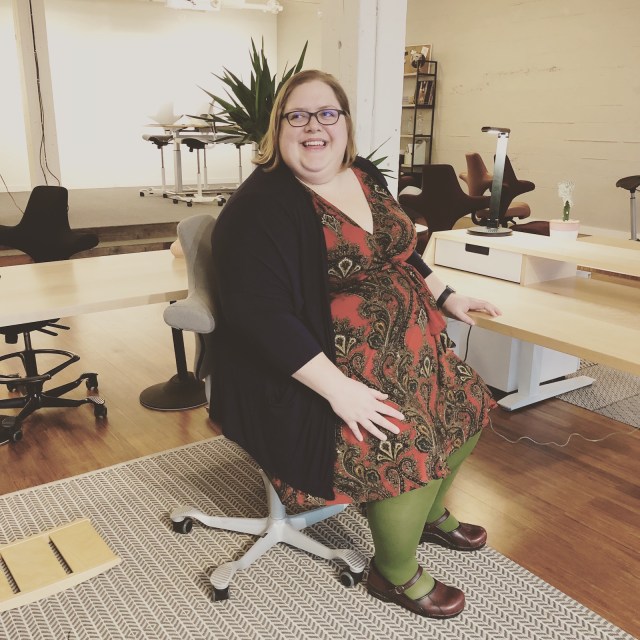 Before starting this company, Rebecca said she did not talk about the size of her body. "I spent years of my life watching my world shrink as my anxiety about visiting new places grew," she wrote. "Anytime I went on a plane, I convinced myself that crossing my arms in front of my chest would mean that the 17″ seats in Coach would accommodate me. My entire senior year of college, I sat in chairs in my own apartment that left indentations in my outer thighs for almost six hours every time I sat in them." She wrote that once a roommate asked if she was comfortable in their chairs, perhaps offering her a space to advocate for herself, "but I couldn't talk about my body's needs."
But when she decided to launch AllGo, "not talking about my body wasn't an option."
As a queer person, Rebecca had experience with coming out in a way that can feel scary. "When I decided to start speaking more openly about my body – both the space I take up and the spaces in which I can't fit – my will was steeled by the experience I had coming out as queer," she wrote. "The people that loved me most accepted me for who I am and were overjoyed that I was claiming my reality. My 'fat coming out' has been received in much the same way. I think people are happy to see me being true to myself and living my life because that's what most people want for their lives: To just be able to live them."
While the queer community can be a safer space than much of the rest of the world, I personally have had mixed experiences with fat acceptance and body positivity amongst other queers. As I said, Portland is a great city for fat positivity, but honestly, even here, there are still a lot of instances where fatphobia runs rampant, and desirability politics are fraught no matter what. Rebecca and I agreed that queer community, even in Portland, often "mirrors [our other communities] when it comes to fatness." Rebecca put it bluntly: "Some people accept fat bodies as human and worthy of dignity, while others only grant fat people dignity if they're "working onwp_poststhemselves or actively trying to lose weight."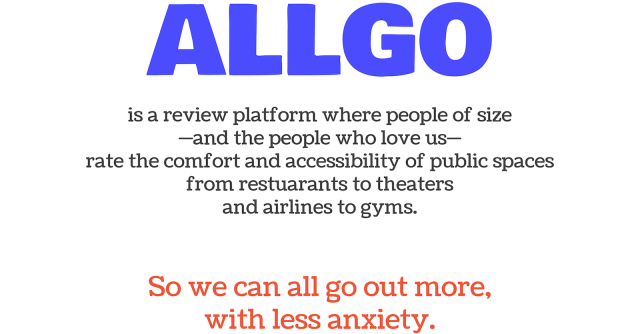 While we all continue working on ourselves and unlearning the toxic messages fatphobia has instilled in us, which could honestly take several lifetimes, Rebecca and her co-founder Michele will be focusing on AllGo and making the world easier for people of size in a practical way. Rebecca stresses that the app should not just be used by fat and plus-size people, but by our friends, colleagues, and family members too. Co-founder Michele, who is straight-sized, said that she wanted to work with Rebecca on AllGo as soon as she heard about the idea because "it's not a difficult choice to want to work towards making the world more inclusive." She explained that when she goes out with Rebecca, she considers where both of them will be comfortable before suggesting a spot to meet. "I think it's safe to say that there are many other people just like me who want to go out with their loved ones who are fat/plus-size and know they will be comfortable," Michele said.
AllGo has an all-star team of supporting its creation, including Roxane Gay, Tess Holliday, Chrystal Bougon, Marie Denee, Jes Baker, Brianne Huntsman, and many more. And Rebecca and Michele have big plans for AllGo. Once their debut campaign is funded and the app can launch in its first 11 cities, they want to expand and they want AllGo to inspire designers and makers to take the needs of fat people into account.
"I believe that all people have a right to exist as they are and a right to the same level of comfort and access when it comes to going out," Rebecca wrote. "That is why I'm building AllGo."
---
Support AllGo's Kickstarter campaign starting today through Sunday, April 8.