People die.  Every single day someone that is loved, needed and irreplaceable is just snapped up from the world.  The world still spins, you go back to being socially normal and then you're alone playing their favorite album on repeat all night.
This play list goes out to all my people out there holding down a day job, a family, a life while grieving someone they loved. You can't lay in bed all day. You can't hide from the world. Trust me, I've tried. Instead, I arranged these tracks to correspond with Dr. Elisabeth Kubler-Ross' 5 stages of Grief: Denial, Bargaining, Anger, Depression and Acceptance. So hopefully by the end of the playlist, you'll feel a little better. Also, some of these songs just remind me of my friend, Christina.  A grief playlist isn't just songs to make you cry. It's about songs that release your sadness, remind you of the person you lost and encourage you to carry on.
Music helps. Music is dope.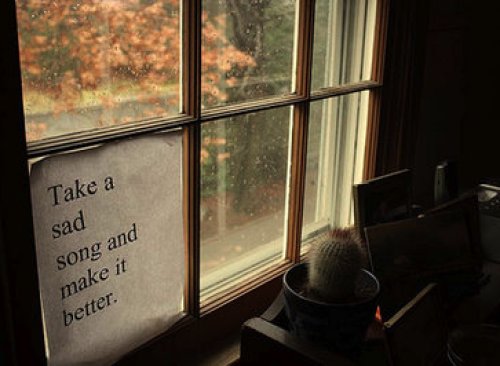 The Hello, Good Mourning Playlist
Their Cell – Girl in a Coma
Wake Me Up When September Ends – Green Day
Am I The Only One – The Dixie Chicks
Whiskey Lullaby – Alison Krauss & Brad Paisley
Ben – Michael Jackson
Vanishing – Mariah Carey
Gangsta Lean – D.R.S.
Lost One – Jay – Z
Yr Mangled Heart – Gossip
The Ghost Of You – My Chemical Romance
I'll Be Missing You – Puff Daddy and the Family
White Blank Page – Mumford & Sons
The Boat Song – The Ryan Montbleau Band
Como La Flor (Live) – Selena
No One – Alicia Keys
What About Your Friends – TLC
Give Me Everything – Pitbull feat. Ne-Yo
Joyful, Joyful – Lauryn Hill & ensemble cast Sister Act 2
I'd love to hear your song picks.  It takes a world of music to ease the pain we feel from losing a loved one.  So get to sharing, I know I can use all the help I can get and I'm sure you can too.  Much love, ya'll.  It's gon' be ok.
Want to suggest a playlist theme? Hit Crystal up on Formspring and someone of the team will make it for you.