Modern Family, Happy Endings and Up All Night aired this week as normal. New Girl on the other hand did not air this week, nor will it air next week as, along with Glee as Fox's schedule has been altered by the Major League Baseball Championships. On the upside, New Girl is casting the role of a lesbian OB/GYN. Yay?!
+
Up All Night
by Lizz
As Up All Night progresses, Reagan and Chris are dealing with more and more realistic new parent conundrums. Unfortunately, while balancing work and family is a very real issue facing parents, it's not exactly, erm, funny to watch play out. Maybe sometimes; but not here, not yet. This week Reagan and Chris started taking Amy ("the baby") to play class where Michael Hitchcock (who you remember as the Deaf choir instructor on Glee) guest stars as a baby guru. That's right– everyone's peek-a-boos need some work.
At play group, a mean-mommy made Reagan feel like shit over being a working mom. Later they reconciled because all women on TV have to eventually become friends because of sisterhood and other soft gooey feelings stuff. Simultaneously, as usual, Ava had a meltdown over feeling abandon by Reagan. As much as I like Maya Rudolph, her character's presence in the show feels wicked forced. The writers are doing their best to weave her in to the plot lines, but her funniest moments are her back and forth with Missy (her assistant) or clips of her talk show. Also, plot-hole: last episode Missy read some big complicated economics book and this week she can't spell "speech."
I sort of long to see Ava, Chris and Reagan all goofing around pre-baby. I wonder if perhaps Up All Night would have been better off taking out their main theme and basically just be a Friends/How I Met Your Mother type show. Also why isn't Nick Cannon in every moment of every episode? He's the best. I dunno, maybe this is all funnier if you have a child. So here's the real question: does anyone care if I stop watching this show?
+
Modern Family
by Lizz
Yessssssssssssssssssssssssss! David Cross was back again last night as Duane Bailey the self adsorbed city council member! In fact, it looks like Duane Bailey will be around for a while, as this week Claire decided to run for town council!
Town Council Members Gotta Have Heart:
Claire : [Reading] Duane Baily. Councilman, citizen… puggle breeder?
Duane Bailey: I love them because they're a different mix of breeds, just like America.
Puggles are pretty adorable, but as soon as Claire realizes that Duane Bailey is up for re-election and hadn't put up a stop sign she puts her adorable feelings about puppies aside and, well, I already told you she decides to run for government. Phil takes this opportunity to prove he can run the household even though all of their kids are old enough to take care of themselves. The result is that Luke gets hit in the eye, Alex gets all loopy on cough syrup and Haley loses $900 to some guy claiming he would get her friends fake IDs. Well, technically that last one happened on Claire's watch, it just all came out on Phil's.
Mirroring Claire's desire to be heard, Gloria feels left out as neither Jay nor Manny will ask her for help with their work (or, erm schoolwork).
Jay is stuck working with the son of a former client who wants to be WOWED by the closets Jay's company will build for a new condo complex. Obviously the kid is a tool, but more importantly, did we know before now that Jay's company makes closets? Does he, like, own California Closets? This is hilarious news. Manny, too, is concerned with those kids today and their need to be all showbiz and no substance in their school reports.
Manny Makes a Good Point:
Gloria: Manny sometimes you can be a little old fashioned. Remember the first time you saw the kids with the backpacks with wheels and you thought they were too flashy?
Manny: You're going to school not boarding a flight to Denver.
Mitchell and Cam are having a rough day too. After a case of Being In The Wrong Movie Theater (and Cam chastising a nearby parents who he thought brought his kids to a horror flick) the two are the victims of a hit-and-run. Cam tries to run after the driver which horrifies Mitchell who obviously doesn't believe in justice or running. This may have just been another excuse to show Cam running with his arms out. That whole plotline was boring, but this was cute:

So: Cam and Mitch are in a fight about the hit-and-run, Claire is rethinking her run for town council and Jay has no idea what his client wants. Plus, remember, Haley's out $900 and Luke can't even help her because all of his assets are frozen (literally, he froze his money in ice). Luckily, all's well that ends well. While the man-folk go chase down the guy who took Haley's money (Mitchell actually tackling him) Gloria finally gets to help someone by convincing Claire to run for town council. After seeing how Gloria helped her, Claire reminds Jay to use Gloria as an asset. He does.
+
Happy Endings
"Yesandwitch"
by Brittani
This week Penny's mom came to visit. Penny's mom, Dana, is played by Megan Mullally. This is a special occasion.
Penny, the number one seller on Sky Mall, has just debuted the new product that is doing wonders for her company. Turns out being able to spin anything into a positive helps push products. You may have heard this from your uncle, the used car salesman. I think that having a used car selling uncle should be a bigger thing than having a drunk uncle. Seems like it would have more perks.
Penny: You'll be thanking me come V-Neck Season.
Dave: Uh, V-Neck Season is year round.
After everyone other than Alex concludes the Necksercisor is actually a detriment to neck health, Penny reveals her mom is coming to visit! She's booked a show in town as a touring cabaret singer. What she doesn't reveal is that she's recently split with her husband of 7 years. Chris is one of the cash for gold guys so he was quite the catch.
Penny: We're like the Gilmore Girls but we came first so we're better.
Max has continued his 80's limo hustle and is now giving over-priced tours of Chicago with the help of Brad and Jane's new couple improv skills. After making a killing their first day out, Max refuses to cut the "mixed-race couple from Omaha" a cut of the action. He attempts to replace them with Scotty who is the Debby Downer of improv and ruins the scheme.
A Chicago magazine releases a best of list that floods the gang's favorite brunch spot sending Max into a tizzy. Noticeably missing from the best food trucks list is Steak Me Home Tonight. Dave, in an attempt to give his truck the ethnic flair it needs to stay hip, looks into his ancestry. Turns out, he's 1/16th Navajo. He proceeds in dispensing nonsensical native wisdom the remainder of the episode.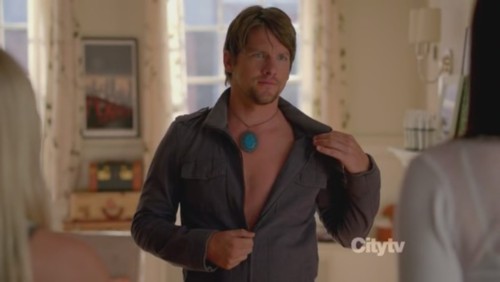 Penny confronts her mom about getting a divorce, breaking her uber-positive ways. They sing argue their feelings. I wish this was how I communicated with everyone. Broken and dreamless, Dana rips all of the friends a new one then storms out. Penny, feeling like she ruined her mom's spirit, can't bring herself to fix her until the big boat show. Dana is the reason Penny has the outlook she does and she loves her for it. There's nothing wrong with being overly optimistic except for being overly optimistic. They reconcile over a choreographed duet of "Torn."
Penny: …and why when I was in the convenience store robbery I just kept thinking, "Hey. At least I'm on TV." 'Cuz I was. And I looked great.
Max brings his tour group to the performance. Dave brings his new American Indian friends. The crowd thinks she's a star and Dana is loving every second of it. Max ushers Dana through the adoring crowd of ignorant tourists and oppressed peoples into the limo which will drop her off at her "private plane." It's like her dreams came pretend true.
What did you think of Megan Mullally's guest appearance? Whose parents would you like to meet next?