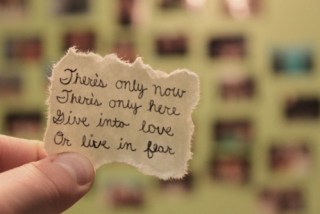 One of life's many great epic tragedies is that I no longer live in New York City and my Dearest Eternal Intern Grace also does not live in New York City, which means neither of us are present in New York City for the just-extended-'til-August Broadway run of Newsies, based on the best worst film of all time!
It's especially fun because two people I actually know in real life are in Newsies and they're constantly posting about it on Facebook and making me more jealous than I am of the people posting about going on vacation and buying things.
Where was I? Oh yes, sad that the Broadway Cast recording of Newsies hasn't come out yet, because that'd be fun to listen to today as I undergo a massive apartment/cleaning project including a former tenant that got dumped on my face unexpectedly yesterday but is far too complicated to explain.
Anyhow, Grace and I made you a playlist of some of our favorite Broadway big group chorus numbers! You can listen to it while dancing around your room like the hooligan you are!
Cell Block Tango – Chicago
Totally Fucked – Spring Awakening
La Vie Boheme – Rent
Ease on Down the Road – The Wiz
Anything Goes – Anything Goes
Time Warp – Rocky Horror Picture Show
Aquarius – HAIR
I Hope I Get It – Chorus Line
Don't Tell Mama – Cabaret
King of New York – Newsies (movie)
Omigod You Guys – Legally Blonde
You Can't Stop The Beat – Hairspray
21 Guns – American Idiot
Go Go Go Joseph – Joseph & The Amazing Technicolor Dreamcoat
Pinball Wizard – The Who's Tommy
One – Company
The Telephone Hour – Bye Bye Birdie
Big Spender – Sweet Charity
Tonight (Quintet) – West Side Story
The Ladies Who Lunch – Company
Ain't Misbheavin'/ Lookin' Good But Feelin' Bad/'T Ain't Nobody's Biz-ness If I Do – Ain't Misbehavin'
One Day More – Les Miserables