Nicky Radcliffe and Tamsen Heath / East Village, NY / Writer; Designer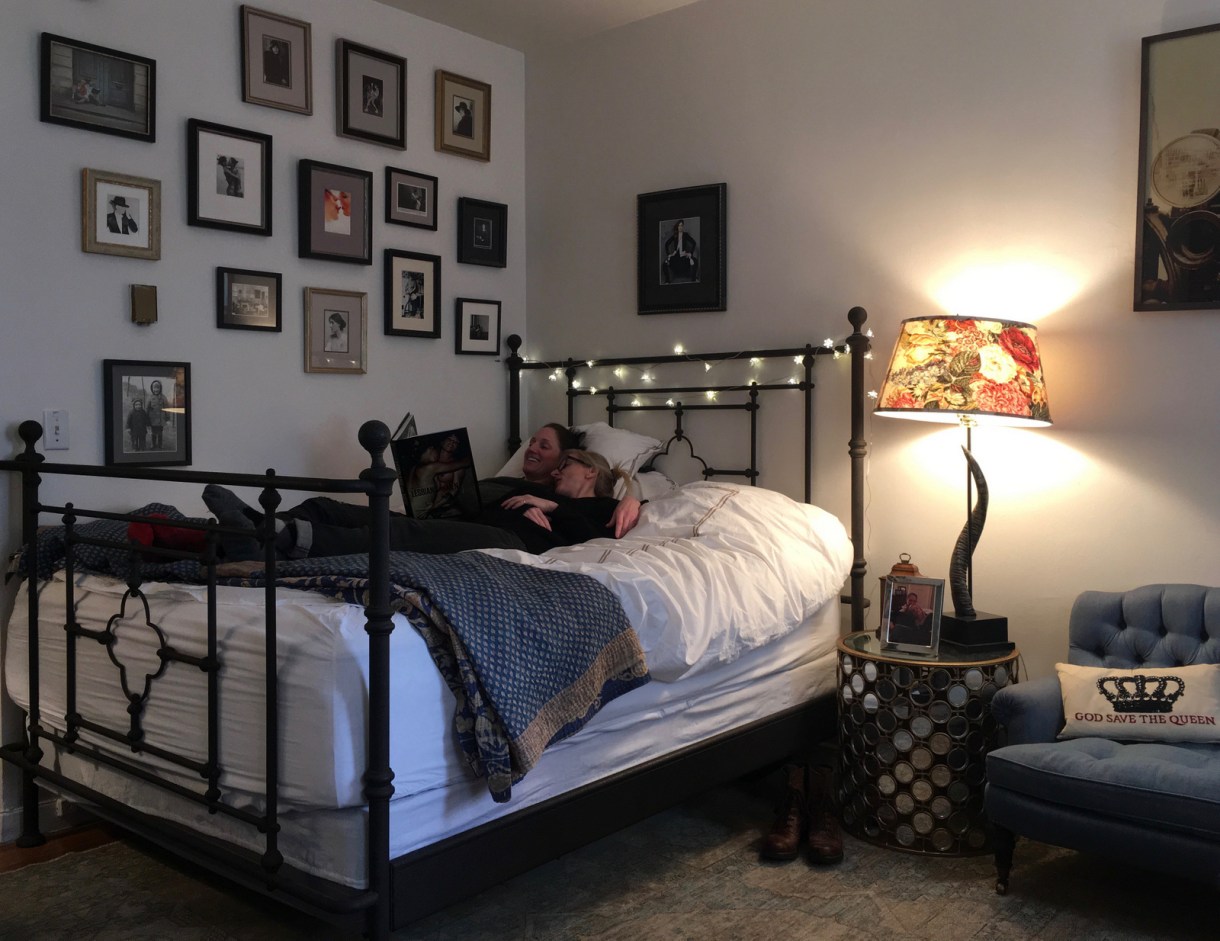 "Pictured underneath our 'Wall of Gay', which includes framed photos of Virginia Woolf, Vita Sackville West, Djuna Barnes, Gertrude Stein and Alice B Toklas. Because we are feminists and intellectuals we are, of course, reading the exceedingly highbrow and very informative book Lesbians for Men.
---
Elise / 34 / Paris, France / Elise of All Trades, Master of None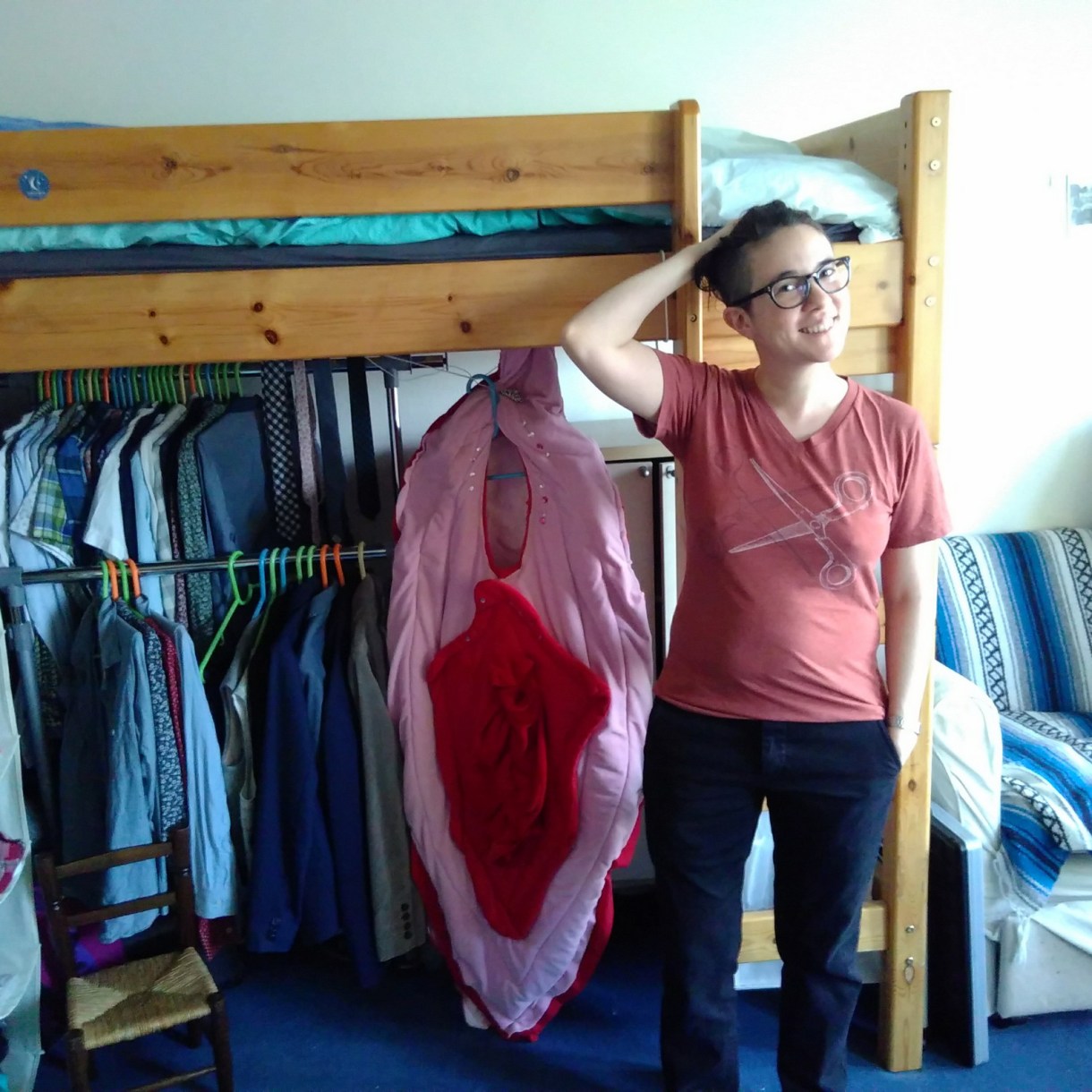 "Much like in the opening scene of "An American in Paris", my small studio apartment functions as my living room, my dining room, my office and my bedroom all in one. I use the space under my loft bed as a closet, which allows me to showcase my amazing Pussy costume inspired by the movie "Who's Afraid of Vagina Wolf". My Pussy costume makes me feel like all is right in the world."
---
Maia-Jeanne / 27 / Wellington , New Zealand / Catalogue Librarian
"My room is ok, I'm not very good at nesting. It's small, I like that or had no carpet. I just got some new (to me) curtains and they really tie the room together (I'm sitting on left overs). My favourite thing is my toy monkey/BFF seen on the bed. He's a good friend. The badges behind me are my dads campaign for nuclear disarmament time! One says 'war is menstruation envy'. The other day I left a curtain open over night and the first thing I saw in the morning was the moon!"
---
Stef / 33 / Brooklyn, NY / Venue Manager, Autostraddle Writer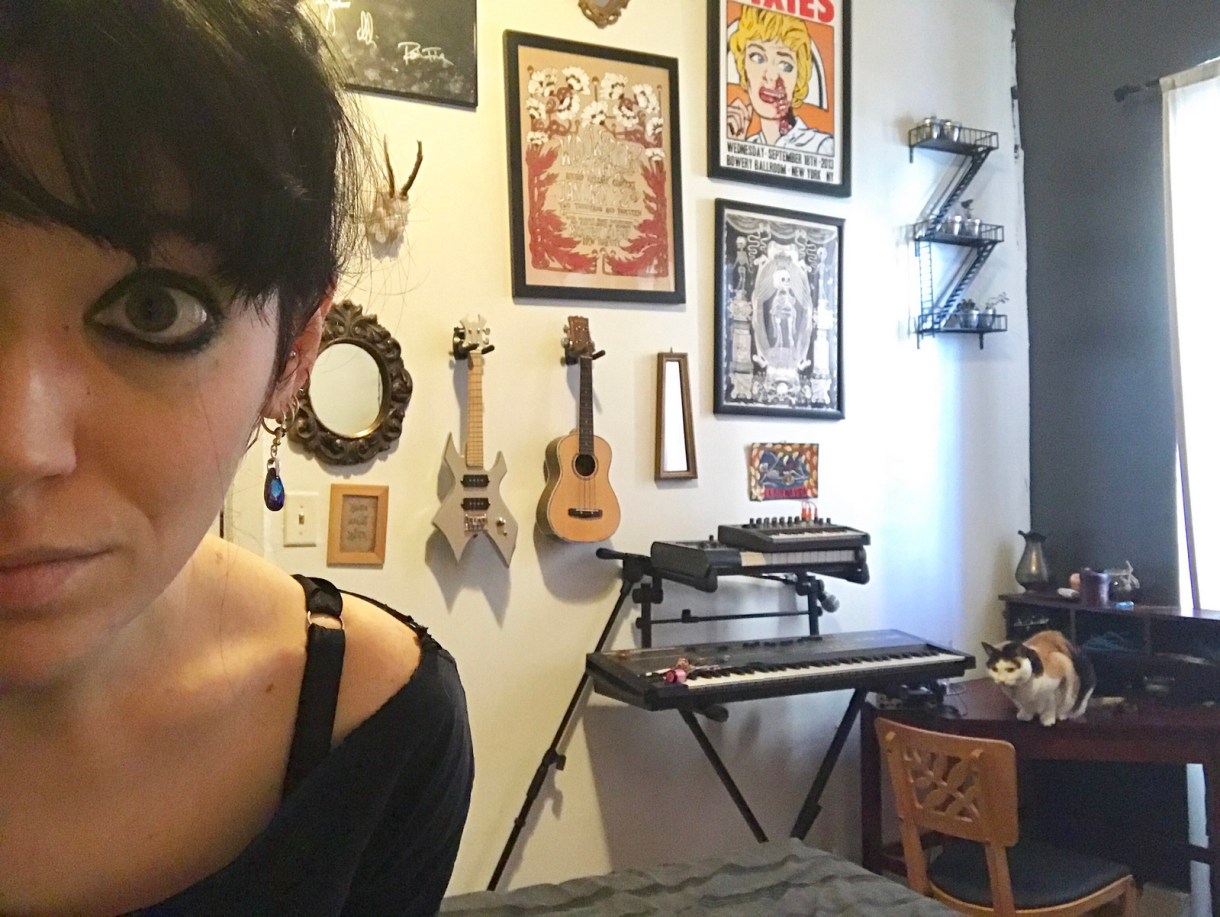 "My furniture almost entirely consists of hand-me-downs from my grandmas, save for the desk. My cat likes to sit on the hutch and stare out the window at the busy street."
---
Laura Wooley / 28 / New York, NY / Law/Social Work Student
"My windows are the very best part of my bedroom. Cabin fever in NYC gets fierce around mid-February, but between my all-day sunshine and my little collection of plants (which are being totally washed out in this picture by the sunlight (supra)), it's almost like I live in a land of endless summer. Almost."
---
Amandine / 31 / Paris, France / Glam Butch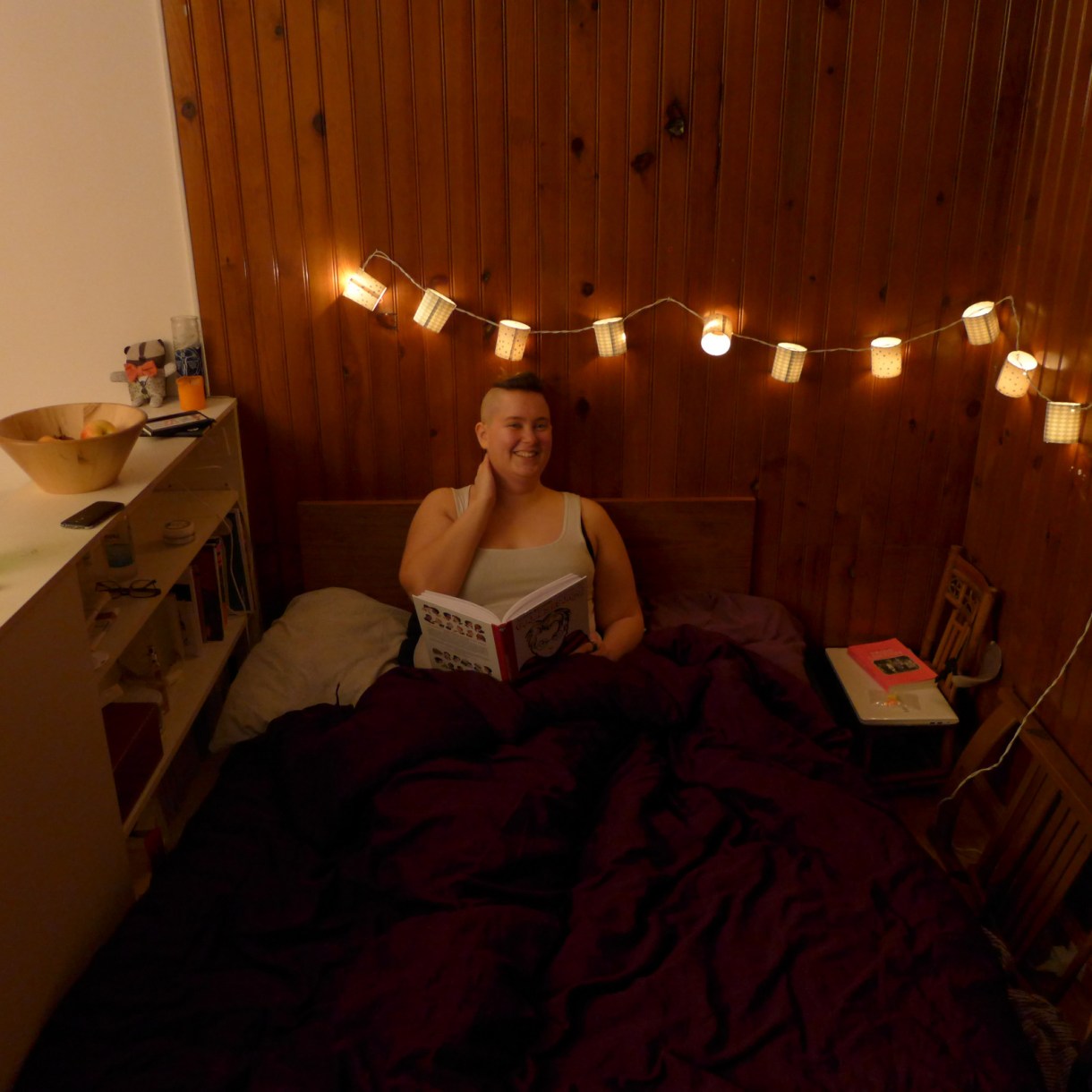 "Having a real bed in Paris is a luxury. I probably spend too much time in it thinking of how beautiful the string lights are."
---
Zoey, Mandy, Neko and Duo Dye / 32, 33, 3, 4 / Portland, OR / Artist, Bakery Clerk; Sociologist, Cook; Artistic Inspiration
"Our favorite part of the bedroom is having a big enough bed for all of us, even though Mandy and Neko tend to hog, Zoey has insomnia and Duo meows inconsolably at 3am. We especially enjoy the cold weather when the cats want to be under the covers."
---
Susanna / 26 / Boulder, CO / Grad Student, Laser Wrangler, Activist, Insomniac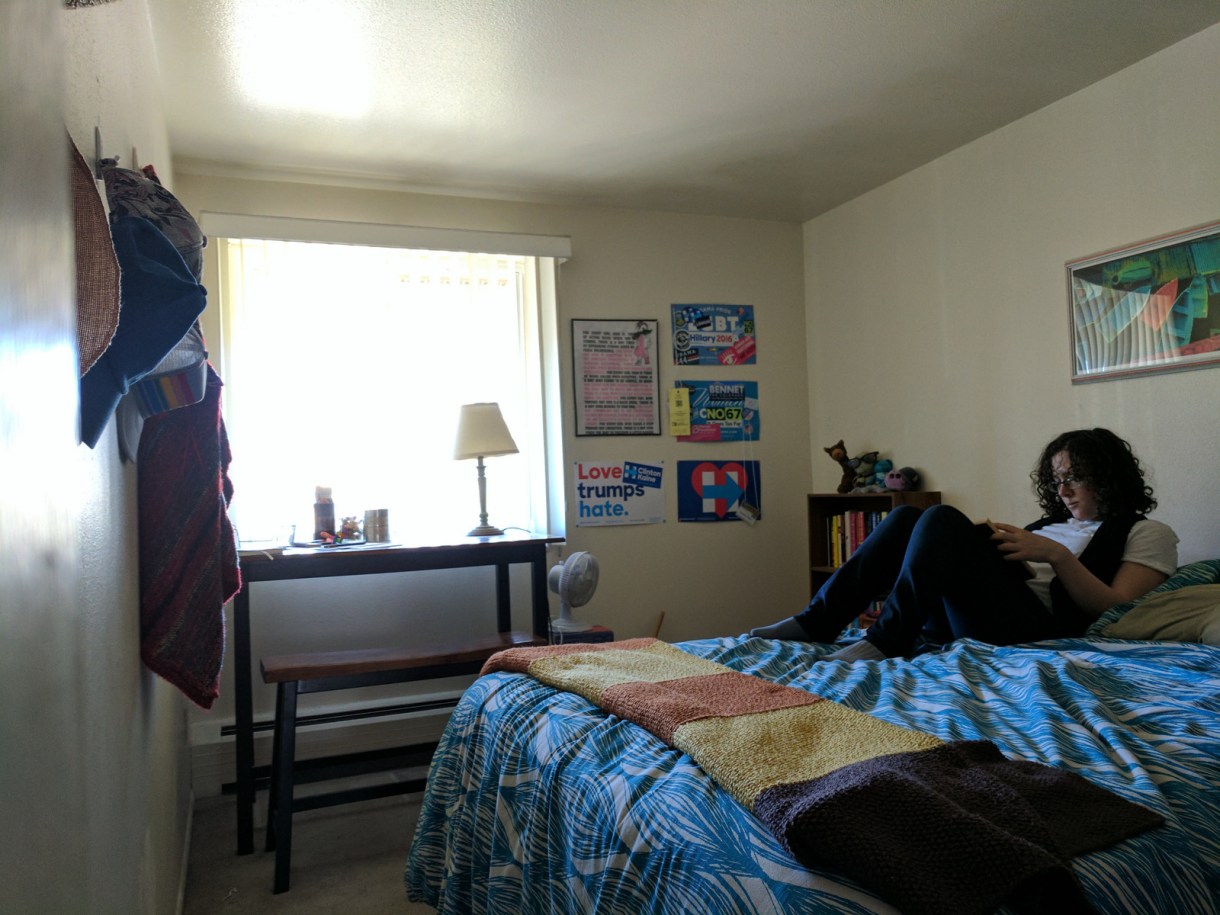 "My camera washed it out, but I pay $10 extra every month for a bedroom with a window with a clear view of the mountains.  100% WORTH IT."
---
Rachel, with Six the Cat / 28 / Milwaukee, WI / Autostraddle's Managing Editor
"Probably the last thing I think about before falling asleep is something I forgot to do at work that day that suddenly came back to me in a panic, or how to arrange my legs so the cat doesn't wake up and get mad at me."
---
Benn Wild Alys Benjamin / 27 / Glasgow, Scotland / Chef, LGBT Families Development Worker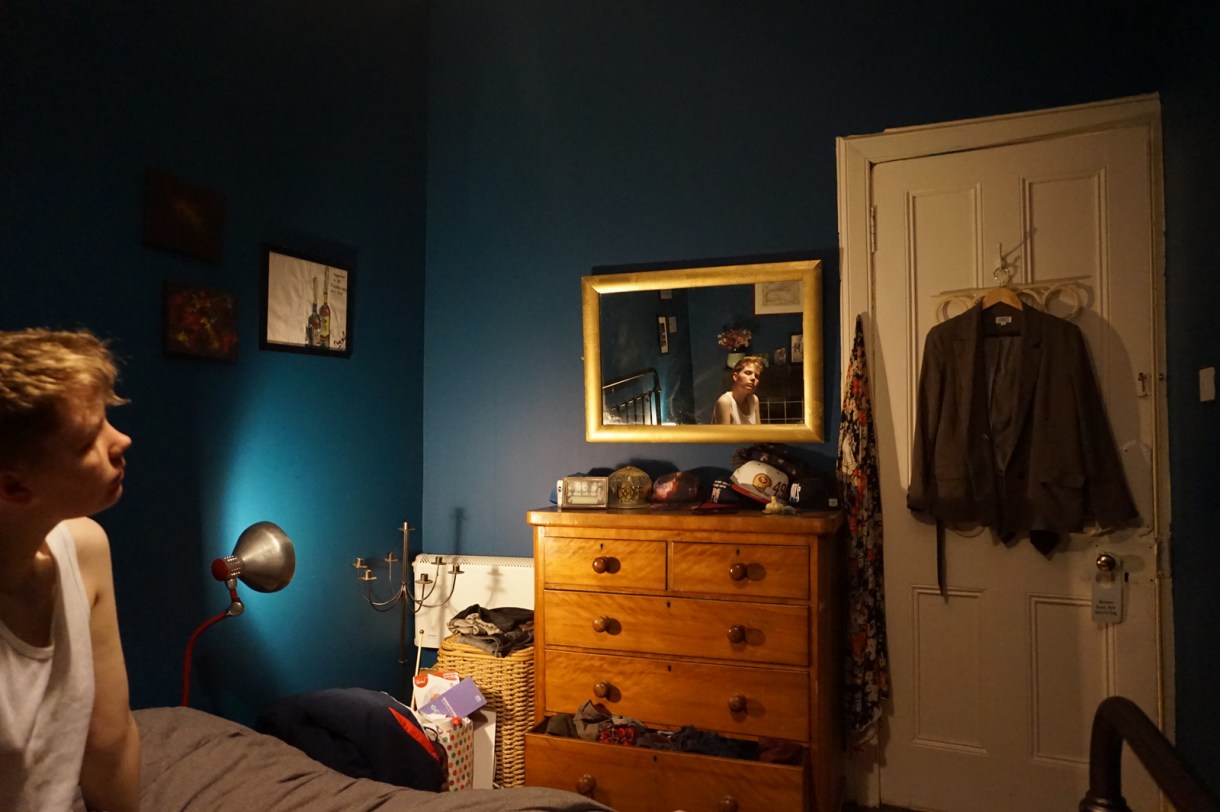 "I love the colour of this room: it's 'Blue Diamond 1'. My partner chose it and I was worried it would be too dark but as usual they were totally right. Our bed is the only item of furniture in the flat that we spent any money on. We took ages looking for one that looked like the bed we remembered from this Bruce Springsteen video – I can't remember which song it was. I really love sleeping (I can fall asleep just about anywhere within 10 minutes if I put my mind to it – I'm very proud of that) so I usually fall asleep thinking about how great it's going to be. I have to wake up really early as I work the breakfast shift most days so I usually wake up thinking that my alarm clock must have made a mistake."
---
Liz / 20 / Wellesley, MA / Student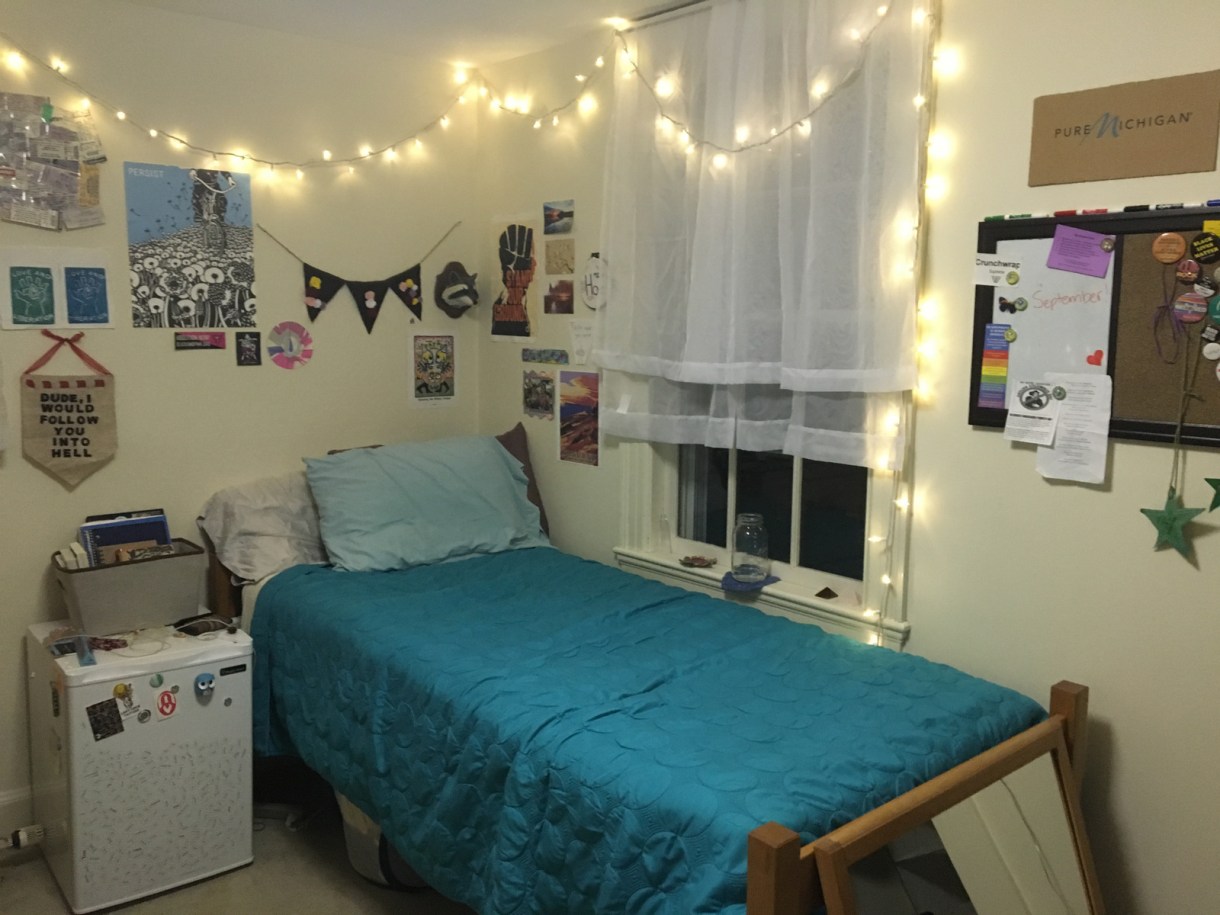 "After two years sharing rooms in dorms finally having a space of my own has been so valuable this year. I try (and fail) to keep it clean but since I mostly fail my best pictures are all from August. I love how much of my room decor was made or given by friends, especially one wall not pictured where I have notes of encouragement from my rugby team over the past two and half years."
---
Amanda Ling / 26 / Costco AM Merch
"I thought about making my bed, but that would be a lie."
---
Sarah and Sheldon / 29, 2 / PhD Student
"This is the first bedroom I've had as an adult where I actually hung curtains, for some reason curtains feel like a big step/commitment."
---
Ariel / 25 / New York, NY / Preschool Teacher
"I moved here in December, and today I left my windows open for the first time, and that was pretty exciting. I bought the plants on my windowsill a few weeks ago, and I haven't killed them yet. It's starting to feel like home."
---
Molly / 31 / Washington, D.C. / Writer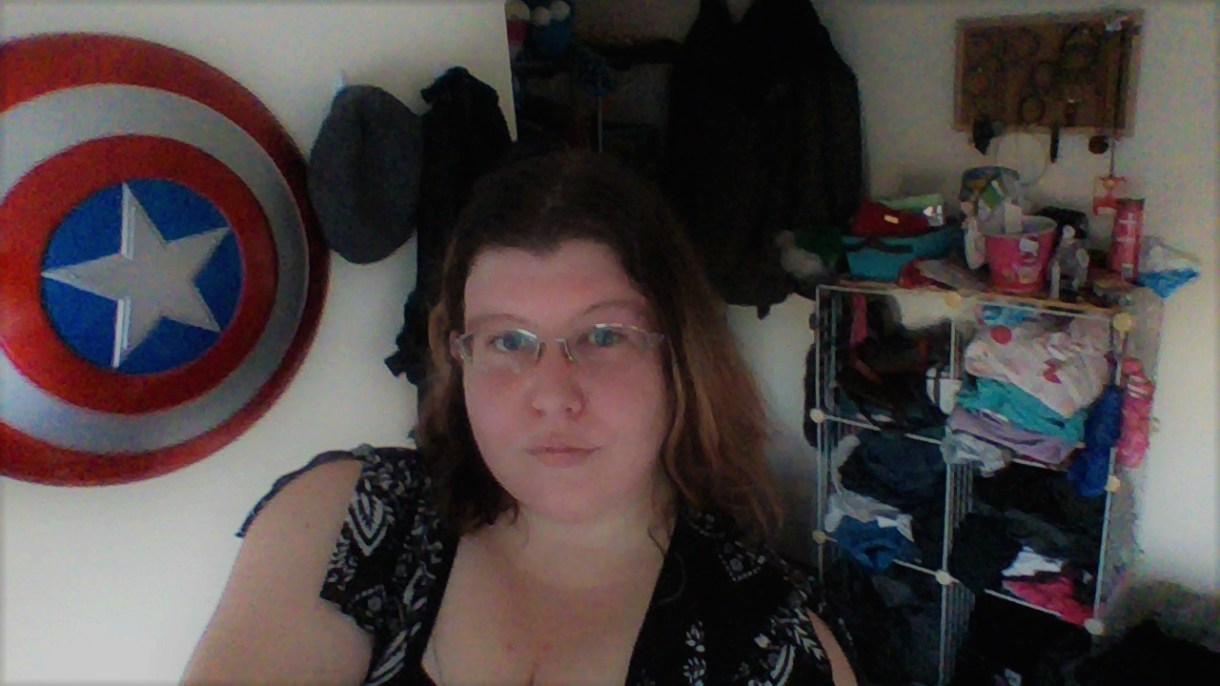 "I love that my room is a refurbished attic, and hate how hot it gets in the summer. The last thing I think about at night is the book I fall asleep reading, and the first thing is usually how much I hate alarms. My favorite thing is my giant Captain America shield, because for some reason that fandom has put me in touch with more queers than I'd ever met before!"
---
Whitney / 27 / Somerville, MA / Art Museum Collections Cataloguer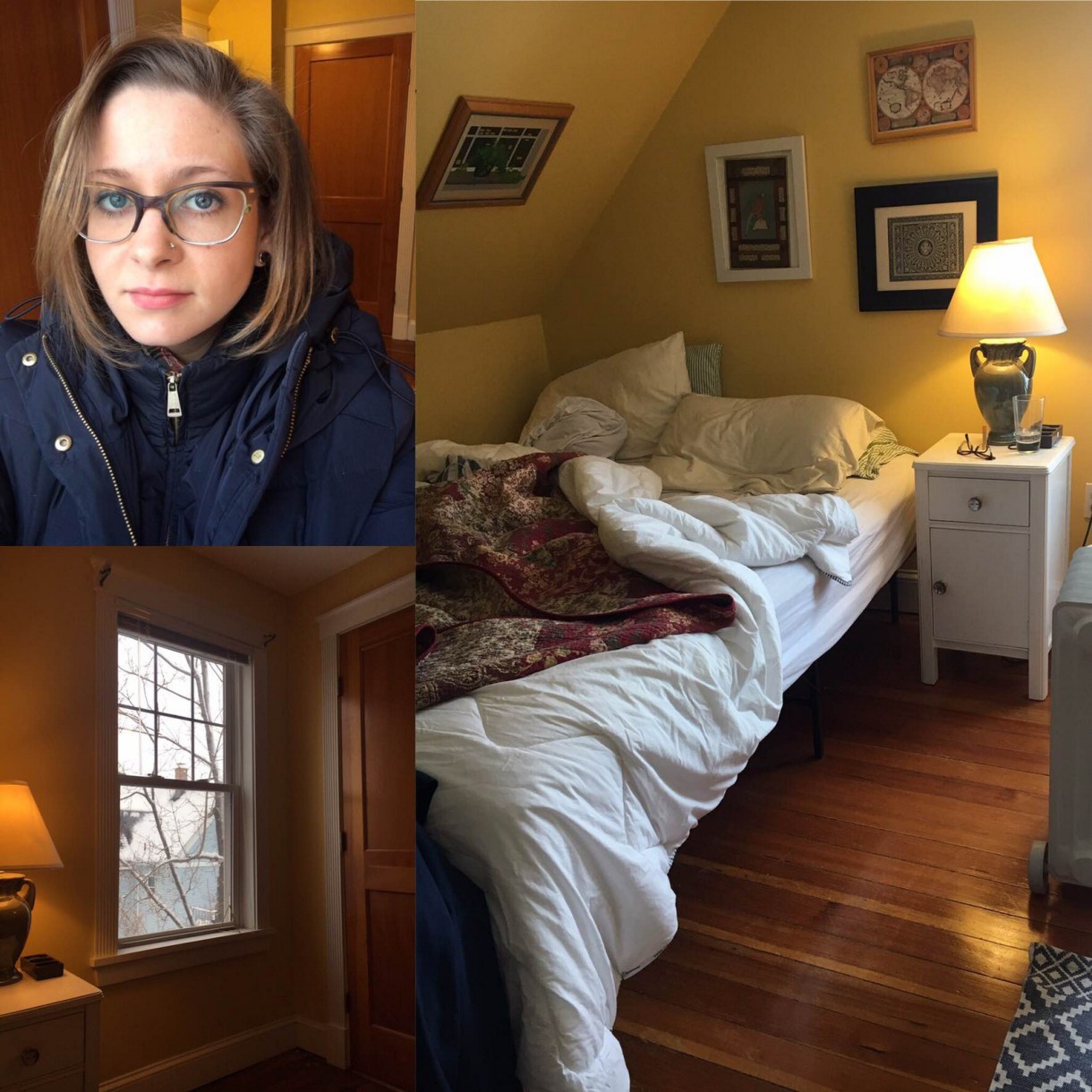 "This was my happiest bedroom ever. But my girlfriend and I are ready to close our Somerville-Jamaica Plain divide and Uhaul it to Roslindale."
---
Alana Lucia / 31 / Brooklyn, NY / Barber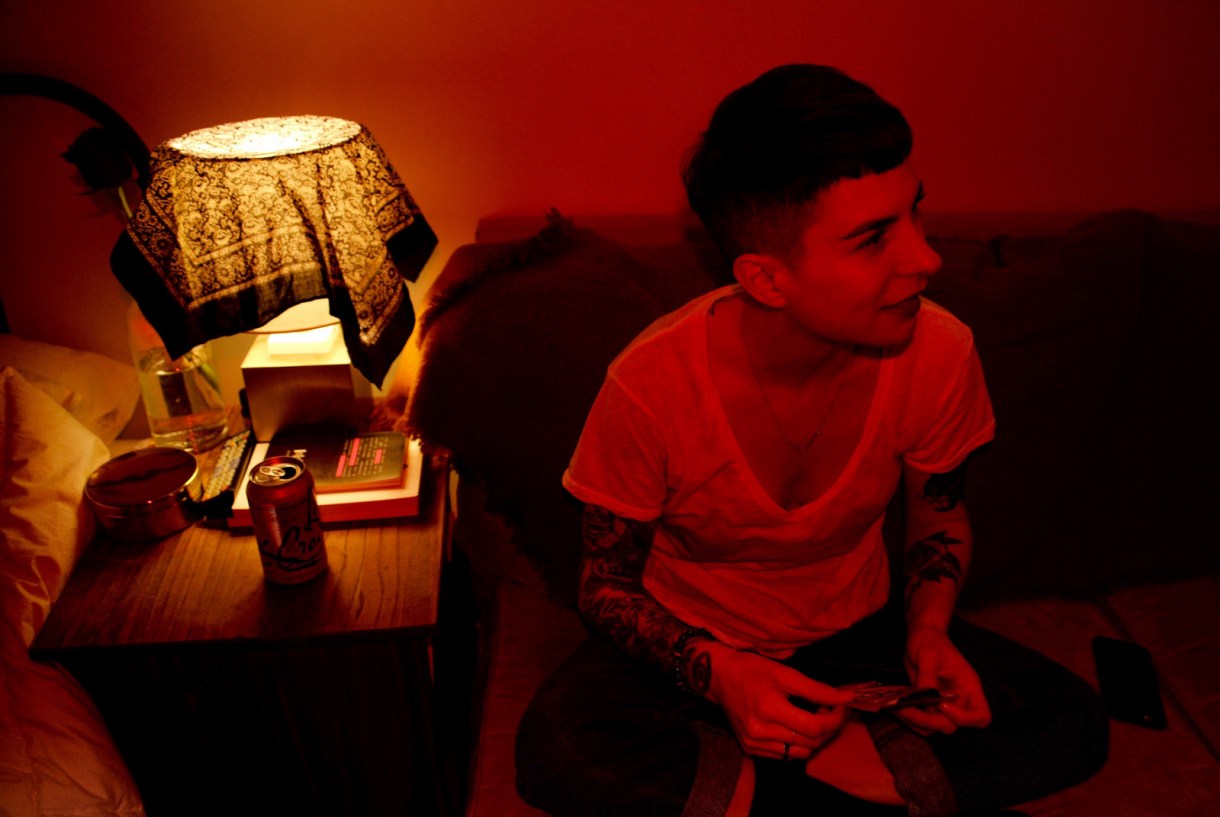 "It is important to me that my bedroom is a completely relaxing space, more than anything else.  As a barber, I work nine or more hours day on my feet, and I am continually "on".  When I get home after a long day, I immediately change into comfy clothes and sit down to catch up with friends, the news, or just zone out (with or without music). My fave space in the room is on my couch!  I am in a studio, so my living room and bedroom are the same space.  When I am on my couch, I know I can let go and chill the xxxx out."
---
Kaylah / 25 / Lexington, KY / Youtuber and Nanny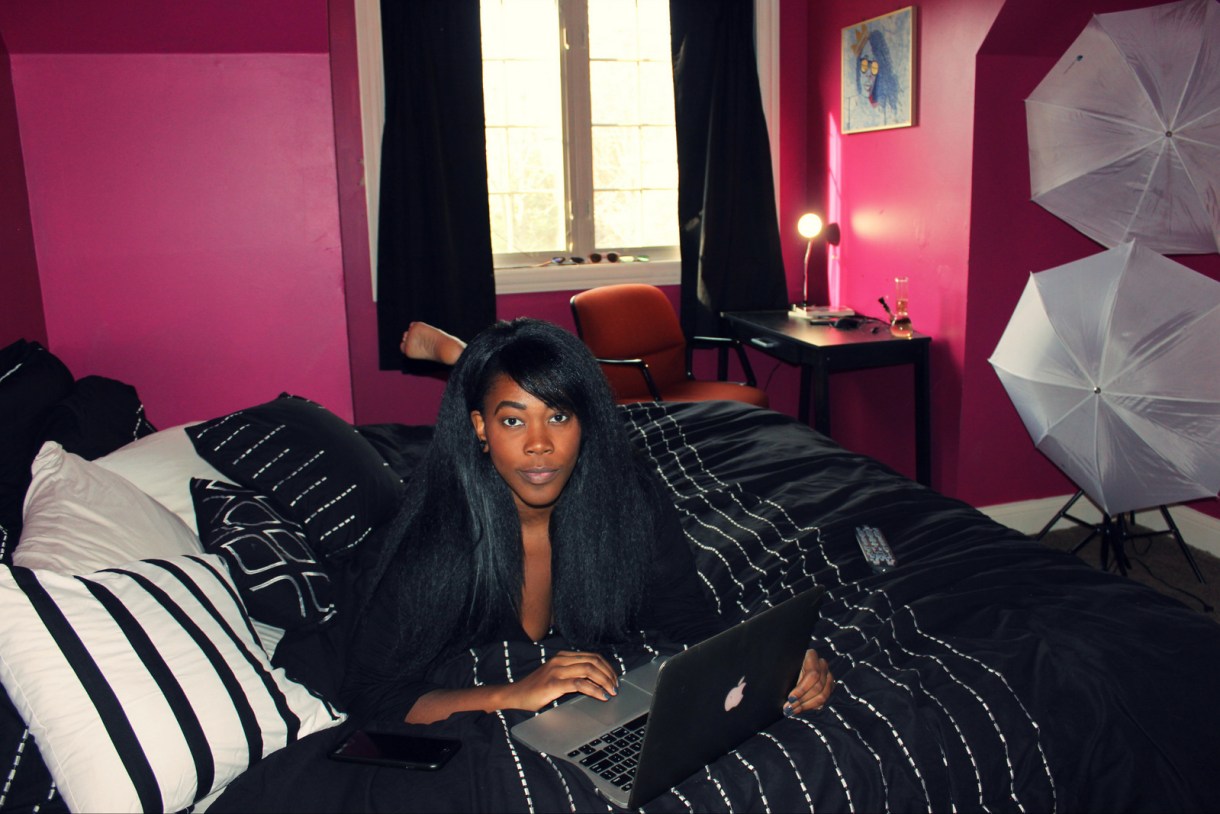 "The first thing on my To Do list after becoming self employed was to set up a work station in my room. I bought a cute little desk that I spent two hours building, and a LED lamp for those late nights of editing. I felt so legit having a desk, and yet I always work from bed. My desk is either covered in things I don't feel like putting away, or completely clear. Oh well… I tried!"
---
Erica / 17 / Boston, MA / Art High School Student
"My room has really become a sacred space to me. It's where I go to recharge and take care of myself, be that yoga knitting, or listening to podcasts. I wouldn't say there is a best part of my room, because I love it all. I made sure to pay special attention to every corner, and it's filled with what I love."
---
Esmé Lloyd-Baldwin / 23 / Dublin, Ireland / Barista, Waitress
"I'm currently sharing my bed with 16 books, which is almost a record for me. I got my duvet set today as a reward for getting a job and I'm very happy with it!"
---
Jenna, Pippa, Cherilyn / 27, 3, 25 / Indianapolis, IN / Videographer; Chief Clothes Stealer and Designer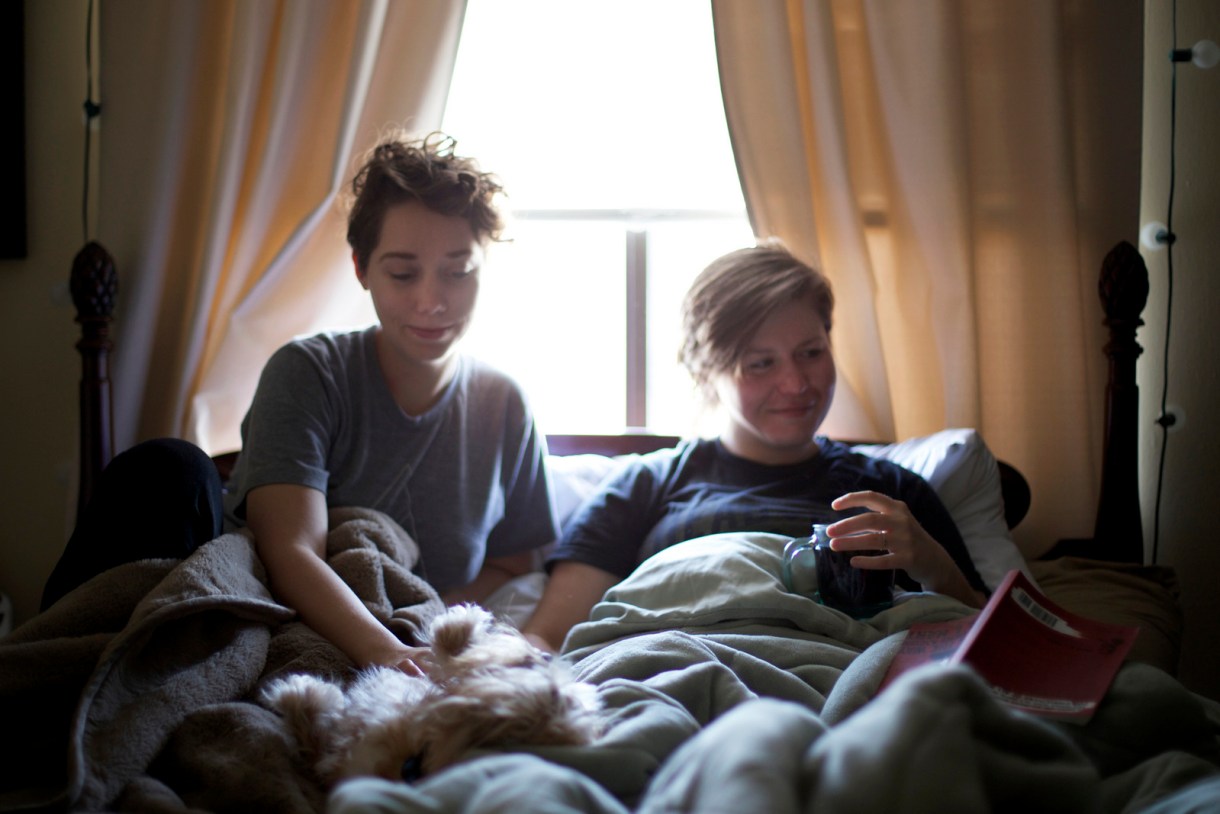 ---
Nate / 24 / Portland, OR / Energy Efficiency Analyst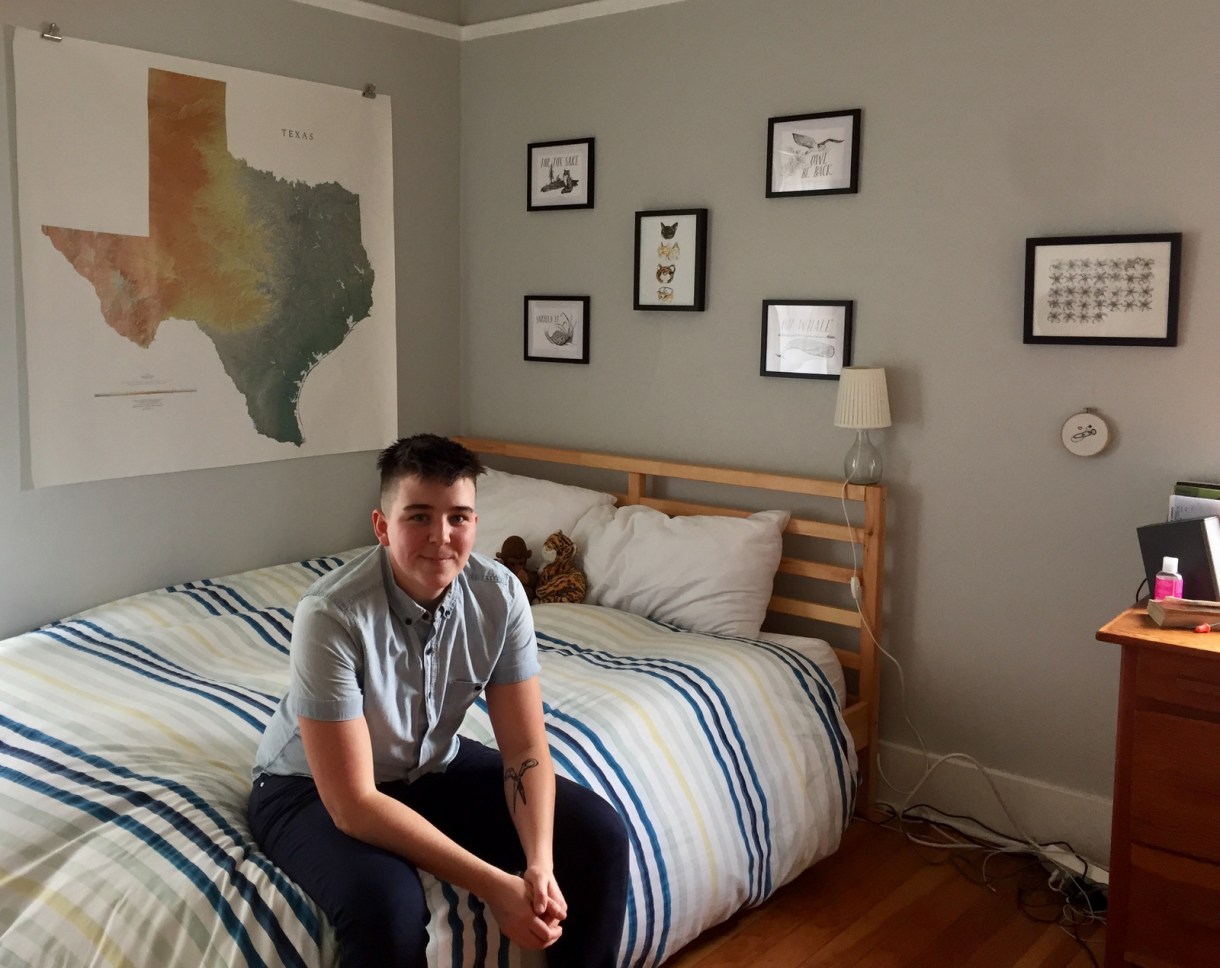 "I lived in my room for a year with nothing but my Texas map on the walls, but this winter I've been nesting and finally getting artwork hung. My favorite piece is the magic wand cross-stitch my partner made me, and its life size counterpart stashed under the bed."
---
Noelle / 19 / Connecticut / Dropout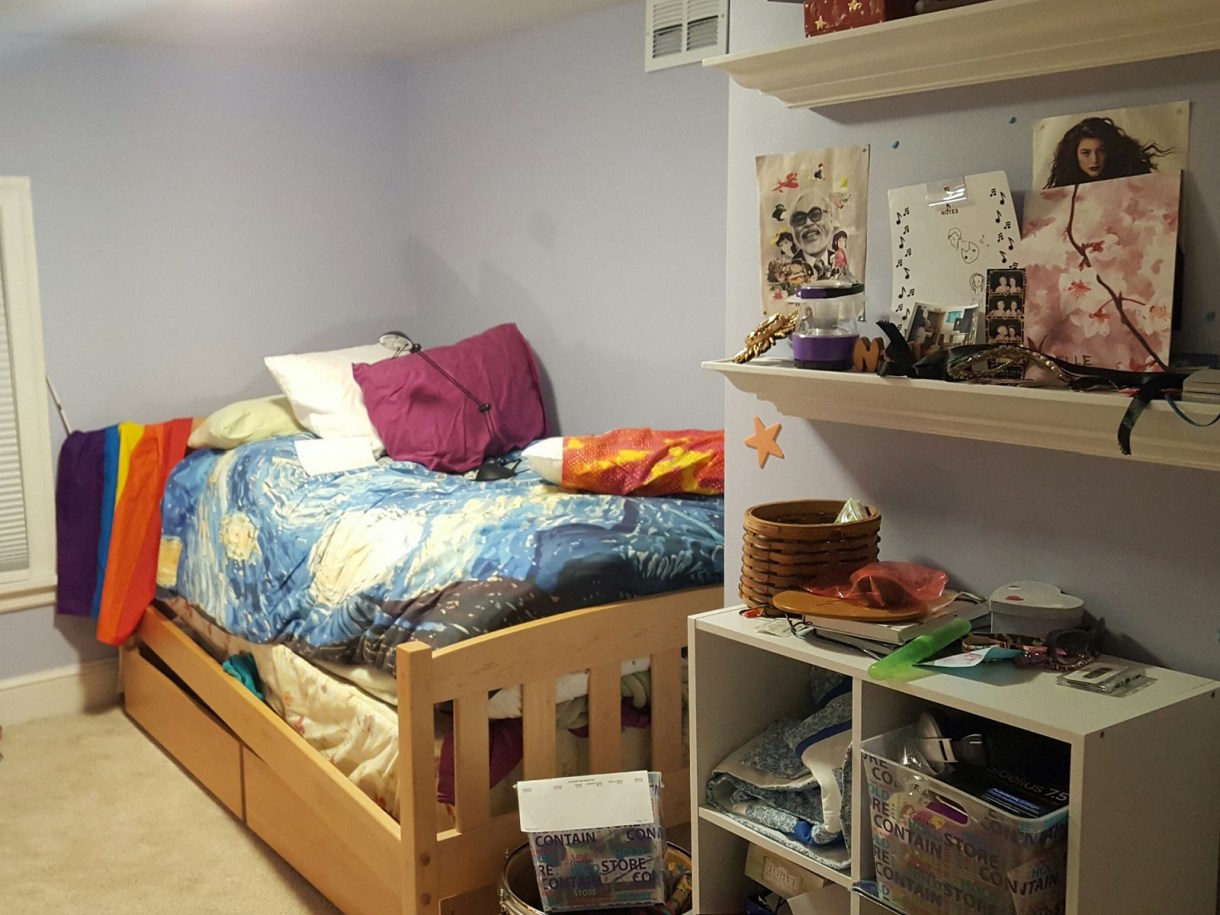 "I don't really feel comfortable letting people in but it's definitely a safe place for me."
---
Audrey / 19 / Des Moines, IA / Student, Daycare Teacher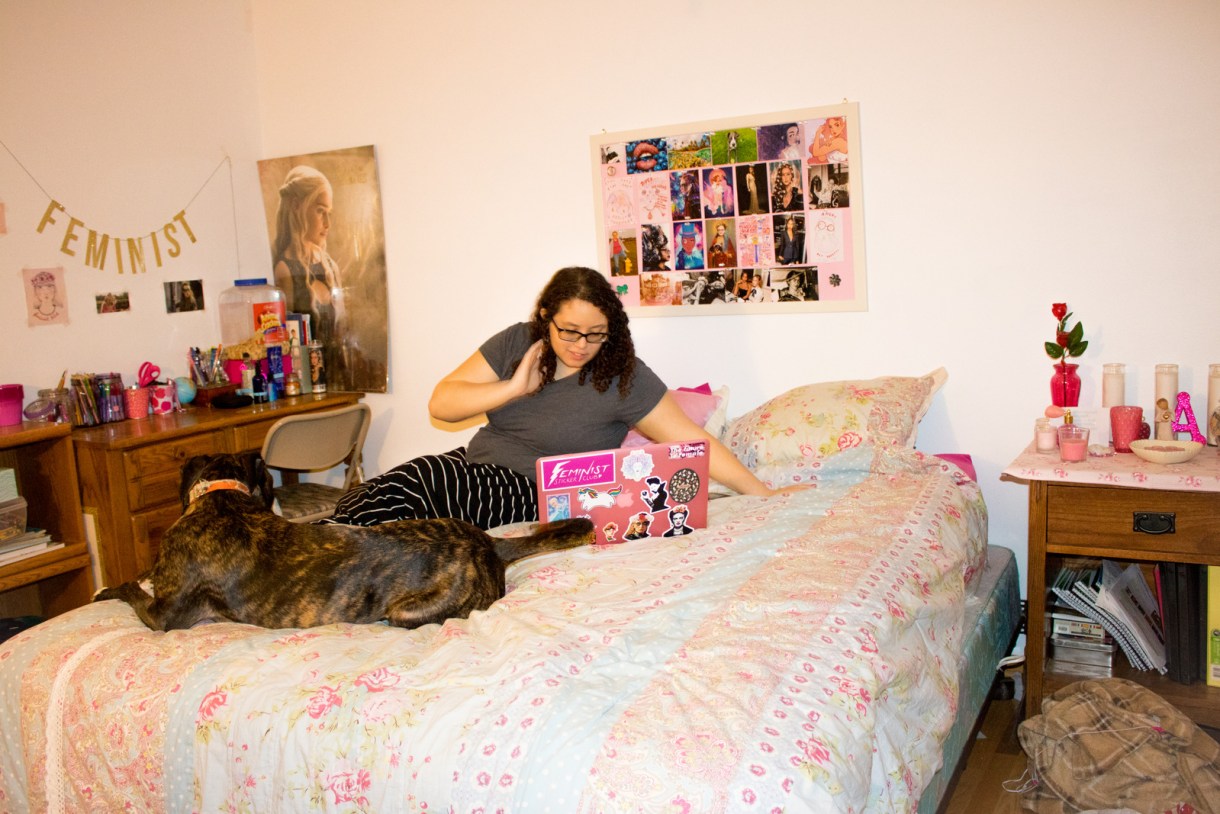 "I have lived in this room for approximately one month and think it is coming along nicely. I wake up in the morning with Addy (my dog) licking me so I take her outside. At night time Addy and I cuddle and watch documentaries until we fall asleep. Some of my favorite things in my room: My Aphrodite altar, umm the bed of course, and my dog Addy."
---
Kells, with MC Sprout / 38 / Tallahassee, FL / Librarian-ISH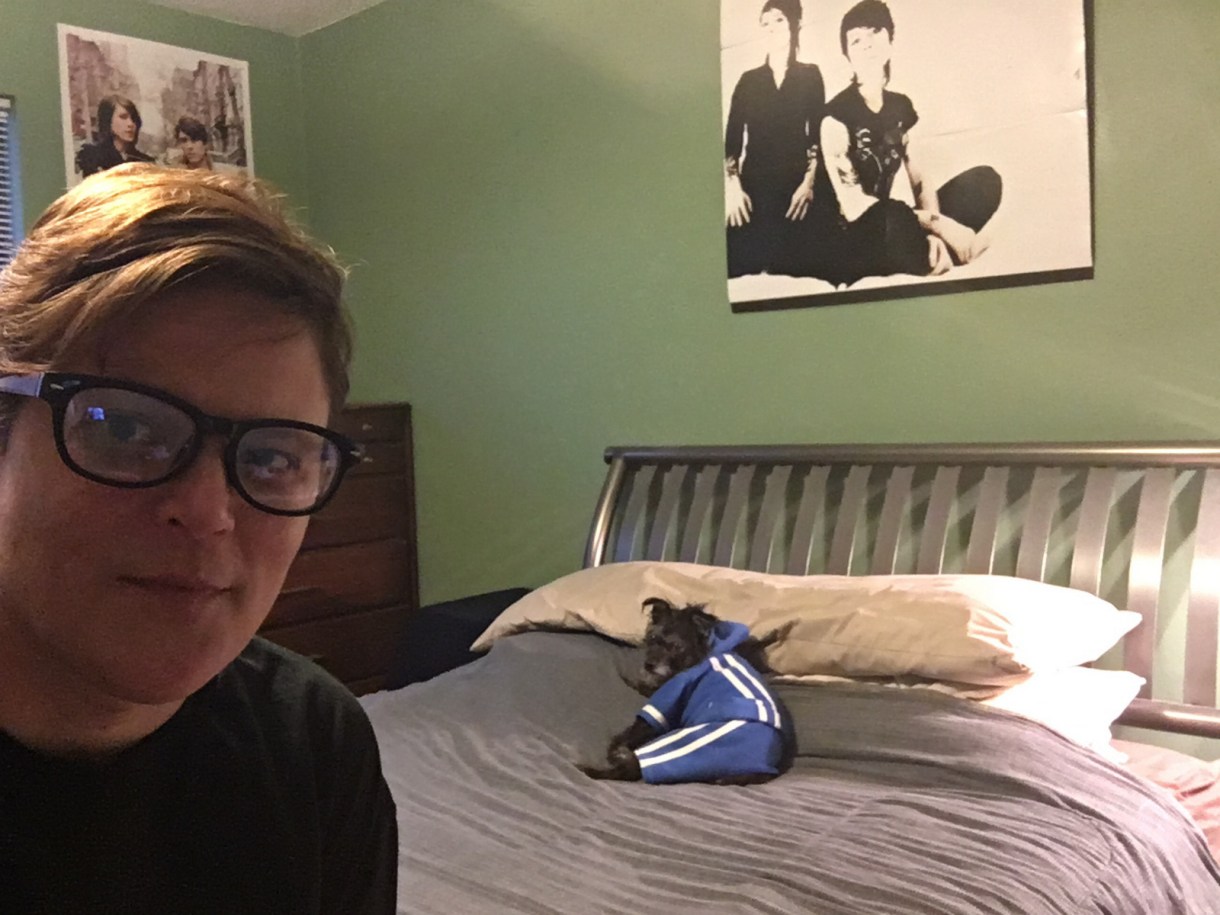 "Since the early 90s, my bedroom has been covered with pin-ups/posters. I've now limited it to mostly toTegan & Sara – they're perfect to listen to, and also relax, read, and sleep with."
---
Before you go!
It takes funding to keep this publication by and for queer women and trans people of all genders running every day. And A+ members keep the majority of our site free for everyone.
Still, 99.9% of our readers are not members.
A+ membership starts at just $4/month.
If you're able to, will you join A+ and keep Autostraddle here and working for everyone?
Join A+