Shelly Simon / 24 / Brooklyn, NY / Freelance Photographer, Drummer (Tiides), Assistant Producer/Editor/Photographer for Homoground Queer Music Podcast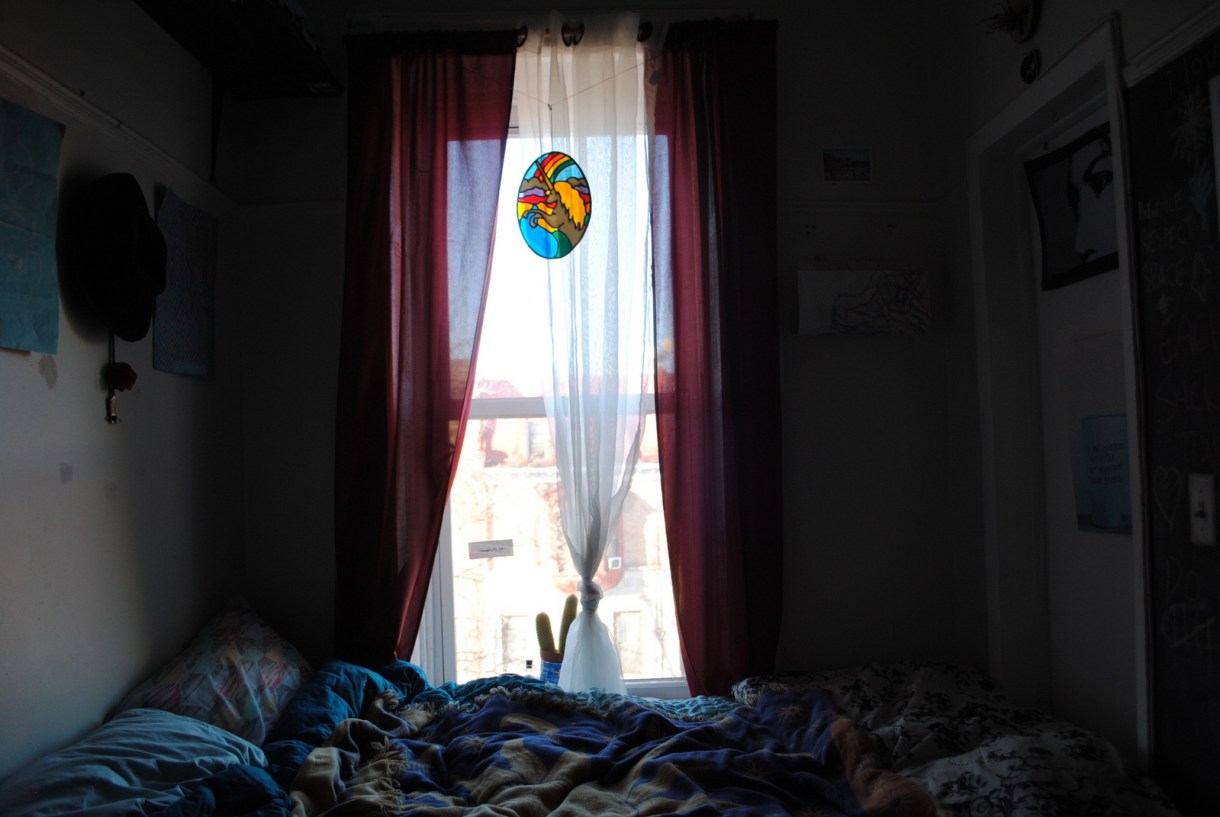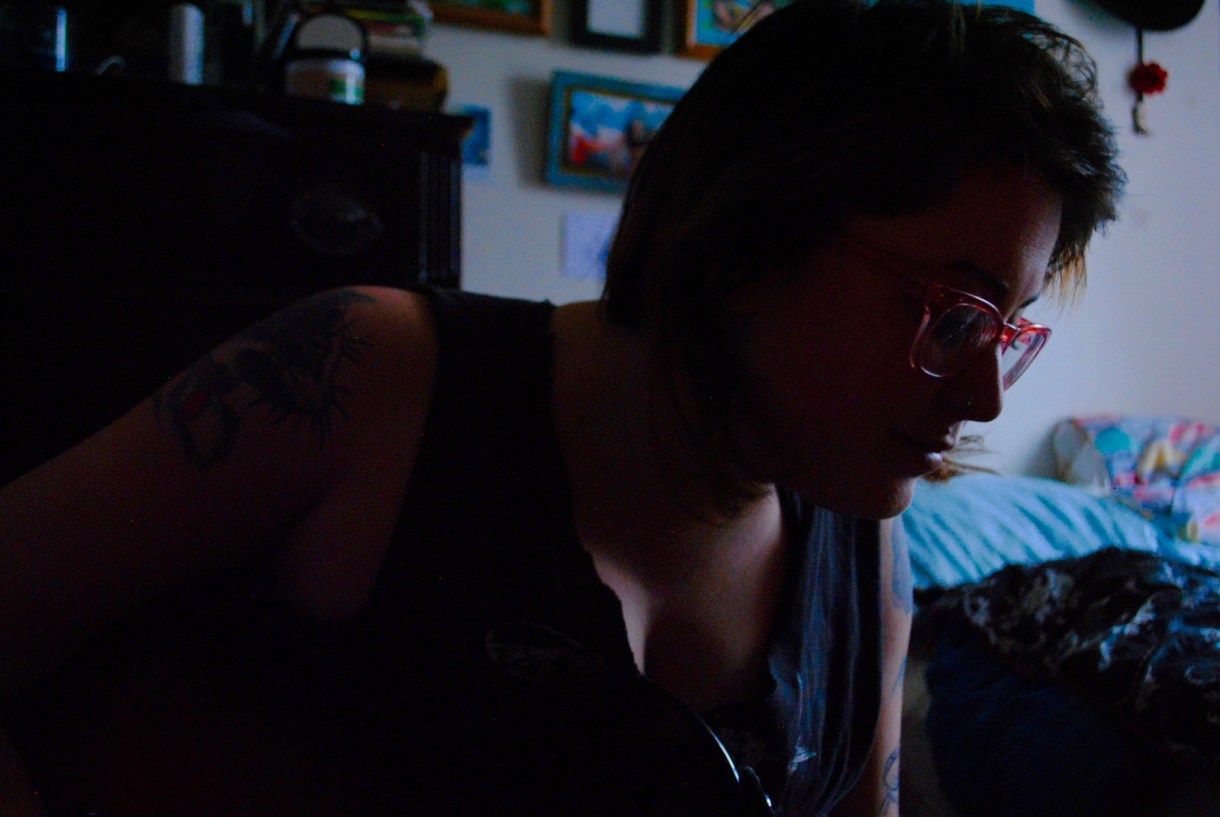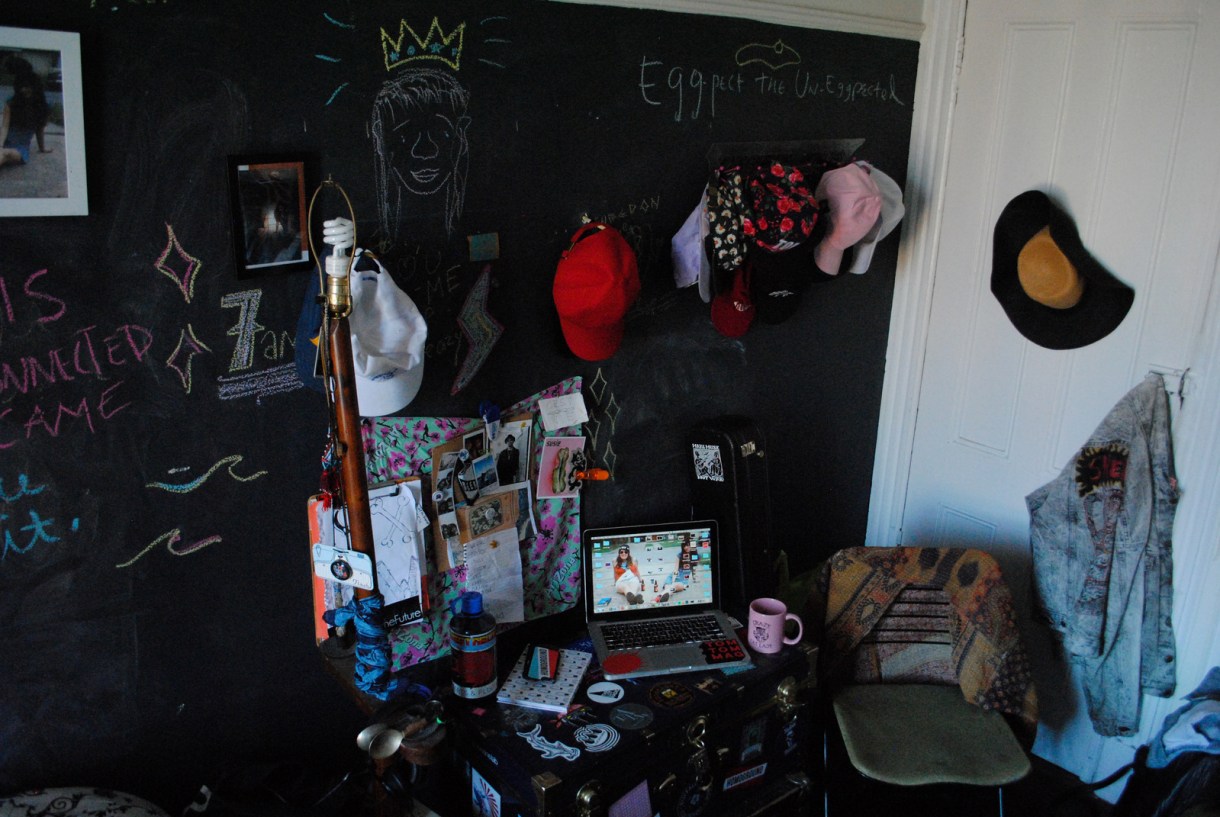 "This special space that I get to occupy is quite the cozy abode. On the top floor of a picaresque brownstone in the heart of Brooklyn, I freak out every morning that I get to wake up next to a window. A commodity in the city, a window in my bedroom is an essential to my happiness. Seeing the sun, snow and skies from the comfort of my bed is a huge plus to such a small room. That being said, I am rarely home. It's a metaphor really, since I'm always out in the world – either out at a show, running around the city catching shots of fellow creatives at their events, rehearsing with the band (Tiides) or traveling, it's a cozy cave to return to after long nights romping through New York City.
I currently use two sticker covered trunks as my "desk" – a continuous metaphor since I can easily move them to set up my electric drum kit (when it's snowing and 20 degrees outside and you can't make it to band practice!)  I set up my laptop on these desks, drink copious amounts of coffee and edit photos, post events and photos to the Homoground website, and plot my next travels. With my chalkboard wall I am able to jot down thoughts, doodles and mantras that keep me going – and have friends leave their thoughts as well."
---
Scott S / 25 / Toronto, Canada / Student, Researcher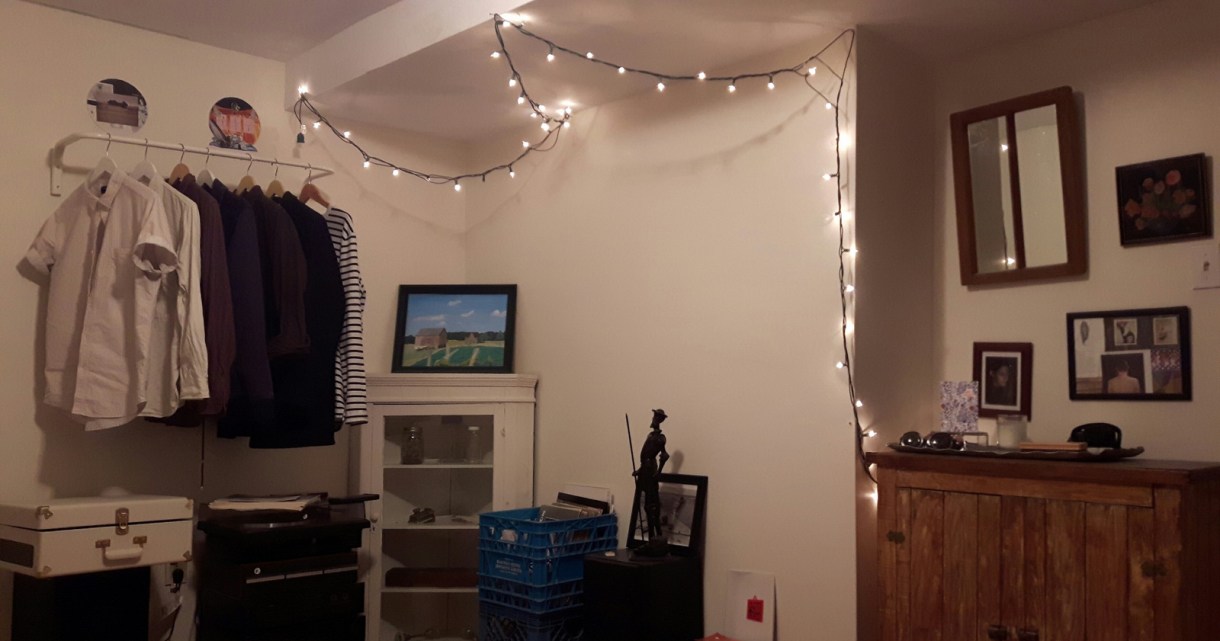 "I love how calming my room is. I know at the end of the day I can come home to decompress in a space that feels healing and that mutes how hostile the outside world can be."
---
Sadie and Bri / 25, 22 / Raleigh, NC / Grad Student; Party Princess, Student, Storyboard Artist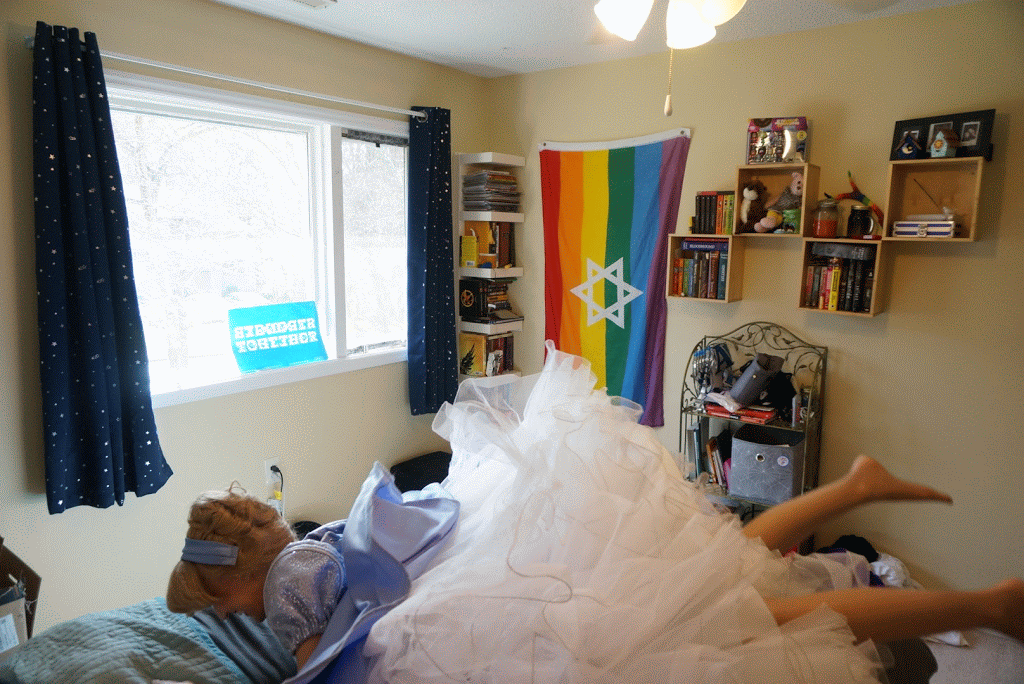 "Bri loves that our room is full of lots of queer books and comic books and Sadie agrees. The best non-readable items in the room include the bed and our two onesies. Oh. And each other."
---
Megan / 26 / Portland, OR / Product Owner at Ecova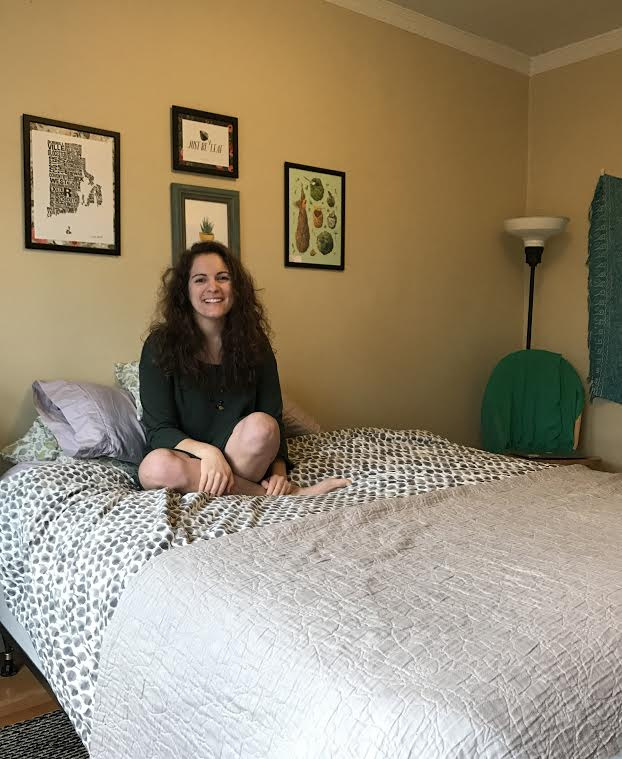 "My favorite thing in here are the windows — not shown but giving off a lot of the great light — and opening them at night, laying under the covers, reading by myself or with a partner. First thought when I wake up if the windows and shades are closed is that it's way to dark and early to really have to get up."
---
Oaklin / 19 / Maine / Student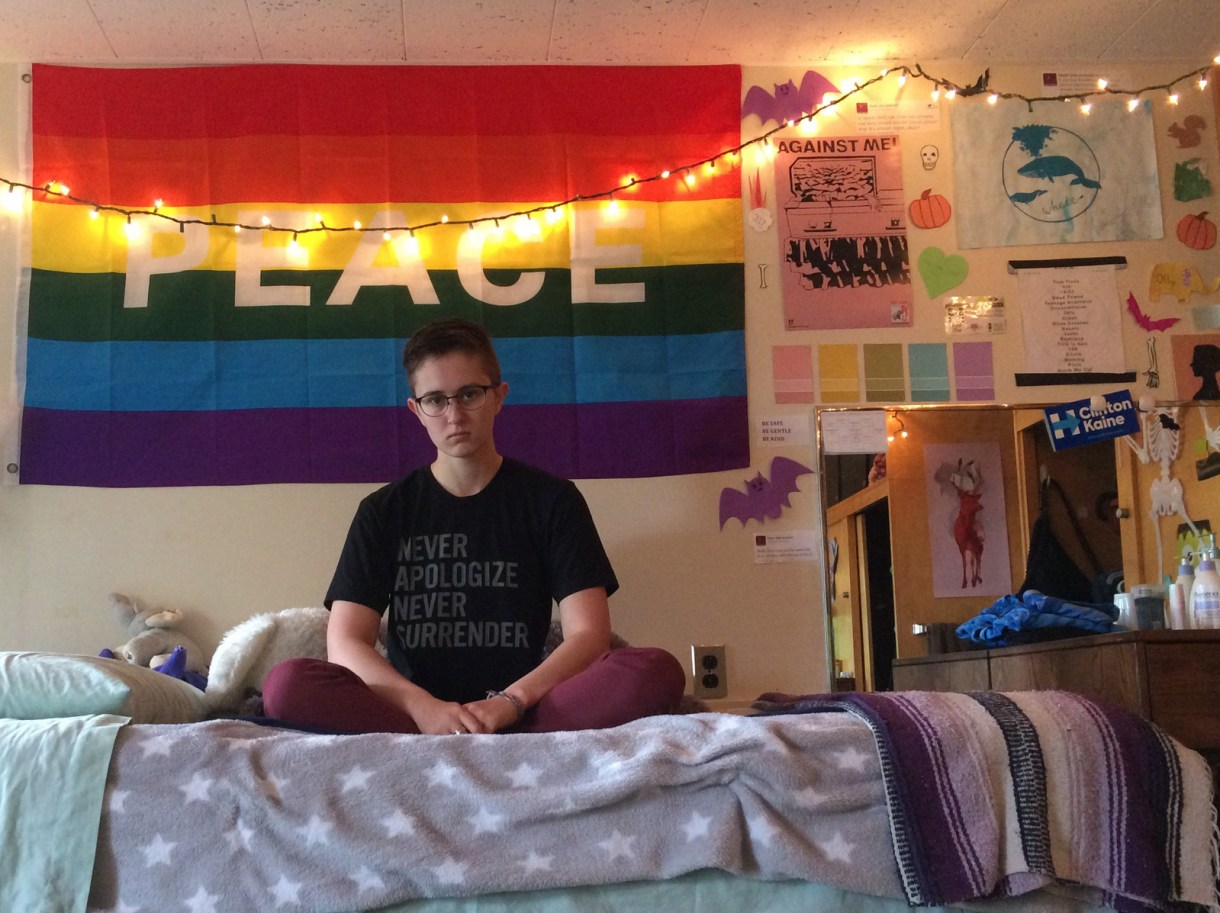 "I'm always in my room and it's become a safe space but also a very social one. My friends and roommate make the room warm and light and very very gay. From my pride flag to my star-covered blanket to the art on my walls, everything in my room describes who I am and my passions."
---
Amelia / 21 / Grand Rapids, MI / Illustration Student, Freelance Artist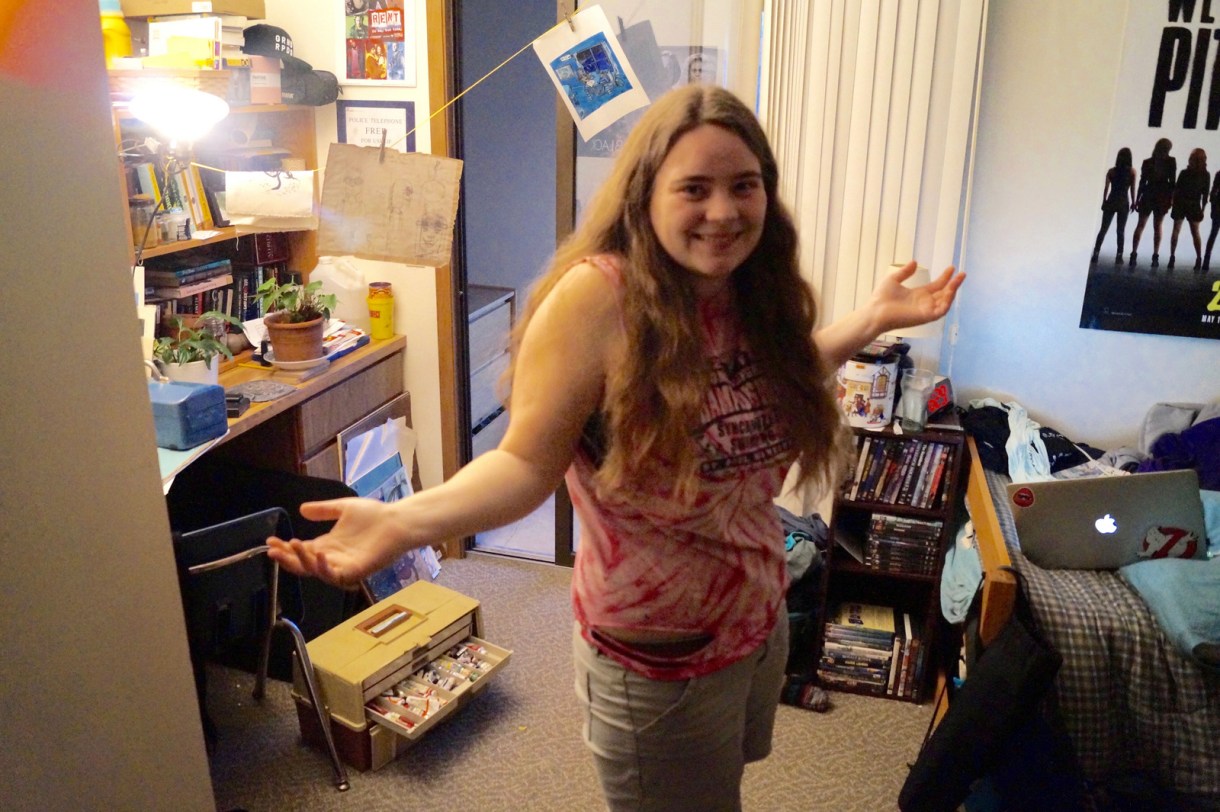 "My favorite thing about this room is the door that goes to the balcony. Without it, it would be a really dark room."
---
Kayla / 19 / Swarthmore, PA / Student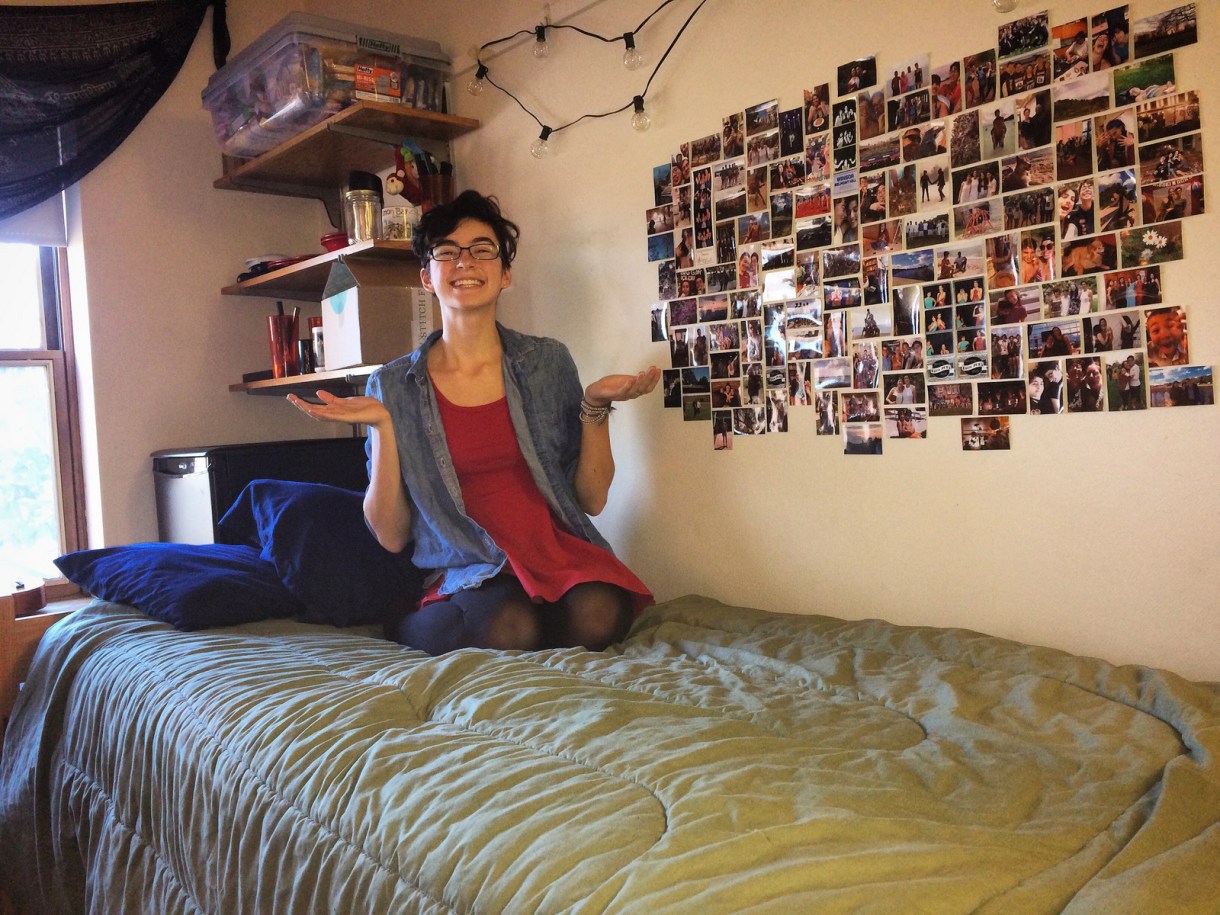 "Happy college student loves her dorm and her bed and her collage of beautiful people."
---
Lara / 25 / Melbourne / Law Student, Legal Transcriptionist, Semi-Regular Autostraddle Commenter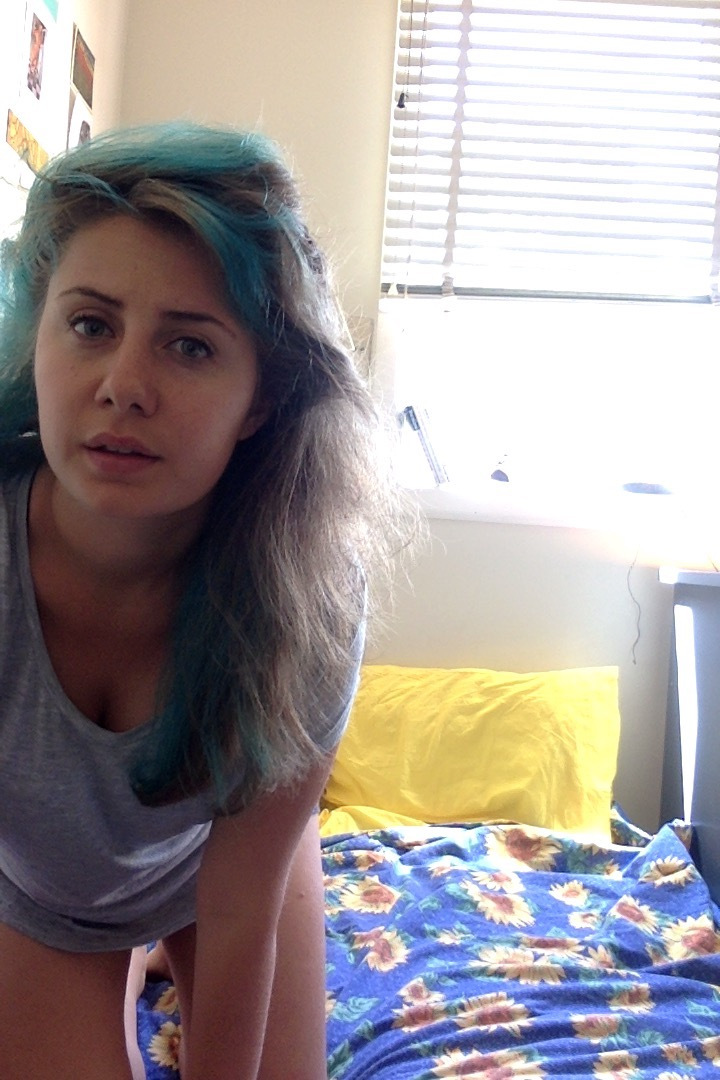 "The black horizontal smudge on my windowsill is my radio alarm clock and I love it very much. It's the only possession I've brought with me to every city I've ever lived in as an adult – it gives a comforting mundanity to the new and anonymous spaces I keep moving myself into."
---
Eli, Aurora, Spring / 33, 31, 4 / Infant, Toddler, and Preschool Educator; Witch, Artist, Wildcrafter, Chef, Dog Trainer; Cheerleader, Runner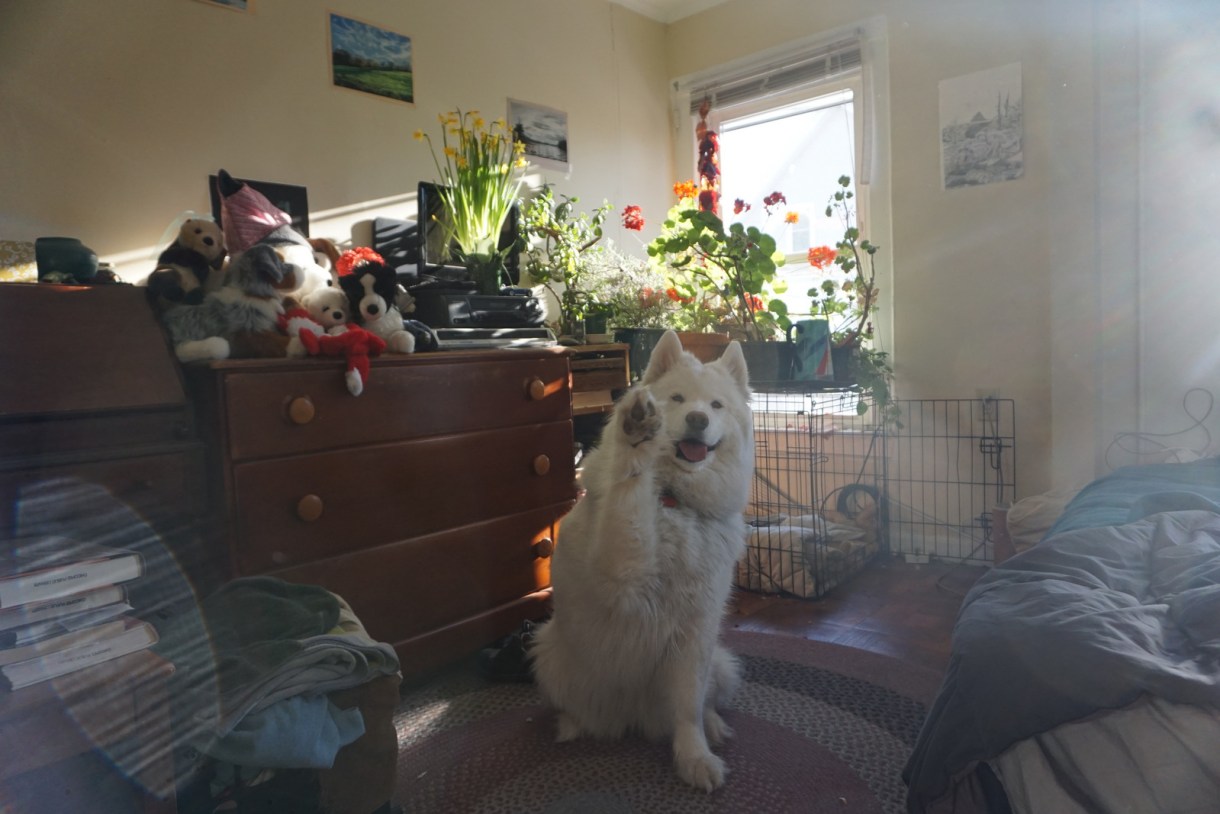 "My favorite things about our bedroom are all the pictures that Aurora drew and painted, and how sunlight through the window makes our leaves and flowers glow."
---
Abby, Alison / 31, 35 / Missouri / Pharmacy Tech; Early Childhood Professional, Administrative Assistant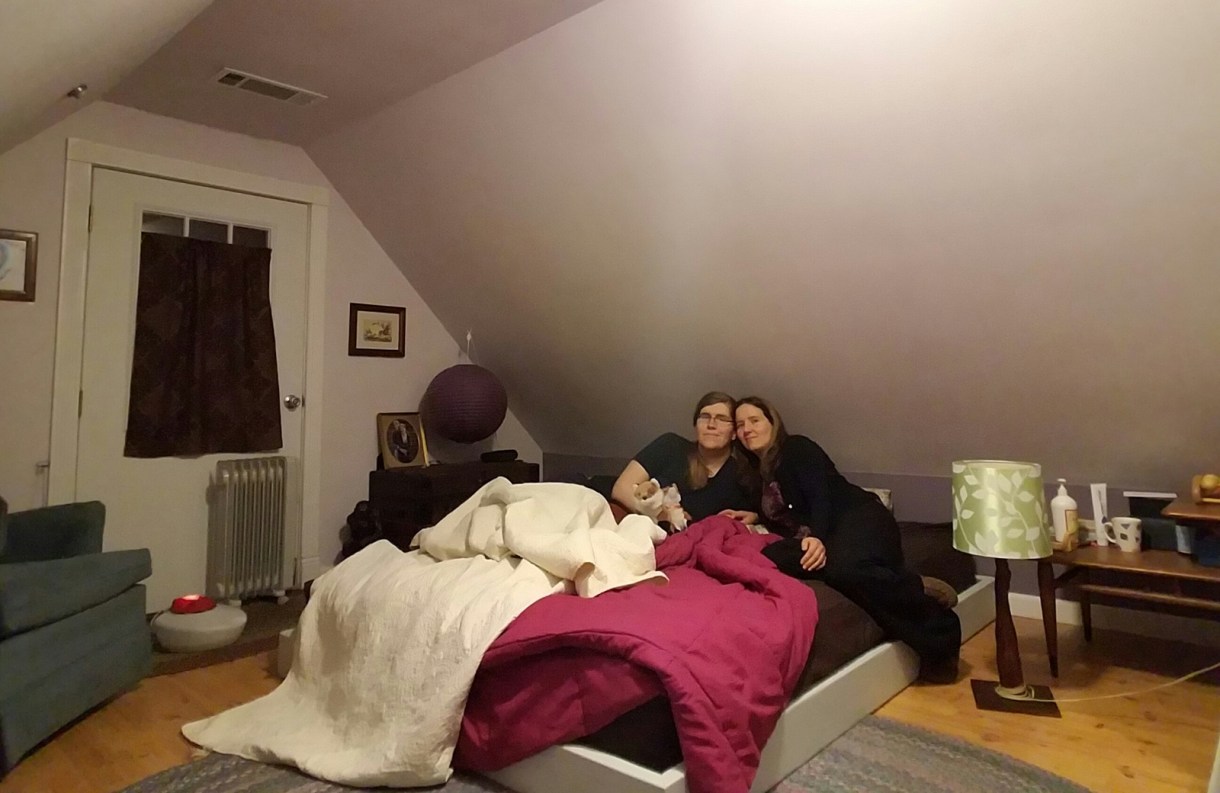 "Abby loves her cuddly foxes, and Alison loves having a lamp, chest, table, shelf, quilts, and more that were passed down from her grandparents and a special old lady friend."
---
Gaëlle / 42 / Vancouver Canada / Fancy Bedding Store Manager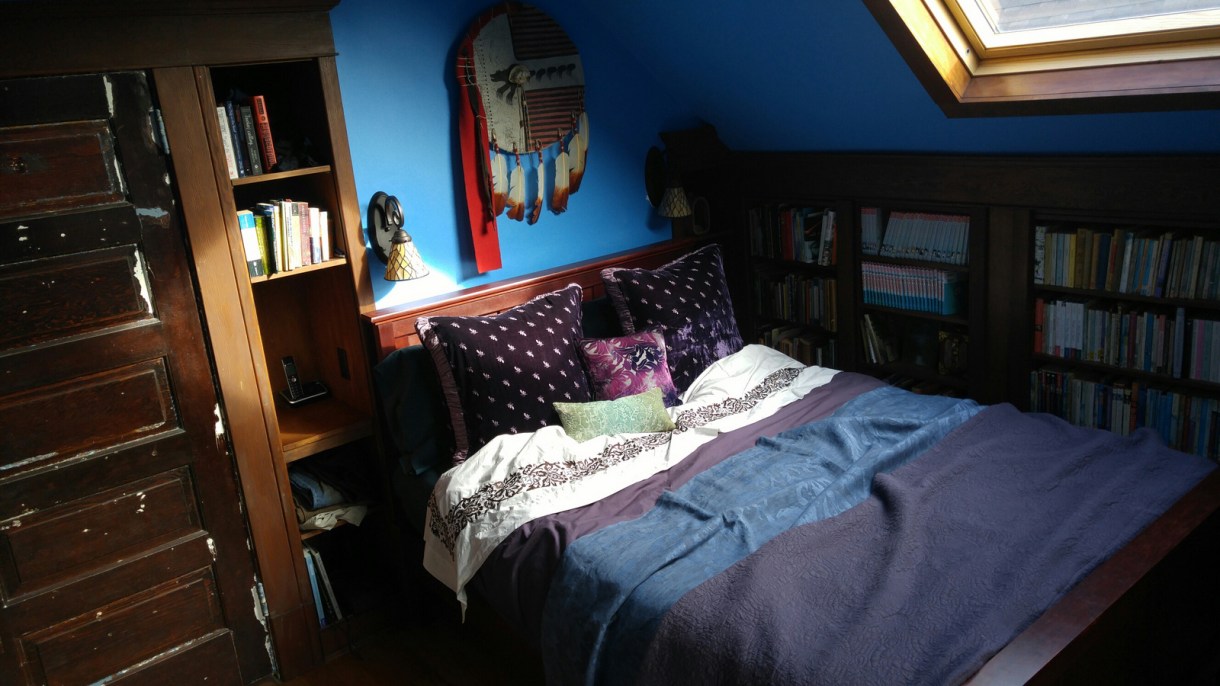 "My bed feels like it's a library balancing in the tree tops. The bookcases are also secret doors, and I can see the moon and stars through the generous skylight. My idea of a perfect bedroom hasn't really changed since childhood!"
---
Rachel / 35 / Massachusetts / Grad Student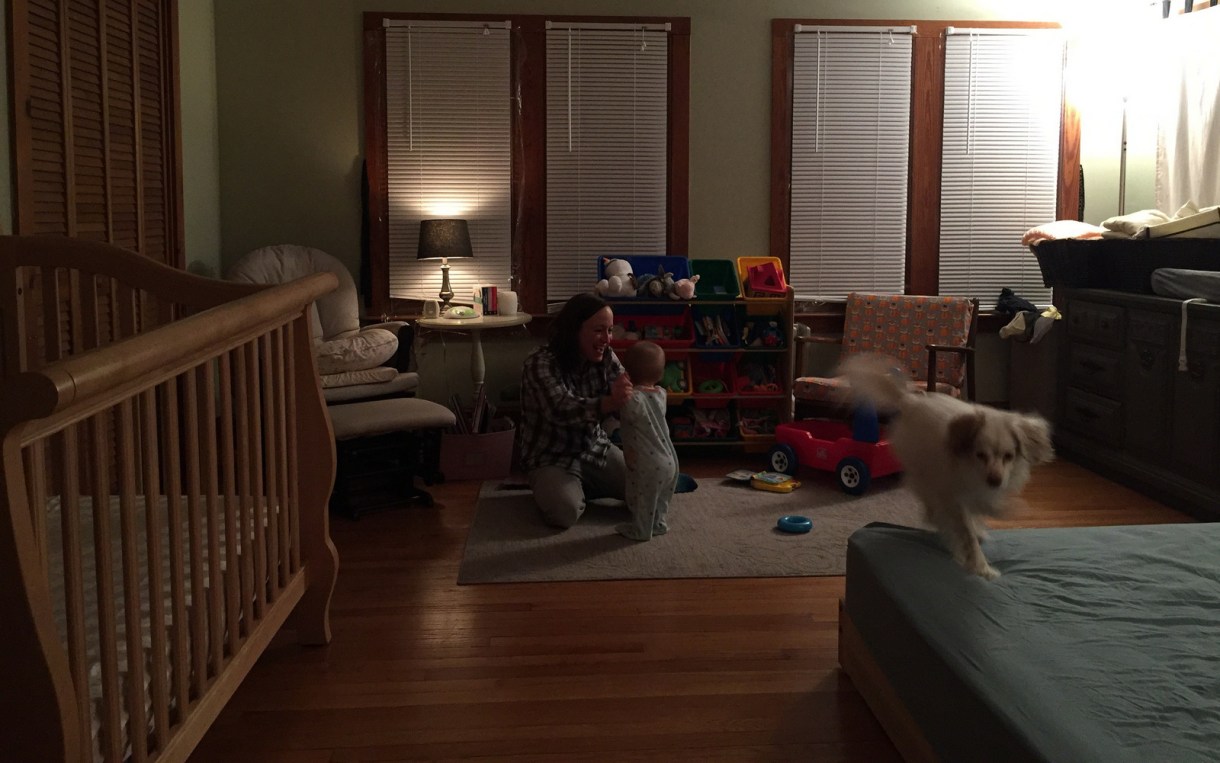 "She slept in my bed with me, then the crib. I'm moving my bed out this week. She gets to keep the big bedroom."
---
Alaina / 25 / Austin, TX / Staff Writer, Grad Student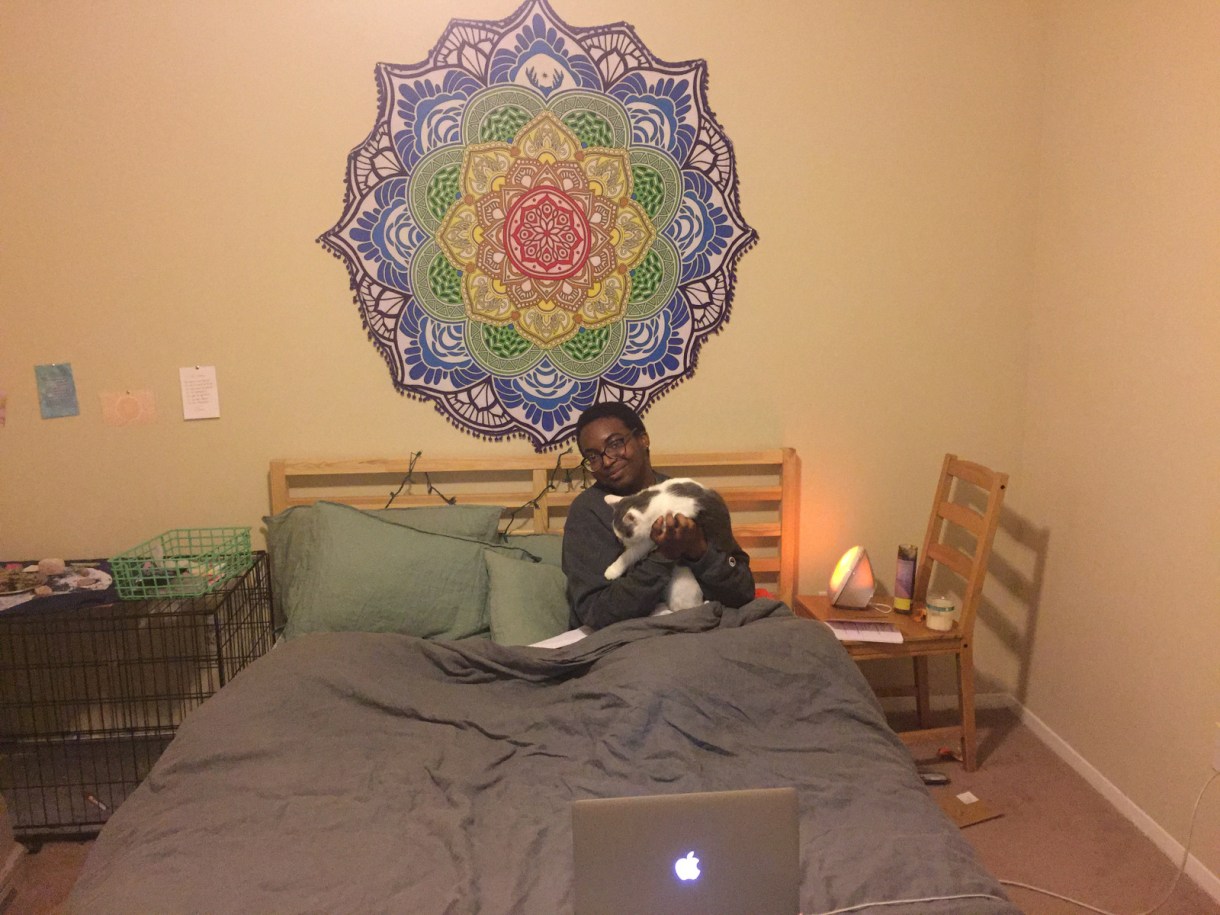 "My room is a good room. It's got a lamp to mimic the sun because I wake up in the dark. I included this cat because he is the first face I see each morning in this very bed. He is usually yelling."
---
Caylene / 17 / British Columbia / Student
"My room serves as a haven, my own little pocket of queerness, complete with Netflix, flannel and cats."
---
Serina / 31 / Portland, OR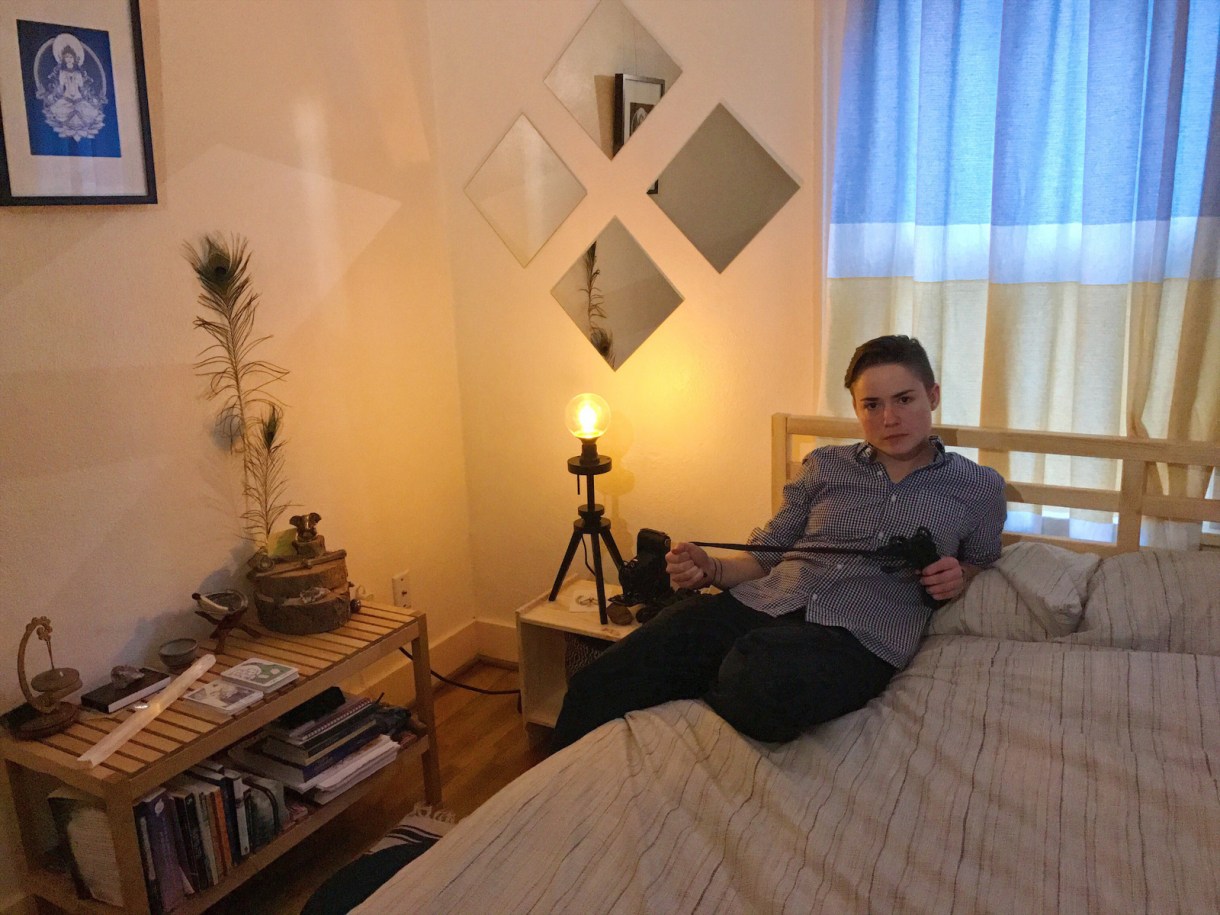 "Last thing I think before going to bed, "UH! That was so amazing!" The first thing I think about when I wake up, "YAY! Let's cuddle!"
---
H West / 35 / Toronto, Ontario / Guest Services Rep

"My room is tiny, which is fortunate because I am too. It's recently got a facelift with some paint and a wall of trees (I'm no hiking dyke but I can bring the out of doors indoors.) the first thing I think about as I'm roused from slumber is which Dolly Parton track will I play as I have my cup of ambition."
---
Queer Girl and Cyrus / 33 / Northern California / Day-Job Worker, Comment Awarder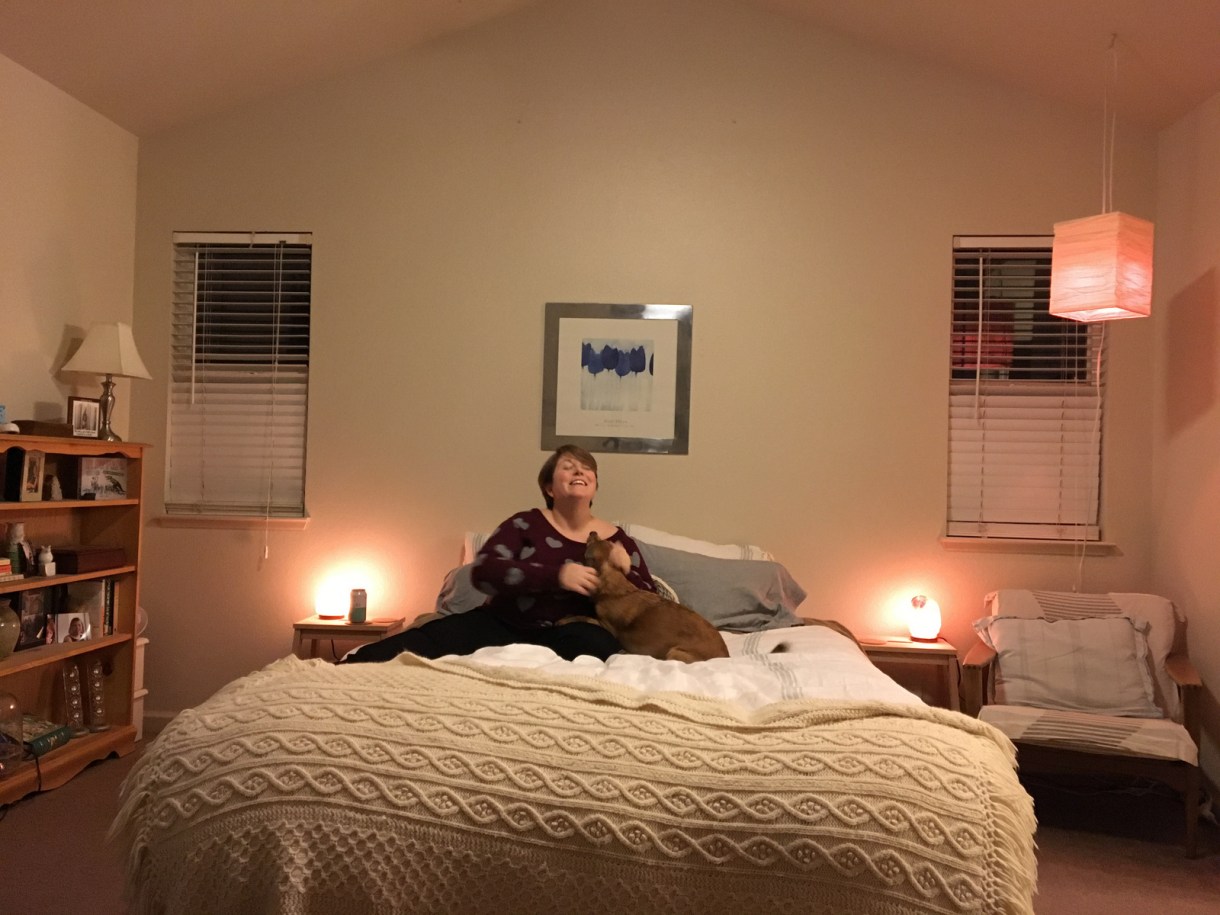 "Cyrus was really excited about doing this shoot. It was very hard to get a pic where it didn't look like he was frenching me."
---
Emily and Dolly / 25, 30 / Philadelphia, PA / Placement Manager; Writer, Program Coordinator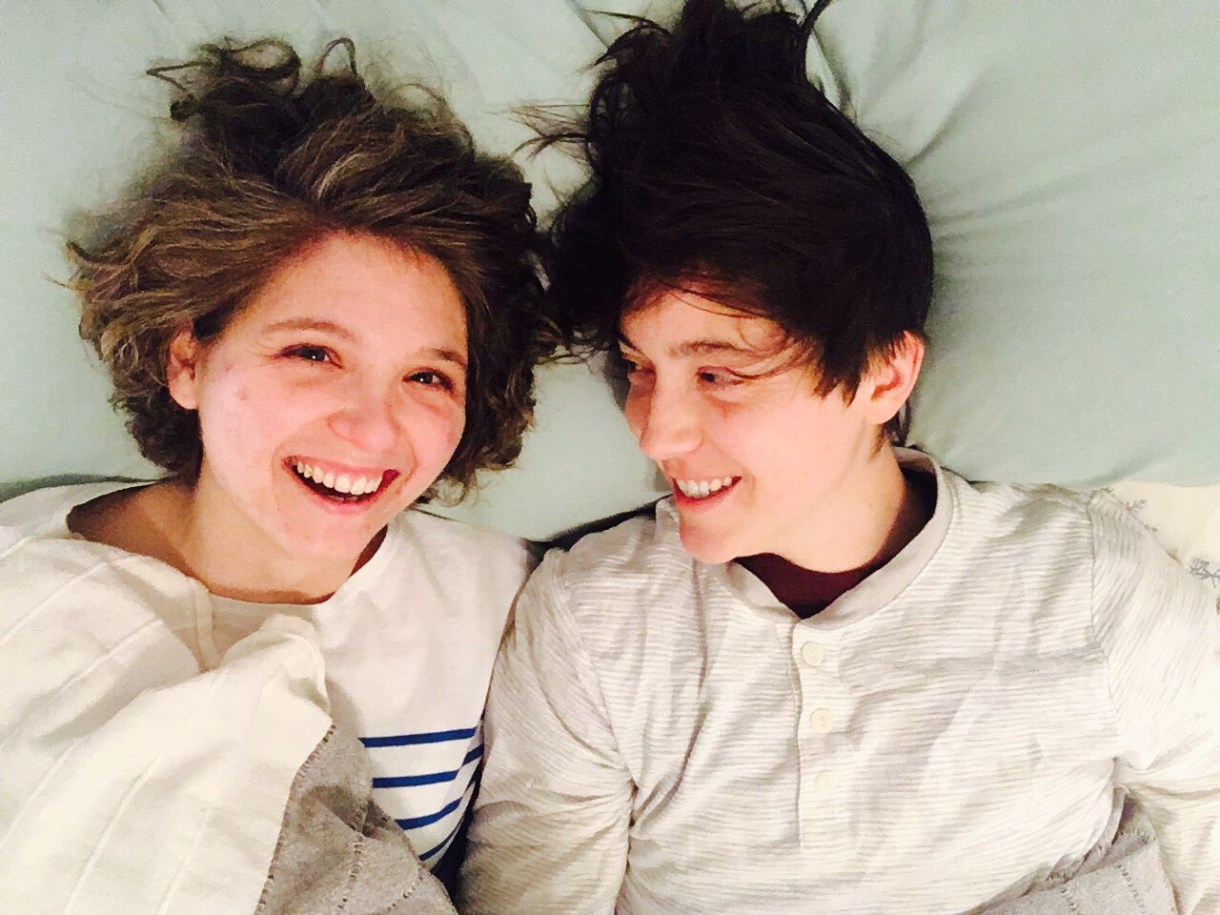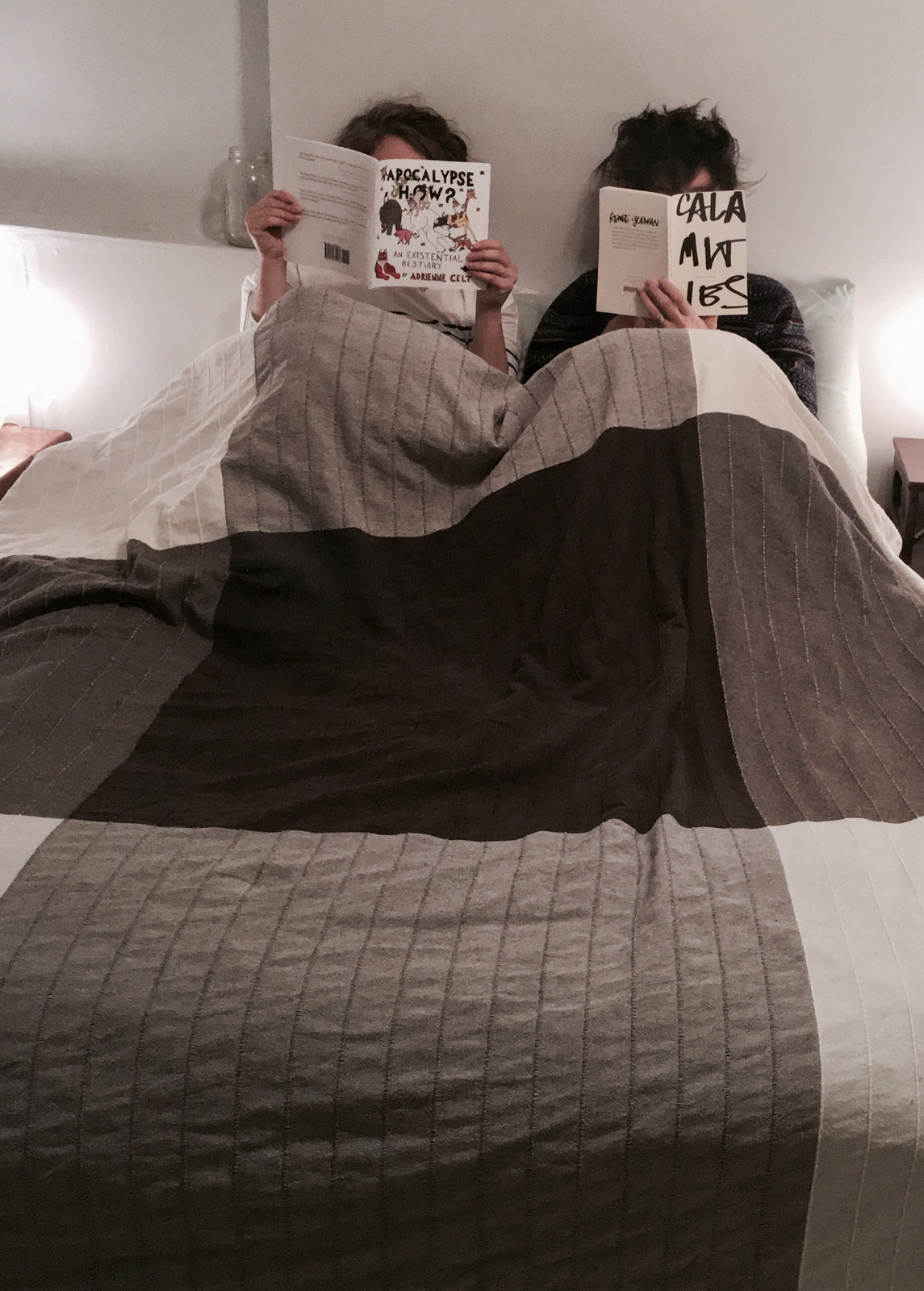 "Being in bed (for whatever reason) is a fun and cheap form of recreation. Among other things, we spend our time in bed reading, laughing, and planning for the apocalypse."
---
Michelle Osgood / 28 / Vancouver, BC / Writer
"I am living alone for the first time this year and I've really enjoyed being able to transform my tiny bachelor apartment into a writer's den!  I love the view from my bed which (not pictured) is of my desk and three overstuffed bookshelves."
---
Valerie Burnside / 35 / Denver, CO / Bread Baker, Artist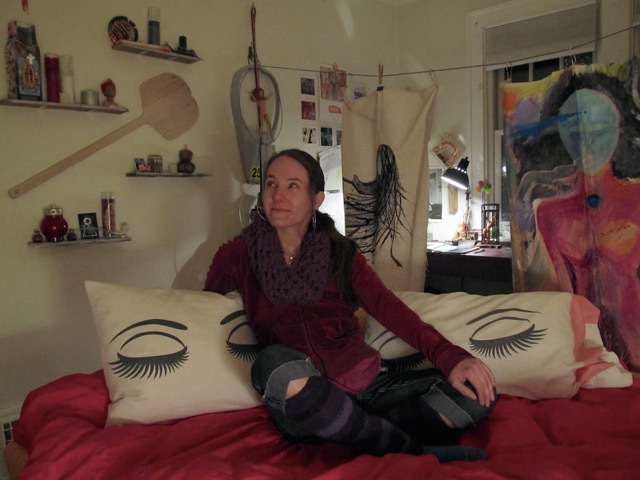 "One great thing about being an adult is building myself the room I always wanted as a kid; complete with a moveable canvas wall I paint on. Seriously please, no one show this to my landlord!"
---
Paige and Laura / 25, 29 / North Charleston, SC / Nursing Student; Continuing Education Coordinator for Mental Health Providers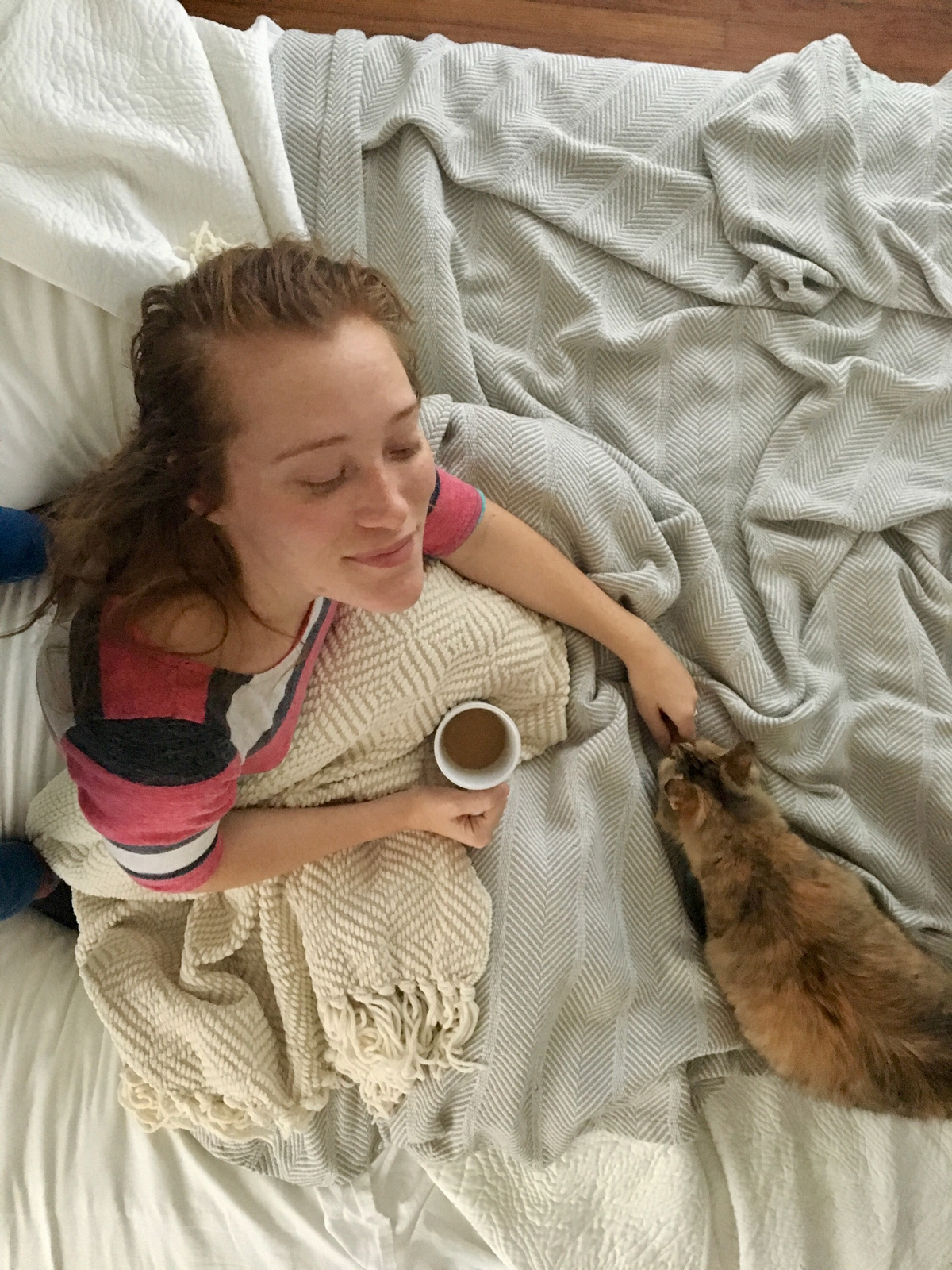 "Laura: Our bedroom is probably the most serene room of the house. The light is amazing and it's surrounded by azalea bushes that are about to bloom. We like to lounge in bed as often as possible and talk about what we dreamed about the night before.
Paige: After dating long distance, I've never been more comfortable than in this bedroom, in the same state, full of our love."
---
Kayla, Billie the Puppy, Zora the Cat / 24 / Detroit, MI / Criminal Defense Investigator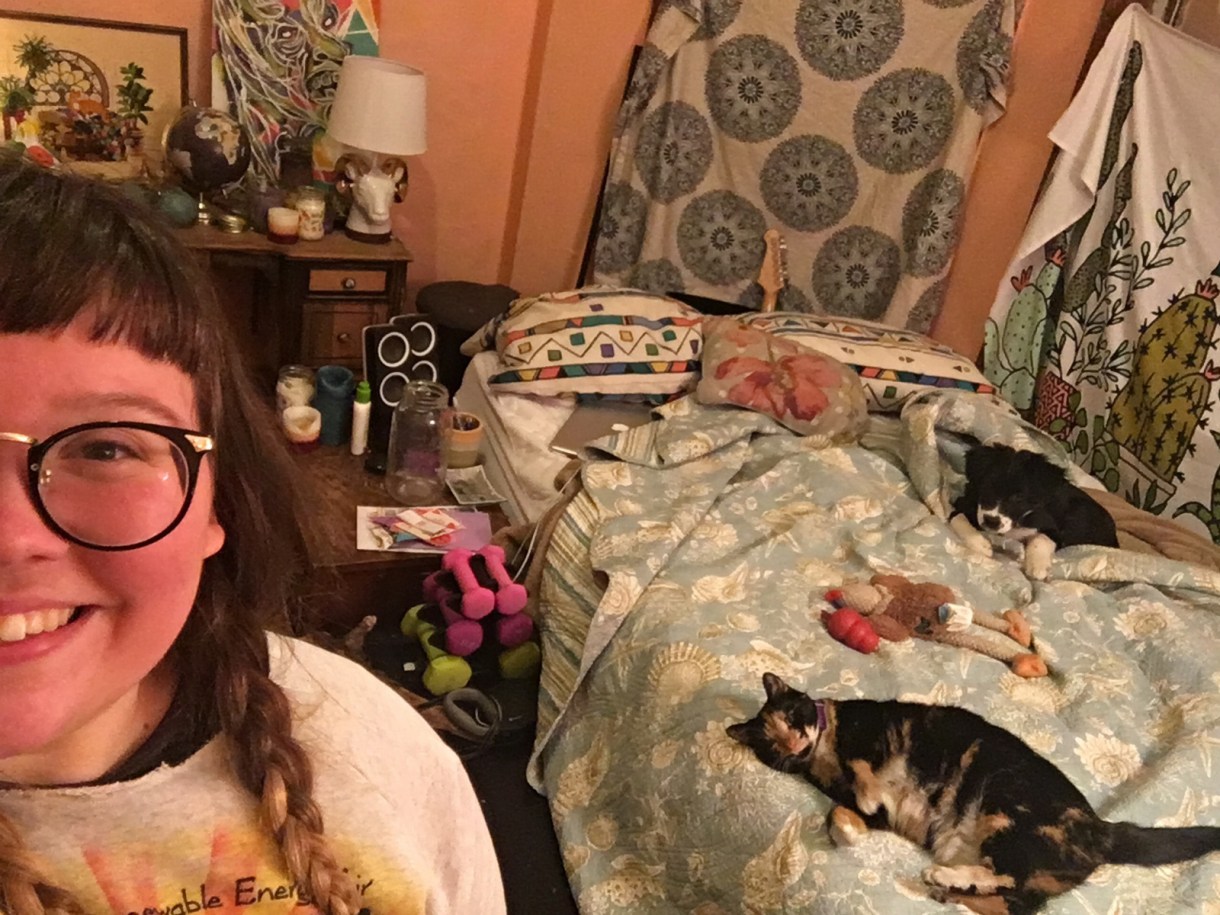 "My electric sheet brings all the critters to the yard."
---
Avery Rose / 25 / Detroit, MI / Painter, Studio Assistant, Fiber Artist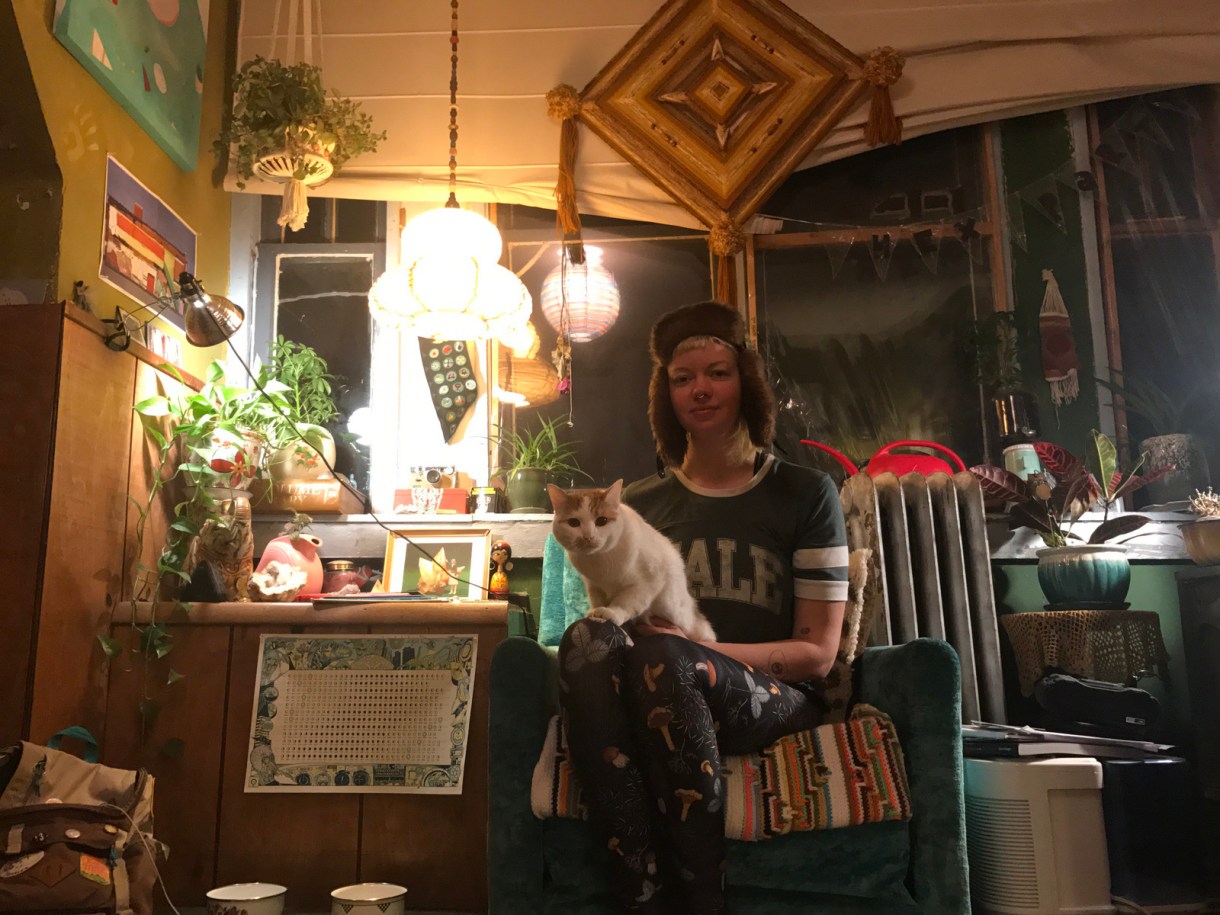 "In my room I feel like my heart is giving my brain a hug. I am unified and inspired. Anything is possible."
---
Ari and Shea / 19 / Boston, MA / Student at Simmons College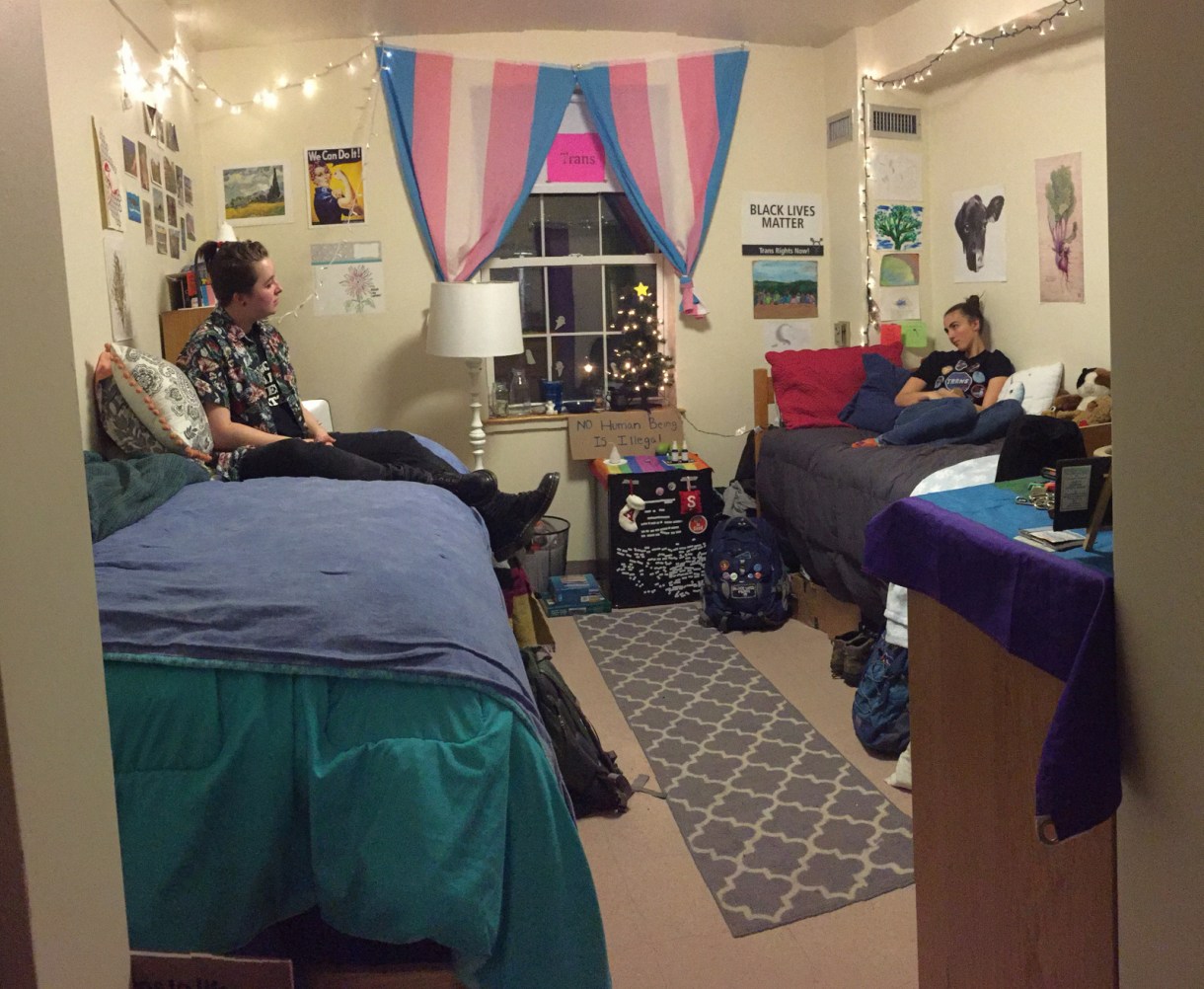 "Ari: This room is one of my favorite places on the planet, this shared space with my best friend is one of the most welcoming and happy places i can imagine! My favorite space in the room is under the many blankets on my bed, or our window which is decorated in two trans flags which serve as curtains We pride ourselves with making this room very very queer!!
Shea: I love my room. It is so beautifully trans and so beautifully queer—just like me. It feels so natural to share this space with my best friend. I was calling this room home the day I moved in, thats pretty good for an 8×12 ft box. Before I fall asleep, I'm usually thinking one of three things: "Shit, I should have peed," "Shit, I should've done so much more work," or "Fuck Yes…" Upon waking, I'm thinking, "I am at home here. Wrapped in my partner, wrapped in blankets, loved." My favorite spot is my dresser, where we've draped a gay flag and where Ari and I put all of our fidget toys, relaxation things, and cacti. We call it "Anxiety Central." Its a beautiful thing, sadly not pictured."
---
Hanna / 18 / Elgin, OK / Student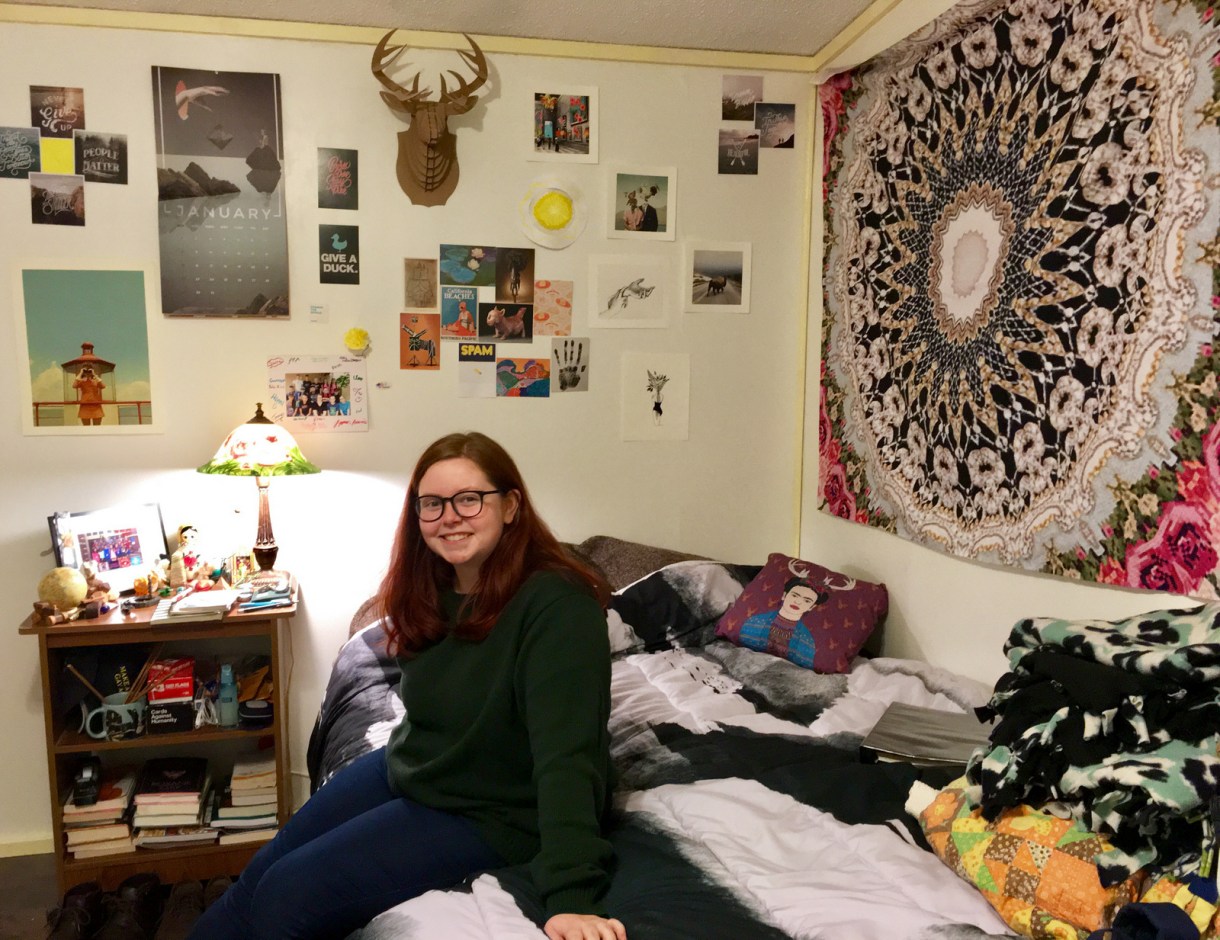 "When I was little this room had actual rainbow wallpaper, so these white walls are a refreshing change. My room is a lot like myself: a colorful mess."
Pages: 1 2 3 4 5 6 7See entire article on one page