Torre McGee / 35 / Construction Laborer, High-End Residential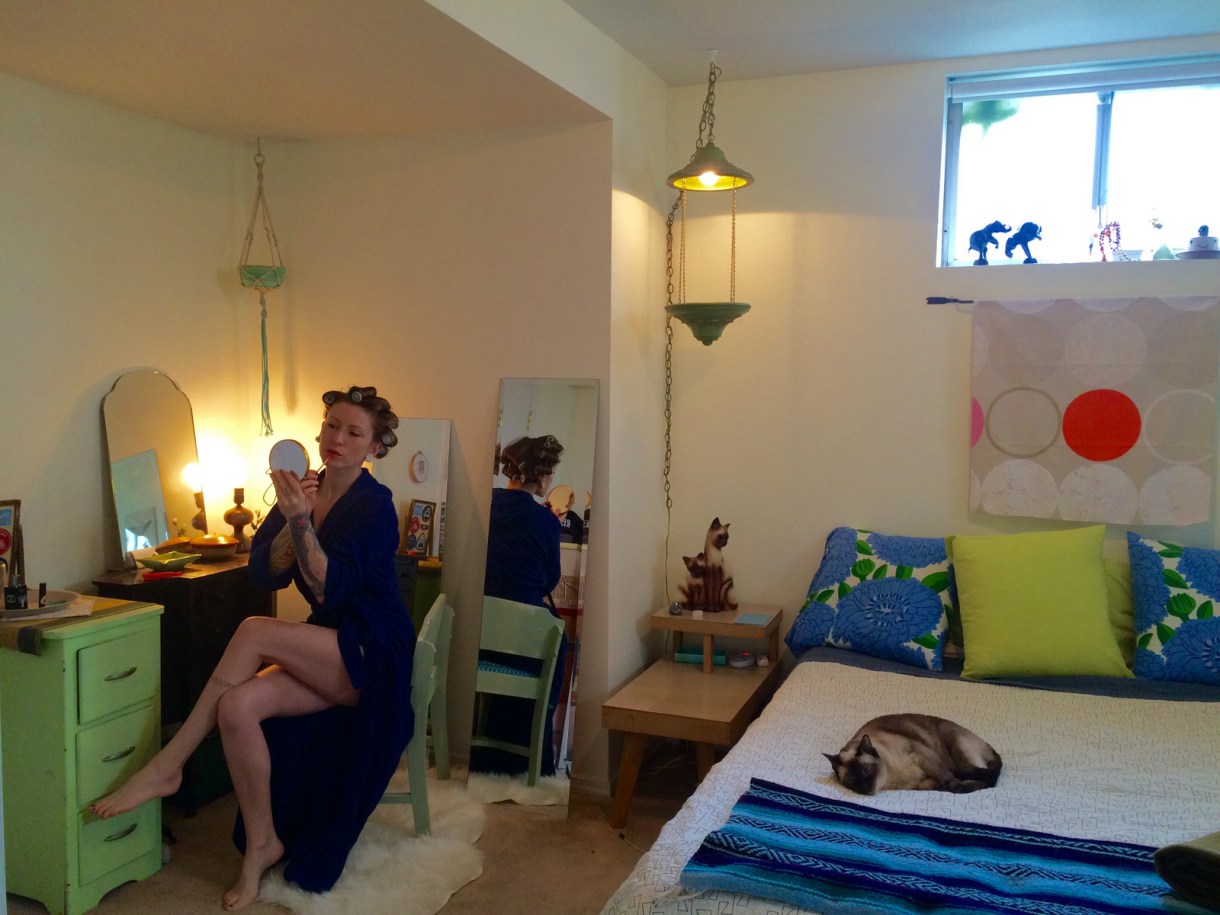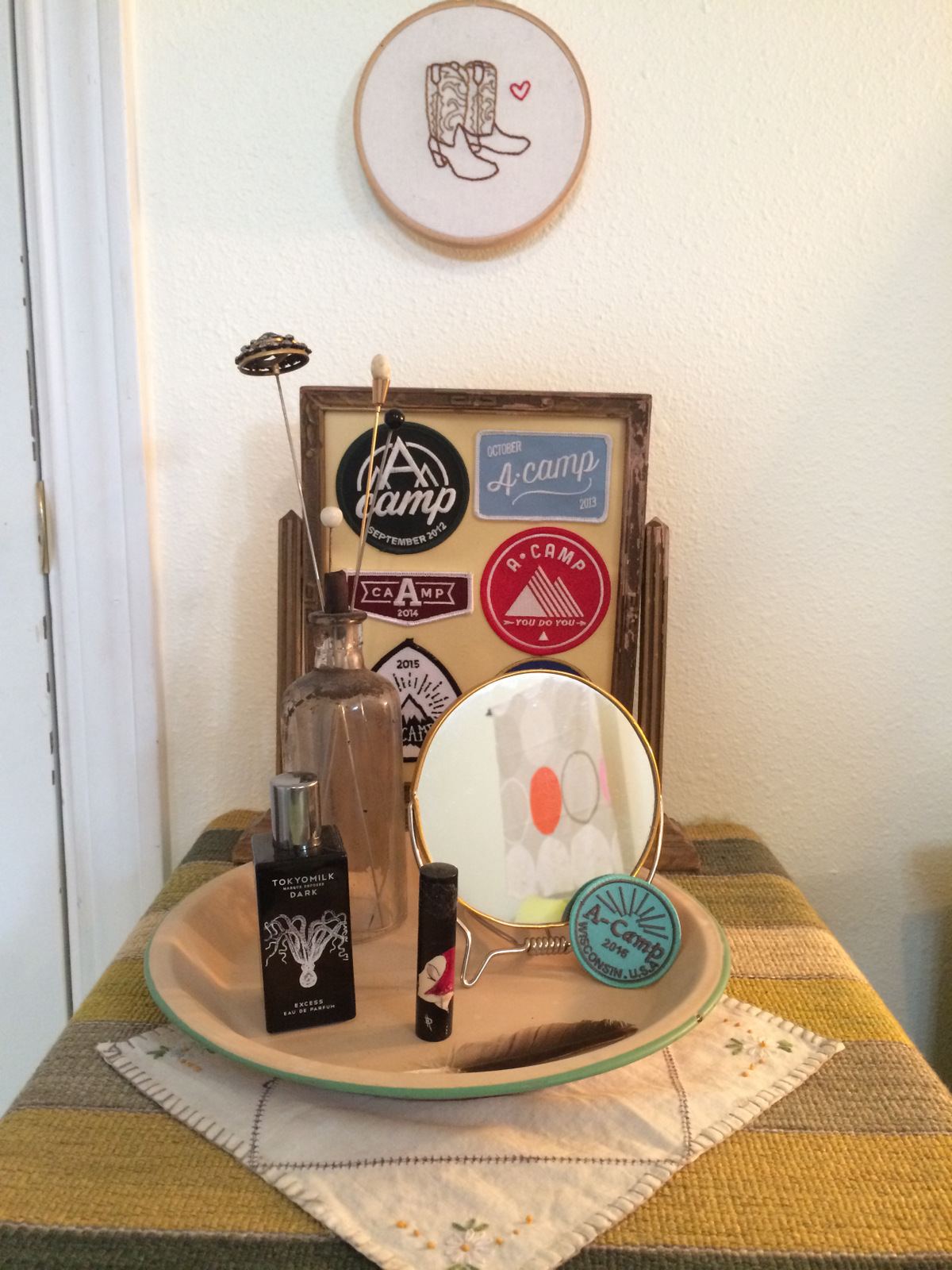 "This room really belongs more to my cat, Shoga, than me. He does let me primp, sleep and have sex in there though. I couldn't pick one favorite thing in my room, it's full of antiques, vintage clothes, crystals and handmade treasures from various loved ones."
---
Molly Cate / 27 / Alabama / Receptionist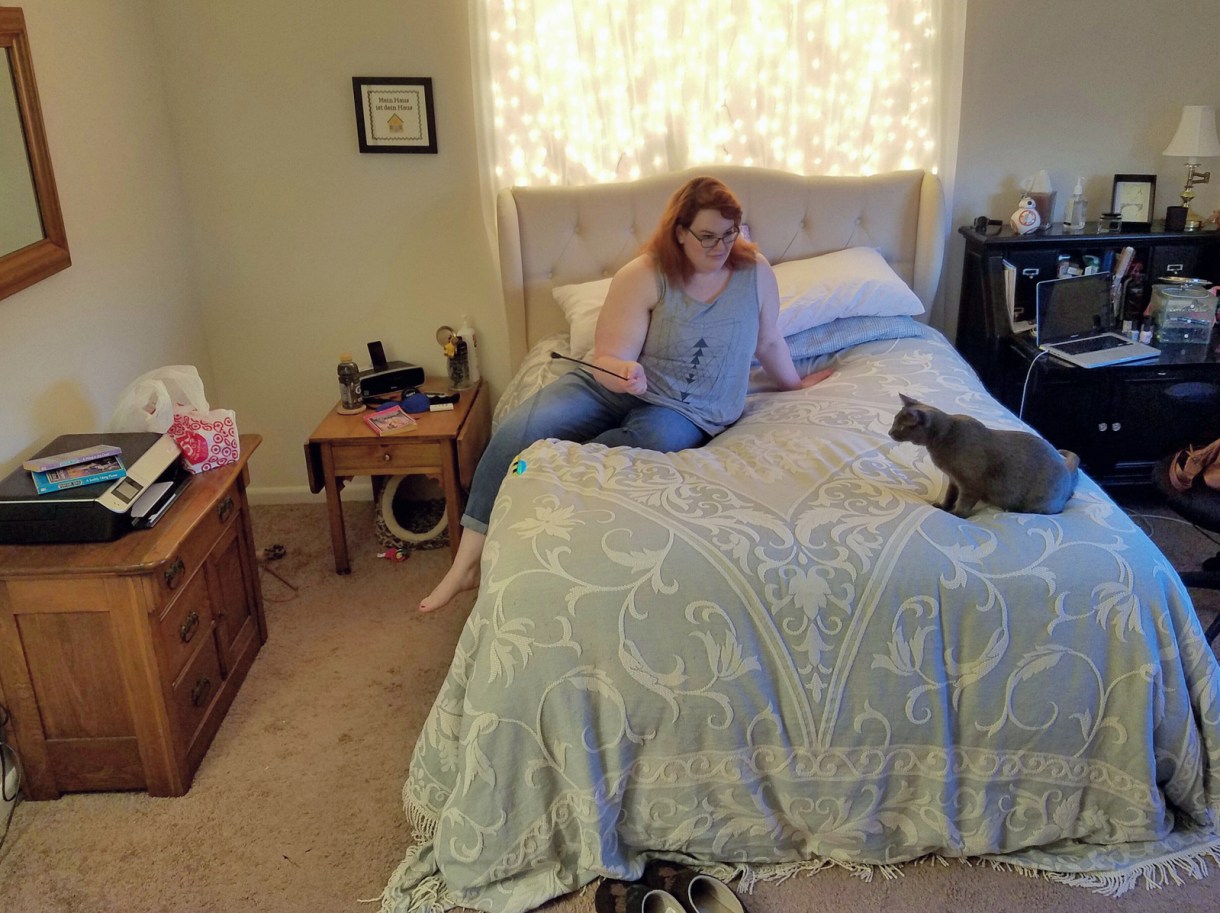 "The fairy lights above my bed are the first DIY project I ever completed, and they're my favorite decoration in the entire apartment. The curtain rod is probably an inch off level, but I'm still proud of myself for making something beautiful."
---
Rowan / 26 / Charlottesville, VA / Tech Worker, Van Lover, Vest Collector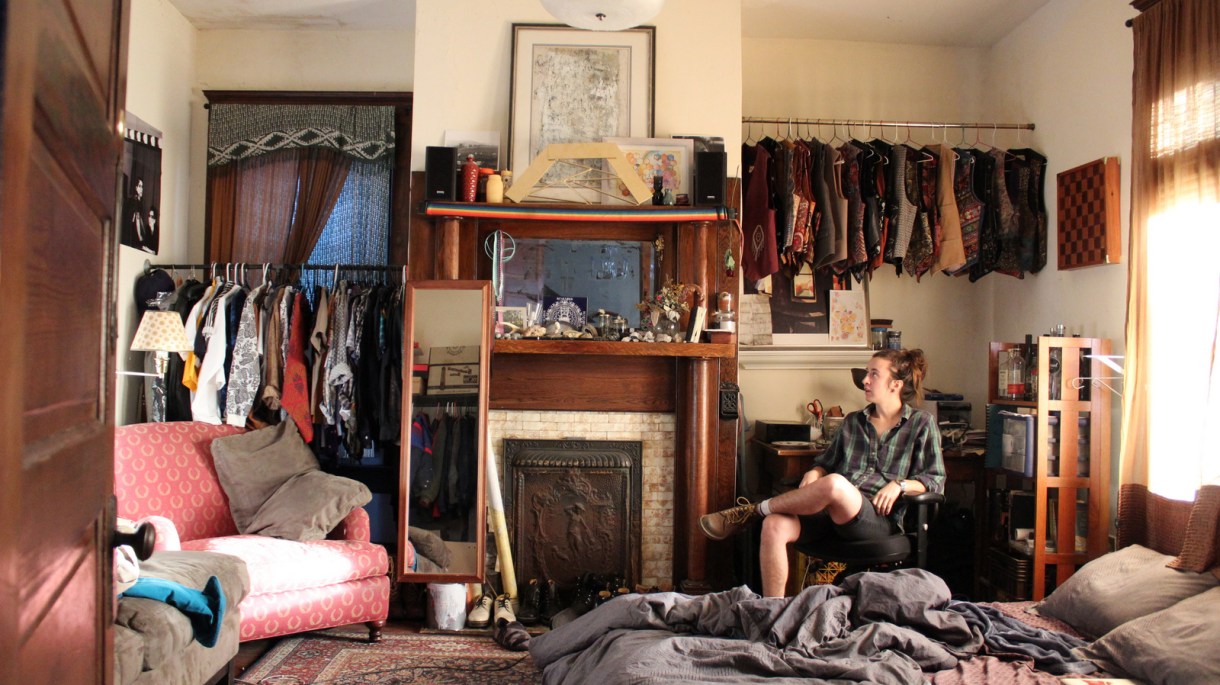 "I closed off a living room in a big old house some friends were living in, added some "closets," and moved in.  My goal is to make my van into a livable space and travel, but for now it's nice to have so much room for my tools and growing vest collection."
---
Bridget / 28 / Orange County, CA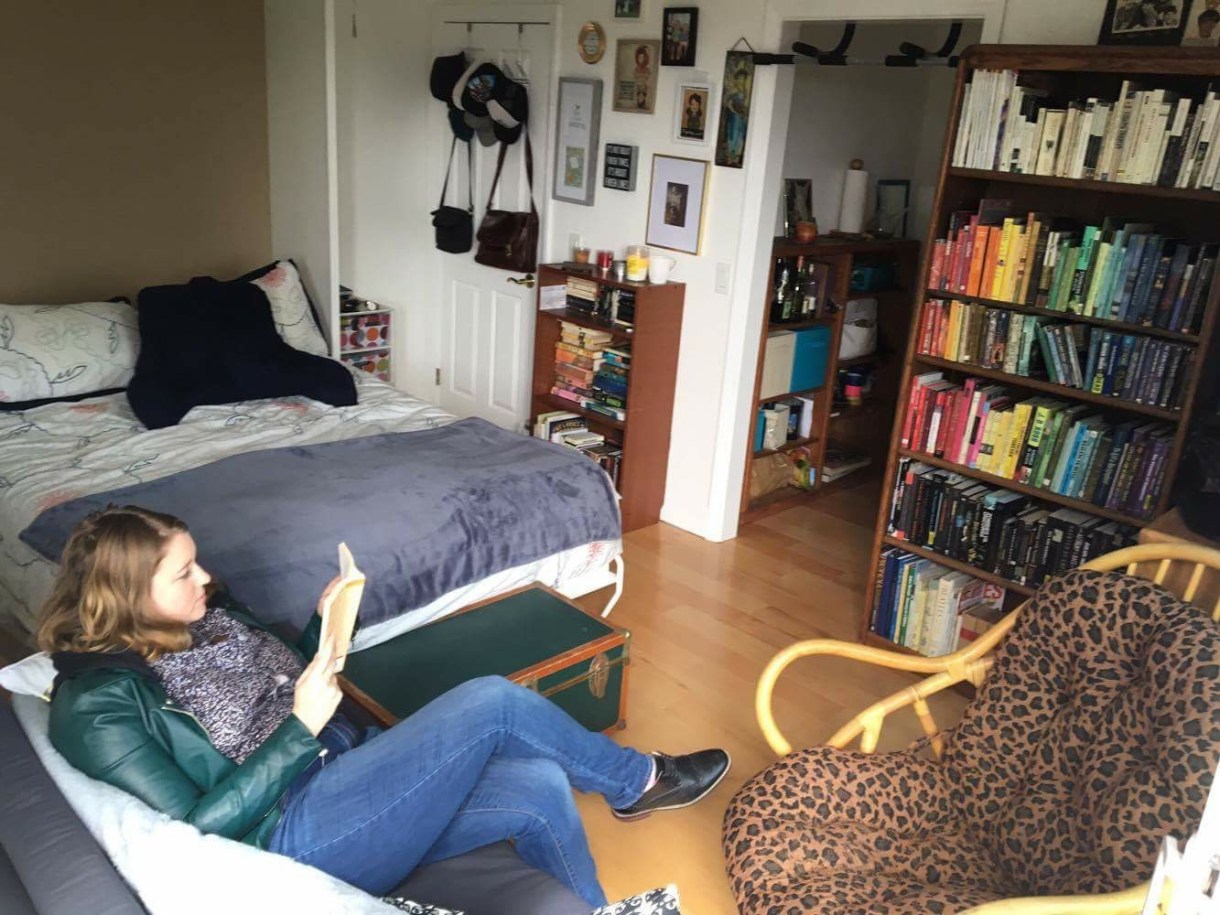 "I love my room. It's temporary, and many of my rooms have felt very similar, but this one is especially cozy and inviting and lovely and nothing matches but I love it all. Organizing my bookshelf by rainbow color was extremely stressful, but I love it, so it's probably my favorite thing. I also have a lot of happy art of fairies and shit."
---
Mara / 23 / Salt Lake City, UT / Arthouse Cinema Popcorn Scooper
"My room is a collection of found, gifted, inherited, and made things. My roommate says it feels like a museum, which I think is damn flattering."
---
Tess, Tara (photographer), Raphael, Carmen; with Korra and Bolin the Cats / 29, 28, 3, 1 / Melbourne, Australia / Swim Teacher; Barista
"When we moved in we had big plans to redo our bedroom, and we made one rule, our bedroom was our grown up space for just us. A year later, the kids have taken over and the only remodelling we've done is installing floating shelves so our cats have ladder access to the top of the wardrobe."
---
Emily / 22 / Fort Collins, CO / Student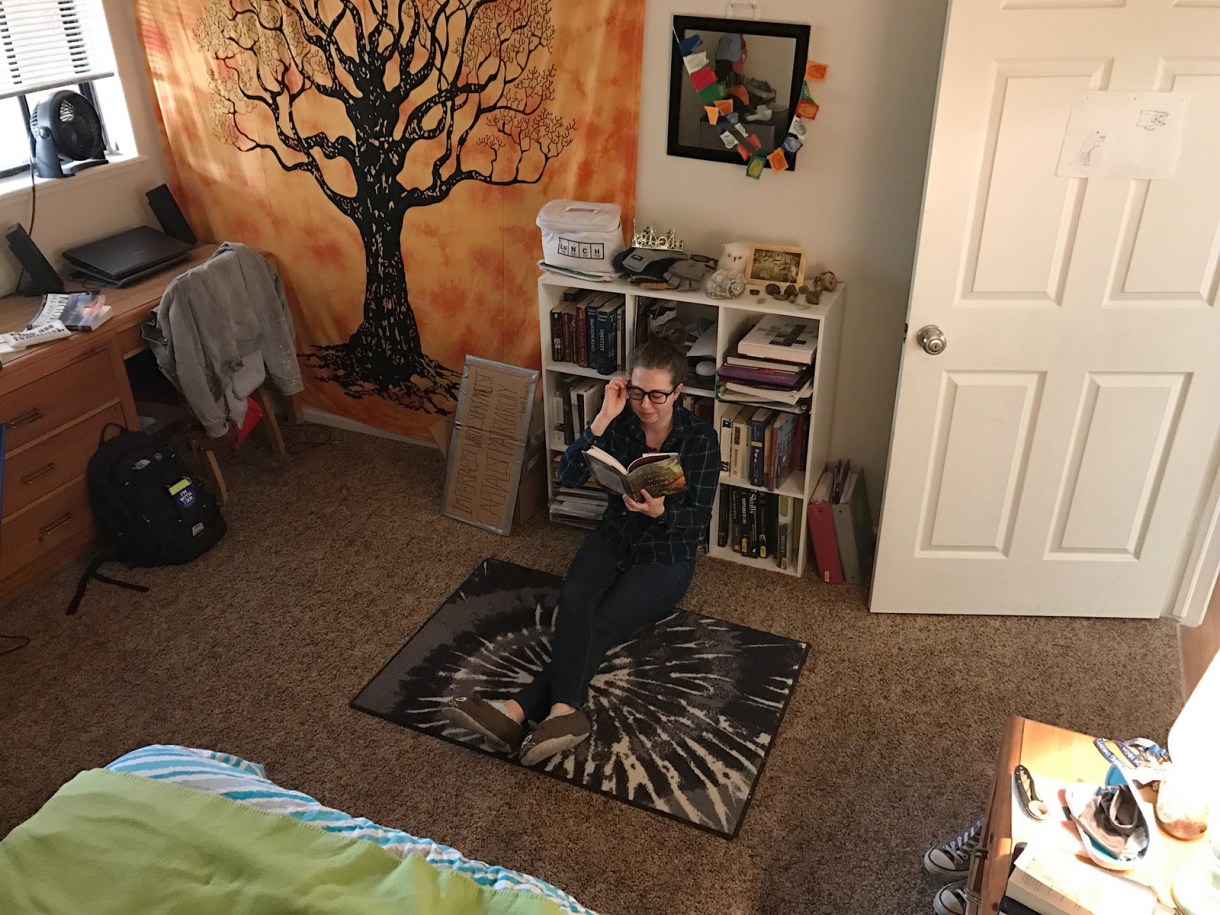 "On one of the walls that did not make it in the picture I have a The Hobbit poster that features Gandalf with a handmade paper Santa hat that my roommate made my first semester of college. The poster, including the hat, have come with me on multiple moves and when I graduate I want to get the whole thing framed. (Freshman roommate and I are still BFFs and roommates four years later.)"
---
Cee Webster / 38 / Portland, OR / Tech Director, Autostraddle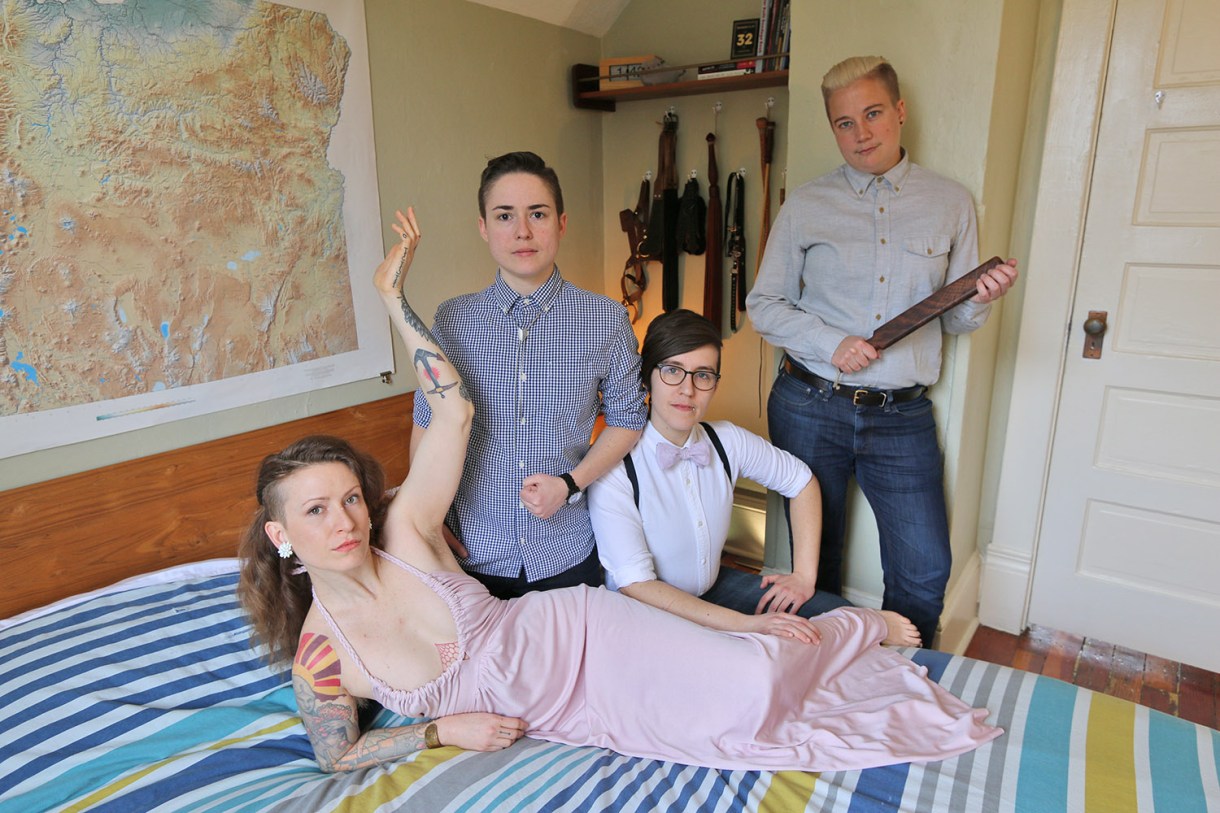 "Shown are my three partners who often share this room with me, from left to right: Torre, Serina and Quinn. I'm standing in the back. My bedroom is tiny but we make it work."
---
Quinn / 26 / Portland, OR / Electrical Worker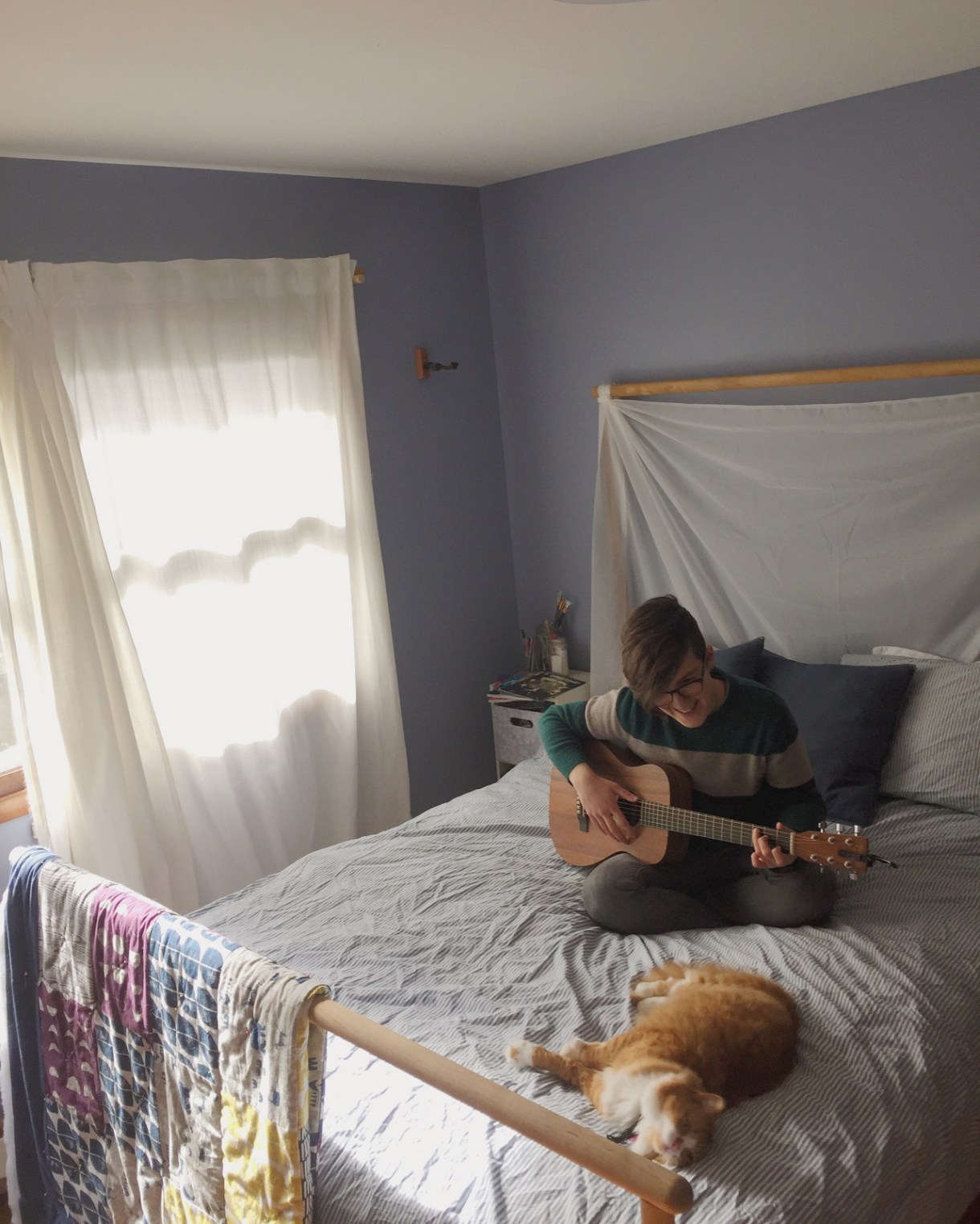 "I bought my first ever bed frame when I moved in to this house and it is my favorite. It makes me feel like a passable adult, provides a place to hang my quilting project, and is the perfect cat-snuggling spot."
---
Erica, Jen, Bagheera / 30, 29, 7 / East Orange, NJ / Nanny, Artist; Warehouse Associate, Filmmaker / Permanent Pain In The Ass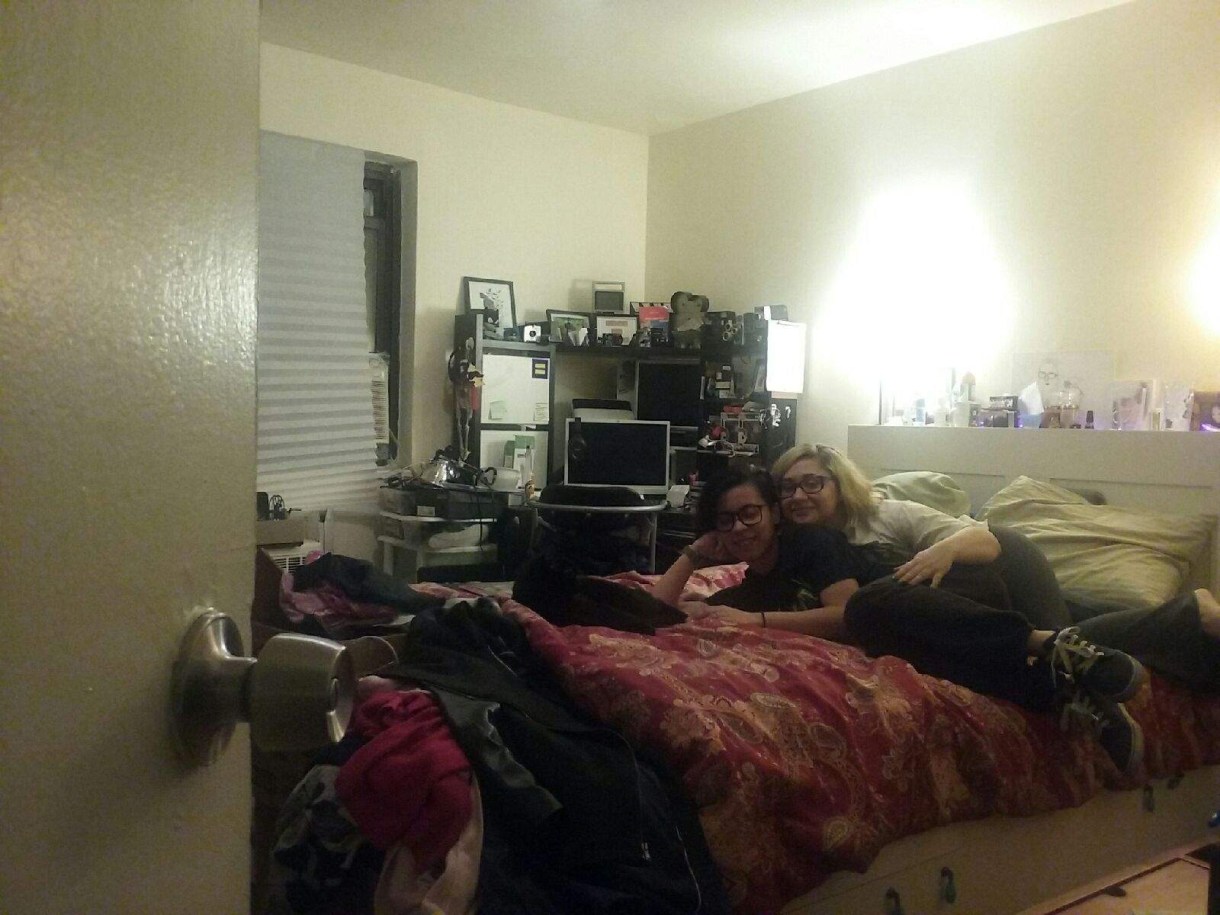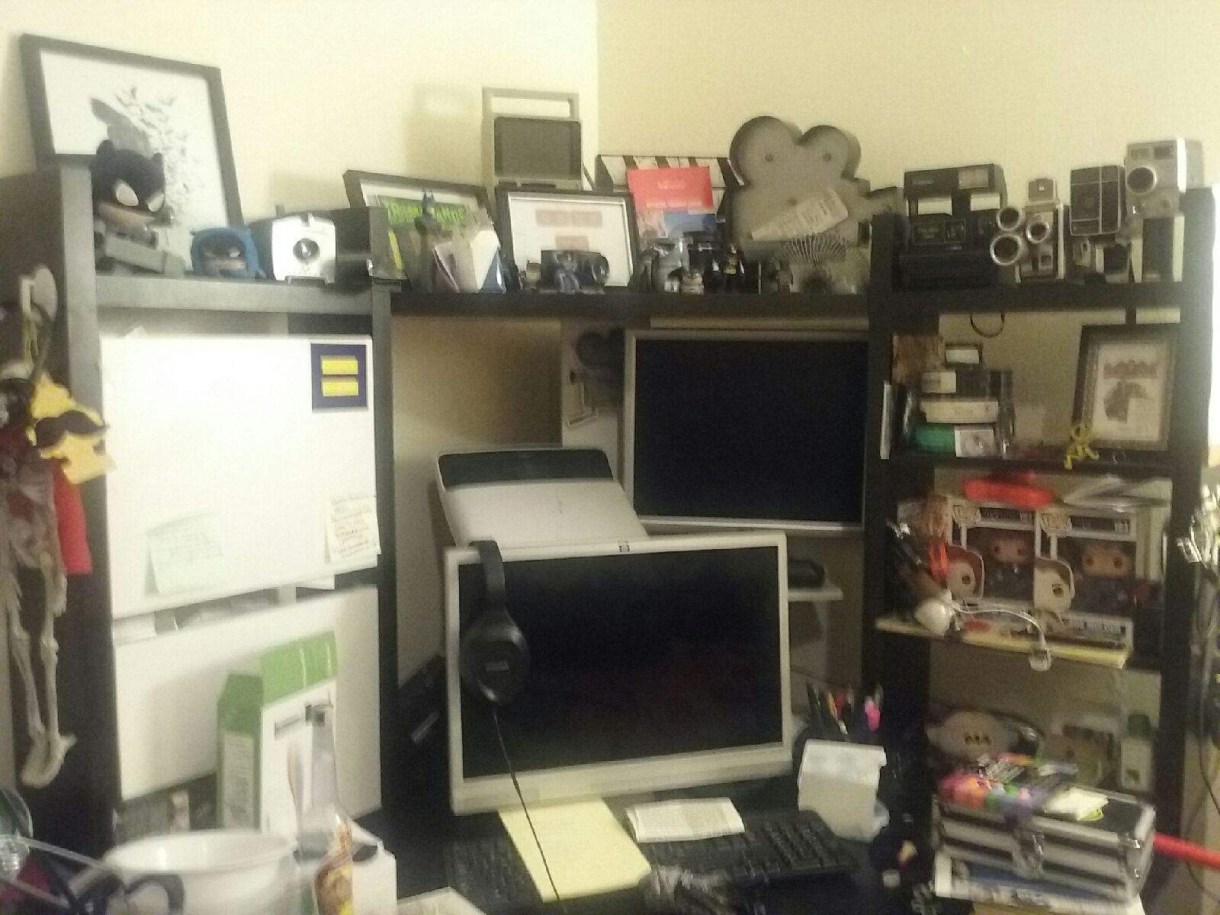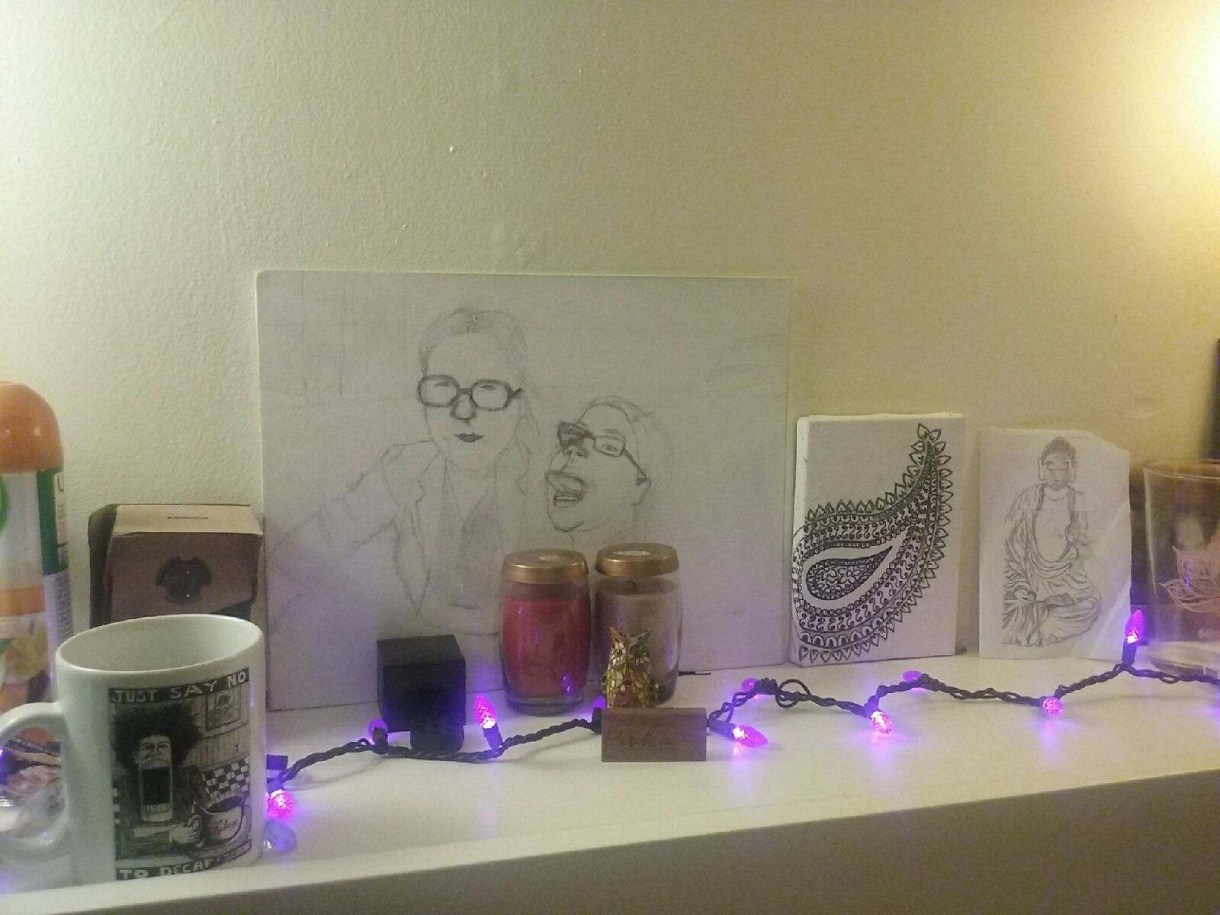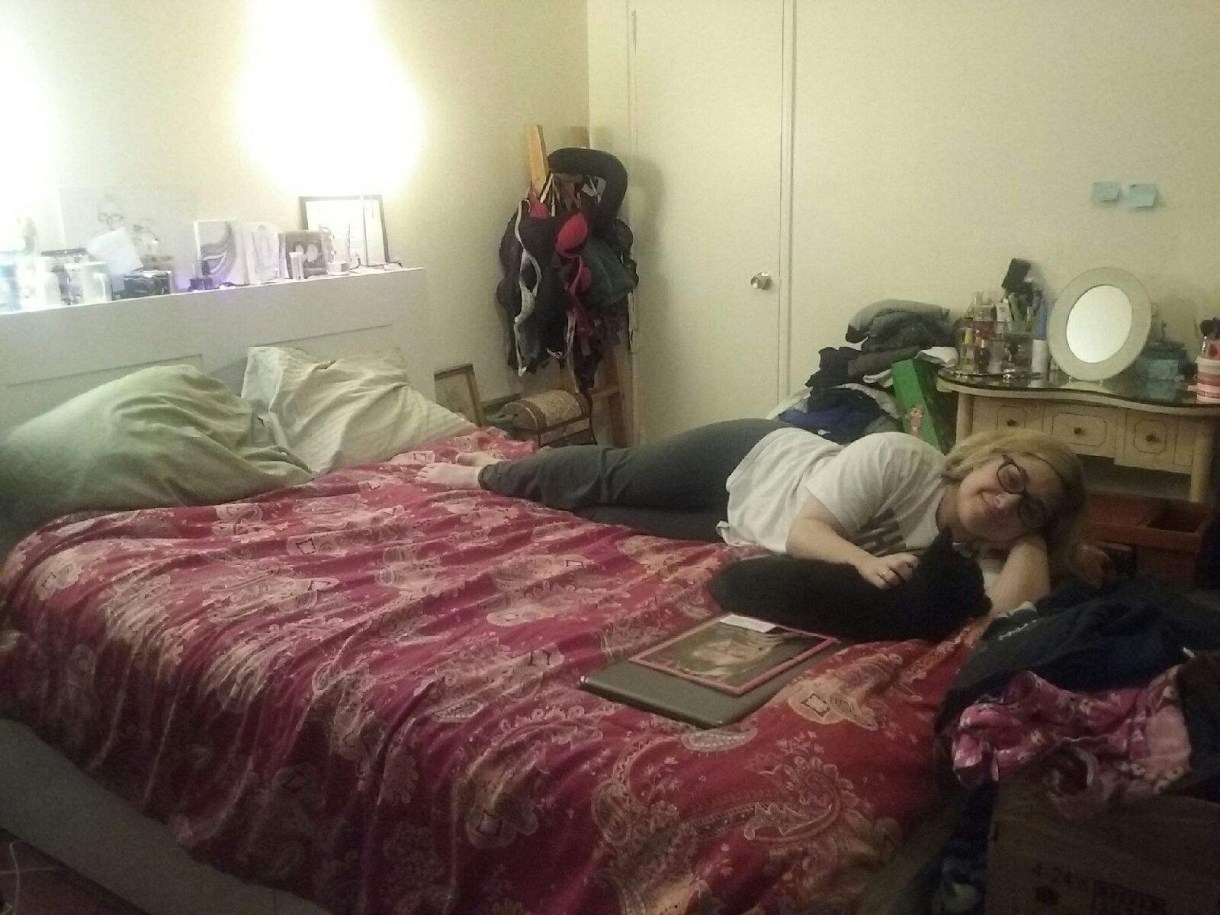 "Erica's favorite space in the room is her makeup table because it her own little area in the apt. My (Jen) favorite area is my desk because it's where I keep my collections of batman stuff, X-Files stuff, 8mm cameras, and Erica's fearful thoughts about my collections leading to hoarding."
---
Kirstie / 25 / Oakland, CA / Consultant for Institutional Repository Admins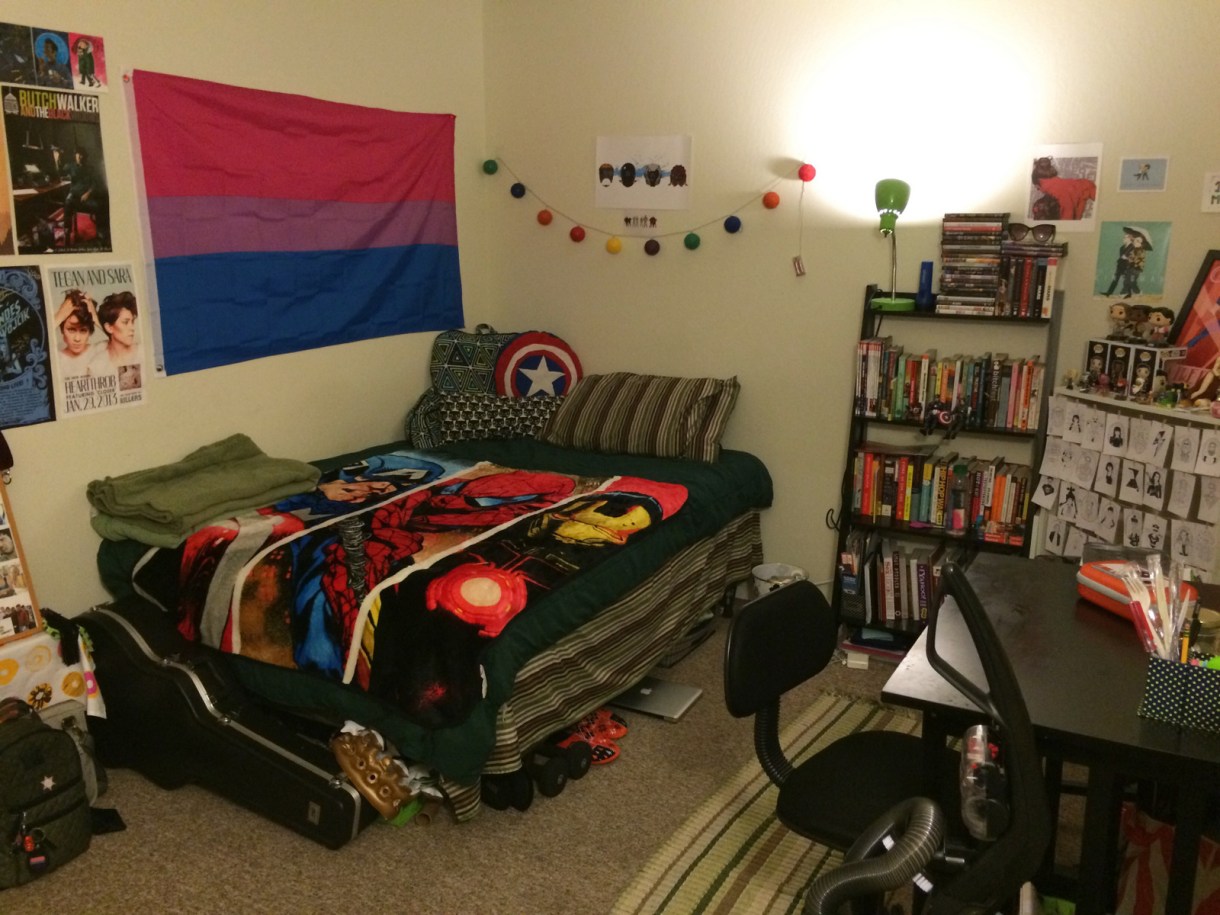 "One of my favorite things in my room is the Captain America shield pillow that my girlfriend made for me! Also gotta love the giant bi flag a friend gifted to me."
---
Monique / 27 / Tucson, AZ / Kindergarten Teacher
"I've never really been able to decorate my rooms in any particular way because poverty, but now that I have a steady job I want to try. I have no idea how though. As far as what I think of before falling asleep/after waking up: literally all of my worries at the same time. I guess my bed is my favorite place to have panic attacks."
---
Jacqueline / 23 / Shanghai, China / Student, Teacher, Student Teacher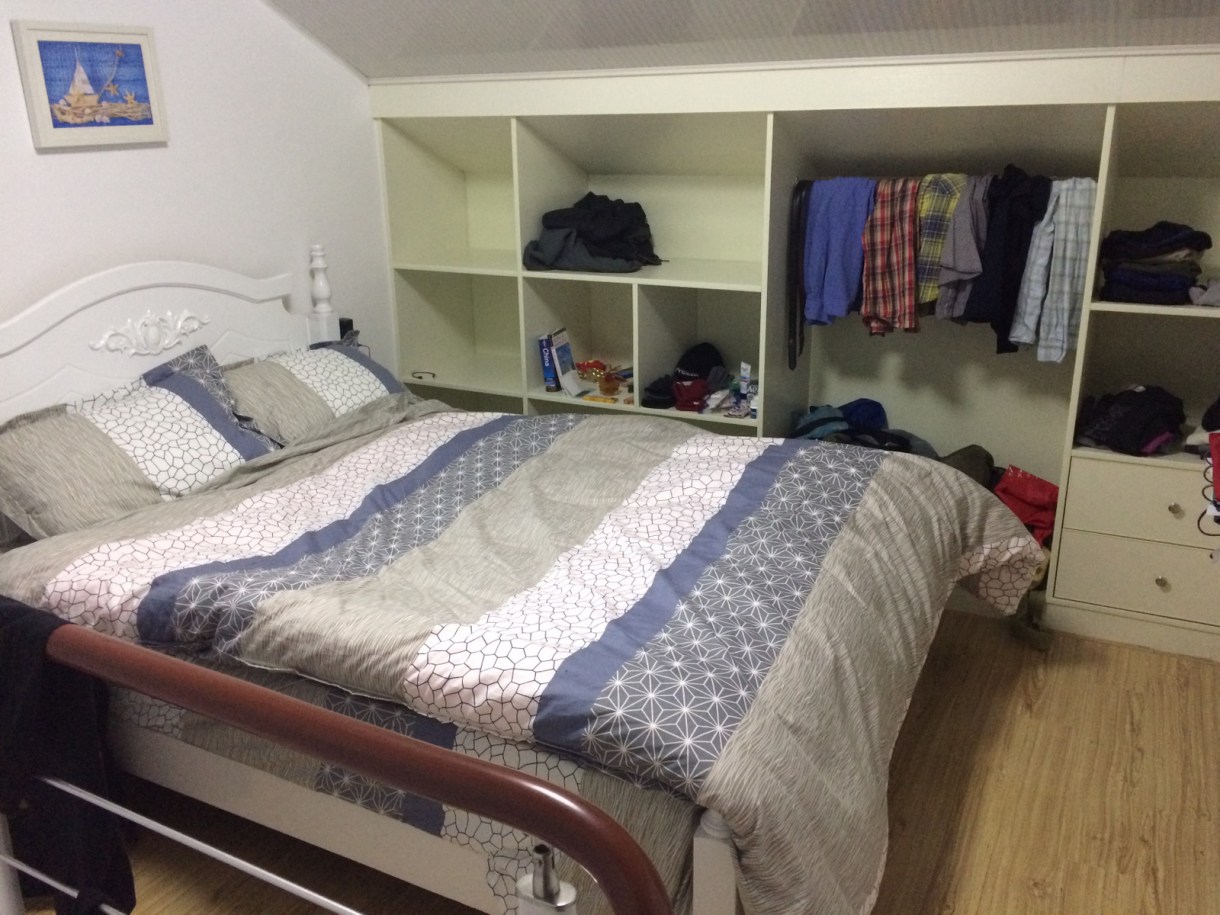 "I moved to Shanghai last week to teach EFL (English as a Foreign Language) for four months. I unpacked to take this photo."
---
Kiona and Calcifer the cat) / 24 / London, UK / PhD Student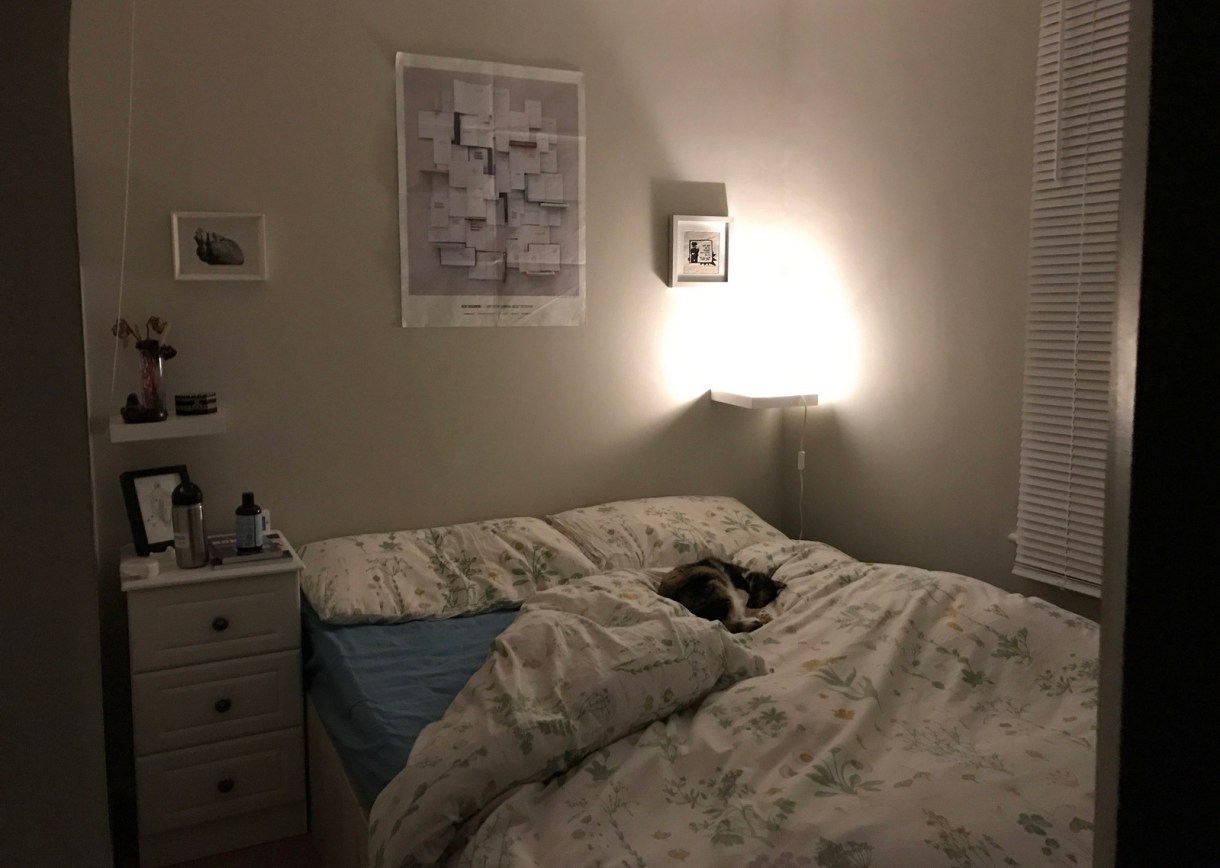 "Student life means I don't sleep here (or anywhere) as much as I should, but my bed is also my favorite place to write papers and code. The first thing people tend to comment on when seeing my room for the first time is that I leave my lube on the nightstand, and that that makes me seem 'really confident'. It's mostly laziness, but I appreciate the sentiment."
---
Chelsea / 27 / West End, Brisbane / Mechanical Engineer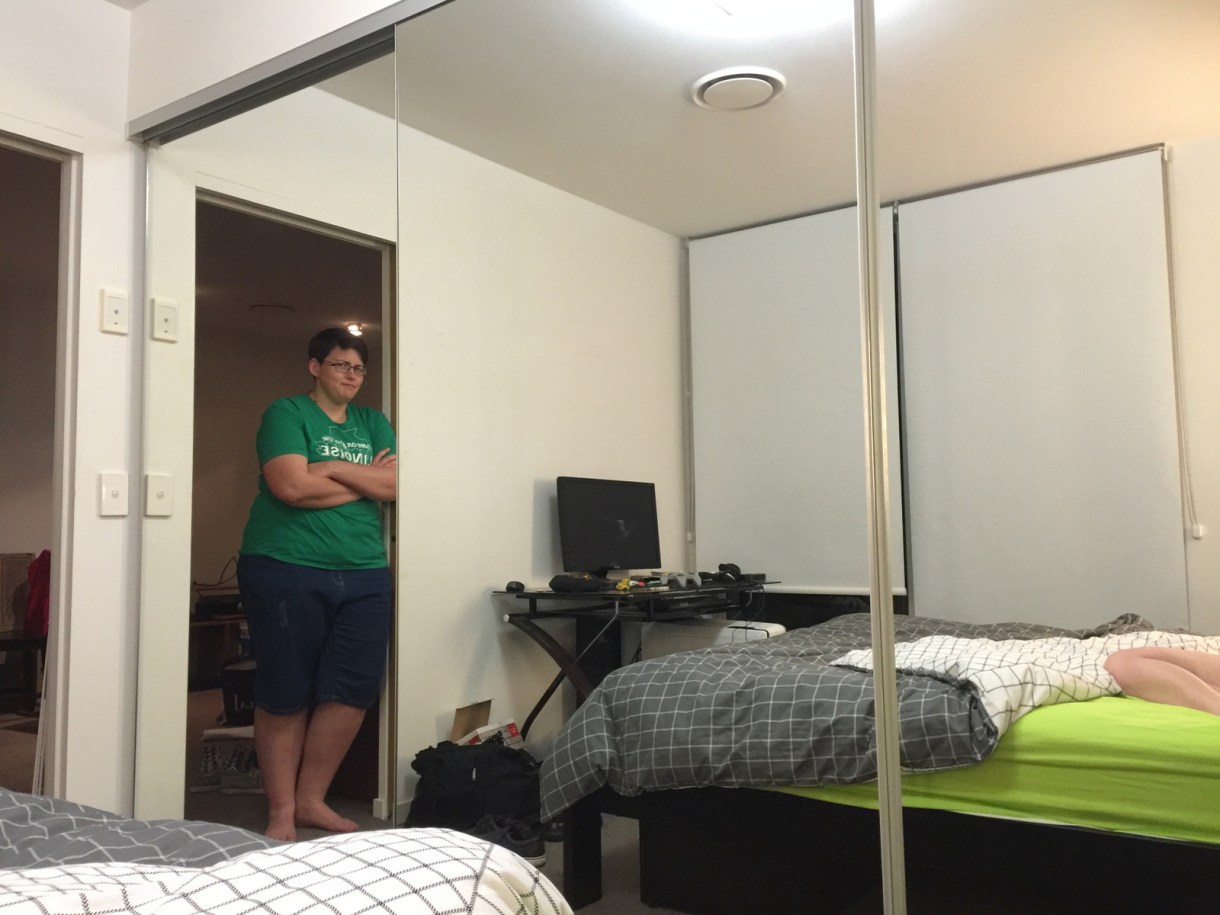 "We've just moved to a new place this week, so I haven't quite decided what my favourite thing is yet. I do like that it has more light and is cooler than our last place and also that I can play Occarina of Time from my bed."
---
Amelia / 27 / West End, Brisbane / PhD Candidate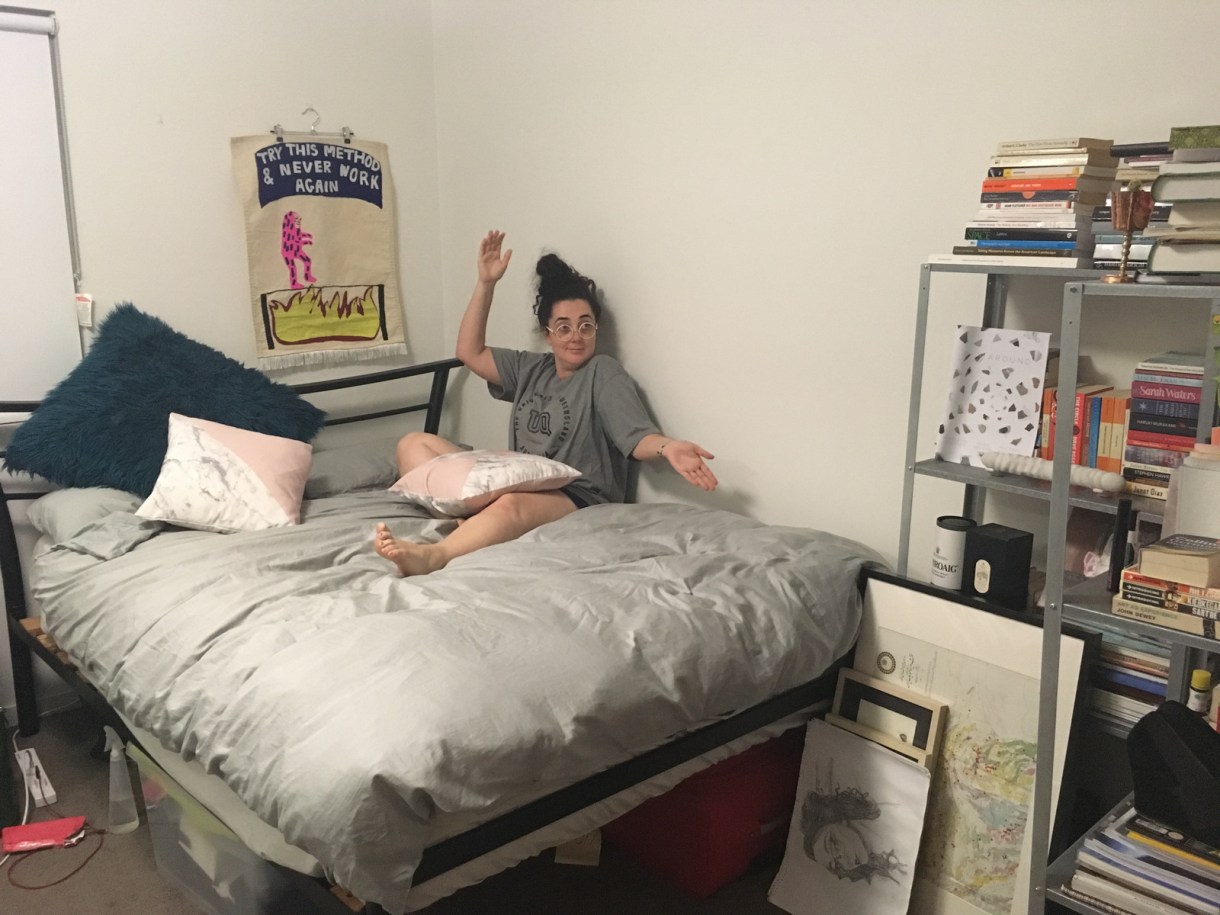 "We've just moved house and my room is in its optimal config. My favourite items are milk crate shoe tower (not pictured), the piece of art on my wall, and the concrete double-ended dildo on the shelf. The last two are from emerging artists in Brisbane. Also whisky."
---
Stephanie / 23 / Richmond, VA / Grad Student, Brunch Host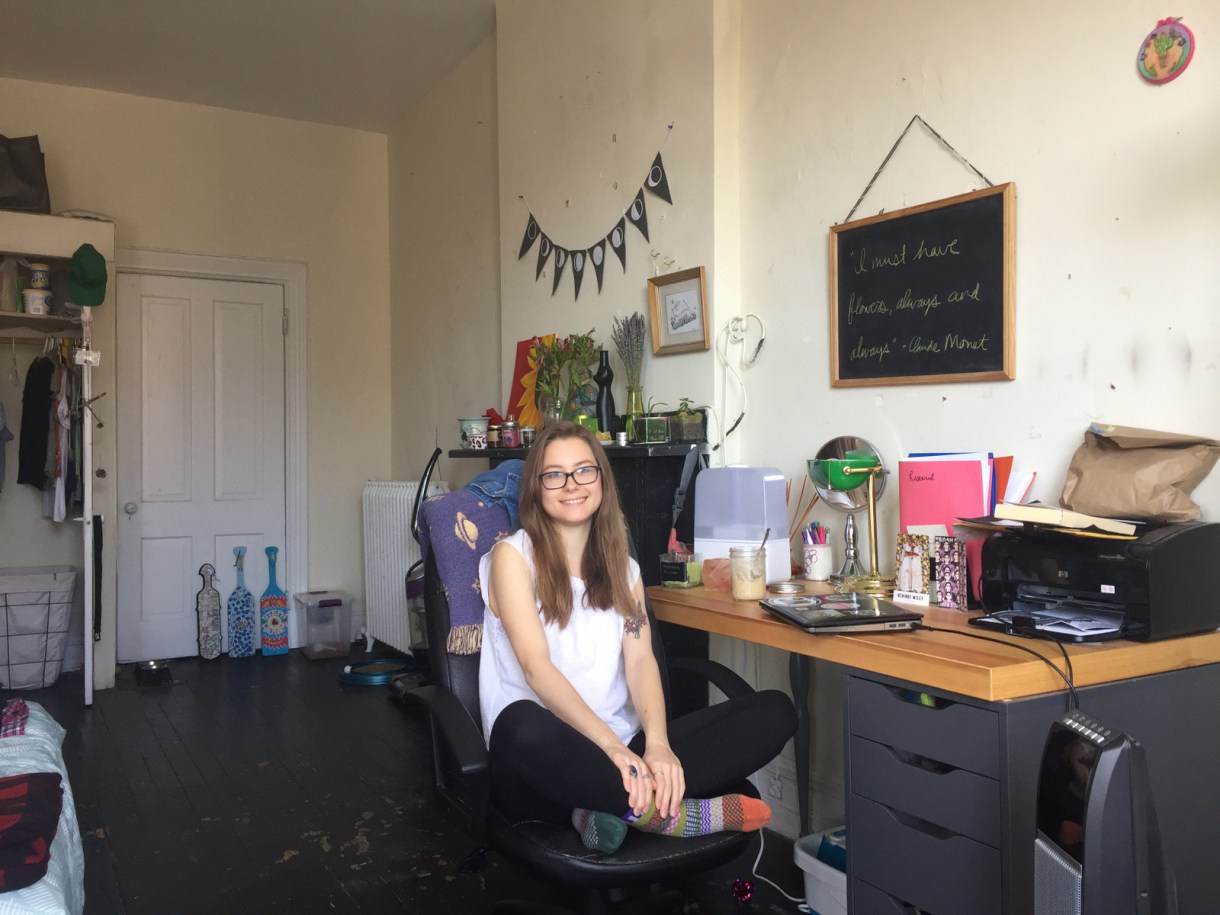 "My two favorite things about my room are the big windows and the no-longer-functioning fireplace that I like to put candles and flowers on. Bed (and cat) not pictured."
---
Bri / 27 / Upstate NY / Grad Student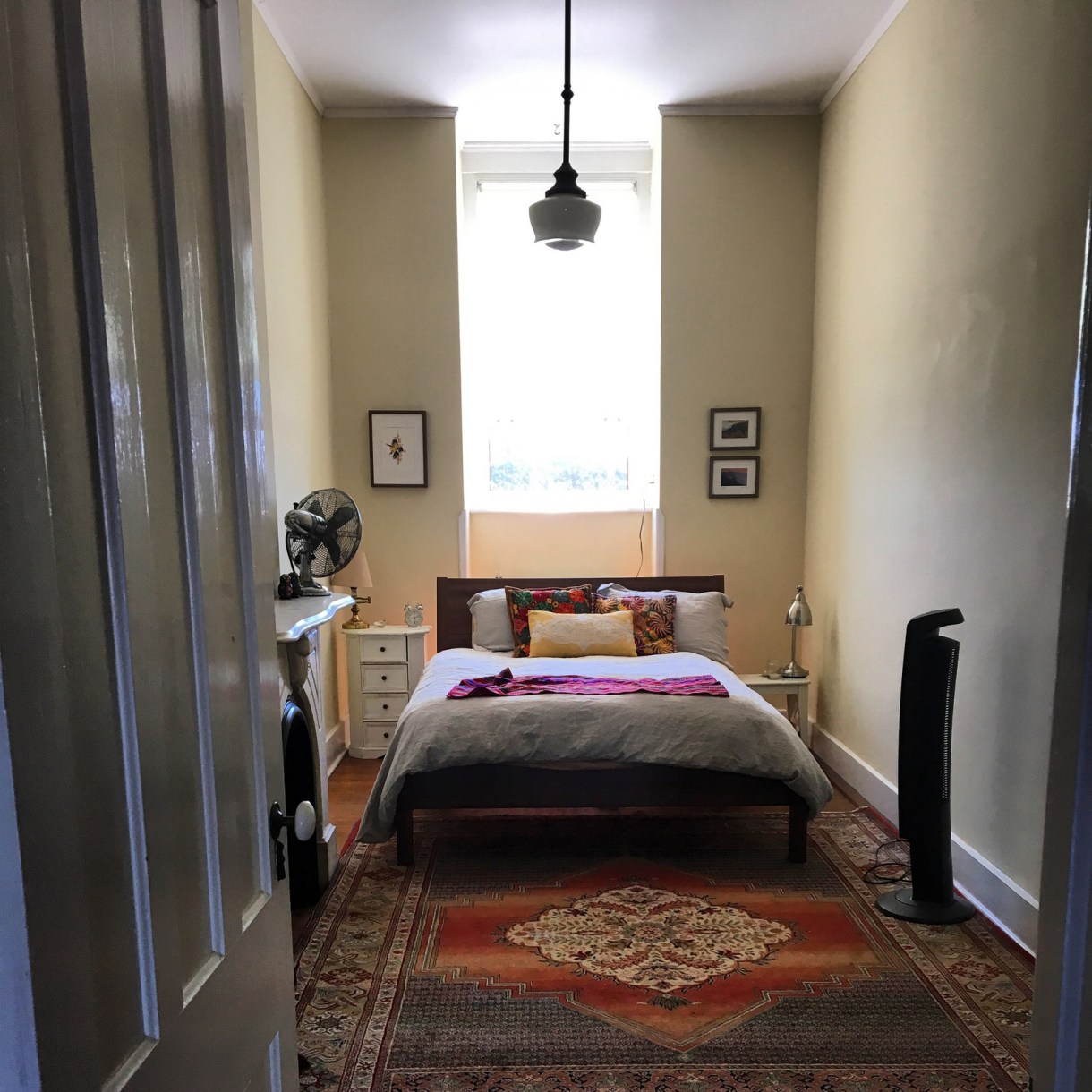 "Each morning, I lie in bed with a mug of hot tea and watch the sun rise over the Adirondacks while my fiancee dozes on my shoulder. It is perfect and it is perfect everyday."
---
Bella (with roommates Valerie and Gowri) / 21 / Pittsburgh, PA / Engineering Major
"Life, school, and interpersonal interaction can be extremely draining. Coming home every day to my room, my happy plant family, and especially my roommates has been a near-constant source of happiness and restorative energy for me over the past two years. I am so grateful for these two goofy ladies."
---
Rachel Sanzo / 28 / New York, NY / Freelance Writer, Nanny
"As I fall asleep, I like to imagine exactly how many kittens I could fit inside all these cupboards."
---
Julie and son / 35, 12 / Boston, MA / Teacher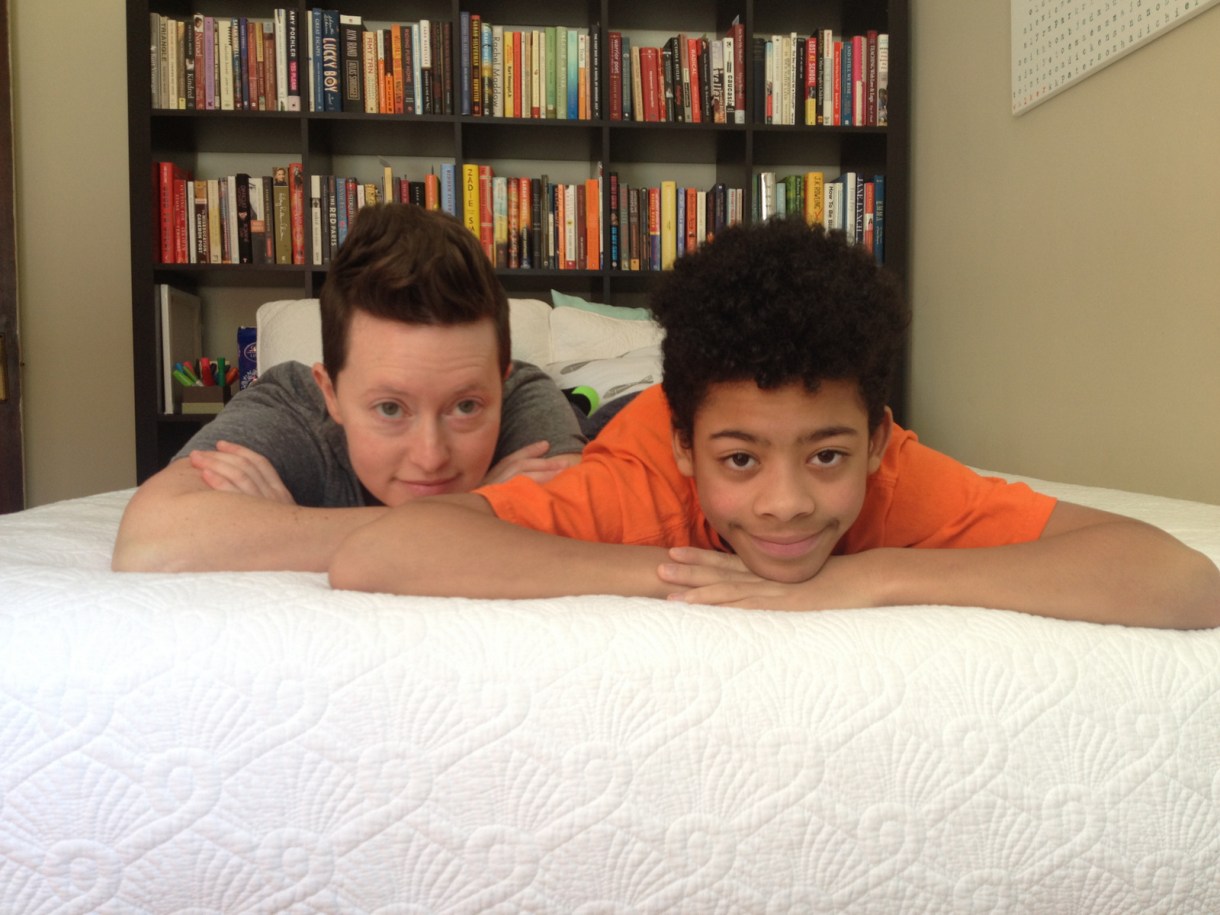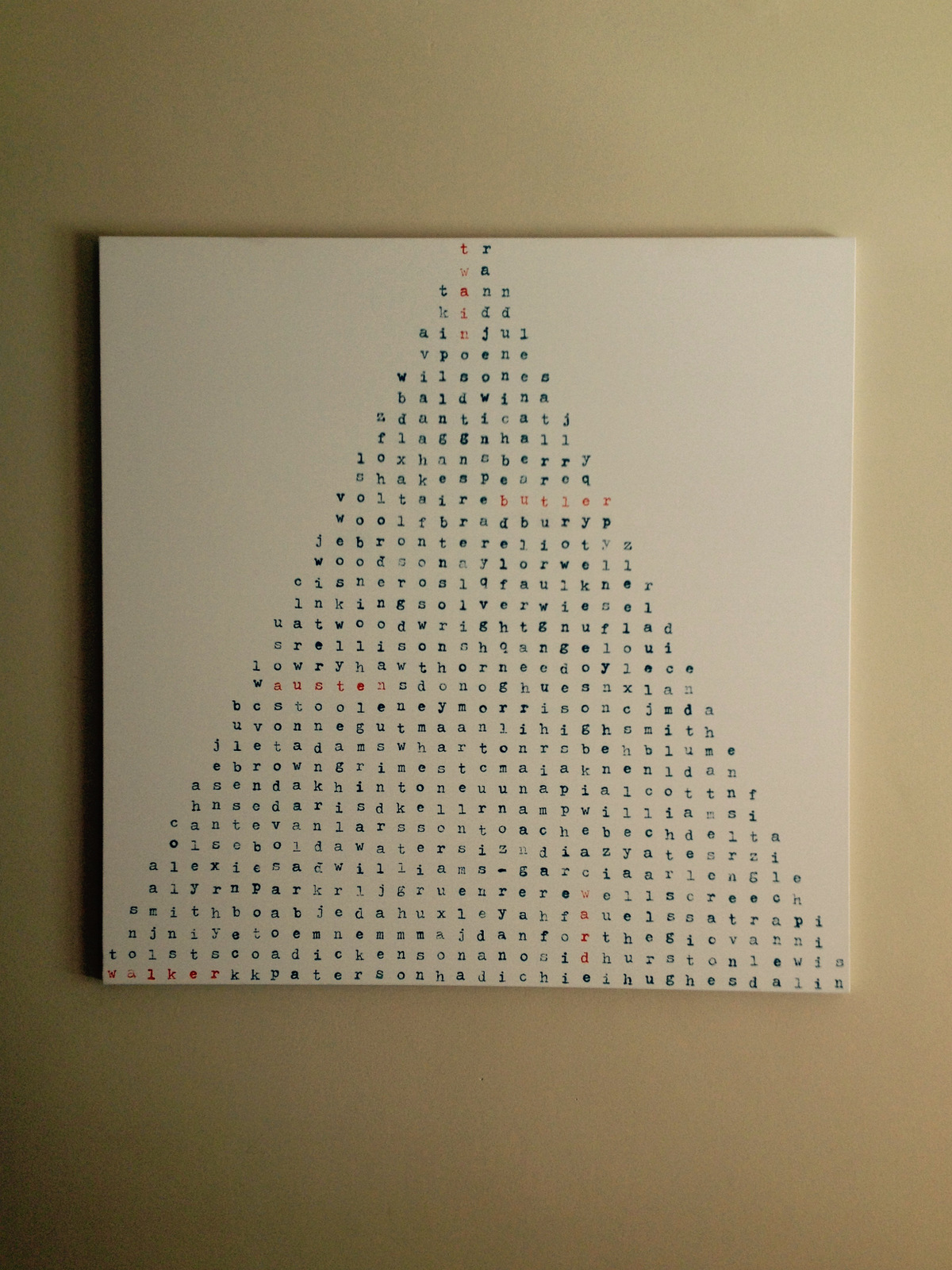 "I gave my ex-wife the house in the divorce, and I'm mostly indifferent about my place. But I built this platform bed with my own hands (and a handsaw and power drill) and made my own author word search wall "art". So my bedroom is definitely my favorite room. Little guy likes to cuddle and look for writers in the word search (usually on a Sunday morning when I want to sleep).
---
Heather Hogan / 38 / Astoria, NY / Autostraddle's Senior Editor
"My bedroom is my favorite place on earth. It's warm in the winter and cool in the summer and tidy and comfortable and best of all it's where I get to go to sleep and wake up beside Stacy every day. There's a lot of good books in here too, and video games, and usually cats."
---
Sally and Gillian / 34, 30 / Winchester, UK / Software Development Manager; Textile Designer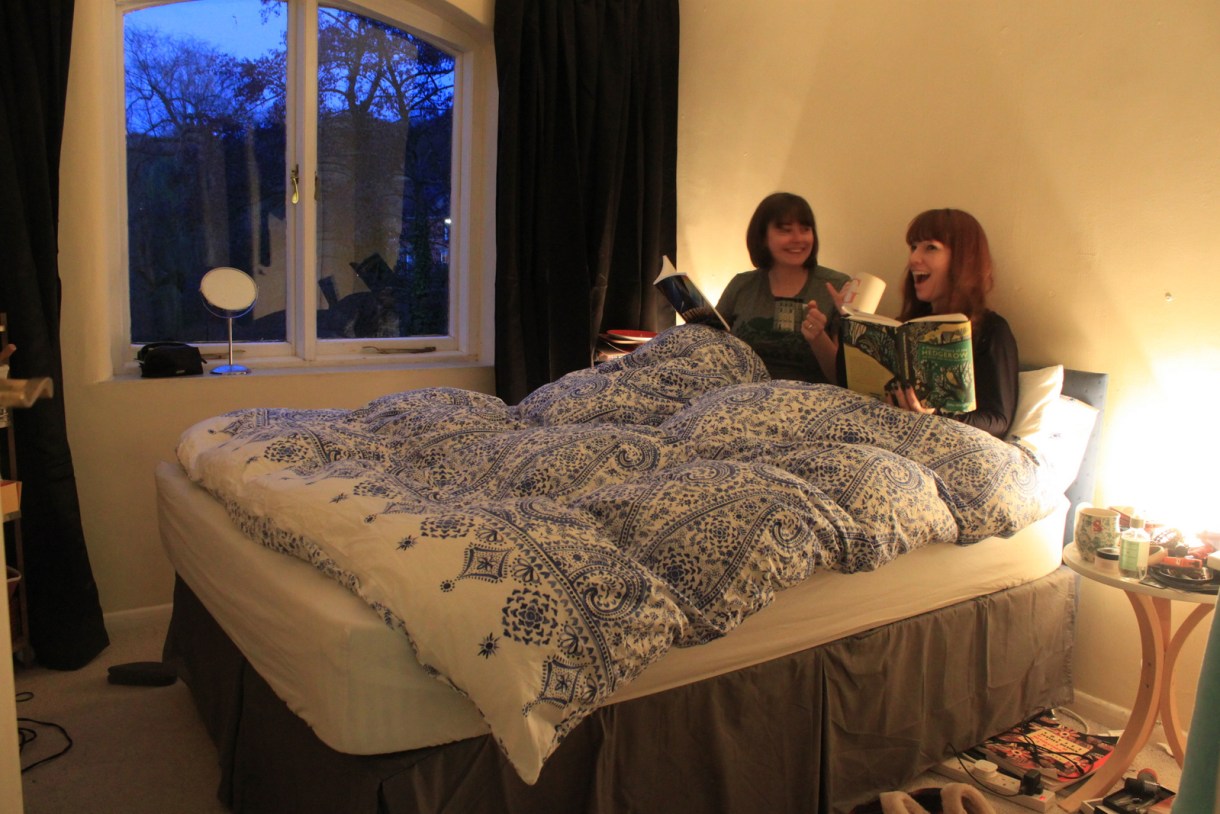 "Sally reads bad lesbian science fiction and drinks tea. Gillian reads about hedgerows and drinks tea. They both wonder why the duvet is so fucking small."
---
Maria Vashakidze / 29 / Portland, OR / Owner of Seagrape Bath & Body Apothecary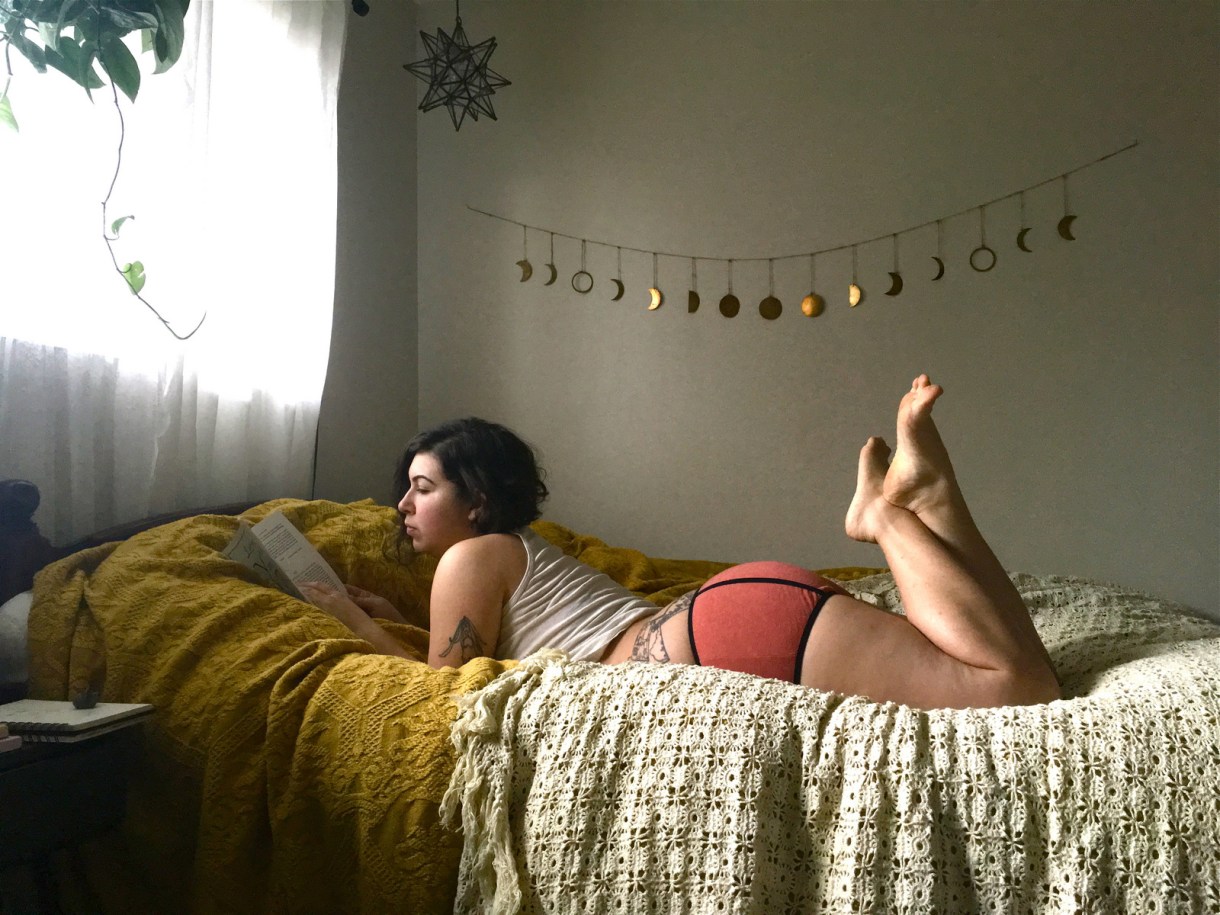 "My bedroom is my serene place to dream, create, and recharge. I usually think about the last thing I read or watched before I fall asleep. That tends to get incorporated into my dreams in one way or another. I have vivid dreams almost every night so I wake up and journal or draw to process what I remember in the morning. I set my own schedule therefore sleep is never rushed and my mornings tend to be pretty leisurely.
---
Stephanie / 26 / Baldwin, NY / IT Purchasing Assistant at NYU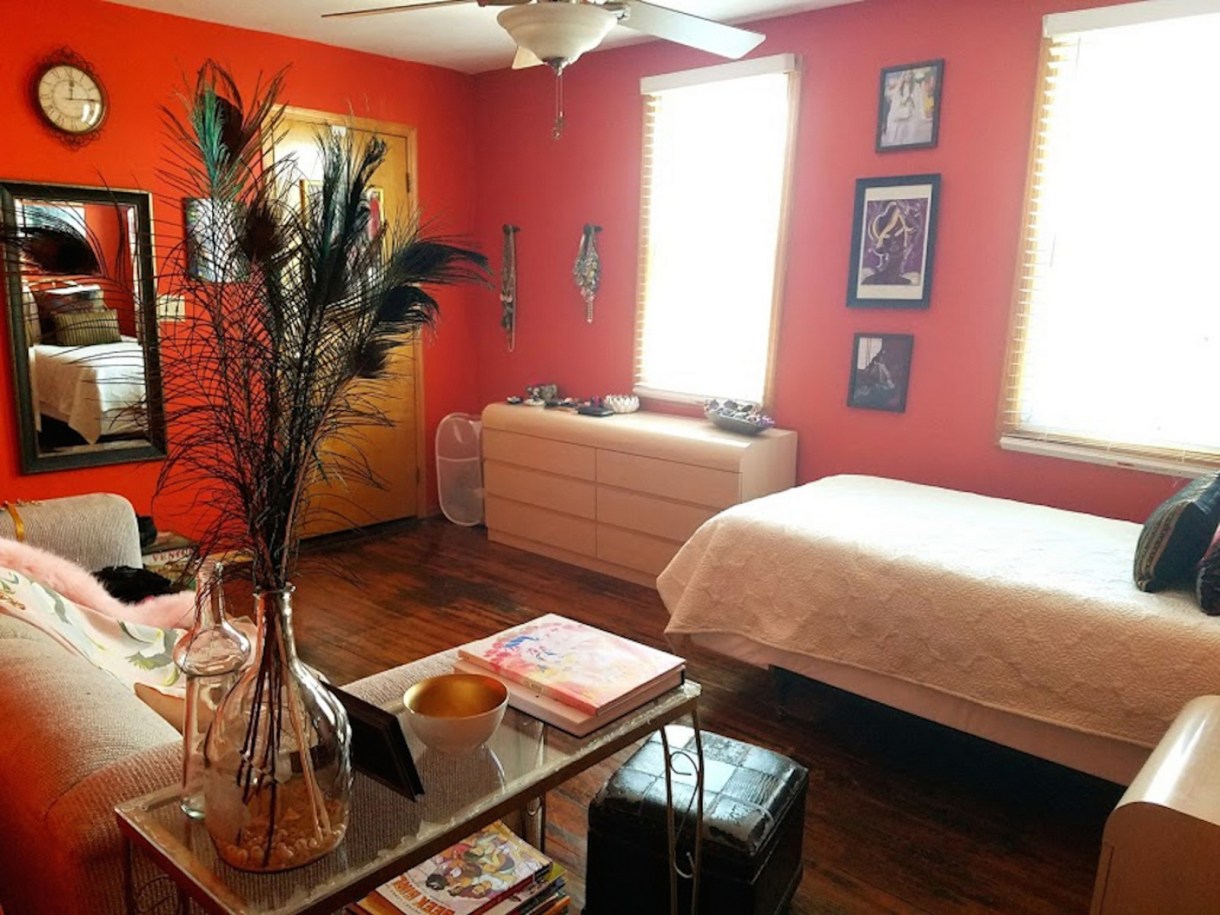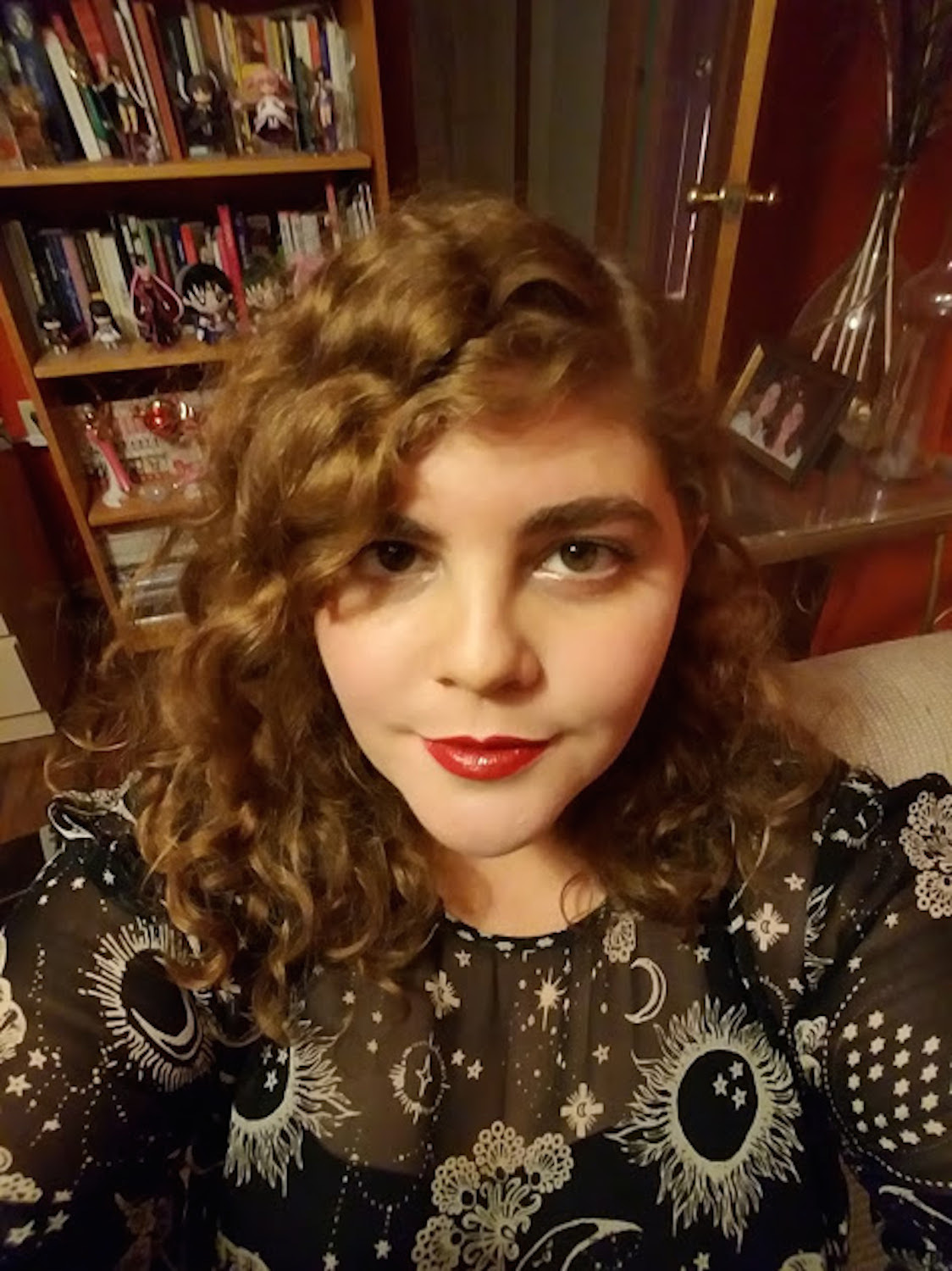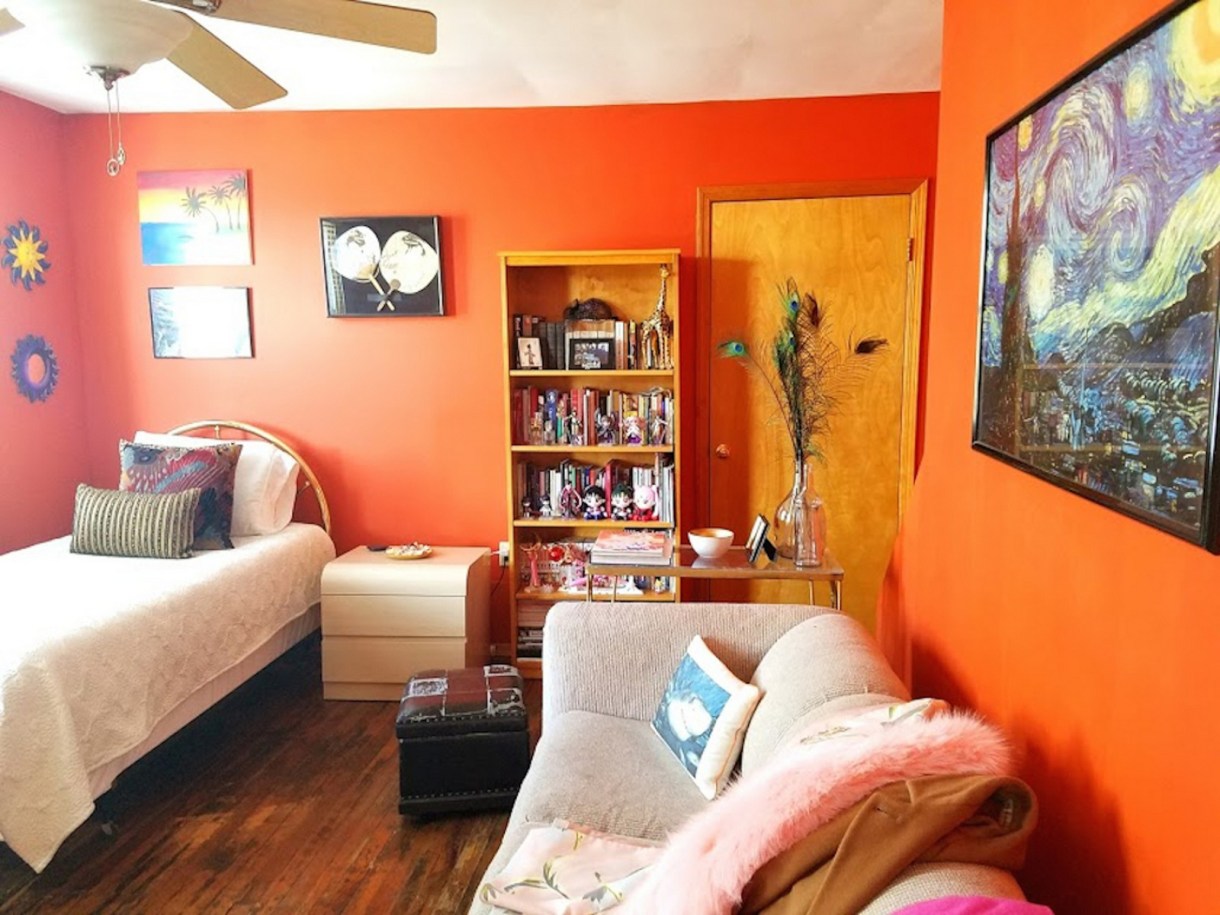 "I'm living at home while I save up to buy my own place (hoping to move out next year, fingers crossed!), so I'm still in my childhood bedroom. I LOVE my room, it's definitely my favorite space in our house. It's gone through many decorative phases and paint colors over the years, but this one is by far my favorite. My room is westward-facing, so when the sun sets, it glows like it's on fire and I think it's super magical. My favorite item in my room would have to be my bookshelf; it houses all of my favorite books, and it doubles as a shrine to all of my anime paraphernalia, with a particular focus on my Sailor Moon obsession."
Pages: 1 2 3 4 5 6 7See entire article on one page