Party of Five is a quick little ditty where we ask someone (anyone we want) five questions (any five questions we want) and they answer them. This doesn't have to be necessarily 'queer' — it doesn't have to be anything at all, except five questions and five answers. Today we've got Intern Liz, creator of the viral Pizza Feminism tumblr. 
---
Quotes about feminism turned into quotes about pizza juxtaposed over actual images of pizza. Pizza Feminism was truly a Tumblr waiting to happen. And now that it has, it's taken the feminist Internet by storm.
In my own life, pizza and feminism have never been far apart — I served it at all of my events when I ran my campus women's groups (and later delivered a workshop to student leaders entitled "The Power of Pizza"), ate it for lunch and dinner — while I worked to complete my Women's and Gender Studies major and bitched about politics to my friends, and still, to this day, eat two slices of it with an iced coffee (all from 7eleven) whenever I'm headed to an important feminist meeting with a hangover. To me, this Tumblr meant I was not alone. It also made me incredibly hungry. And nostalgic. And emotional.
When I came across Pizza Feminism, I did what anyone would do: I told the team. That was how I found out the blog devoted to two of God's greatest gifts to queerkind was created by Autostraddle's own Intern Liz, giving the phrase "pizza lesbian" new meaning, and in response I initiated a deeply intimate relationship with her via a semi-public email thread. (I believe my exact words were, "we are so gonna fall in love.")
Because Liz and I are like OMG BFF, she trusted me to impart upon you her all-knowing wisdom about pizza, feminism, and how to start a blog when you're half-asleep on vacation that turns into an overnight sensation.
---
Tell me your favorite kind of pizza. Duh. 
My favorite kind of pizza is anything made from scratch by my grandma — she's the one who taught me how to make pizza for the first time. Also, I once made a white pizza with artichokes and sun dried tomatoes and that was pretty great.
Also, can you tell me in general about your love for pizza.
Good food was really important growing up, especially food made by my grandmothers. I'm originally from New York, and from a big Italian family, so there has been a lot of pizza in my life. And it's still very important to me — whenever I come home from school, and whenever I leave after breaks, I always have pizza. I guess in that sense it's kind of like a comfort food for me as well.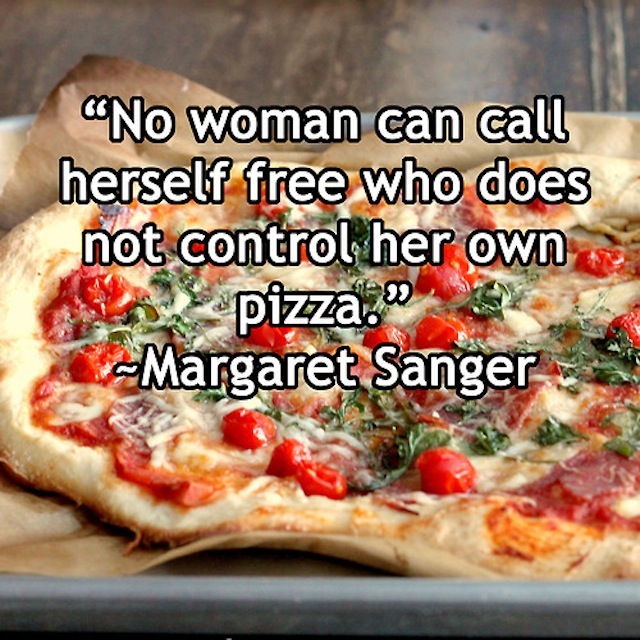 What was the inspiration for this blog? Can you tell me a bit about how it started?
This part's a bit anticlimactic, actually. I couldn't sleep one night over winter break, so I was looking at Tumblr, and I thought it would be cool if there was a blog that combined pizza and feminism. There wasn't one that already existed, so I decided to make one. Pizza and feminism are two of my favorite things in life — I just kind of made this blog with the intention of entertaining myself and maybe my friends. I completely did not expect the internet to like it as much as it does right now!
I'm curious as to what posts are your favorites thus far / which quotes you're just dying to put out in the world.
Visually, I think my favorite post so far is the Lady Gaga one because it happens to tie the image and the author together very well.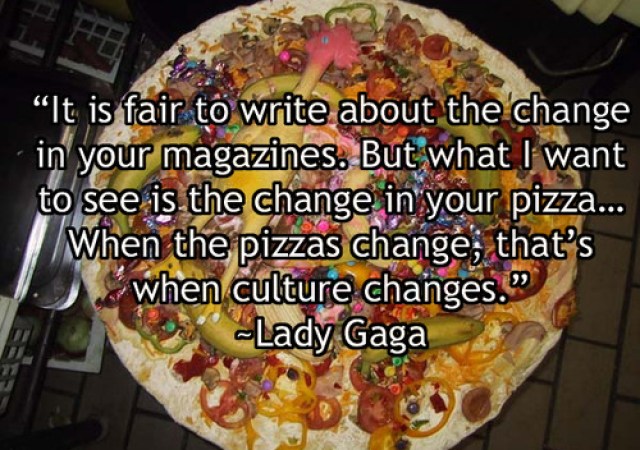 My favorite quote-wise right now is probably bell hooks', "If any female feels she need anything beyond pizza to legitimate and validate her existence, she is already giving away her power to be self-defining, her agency." I've really been loving what people are submitting as well — expect some Simone de Beauvoir and Emma Goldman in the near future. I'm also hoping to incorporate some more fiction writers, and maybe even some quotes from ancient women.
Do you feel like this blog is a good launching point for people to learn about feminism? What's your new sort of goal for it now that it's getting so much attention?
I don't know that I give enough context for people to learn a whole lot about feminism from reading this blog right now. I also don't provide any kind of analysis of these posts or the theorists behind them. But, I can absolutely see the value of putting names and thoughts out there — seeing Kimberle Crenshaw's name could motivate someone to find out who she is, and then they'd read about intersectionality, which is something everyone should know about.

That said, people are submitting things of their own now, so I think that at the very least this blog is prompting people to look for the writings of other feminist thinkers, and that's definitely a plus. I would be delighted if this blog really does become a launching point for people to learn about feminism though. It would be so wonderful to potentially make feminism and feminist theory a little more accessible through pop culture, the Internet, and pizza.