"You are a verbal terrorist, and a coward. A verbal terrorist because you will do the most hurtful thing you are capable of doing, with the intent of hurting or threatening to hurt those who don't agree with your ideals. That is what a terrorist does. The difference is, you cant bomb a building, so you use your keyboard. A coward because rather than stand up and face the ramifications of your ideals, you chose to fling out hate-speeches riddled with profanity, knowing that you have no accountability whatsoever.

I am ashamed of you."
The irony is that I was supposed to be taking a break from writing. April and May had been two months of research, writing, deadlines, and apartment-searching, all while working about 55 hours a week. I was looking forward to taking a few evenings to drink beer and catch up on Doctor Who. If Morgan Freeman was narrating this, right now he'd say "But Fate had other plans," in that tone that is both amused and foreboding.
I've been a freelance writer for almost three years. I've written plenty of stuff for no pay or no byline, just to build my resume. My stint at one particular publication — let's call it Whatever Mag — was like that. It was a political commentary site, and I wrote a few pieces before abandoning them for paying work, but I remained on their contributors' email list.
I mostly ignored the emails, as anyone with an overflowing inbox does. But this subject line caught my eye: Boys in the girls locker room, legally? WTF?!
Maybe now is a good time to mention that I identify and visibly present as genderqueer. In my day-to-day life, I experience curiosity, harassment, occasional verbal abuse, and a lot of invasive questions. My sister and I have joked about making t-shirts that say "MY GENDER = not actually your business." On the back, we'd print "Owing you an explanation since approximately never."
Despite the quiet, sane voice in my head telling me to delete the email and move on, I opened it. The body of the email said, "Left, right, or independent, this is an absurd topic. Please, PLEASE someone (preferable someone from all parties) submit an editorial on this proposed lunacy." The editor of Whatever Mag then linked to a proposed bill in California, AB-1266, which would amend the California Education Code like so:
A pupil shall be permitted to participate in sex-segregated school programs and activities, including athletic teams and competitions, and use facilities consistent with his or her gender identity, irrespective of the gender listed on the pupil's records.
In other words: trans* students would be able to use the bathrooms, locker rooms, and join the sex-segregated sports teams that fit their identity, rather than being forced into ones that fit the F or M on their birth certificate, or being made to use an entirely different space.
Lunacy. Absurdity. The litany of fuck this, fuck transphobia, fuck everything began to crank and lurch in my head. I started writing one of my trademarked Why U Gotta Be So Bigoted emails, but five sentences in, I stopped. It occurred to me that this was an open call for editorials. I emailed the editor and told him I'd love to write a piece on the bill. A few minutes later (bless the quick turnaround of the internet), he replied enthusiastically. I cackled evilly for a while, cracked a beer, queued up a playlist of The Gossip and Pansy Division, and started to write.
---
What exactly defines certain actions as trolling? Is it acting with the goal of causing reaction? Is it the dirty-fighting nature of it, hitting below some metaphorical belt line? Is it the profanity, the intent to offend, to cause rage?
If so, I trolled the hell out of this guy.
My editorial talked about the bill and the reasons that its proponents were fighting for it–the harassment that trans* kids face in school, the high incidence of assaults and bullyging, the fact that they're more likely to skip classes or school, the high rates of suicide and depression. I listed statistics from Injustice At Every Turn and Harsh Realities, and the 21 names of trans* people who had been murdered in the first two months of 2012. I wrote about my experience of being genderqueer: getting glared at in restrooms, having verbal abuse slung at me on public transportation, being interrogated by complete strangers. I wrote about the email itself, how it had intruded its way into my night and made me heave with rage, like there was a hurricane bottled up in my chest. Then I named the sender.
I used the word "fuck" a lot. Profanity is a weapon, and I pulled out my entire arsenal.
So fuck you, too, [editor of Whatever Mag]. Fuck you for thinking that people like my friends and I deserve the violence we get, the discrimination, the harassment from our peers and from the people entrusted with our care. Fuck you for thinking that equal rights and protections for at-risk youth is "absurd" and "lunacy". Fuck you for your ignorance. Fuck you for another night I lost to anger and impotence.

Also, please unsubscribe me from [Whatever Mag]'s contributor mailing list. I never want shit like that in my inbox again.
Overreaction? Maybe. That didn't make it any less cathartic.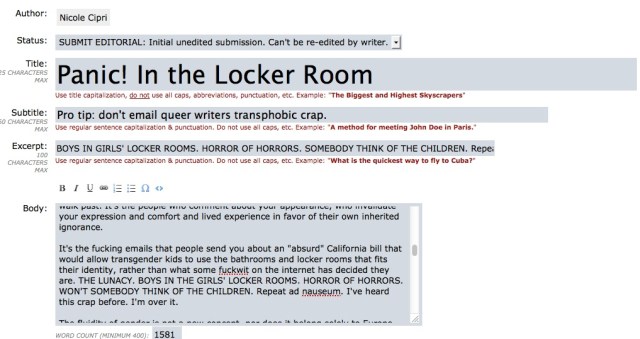 The piece was rejected. A day later, I got an excoriating email in my inbox, full of hurt feelings ("How is your belief any important [sic] than mine?"), transphobic hysteria ("I am furious that little girls are at risk of being forced to the humility [sic], embarrassment, and a myriad of other harmful things that will occur, should this AB1266 pass."), and comments on my emotional stability, ("You are in a horrible emotional state, a bitter person, and contributing to the massive acceptance gap between those who agree with you, and those who don't understand you.")
None of it was unexpected; it read like a list of common reactions to any call out. All the stages were there: denial, anger, derailment, and counter-accusations of bigotry. What was surprising was the offer to print my rant if the editor could include his full response with it.
After talking with some friends who are more level-headed than I, I crafted a reply to his response. I reiterated my main points, and addressed some new ones: like the fact that he kept repeating "little girls showering with teenage boys", which was decidedly creepy, not to mention offensive, and his insistence that trans* people were the instigators of violence rather than overwhelmingly the victims of it. I even reined in my profanity, though I let loose a little bit at the end:
So, why do my personal beliefs trump yours? Because you want to continue discrimination against people like my friends and I. Because you value your comfort over others' rights to safety and full integration into a community. And I want at-risk kids to be able to grow up, get an education, and become fabulous adults who change the world. Thus, no, I don't give a shit about your beliefs. They're conservative, bigoted, and outdated, and they warrant no respect from me.
I signed it "Nicole Cipri, Genderqueer Warrior," and sent it off.
For that, I got called a verbal terrorist. Because calling someone "a bigoted fuckwit" is totally the same as planting a homemade bomb in a building.

The best advice I during this weird debacle was the following: remember that this fight is about trans* youth. I didn't exactly follow it, of course, but here's what you should know now:
AB-1266 has since passed in the California Senate, and if governor Jerry Brown signs it, the California Education Code will be amended to protect trans* students' right to inhabit their own identities. This is a huge victory, and one that I had a personal, if distant, stake in.
The last time I went to a spa, a woman confronted me: "This is the ladies' locker room," she said, gesturing at the stick figure in a skirt on a door. It's for this reason that I don't go to spas often, which tend to be havens of uber-femininity. I'm not a woman, much less a lady. I'm a rude, ambiguously-gendered weirdo.
People have a habit of looking at me, then looking again, a little closer. Sometimes I ignore them, but sometimes, I'll look back, force myself to meet their eyes. If I have no choice in being objectified and scrutinized, then I can at least choose this: to be a mirror, to stare back, to confront them.
A number of friends and family have told me to wear the moniker of "verbal terrorist" proudly. Make buttons, a t-shirt. Make light of it.
But that would belie how shaken I was by it. Was this supposed to be a victory? It had just deteriorated to two people writing angry emails at each other — the very thing I aimed to avoid in the first place. After reading the editor's last foaming-at-the-mouth email, when he called my writing hate-speech, my actions cowardly, and my words the equivalent of a bomb in a building, I wanted to hide under my bed. I stood by everything I said. I agreed to have my name attached to a profanity-laden attack on someone's transphobia, confident that while I came off as overly emotional, this editor came off as seriously unhinged. I'm guilty of trolling a transphobic man, and while I don't regret it, I also don't think it changed anything, much less his bigotry. I can't help but wonder, what did I actually gain through this? A weird story to amuse a future date, maybe. Other than that, it's been an exercise in futility and frustration.
Instead, when I went home, I pulled out my laptop and started to write. Writing is first thing that I reach for when trying to make sense of the world, or carve out a place for myself in it. Words are a weapon, double-edged and quick to cut, but still the best that I've got.
Special Note: Autostraddle's "First Person" column exists for individual queer ladies to tell their own personal stories and share compelling experiences. These personal essays do not necessarily reflect the ideals of Autostraddle or its editors, nor do any First Person writers intend to speak on behalf of anyone other than themselves. First Person writers are simply speaking honestly from their own hearts.
---
When not committing acts of verbal terrorism, Nicole enjoys books, bikes, adventures, martial arts, gender neutral pronouns, and drinking tea. You can talk to them on Twitter (@nicolecipri) or Tumblr.