Hey Clones!
Welcome to your Orphan Black recaps! Have you been watching since the beginning? Did you mainline season one all over again? Or did you, like Forever Intern Grace, just dive the fuck into season two? Were you confused? She sure was.
To quickly recap the series for all you noobs, Orphan Black is about grifter and single mother Sarah Manning whose life gets fucked sideways when she sees her doppelganger commit suicide. When Sarah takes over her life/work/boytoy, she discovers that she is one of many human clones in existence, and she joins forces with her clone bros to find out what the fuck happened to them.
Why are we recapping this show? Well, aside from being excellent, one of the clones, Cosima (aka dreadlocks adorkable clone) is gayer than a handbag full of rainbows. And she has a hot French girlfriend and it's COMPLICATED, like most hot French girls are. And all the clones are played masterfully by Tatiana Maslany, who is perfection/your new girl crush.
Are you ready? I'm ready!
---
We open with Sarah running through the rainy streets of Toronto, looking for her daughter Kira and Mrs. S, her foster mother. Also, she just shot her insane Ukranian serial killer twin sister Helena, who murdered their birth mother. So you know, she's had better days.
Sarah has recently learned that all the clones are patented, which means they are owned by the ominous Dyad Institute.
She tries calling the other clones, but their numbers are disconnected. Sarah calls Paul, but her call is answered by Proclone Rachel (aka severe bob clone). Rachel tells Sarah that her family is being held at the Dyad Institute, and Sarah needs to turn herself in if she ever wants to see them again.
While Sarah seeks refuge in a creepy old diner, two goons walk in and start harassing her. They try to take her, but the kindly old diner guy pulls his shotgun on them and tells them to GTFO.
Goon #1 shoots Diner Guy in the head, and Diner Guy blasts him with his shotgun. Sarah breaks free and makes a run for it. She gets trapped in a bathroom (we've all been there, girl) and uses a fire extinguisher to break a hole in the wall and scamper out.
---
We then roll the opening credits, which is a series of blooming glistening orchids. In fact, I think I know who designed it: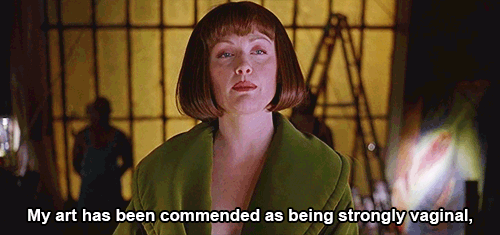 Sarah goes to a gay club and finds her foster brother Felix in a sweaty man pile. Felix is tripping balls and rocking some assless chaps, so he's basically me on a Tuesday (JK I would never wear chaps).
Sarah tries to get him to snap out of it, but Felix is rolling deep. She also calls him a silly tit, which might be my new favorite jab. Paul calls her and tells her she has to come in, but Sarah refuses.
---
We jet on over to Cosima and Delphine, who are partially clothed and enjoying an intimate moment of blood testing. Cosima is sick with the mystery clone illness aka coughing up blood.
Delphine wants Cosima to come with her to the big fancy Dyad party, and tells her she wants to protect her. Cosima refuses; she wants to test the samples herself. She says "my biology, my decision", which is probably the most grad student-y statement of all time.
---
Meanwhile, Felix shows up at Allison's house looking for a gun. Allison (aka soccer mom crazy pants clone) needs her high as a kite gay BFF to get out before he wakes her schlubby husband Donny.
Allison is trying to keep her shit together: she's quit drinking/torturing men with hot glue guns/murdering the neighbors.
Allison assures Felix that she can get a gun from her hook-up, Ramone. Also, she's doing a musical and doesn't have time for these crazy clone shenanigans.
Pages: 1 2 3See entire article on one page