My favorite lesbian movie, Fried Green Tomatoes, is not even technically a lesbian movie. Technically it's a movie about two women who live together, raise a child together, defend and love each other, and have sexually-charged food fights in a Totally Heterosexual way. The relationship is a lot less subtextual in the book (although it's never actually spelled out in the book either, you'll have to read fanfiction for that), but I'll always love the movie all the same. I don't know how many times I've seen it over the years, as it was a regular feature in the network TV Saturday Afternoon movie line-up throughout my own formative years. It's also probably the only queer film you can comfortably watch with your foot-washing Baptist granny. While the queer aspect may have been covert, the relationship between Idgie and Ruth was a strong, positive and beautiful one which made a big impression on my own burgeoning yet equally subtextual queer identity. Before I even could fully articulate why, I thought the picnic scene where Idgie pulls out fresh honeycomb from the hive for Ruth was one of the most romantic scenes in film. All I want is someone who is willing to stick their whole arm in a tree full of bees for me. IS THAT TOO MUCH TO ASK?
My love of the movie, and eventually book, made me want to try the dish. Now, I am Southern myself and the traditional thing to do here would be to lie like a rug and tell you I have been eating fried green tomatoes since I was knee high to a grasshopper, and that this recipe was in my family for generations. I do have recipes like that, but this isn't one of them. My mother hates fried green tomatoes and completely refuses to make them. Lord knows why. They are tart, juicy, crispy, with just a little bit of a kick, and take no time at all to make. They're great on their own, but also make a wonderful complement to a wide variety of dishes.
You'll see two different styles of fried green tomato in the world: deep-fried and covered with a thick batter, or shallow fried and lightly crusted with seasoned cornmeal. I think the second kind tastes far better and is so much easier and cheaper to make at home. Like all great southern vegetable dishes, fried green tomatoes are traditionally cooked in bacon grease, but you can use plain vegetable oil instead.
Depending on where you live and what time of year it is, finding green tomatoes might be the hardest part of the recipe, but never fear. Green tomato season is coming up soon, depending on where you live. They've already hit the grocery stores here in North Carolina, but it will be another month before local ones are available.
A little background: tomatoes are green for one of two reasons, either they haven't ripened yet or they are one of the few tomatoes that just never turn red no matter how long you leave them on the vine (little weirdo outcast tomatoes – anyone sensing a metaphor?). The first kind are available starting a few weeks before tomato season, and the second are available all the way through the end of the season, although they are rare, so unless you grow your own, you'll probably have to get the first kind. In the South, you can get them at any supermarket or farm stand throughout the season, but they show up all over the country sometimes as well, but I've found them in grocery stores in Washington and Pennsylvania. If you can't find them in your grocery store, check the Farmer's Market and ask any tomato growers to pull you some green ones for the next week's market.
You'll need:
2 green tomatoes (or more, just scale up the recipe as needed. double, triple, whatever it'll work fine. About two fit in a 10-inch skillet)
1/3 cup buttermilk (Pro tip: make it vegan by mixing 1/2 a cup of non-dairy milk with a 1/4 tsp of vinegar and letting stand for ten minutes)
1/2 cup cornmeal
1/2 tsp Creole seasoned salt such as Tony Cachere's (or half as much plain salt), or more to taste
enough oil or bacon grease to cover the bottom of your skillet by about 1/2 a centimeter
To make them:
1. Pour some buttermilk in a shallow bowl.
2. Pour cornmeal and salt in a second dish and stir together with a fork.
3. Slice the tomato into about centimeter thick slices. You'll get about four slices from each tomato, not counting the top (which can't be used, but the bottom can)
4. Dip each slice first in buttermilk, then cornmeal, coating both sides evenly. Transfer to a plate.
5. Heat a oil or bacon grease in a heavy skillet over medium heat until it's hot enough that if you flick a bit of cornmeal in, it will foam up immediately.
6. Place tomatoes in the pan. Cook for about 2-3 minutes on each sides, until slightly browned, then transfer to a plate covered in brown paper to drain. Cool slightly and eat.
You can eat them as is of course, maybe with a little remoulade, but there's plenty of other things you can do with them as well. They make great sandwich material, practically anywhere you would use tomatoes (in fact, if you're eating gluten-free and don't have any gluten-free bread, they can be used as bread or buns). Perhaps the best use, the sandwich fried green tomatoes were born for, is the Bacon Lettuce and Tomato sandwich. If you make a BLT, you can just cook the bacon, remove it from the pan, and slip in the tomatoes. One pan, no waiting. Given the stronger flavor of green tomatoes I like to use spinach instead of regular lettuce, and of course it has to have mayo (a really great Southern mayo like Duke's or Blue Plate if you can find them, but Hellman's/Best Foods will do otherwise). If you have a little avocado it makes a nice creamy addition.
You can make a yummy vegetarian version by marinating a sliced portobello mushroom in a little olive oil, balsamic vinegar, smoked paprika and bacon salt for a day, then pan fry and use in place of bacon. Fun fact: bacon salt is not actually made with any bacon – at least not any I've ever seen, but check the labels. Also, note that the biggest brand of bacon salt is made with wheat so if that's an issue for you, well, add that to the list of stupid processed foods that have random wheat in them for no damn good reason and look for little indie brands.
Fried green tomatoes are great as a side with classic southern summer fare such as cheese grits (cheese grits are for any time), shrimp salad, or potato salad with cold ham. But, you know, nobody puts Baby in the corner. They also go well with other cuisines. One time, I was looking for recipes to use up some okra, and thought about how Indian cuisine often uses okra just as much (or more than) Southern cooks do, and then I read that Indian cooks often like to use less ripe tomatoes in cooking so the tomato serves as a tart element, which made me think of green tomatoes, then I sort of invented this thing: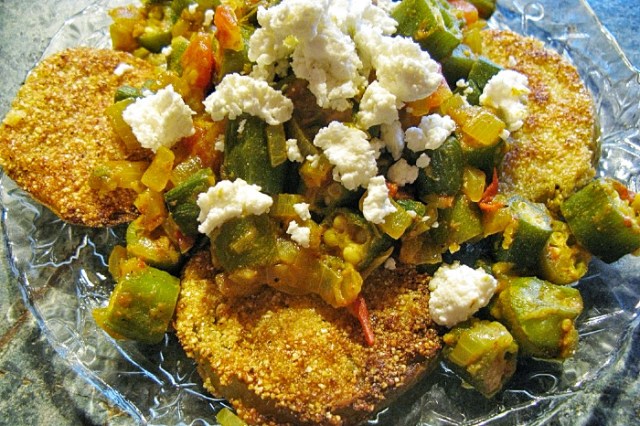 Okra/bhindi masala over fried green tomatoes with crumbled paneer cheese. Weird, but better than it has any right being, and it makes for an incredibly satisfying quick vegetarian dinner.
So does anyone else have a favorite dish inspired by a beloved movie or book?
---
Feature Image via stylecaster.com