Hello and welcome to the thirteenth episode of the second season of Orange is the New Black, a show about reckless drivers and how frustrating it is to lose all your drugs! This is the series finale of this fine television program in which a whole bunch of shit went down. I hope all of you are really proud of Team Autostraddle for taking no less than four months and seven writers to recap this entire season.
---
We open in the great outdoors, where two men in suits have arrived to Investigate some Incidents that have taken place at Litchfield, for example the fact that Poussey and Taystee haven't fallen in love and become girlfriends yet and that Watson isn't a lesbian.
Caputo's eager to say his piece but the Men in Suits wanna see Fig herself, STAT.
---
We then mosey on downstairs to the warehouse, where Black Cindy and Watson are shoveling dirt and Watson's trying to look on the bright side of life, like that at least they're not moving rocks or some Phantom Tollbooth type shit.
Black Cindy: Yeah, on the other hand, Paulie in Goodfellas had the joint wired, cookin' big-ass dinners every night.
Watson: Italians have weird shit with their mothers. They like live with them way too long.
Black Cindy: We all got weird shit with our mamas.
Yes, like how my mother wouldn't let me have Barbies. Obviously, Vee's been creeping on them and announces her presence by slamming her shovel into the ground like a gravedigger from hell.
Vee informs the girls that although she's the one who attacked Red, they're gonna have to pin it on Suzanne, because Vee's soul is actually just one of those balls hamsters run around in except without a hamster inside it. Black Cindy and Watson think this plan is cold, but Vee's got a retort for that:
Vee: Is it cold for Amazon to underprice books just to capture market-share? No, it seems to me that as shareholders in this company, you are immune to the cold. Just like polar bears.
WHAT THE FLYING FUCK.
---
The Investigators are interrogating the Women of Litchfield regarding Red getting smacked with a lock-in-a-sock. Morello says it's Vee 'cause Vee is the one who made shit hardcore, and Nikki knows that it's Vee because, duh, it was Vee.
Blanca and Maritza both pin it on Suzanne, 'cause "she already be like, throwing pie all the time, but this is like next-level crazy, you know?" Rosa says Vee's rude and she doesn't like rude people.
Watson and Black Cindy finger Suzanne, as instructed, but they don't seem happy about it. The coppers declare Suzanne their #1 top suspect.
---
In the hospital, Red says she says she saw nothing/nobody and is just a woman trying to grow a plant! SHE JUST WANTS TO GARDEN, Y'ALL.
---
We then slip down a magical tunnel into the fantastic underbelly of Litchfield, where Chapman's been exploring her artistic talents in a tiny windowless cell known as the "SHU."
Caputo shows up wanting more details on the case Piper was stealing those files for. Piper offers to tell him everything if he can stop her transfer.
---
Obviously Caputo found what he was looking for in those files because mere moments later, an excited Caputo bursts into Fig's office declaring "I've got you now you dirty bitch!" Unfortunately his gusto is robbed from his cold living man-hands by the fact that Fig's already on the floor, sobbing to herself in slacks that look like sweatpants.
Fig's hubby is having an affair with a man named Gavin. HEY-O! Also, Fig thinks she used to be "hot" and now she isn't, but Caputo reminds her that although she's a horrible person with no soul, she's still very sexy. Personally I think one cancels the other out but nobody asked me.
Caputo says he knows everything and is done cleaning up her crap (and, incidentally, the crap of the entire unit now that the plumbing's gone under) and that she's a criminal and she should suck his dick.  Then she sucks his dick!
Fig: So we're good?
Caputo: I do like you down on your knees.
Fig: Christ, you should never speak. Uh… the files. You'll shut up?
Caputo: Oh, I already gave them to the warden. He's got copies of everything. Bye Nat!
Despite the fact that we just had to witness this creature-on-creature beejer, you just gotta laugh, smile and clap for that. YOU GO CAPUTO. FOUR FOR YOU.
---
In the hospital Sister Ingalls wants to know why Red won't rat out Vee. Red insists everything's going so well 'cause bed-rest is affording her heaps of time to scheme revenge.
Also, Red used to take her boys to the carnival and it was so much fun. Probably because there's lots of this at the carnival: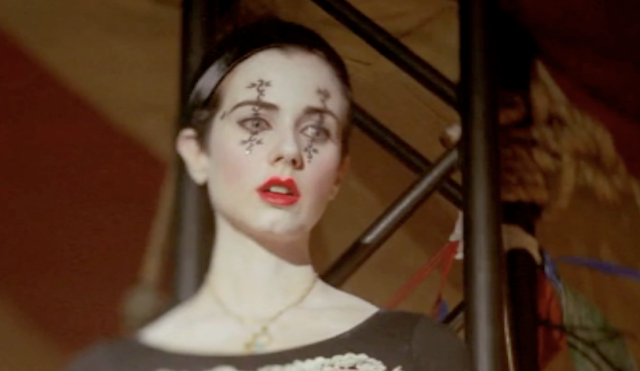 OOPS WRONG CARNIVAL IMAGE. There are no carnival images, just Red talking about carnivals.
---
Nicky is disappointed that there wasn't a vibrator in Fig's desk, just candy wrappers. I'm sure Gavin feels similarly.
Chapman conveys excitement regarding the cancellation of her transfer 'cause she doesn't wanna "lose more people," but Nicky's unable to summon appropriate levels of exuberance due to Red's recent clocking and its unfortunate impact on her ability to see the glass as "half full."
Nicky: Ah! Whoopie! You get to stay here… in hell. Hey, maybe you'll get slocked to death by a psychotic heroin dealer!
Piper then reveals that Alex is coming to visit, prompting Nicky to suggest that she stop thinking about her "fuck-up ex-girlfriend" and instead focus on whether Red will ever be able to plant another plant and see her Secret Garden grow.
---
In the kitchen, Maria's crying and Gloria is sighing. I know this because the closed captioning reads "[Gloria sighs]." Maria's sad about being transferred far away from her baby and Strong Silent Boyfriend.
Caputo shows up and Bennet explains why Maria's so upset. Caputo informs Bennett that shit's going down and that now his star might be rising while Fig's explodes, which, believe it or not, is not a reference to the fellatio he received earlier. Caputo promises Bennett that as one of the "good guys," he'll benefit under Caputo's new reign of power.
He lets Bennett deliver the good news that she won't be transferred to Maria, because being the bearer of good news is fucking awesome. Maria cries tears of joy.
---
We return to the Mel Caf,  where Taystee's sitting down next to her One True Love Poussey. Poussey's pleased for the company but before she gets too excited Taystee wants to be sure Poussey's not about to lez out on her:
Taystee: Can we please not have a whole talk about our feelings and what happened and like, our status, because I never learned that and it really makes me like, wanna jump out of my skin, so, can we just sit here and be cool now?
Poussey: Well, maybe just a little talk?
Then they start joking like old times: doing Mackenzie voices, laughing about Jell-O and monkeys. Meanwile Vee gnaws on plastic utensils while undoubtedly thinking about murdering kittens. Nicky strides over to have a little talk about HER feelings.
Nicky challenges Watson and Black Cindy's allegiance to Vee:
Nicky: What's the matter with you people?
Black Cindy: "You people"? You mean black people?
Nicky: I mean blind people. All right? Blindly following a fucking psychopath!
Black Cindy and Watson decide to sit with Taystee and Poussey, who Cindy observes are back together again because "ain't this some Sisterhood of the Traveling Pants shit." Poussey says they're on a rocky road with Vee and any of them could be next in line to be tossed in the dungeon of horror but Watson points out that they're making money, so.
Taystee has some advice for her friends who still stand with V:
Taystee: Don't feel bad if you don't see it yet. It took me 15 years. I just hope you all wise up before it's too late.
---
It's time for another Safe Space meeting and Healy has his sign and his cookies but all the chairs are empty because nobody shows up and you guys there is nothing in the world sadder to me than throwing an event that nobody shows up to and so I can't really talk about it. Also Leanne steals all the cookies and Pennsatucky is hanging out with the LGBTQ-Straight Alliance.
---
O'Neil tells Caputo that he bought a miniature banjo on craigslist, which means his day was more productive than mine. Also, there's a bunch of nuns nunning it up outside supporting Sister Ingalls' hunger strike.
Caputo begs the nuns to return in 3-5 business days, just like that miniature banjo I ordered on craigslist. The nuns refuse to vacate, so Caputo leaves O'Neil to entertain them despite his Nunny Issues.
---
Back inside the institution, Vee's prepping Suzanne for her interrogation by convincing Suzanne that she indeed clocked Red with a sock. So this is the Long Con, it turns out. She saw a vulnerable, easily manipulated person and she dove right in and grabbed her like a limb.
Then Vee says they can "play Uno" later but she uses a tone of voice that suggests they could play DUO later, if you know what I mean.
---
Pages: 1 2 3 4See entire article on one page