Perhaps you missed Brenden Eich's rise to CEO of Mozilla, the company that makes the Firefox browser (among other things). Eich is a co-founder of Mozilla and the inventor of much of Javascript, the language that makes sites and forms interactive. It sounds like he's super qualified for the job, yeah? It's just corporate movement like any other, right? Except this time around, the CEO in question has made anti-gay donations, specifically $1,000 to the campaign for California's Proposition 8.
Dammit, can't I use anything anymore?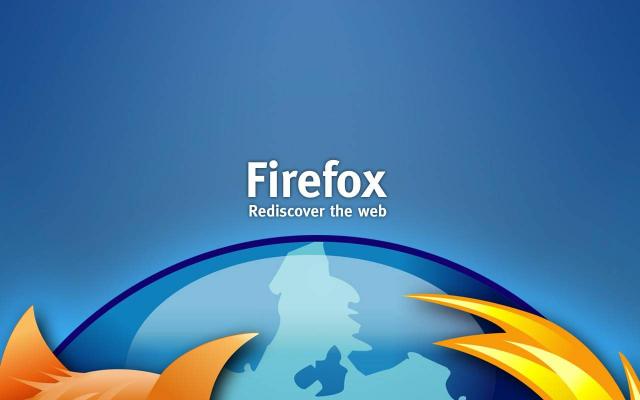 Mozilla employees had a lot to say about the controversial appointment: "I love @mozilla but I'm disappointed this week," Chris McAvoy of Open Badges said via Twitter. And he called for the CEO's resignation and was not alone among the companies employees. Mozilla board members even resigned over the selection, though some news outlets are reporting that the resignations were in the works regardless of CEO choice.
Eich himself wrote on his personal blog:
I know some will be skeptical about this, and that words alone will not change anything. I can only ask for your support to have the time to "show, not tell"; and in the meantime express my sorrow at having caused pain.
What seemed to be an almost internal issue (albeit a very publicly played out one) has now become very, very newsworthy — OKCupid, the anecdotally best-loved online dating platform for the queer community (and many straight people), has asked its users to consider using competitor browsers Chrome, Safari and, hell, even Internet Explorer rather than accessing the website via Firefox:
Politics is normally not the business of a website, and we all know there's a lot more wrong with the world than misguided CEOs. So you might wonder why we're asserting ourselves today. This is why: we've devoted the last ten years to bringing people—all people — together. If individuals like Mr. Eich had their way, then roughly 8% of the relationships we've worked so hard to bring about would be illegal. Equality for gay relationships is personally important to many of us here at OkCupid. But it's professionally important to the entire company. OkCupid is for creating love. Those who seek to deny love and instead enforce misery, shame, and frustration are our enemies, and we wish them nothing but failure.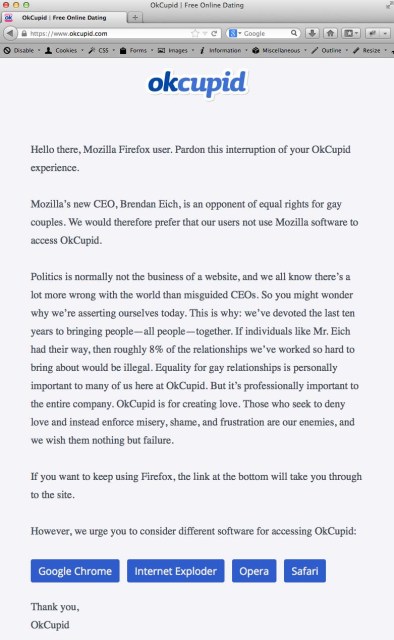 You know shit is real when real live tech people offer Internet Explorer as a viable option.
We are no stranger to gay-rights-backed boycotts of institutions—from Chick Fil-A to Target and their cute-ass undies. But this is majorly different than any other consumer boycott. Why? Because it's not a consumer boycott — it's a vendor boycott. This would be the equivalent of chicken farmers refusing to sell chickens to Chick-Fil-A or underwear designers refusing to sell their mega-cute underwear at in Target stores.
This boycott is also different because the product being boycotted is free. And though there is a certain amount of privilege needed to be worrying about your internet browser (as in, you must own a computer or control the use of one), this is a boycott that a ton of people can take part in without cutting their nose off to spite their face, unlike refusing to shop at Target. This boycott is just plain easier to do.
So, then, a question might be: Is internet activism in this case more effective than a consumer boycott?
I submit to you yes, it is.
OK Cupid claims 1 million users per day. And as many of us know from experience, that one-million-strong active user pool contains a lot of different fish — people from all walks of life who may not have followed Proposition 8 closely. Or may not have heard really anything at all about gay rights. OK Cupid giving first billing to a gay rights issue to any Mozilla user that comes their way? That's a giant amount of people who now have the potential to think differently than they've been thinking. To think more critically about the world around them, and about where they choose to give their support. If we look at boycotting Barilla pasta as comparison, it doesn't necessarily have the power to start the same conversations or accomplish the same goals; discussions about marriage equality and activism aren't generally happening in the pasta aisle, but they are on the internet. To the degree that boycotts can be a tool which organizes and focuses public conversation, a boycott of a web-based product can generate much more discussion than a boycott of a product out in the real world.
Granted, Mozilla has a good track record in other areas — the company has reached out to the general population of the internet reminding them that the official company policy is one of inclusion:
Mozilla's mission is to make the Web more open so that humanity is stronger, more inclusive and more just. This is why Mozilla supports equality for all, including marriage equality for LGBT couples. No matter who you are or who you love, everyone deserves the same rights and to be treated equally.
Mozilla also provided the space for the Lesbians Who Tech Hackathon, and has been an active supporter in diversity throughout the tech industry, proving that while one bad apple at the head of the company kind of sours the taste of the group as a whole, it certainly doesn't spoil the whole bunch. The employees are just as peeved about their CEO's purported beliefs as OKC is.
Luckily for the employees of Mozilla, OK Cupid's boycott will probably do little to their revenue streams. But the precedent of websites getting involved in the political decisions of another company's CEOs is an interesting one — did you know that most of Mozilla's revenue comes from Google search royalties? Could you imagine if Google followed suit next time contract negotiations were up? Eich would be out of a job faster than you can say "I think I'll take my business elsewhere." But that's not what we're talking about here, I don't think.
We're talking about awareness and visibility. And yes, there are a million other causes to be active for. A million other things that are as important to the queer community as marriage is, that deserve airtime to OKC's 1 million active users per day. But marriage equality is directly within the purview of a website aimed at bringing people together for the purpose of hookups, relationships and, yes, sometimes marriage. And it's a brilliant move on OKC's part — you can't move around the internet right now without hitting their name.
Although the internet right now seems fairly solidly aligned with OKCupid and against Firefox, it'll be interesting to see what happens if Eich takes the recommendations set out by Owen Thomas at Readwrite: apologize. So far, Eich has done what many people in power do when a mistake is made public; he's said he's sorry he hurt anyone's feelings without saying he's sorry for taking the action itself. Eich needs to admit he was wrong instead of saying that his personal actions shouldn't be taken into account when discussing his job — he is a CEO of a major Silicon Valley player, a nonprofit organization. Like it or not, his actions do contribute to the culture of the industry as a whole. But Eich has the option to acknowledge that and make a real apology — and maybe then the ratio of "match" percentage to "enemy" percentage with the queer community will be improved.