Learning to feed yourself can be one of the most terrifying things. Am I about to give myself food poisoning? If I eat this too often will I end up with scurvy? How can I get the most nutritional bang for my buck? Why does this still taste like ass?
With Ode to My Pantry, learn to navigate a grocery store without having a meltdown in aisle three. Give a man a fish and feed him for a day, teach a queer to cook and stave off malnutrition for another semester.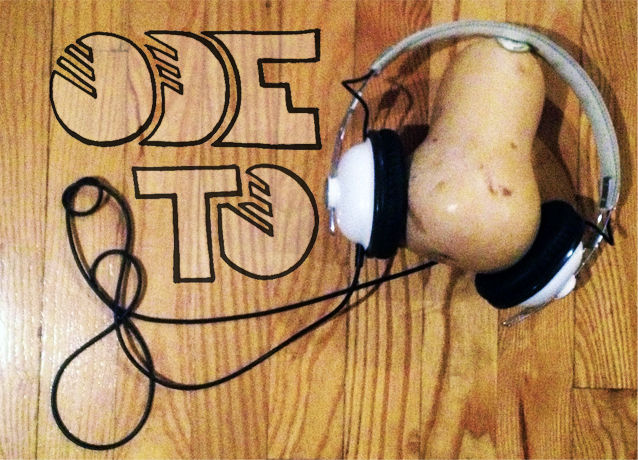 If you're as food info hungry as I am, sometimes your eyes and ears are called on to truly satisfy your cravings. Part of my hunger stems from my stomach, but it's also just a curiosity about the culinary world at large.
How do you grill an egg? Why does chocolate taste like that? How can I eat "authentic" Indonesian food without buying a plane ticket? How
are
you supposed to hold a knife? 
But while a few bites of a well-made meal can satiate my stomach grumblings, sometimes I find myself awake at 2am at night eye deep in
On Food and Cooking: The Science and Lore of the Kitchen
 trying to figure out my food. So if you get hunger pangs that aren't satisfied with actual food, give these podcasts, videos and blogs a gander.
The Alton Browncast
 If you grew up watching all 14 seasons, 244 episodes and 8 specials of Good Eats, a part of you died a bit when AB said good bye. At the end of June he started recording a podcast in a make-shift studio above his garage in Atlanta. While it doesn't have the same charm of the original Julia Child meets Mr. Wizard meets Monty Python of his original production, it gives an interesting Food Network insider perspective. He'll talk about current events in the culinary world as well as have a frank discussion with some celebrities. But living in Georgia and having worked in New York, this means that he might be talking to fellow Food Network hosts or local celebrities that make the best Cheese Dots in town. If you need your AB fix and aren't getting it with Iron Chef America, get 45 minutes of it each Friday.
Required Eating:
#2 Bobby Flay.
I seriously hate Bobby Flay, but I managed to learn about horse racing!
The Sporkful
Everyone thinks food about differently; which is great, otherwise we'd all be satisfied eating the same flavour of Soylent Green. So while crunchy vs smooth peanut butter debates never seem appropriate in the real world, Dan Pashman will overthink everything I'm too embarrassed to. He sets a food up for debate and asks his co-host and their Eaters to weigh in. But we're not talking about things like meat ethics or the proper way to prep an artichoke, we're talking about how to load a plate at a buffet or burger stacking technique. Because these things are important to 
someone
.
Required Eating
:
Cocktails
because he's friends with Rachel Maddow.
Waffleizer
In 2010 Dan brought out his old waffle iron and sought to answer 30 questions of "will it waffle?" Grilled cheese? Cookies? Squid? The answers are yes, yes, yes, yes, yes, yes, yes, yes, yes, yes, yes, yes, yes, yes, yes, yes, yes, yes, yes, yes, yes, yes, yes, yes, yes, yes, yes, yes, yes and yes, which is all you really need to know. So if you have an old waffle iron stashed in your broom closet that you won't even bring out for brunch, give this a read to convince yourself.
Required Eating:
Waffleburger
 because it's summer and I don't know how to use my grill yet.
The Supersizers…
What happens if you take a professional restaurant critic and a less food-oriented comedian and throw them in a time machine? A ridiculous comedy that causes me to laugh at ungodly hours much to my neighbours' chagrin. I was skeptical about this BBC production when it first came out because a) I didn't want to watch a British Morgan Spurlock get meat sweats for a dozen episodes and b) I was an idiot. Each episode takes Sue Perkins and Giles Coren into a different time period where they will eat, live and act accordingly before doing a routine physical. Sometimes it involves Beef Tea, sometimes it involves bloomers and sometimes it involves pissing orange. I figure I will never have the chance to go back and eat as the Romans, so I might as well watch them do it.
Required Eating: 
The 1980s
 because it explains so much of my childhood. (Psst you can find it in Youtube)
The Girl Who Ate Everything
 Roboppy is the only photo foodie I like. Harsh, right? Robyn Lee's a foodtographer for Serious Eats that's based in NYC with a degree in Food Studies. While you might be impressed by her pictures, it's her writing that gets me. Accurate descriptions that tell you what you're ingesting are one thing, but ranking pizza upskirts, sammich innards and the quality of fatty bacon are another. I really don't give a shit that someone's macaron tasted like a hummingbird dancing upon a rainbow, I wanna know if it made you nom. (Not gonna lie, I also just self-identify with anyone that couldn't stand the taste of alcohol until they well past legal.)
Global Table Adventure
I get serious culinary wanderlust and never really know what to do. Should I just sell all of my worldly possessions and take a trip halfway around the globe? Or should I do the responsible thing and try to cook it? Given that we live in a multilingual society, I often find myself getting stopped before I can even finish Googling. But Sasha Martin feels the same wanderlust and decided to cook 195 themed meals from her Tulsa, OK home to travel around the world. Each week she'll research a country's cuisine, share a regional cooking technique and create a multi-course meal that features some national dishes. Additionally she's taking her picky husband and daughter along for the trip, so you can also get the non-foodie perspective of the adventure.
Required Eating:
Indonesia
 because I really miss the diversity of Vancouver restaurants.
My Little Paris Kitchen The one thing that has always pissed me off about Foodnetwork chefs is that they'll wax poetic about how easy home cooking is as they stand in a professional studio with a pantry packed to the gills with every obscure ingredient you can find. While I agree that the chefs on Top Chef and Iron Chef are definitely skilled and creative, would the judges be impressed if they weren't shaving $500 worth of black truffles on everything? My girlfriend introduced me to Rachel Khoo, a professionally trained chef that shows how you can still cook when you live in 21 m2. She ran a restaurant out of her apartment before she started travelling the globe. Plus she's cute.
Deep Fried Live! with Tako the Octopus
 It's a Flash based cooking show centered around an octopus living in a bucket that's terrified of KitchenAid mixers with mommy issues. What's not to love?
Required Eating: The above episode on chocolate chip cookies. I've been trying to figure out how to subtly teach you the chocolate song (6:24) with this column for about 6 months now. This is the only way.
Which podcasts, blogs or shows satisfy your foodie cravings?