Welcome to the most spooky season of the year, when you can eat candy corn on the couch while enjoying a plethora of options upon your television set starring lesbian, bisexual, queer and trans characters from networks such as Netflix, Hulu, Prime Video, Disney+, Max and Paramount+ With Showtime!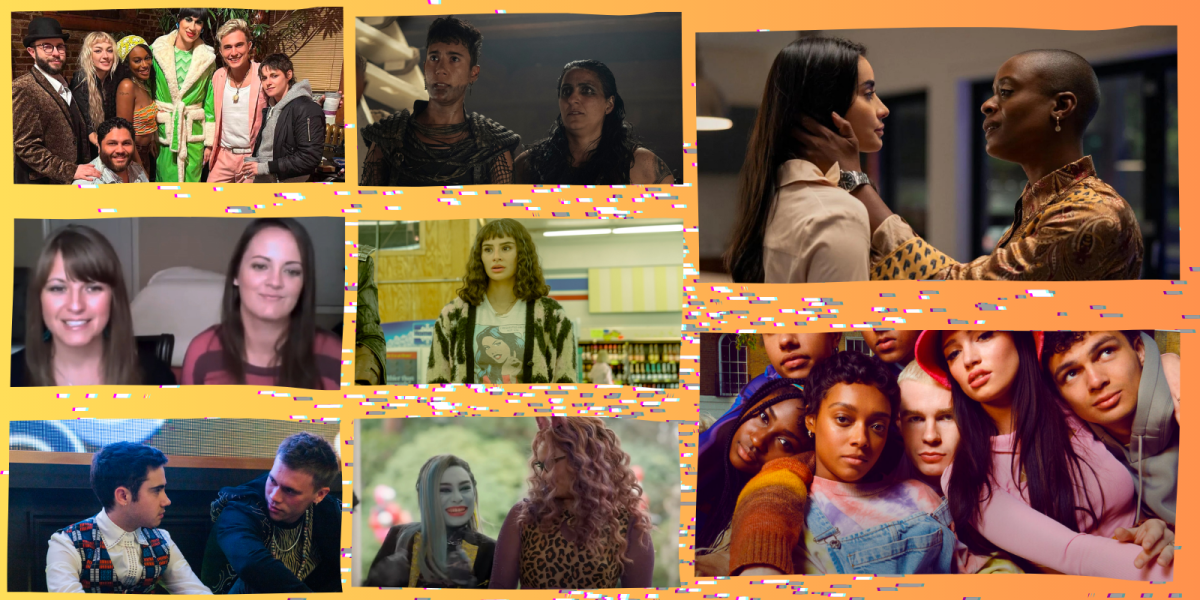 ---
Netlix's October 2023 Content For Girls, Gay and Theys
Everything Now: Season One – October 5
This British show created by 22-year old Ripley Parker centers on Mia (Sophie Wilde), a queer 16-year-old just out of eating disorder recovery who's returned to school to see that her friends have changed since she left. To keep up with their bed-hopping and drinking, she creates her own bucket list of potentially thrilling and terrifying experiences. I'm very excited for this one!
The Fall of the House of Usher: Limited Series – October 12
Roderick and Madeline Usher have built their pharmaceutical company into a massive empire of wealth, privilege and power (despite their star drug contributing to an addiction epidemic) — but when the heirs to the Usher dynasty start dropping dead, secrets begin angling towards the light. Mike Flanagan's latest is a modern take on the Edgar Allen Poe story and is chock-full of queers — Roderick's six offspring are, as per them dot us, "committing to being some of the worst rich gays you've ever met." Amongst them is lesbian actor T'Nia Miller as Victorine, a lesbian medical researcher dating a surgeon and Camille (Kate Siegel), a PR Agent who has threesomes with her assistants.
Big Mouth: Season Seven – October 20
In Season Seven, our dysfunctional crew is leaving middle school for high school, where they'll face new friends, new adversaries, and new Hormone Monsters.
Elite: Season Seven – October 20
Elite seems to be returning to its original spirit, which is to say that they're dropping queer women like flies but there remains plenty for the straights and gay men! However; Nico, a trans male character introduced and seriously mishandled in Season 6, is back for Elite's seventh trip around the sun. Sara, who flirted with a lesbian relationship with Mencia in Season Six, is also returning, but we all remember how that turned out, so! Also I guess this season is going to be about everybody dealing with their trauma, including Omar, who returns to Las Encinas for an internship.
Surviving Paradise: Season One – October 20
This reality show drops twelve contestants in a luxury villa only to discover that in fact they'll be camping in the woods without any lavish amenities, and will have to fight their way back into the villa through friendships and alliances in pursuit of a $100,000 grand prize. If you have seen the trailer to this program I think you will have no choice but to agree with me that there is a lesbian or non-binary person present.
---
Prime Video's October 2023 For The Queers
Desperately Seeking Soulmate: Escaping Twin Flames Universe – October 6
This fascinating three-part documentary follows a new age YouTube-centered movement (aka cult) lead by a bananas young Michigan couple who claimed the ability to enable their followers to find their "twin flames," just like they had. There are myriad LGBTQ+ themes throughout the series. There's the lesbian couple recruited early to be the model of Twin Flame's success. There's a trans woman struggling to understand her attraction towards a Cowboy-ish suitor. And, eventually, there's a turning point in the cult's evolution when they shifted towards intergroup matchmaking, which meant convincing a solid chunk of their almost-entirely female membership that they are, in fact, men.
---
Hulu's LGBTQ+ TV and Film for October 2023
Goosebumps: Season One Premiere – October 13
Trans actor Miles McKenna plays one of the five high schoolers who are at the center of this adaptation of R.L. Stine's Goosebumps series, but I haven't been able to confirm if his character is also trans! The series will find said group of buddies embarking "on a shadowy and twisted journey to investigate the tragic passing three decades earlier of a teen named Harold Biddle."
Living for the Dead: Season One Premiere – October 18
It's the hotly anticipated gay ghost hunting series produced by our very own Kristen Stewart and the creators of "Queer Eye" in which five "fabulous" queer ghost hunters travel the country, helping the living by healing the dead. They will explore some of the world's most haunted locations and push boundaries to bring acceptance to all !
---
Paramount+ with Showtime's September 2023 Gay Stuff
Citizen Ruth (1996) – October 1
Laura Dern stars as a poor, drug addicted pregnant woman who unexpectedly becomes a lighting rod in the abortion debate. Swwosie Kurtz plays a delightful lesbian abortion-rights activist and spy.
In the Heights (2021) – October 1
There's a lightly expressed lesbian relationship between two characters played by Daphne Ruben-Vega and Stephanie Beatriz in this adaptation of Lin-Manuel Miranda's hit musical set in Washington Heights.
Monster High 2 (2023) – October 5
Our beloved Clawdeen Wolf, Draculaura and Frankie Stein are entering their sophomore year at Monster High, where they'll face even bigger challenges than last year, including new students, new powers, and a threat to their friendship/the world. Frankie Stein is a nonbinary genius who's been Frankenmonstered together from an assortment of famous historical body parts. Heather found the first Monster High movie very delightful!
---
Disney+'s Queer October 2023
Loki: Season Two Premiere – October 5
This successful Marvel series centered on the genderfluid bisexual god of mischief, Loki, wil find in Season Two its titular character working with Mobius M. Mobius, Hunter B-15, and other members of the Time Variance Authority to navigate the multiverse in order to find Sylvie, Ravonna Renslayer, and Miss Minutes.
---
Max's October 2023 Gay Action
Our Flag Means Death: Season Two Premiere – October 5
Legendary around here for Vico Ortiz's role as non-binary pirate Jim, Meg wrote of the first season that it has "so many queer relationships, so many exes and love triangles, so many beautiful stories playing out and interweaving in ways that feel familiar and fresh all at once." In Seaso Two, Gentleman Pirate Stede Bonnet (Rhys Darby) and his mentor-slash-ex-boyfriend Blackbeard (Taika Waititi) will continue to navigate (mis)adventure at sea.
Doom Patrol: Season 4B Premiere – October 12
The second and final half of Doom Patrol debuts this October, in which the Doom Patrol will meet old friends and foes as they race to defeat Immortus and re-possess their longevities, which will require facing their deepest fears and deciding if they can let go of the past to reclaim their future. Diane Guerrero returns as lesbian character Kay Challis/Crazy Jane.